It's a New Day
The work we do has changed and so should our office.
It's time to create new ideas. Be agile and make things happen faster than ever.
It's time to find inspiration in every corner and accomplish more than you ever thought possible.
The work we do has changed and so should our office.
And that's why we're approaching things in new ways. At Steelcase, we've developed new products, new partners and new technology to create destinations to help you love how you work. With more choices than ever before, we can help you design great places where people thrive and ideas flourish.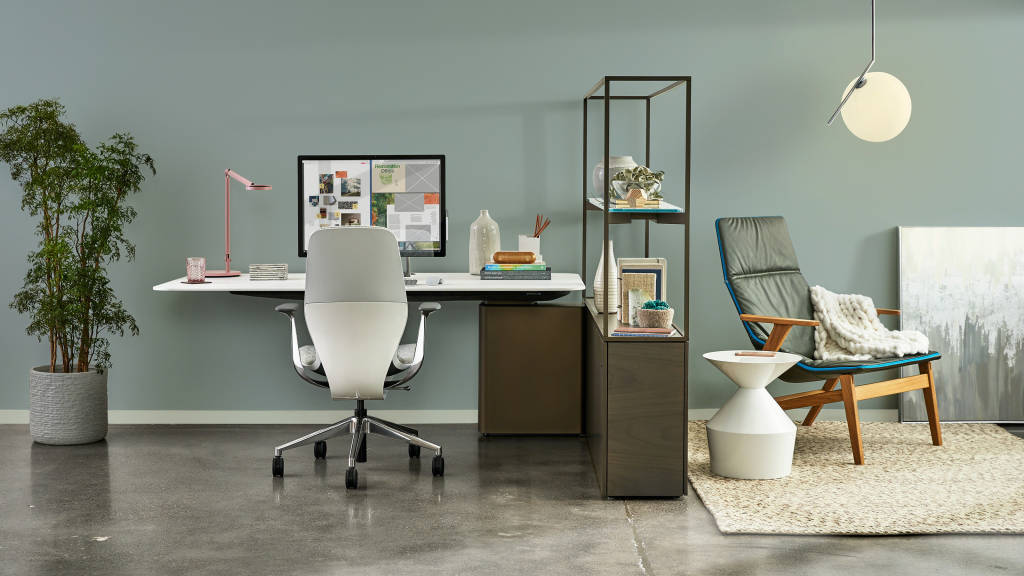 Mackinac
Mackinac re-envisions the work environment by creating different microzones to support the different types of work people do throughout the day. The cantilever desk allows work to flow faster and creates a place for people to easily connect, while the compact footprint lets them quickly shift from activity to activity.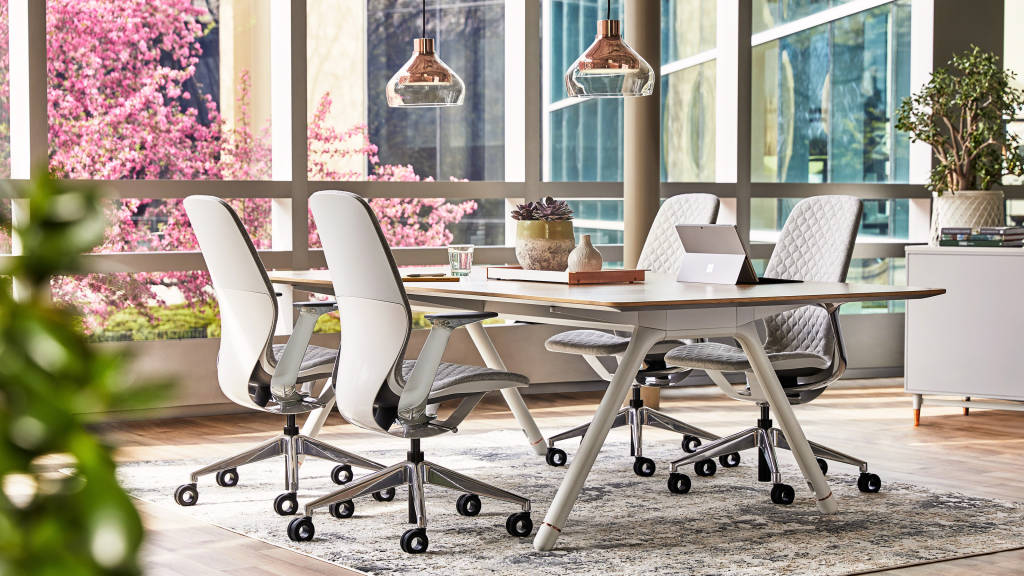 SILQ
SILQ responds to the unique movements of your body. The performance is intuitive. The way you move is the way it moves. A canvas for personal expression, its expansive range of material combinations allow you to to express your unique brand vision.
---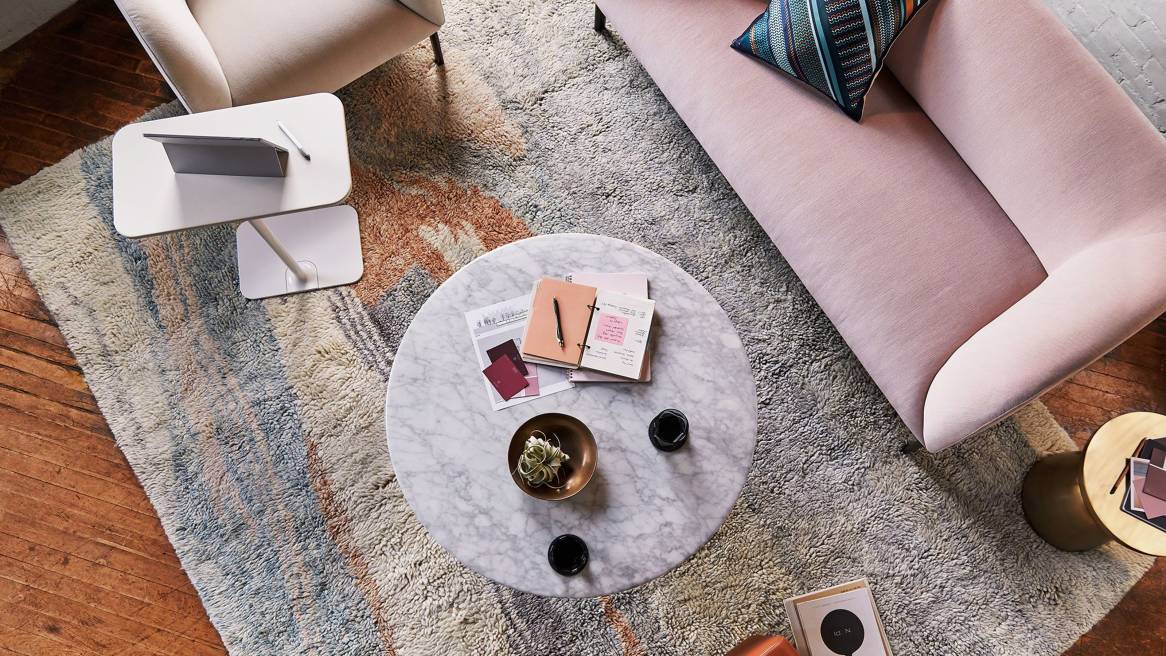 West Elm
Steelcase and West Elm plan to combine their expertise to create new kinds of workplace solutions to support the changing preferences of people at work.
<a href="https://www.steelcase.com/products/lighting/flos/">FLOS</a> - Lights Suite Superloon
Open image tooltip
FLOS - Lights Suite Superloon
Inspired by both LED technology and the glow of the moon, the Superloon floor lamp adds shape and light to any space.
<a href="https://www.steelcase.com/brands/partners/mitchell-gold-bob-williams">Mitchell Gold + Bob Williams - Franco Sectional</a>
Open image tooltip
The Franco sectional offers spacious configurations for rejuvenation or casual conversations with colleagues. Franco adds personality to any social setting with the Designtex Shibori Stripe fabric. The three-legged Yoshi Stool works well as an impromptu seat or pull-up table.
<a href="https://www.steelcase.com/brands/partners/mitchell-gold-bob-williams">Mitchell Gold + Bob Williams</a> - Jean Luc Sofa, Lawrence Wing Chair and Felix Chair
Open image tooltip
Welcoming and cozy, this living room space mixes materiality, pattern and color to create a great space to meet with peers or just get away.
<a href="https://www.steelcase.com/products/office-decor/blu-dot/">Blu Dot</a> - Bloke Lounge Collection
Open image tooltip
Blu Dot - Bloke Lounge Collection
Bloke provides both comfort and shelter with its high back and restrained proportions. Choose between sofa or lounge chair to add a sense of ease to any setting.
Blu Dot won the 2018 National Design Award for Product Design from Cooper Hewitt, Smithsonian Design Museum
<a href="https://www.steelcase.com/brands/partners/viccarbe/">Viccarbe</a> Nagi High Rocking Armchair
Open image tooltip
Viccarbe Nagi High Rocking Armchair
Nagi's generously high back supports your head while the arms are the perfect place to rest your arms, making this rocking armchair an incredibly comfortable place to read or just escape for some respite.
<a href="https://www.steelcase.com/brands/partners/viccarbe/">Viccarbe</a> Sistema Collection
Open image tooltip
Viccarbe Sistema Collection
This modular sofa collection lets you design the sofa of your dreams. The extensive range of components includes various arms, backrest, seats and accessories which can be used to create a unique solution ideally suited to meet your needs.
---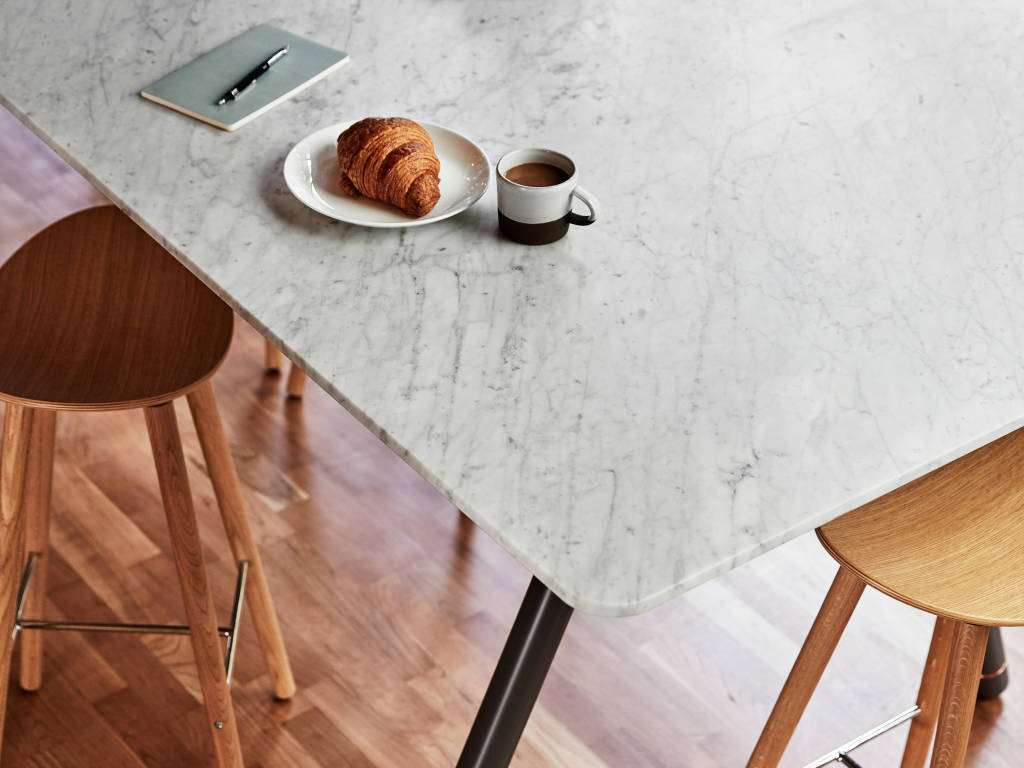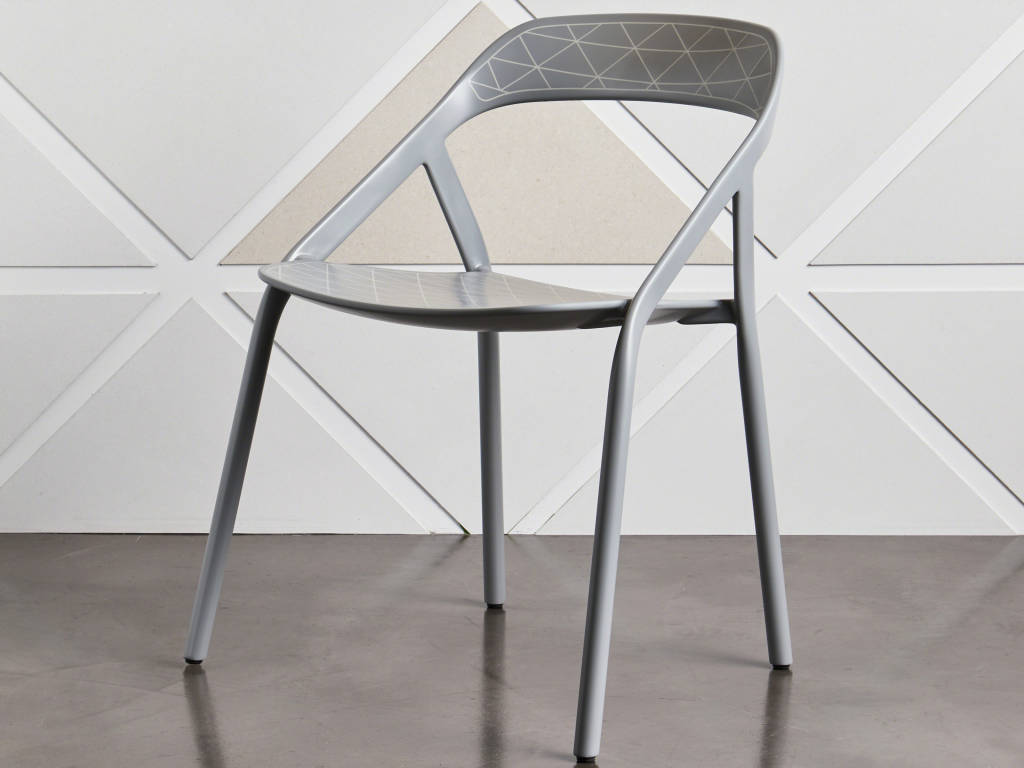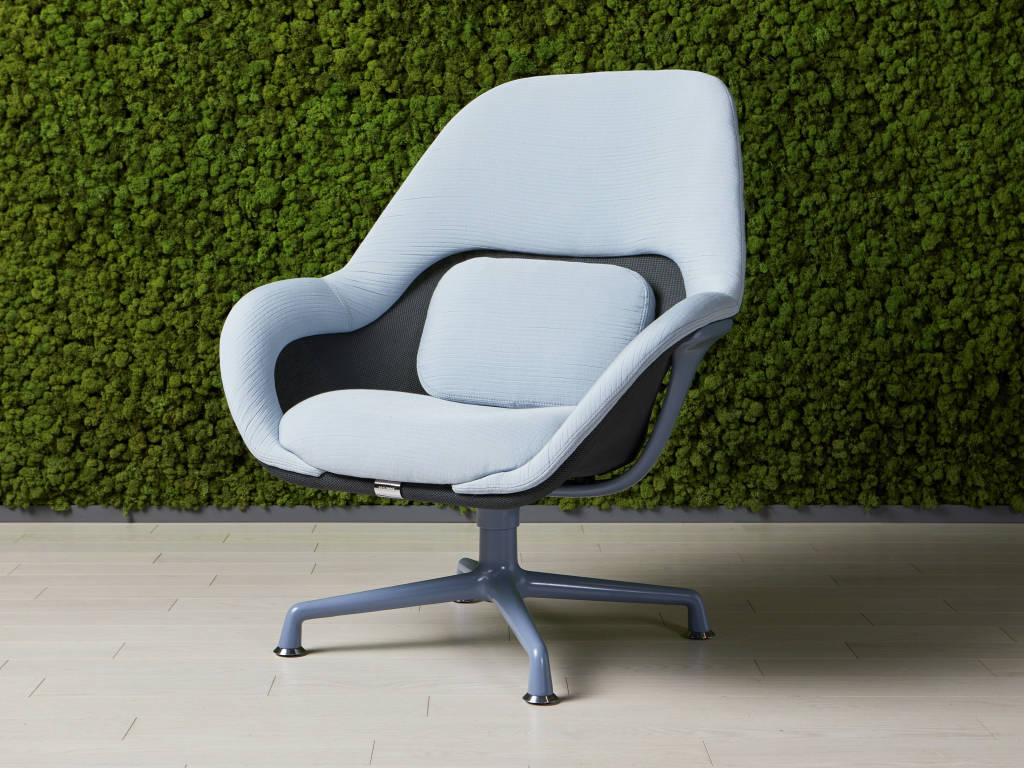 Coalesse Custom Capabilities
Coalesse is providing more freedom to personalize furnishings in highly visible and expressive ways with the Coalesse Pattern, Color and Material Capabilities Programs. Unleash your creativity with exciting new programs and create something truly unique for a more personalized and meaningful outcome.
---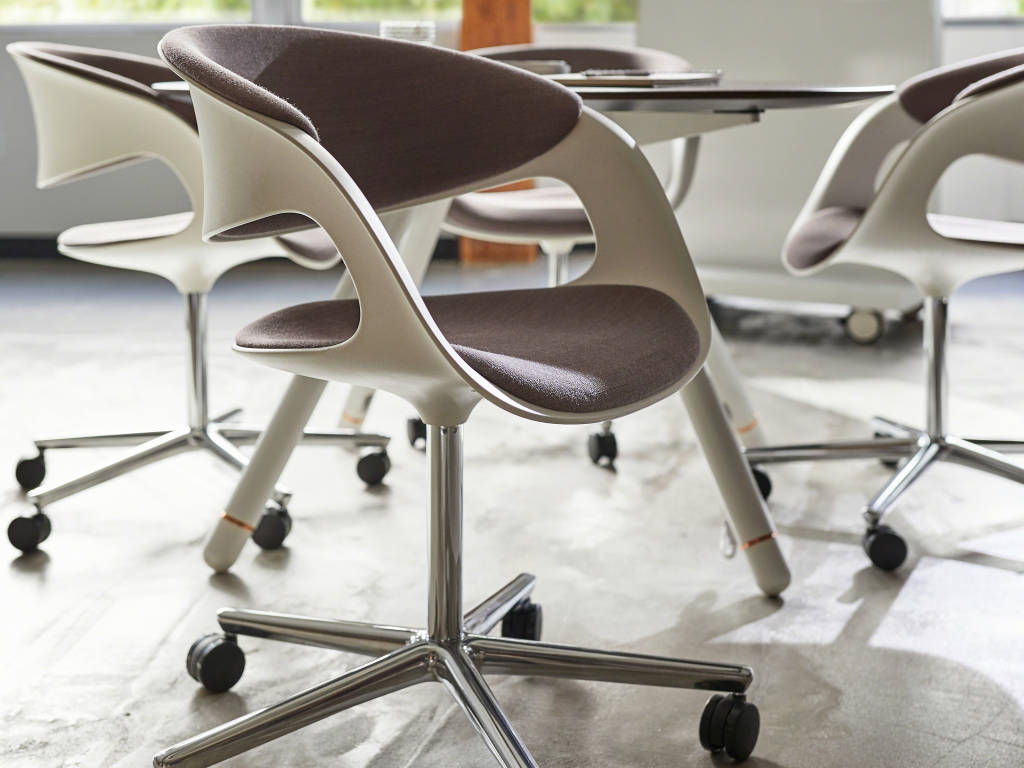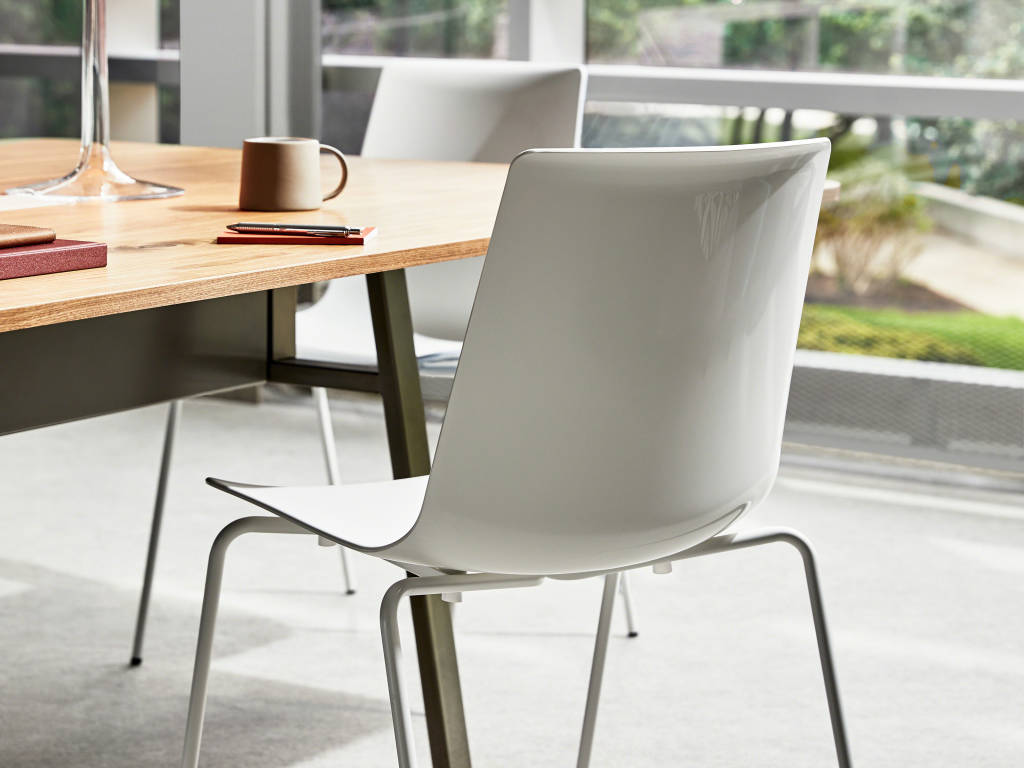 Lox Chair
New enhancements to the Lox chair by Coalesse give it more mobility than ever before without sacrificing its sleek and contemporary design. The comfortable conference seating is perfect for cafés and meeting rooms alike.
Nooi Chair by Wiesner-Hager
Nooi's interlocking frame creates a highly configurable solution for cafés and other large group spaces. The stackable chair comes in a range of colors and designs to best support your office needs.
---
Shortcut Wood Chair by Turnstone
Perfect for the home or office, conference room, dining room or coffee shop, Shortcut Wood brings a strong design aesthetic and the warmth of natural materials into the spotlight.
Amia Air
Amia Air is a fresh take on comfort. The geometric design of the backrest provides integrated LiveBack technology with a breathable, transparent aesthetic.
Brody Desk
A reinvention of the Brody WorkLounge, Brody Desk provides privacy and psychological security for focus work in a new posture and compact footprint.
Clipper Screens and Shortcut X Base Chairs by Turnstone
Clipper's lightweight and easily configurable portable screens provide on-demand privacy, allowing individuals and teams to seamlessly transition between solo and group work while balancing visual privacy with physical accessibility and proximity.
Campfire Pouf by Turnstone
The Turnstone Pouf offers a touchdown spot for impromptu collaboration or a quick conversation, bringing color and style to any lounge space.
B-Free Table and Enea Café Wood Stools
The B-Free Table creates an inviting café setting that also does double duty as a collaboration space. Integrated access to power in the B-Free table makes it easy for people to use their devices.
The more residentially inspired Enea Café Wood Stool is warm and modern with a rich mix of materials that compliments any café or collaborative setting.
IRYS Pod
This freestanding, enclosed solution offers meeting and focus spaces in the open environment without architectural renovations. IRYS pod blends into existing spaces, giving choice and control to individuals or small groups who need a quiet place.
Answer Beam
Answer Beam helps bring down barriers, making traditional work settings more open, casual and social. The light-scale spine delivers power and data, making it easy for people to use multiple devices.
Ology Height-Adjustable Desk with Rise App
Ology's Simple Touch control empowers users to effortlessly move the desk up or down, while Active Touch reminds workers to change posture with gentle desk motions. Active Touch pairs seamlessly with the Rise app (available Winter 2018) allowing users to create a profile with preset heights and activity goals, and to track their level of activity over time.
EMU Terramare Series
Take work outdoors with the diverse EMU Terramare Series from Coalesse. Attractive shapes and large dimensions create cozy, personal settings to connect with colleagues or simply rejuvenate.
---