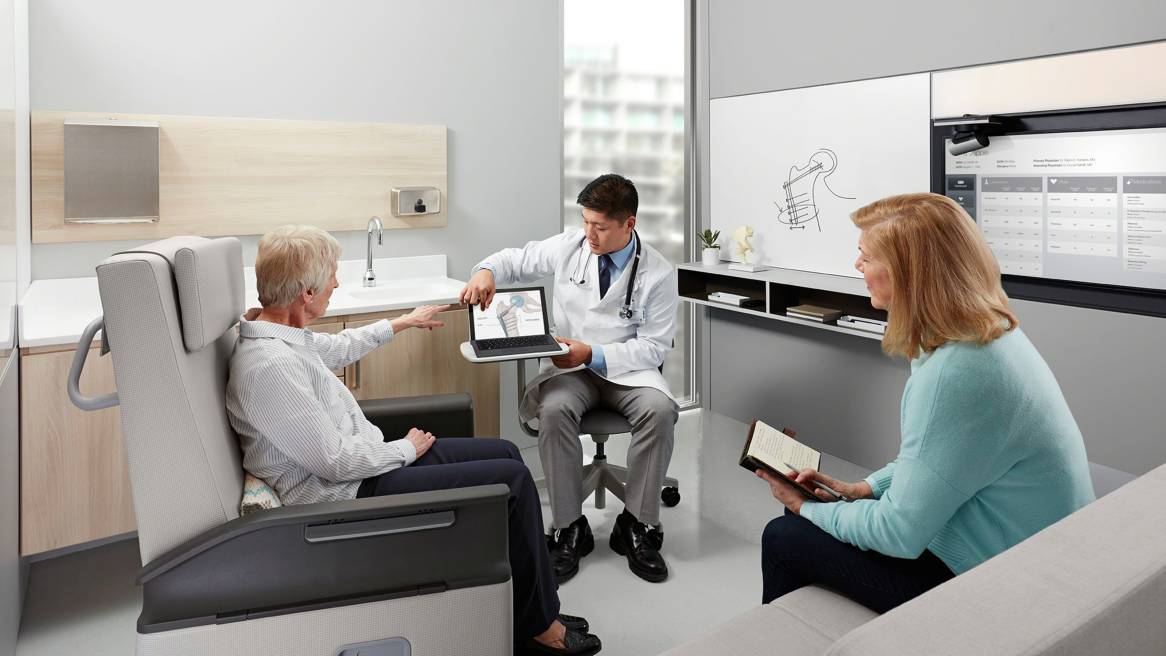 We Believe that Change Can Come from Truly Enriching the Moments that Matter Most.
Healthcare is experiencing rapid change that can often feel overwhelming. At Steelcase Health, we look for the changes that are possible.
Changes that are meaningful.
Changes that are personal.
Changes that can be pivotal for the people involved.
We study the places that support health and then deliver insights, applications and solutions designed to create moments that can lead to change. Moments that enhance the wellbeing, empathy and connection of clinicians, patients and families.
We believe in the power of place.
News
According to supplyinsights.com, "the Supply Chains to Admire™ work is an annual study of supply chain excellence." Showcasing the full report, the website notes that "it is a study of supply chain performance and improvement of publicly held companies." Included in the list are top technology and food organizations as well as Steelcase, the only furniture organization.
Featured Products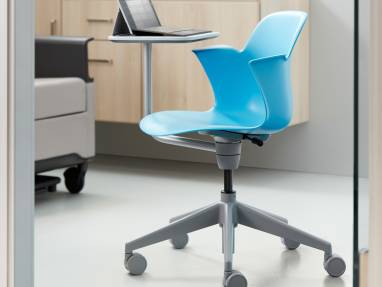 Node with ShareSurface
Node with ShareSurface is designed to foster a better shared healthcare experience for clinicians, patients and family members. Available Fall 2016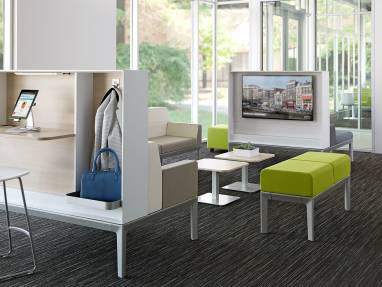 Regard
The Regard modular lounge system supports times of transition to make every moment more meaningful.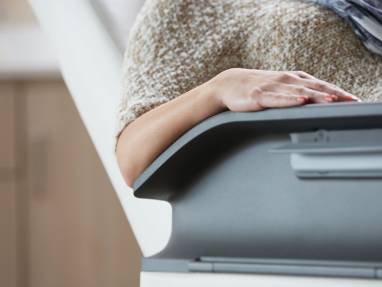 Empath
The Empath recliner is designed to reduce stress and the potential for injury for both patients and clinicians while increasing physical and emotional connectedness.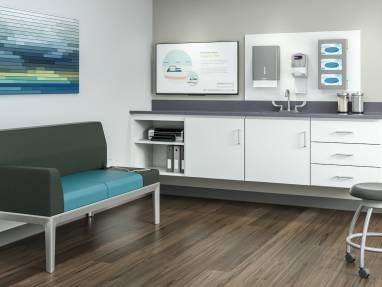 Folio
Folio casegoods deliver progressive, modular storage designed around the changing needs of healthcare places.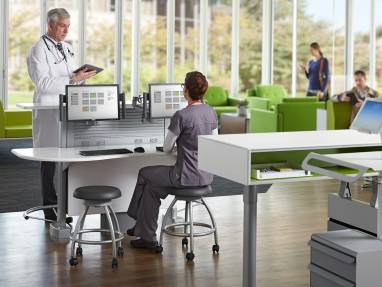 Sync
Designed to support clinicians in action, Sync workstations facilitate collaboration between colleagues, connection to patients and access to the technologies and information vital to quality care.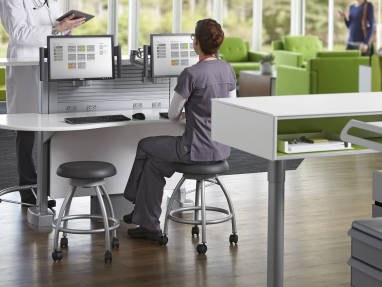 Verge
The Verge stool provides a quick and comfortable place to sit as clinicians collaborate with each other and connect with patients and families.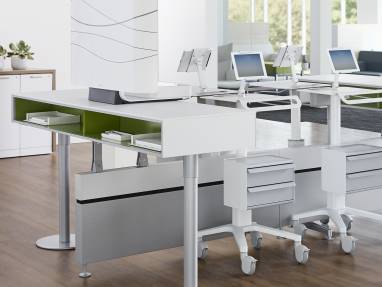 Pocket
The Pocket mobile worksurface supports connected care, from task to task and space to space.
Insights
Radical Transformation in Healthcare
A Radical Transformation Is Taking Place in Healthcare
Healthcare is evolving at a rapid pace and changing on almost every front. As changing dynamics add complexity to an already complex industry, the challenges that healthcare organizations face are greater than ever. Addressing high-priority issues is key to developing a strategy for sustainable success.
Our seminal Healthcare: Time for Change Insights + Applications Guide combines insights and practical solutions yielded from 18 studies and 15,000 hours of research.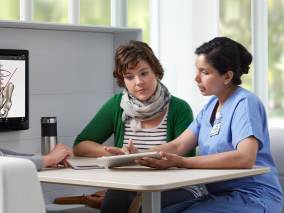 Clinician Privacy
Prescribing Clinician Privacy: Taking care of the caretaker
In fast-paced healthcare work environments, the need for privacy is evident – and it's hard to come by.  Steelcase Health offers an innovative new approach for improved clinician efficiency, accuracy, satisfaction and overall wellbeing. It's designed to empower clinicians, connect them to technology and to each other and, ultimately, to create more connected patient care. And privacy is a very important part of the story.
Clinician Safety
Supporting the Safety + Wellbeing of Nurses and Clinicians
As the wave of change shifts our healthcare system from diagnosis and treatment to prevention and wellness, clinicians and nurses play a key role in shaping the healthcare environment and the patient experience.
Clinicians and nurses are highly susceptible to workplace injuries. While we look to advance our healthcare model, experience and environment, it's important to also consider the professional caregiver.
Steelcase Health conducted a survey of U.S. and Canadian clinicians to understand the challenges clinicians and nurses face while at work and to quantify and evaluate perceptions of potential risks to both their and their patients' wellbeing.
Services
Overview
Group Purchasing
Group Purchasing
Group Purchasing
Steelcase Health group purchasing options can be attained through the following organizations:
Product categories included on all Group Purchasing Contracts are:
Clinical casework for labs, pharmacies and nurses' stations
Carts + material handling
Ergonomic seating
Filing + storage
For more information, contact Customer Care or Rob Lau, Client Relationship Manager – GPOs at (502) 689-2736.
Government Solutions
Government Solutions
Government Solutions: Healthcare
Steelcase has a GSA Multiple Award Schedule that features products applicable for virtually every area within a healthcare environment. From waiting areas and exam rooms to patient rooms, caregiver stations and administrative areas, we offer a truly comprehensive product portfolio. With our dealer partners, we are committed to providing product and service solutions for the clinical and administrative areas of our federal government healthcare facilities.
Access our product portfolio through GSA Contract GS-27F-0014V.
Design Accreditation
Design Accreditation
Evidence-Based Design Accreditation + Certification
Steelcase Health is proud to be the educational partner for The Center for Health Design and the Evidence-based Design Accreditation & Certification (EDAC) program.
Launched in 2009 by The Center for Health Design, the internationally-recognized EDAC program awards credentials to those who have passed the examination. EDAC is known within the industry, and many healthcare organizations, including the Military Health system, are requesting EDAC certified individuals in their RFPs.
Steelcase Health works closely with the design community, supporting their desire to become accredited and certified. This includes offering webinars, networking events, and more. Steelcase Health also works with the American College of Health Care Architects to incorporate EDAC into curriculums.
Contact Bill Coble to learn more about the program, the Steelcase Health discount and study sessions near you.
Solutions
Exam Spaces
Exam Spaces
At the Center of the Healthcare Experience
No longer just a place for medical exams and treatments, the exam room is also a space where consulting, learning and person-to-person sharing happen.
Whether in a doctor's office, urgent care center, surgery center, or emergency room, exam rooms are hardworking, high-functioning spaces that support the activities and relationships that create connected, satisfying and effective healthcare experiences.
Download our Insights + Applications Guide to learn more.
Clinician Workspaces
Clinician Workspaces
Clinicians' Work is Highly Varied + Demanding
In a changing healthcare industry, there is increased need for a range of spaces that are suited to the dynamic roles and relationships that clinicians switch between during a shift. Space for collaboration. Space for focus. Space for respite.
For organizations driving improvement through their operations, clinician workplaces can be a strategic asset for increased effectiveness, which in turn has a positive impact on patient care and satisfaction.
Download our Insights + Applications Guide to learn more.
Patient Rooms
Patient Rooms
Healing, Teaching + Learning
Patient rooms are intimate environments where patients, families and clinicians come together around care. At their best, they are environments that aid a patient's recovery, improve how clinicians do jobs and welcome family members as active participants in care.
By integrating hospitality, empowerment and comfort throughout the space, well-designed patient rooms can provide better experiences and enhance a hospital's reputation for delivering quality care.
Download our Insights + Applications Guide to learn more.
Oncology Treatment Spaces
Oncology Treatment Spaces
A Person-Centered Approach to Care
Instead of a "one-room-fits-all" approach, oncology treatment centers are now designed as an ecosystem of spaces to serve a wide range of people with different needs and preferences.
A suite of oncology treatment applications accommodates many scenarios, from private treatment areas to communal spaces that encourage patients to form friendships, personal support networks and help humanize this segment of the healthcare journey.
Download our Insights + Applications Guide to learn more.
Waiting Places
Waiting Places
The Journey is More Than the Point of Care
Patients and their families are frequently left waiting. Waiting to meet with their care provider. Waiting for a diagnosis. Waiting to receive information or literature. And the places where they wait are often uncomfortable and unappealing.
Instead of simply waiting, these times can be put to more productive use as places where people can connect with others, absorb information and ready themselves for the next step in the journey.
Download our Insights + Applications Guide to learn more.