Like the Michigan bridge that inspired its name, Mackinac helps people connect and easily navigate from activity to activity. Distinct microzones support focused work, small group collaboration and privacy for rejuvenation.
Design
Beauty and Function
Mackinac was created with beauty and function in mind. Designed with a height-adjustable cantilevered worksurface for easy collaboration, microzones for quick shifts between activities and a wide array of materiality for personal expression, Mackinac allows you to imagine your best day ever.
Microzones
FOR ALL THE WAYS YOU WORK
Mackinac creates microzones where people can easily transition between work modes – from working alone to working with others, or a quick moment of respite – reducing the time they spend looking for just the right place to work.
Height-adjustable cantilevered worksurfaces allow people to easily shift from individual focused work to collaboration.
Shelving towers can host technology, as well as provide people much-needed visual separation to minimize distractions and allow for moments of respite during a busy day.
Materiality
MAKE IT YOURS
Mackinac is a high-performing and beautiful, human-centered setting that makes people feel comfortable and valued. The materials offering comprises a wide range of veneers, laminates, glass, textile, Corian, paints and more that make Mackinac—and the whole work experience—your own.
Steelcase Wood Solutions
Steelcase has been building wood furniture for nearly 100 years. Learn more about what role wood plays in our products, our sustainability practices and get inspired by our 150+ veneer and laminate finish options.
Connect With Us
GET THE LATEST PRODUCT NEWS AND ANNOUNCEMENTS
I HAVE A PROJECT
Would your project benefit from Mackinac? Contact your local Steelcase representative or Steelcase dealer.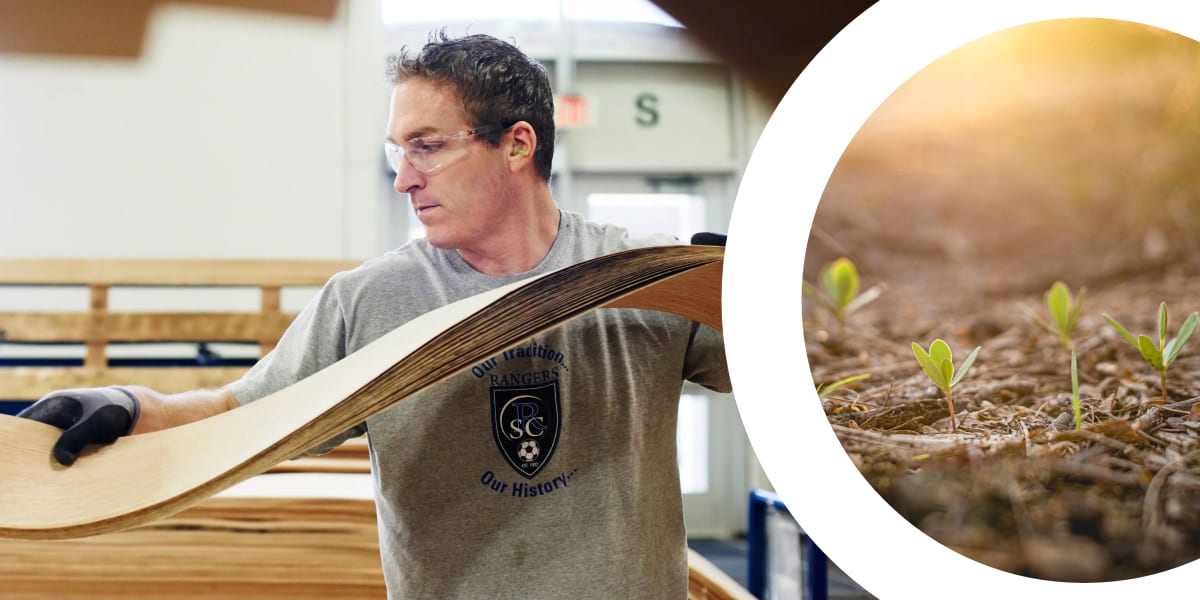 Sustainability
Designing for Sustainability
We create products that are good for people, and good for the world. Our products and operations are designed around a commitment to reduce climate change, reinforced by sustainable practices across our value chain.
Our Sustainable Design framework ensures our products are designed with consideration of life cycle thinking and cradle-to-cradle principles:
Source materials responsibly
Minimize global warming and other life cycle impacts
Ensure material health
Enable end-of-use strategies
Specifications
Standard + Optional Features
Standard + Optional Features
Features + Dimensions
Worksurfaces
30"D x 48", 54", 60", 66", 72"W
36"D x 48", 54", 60", 66", 72"W
(Worksurfaces can be positioned either parallel or perpendicular to the foundation.)

Collaborative Surfaces
36 ̋ D x 42 ̋ W
42 ̋ D x 42 ̋ W
42 ̋ D x 48 ̋ W
Foundations
12 ̋D x 54 ̋, 60 ̋, 66 ̋, 72 ̋W x 23 ̋H
Towers
2-High: 12 ̋D x 54 ̋, 60 ̋, 66 ̋, 72 ̋W x 591⁄2"H
3-High: 12 ̋D x 54 ̋, 60 ̋, 66 ̋, 72 ̋W x 771⁄2"H
(Tower heights include 23 ̋H foundation.)
Columns
Seated Height: 14 ̋D x 17 ̋W x 27 ̋H
Standing Height: 14 ̋D x 17 ̋W x 40 ̋H
Height-Adjustable: 14 ̋D x 17 ̋W x 271⁄2"– 441⁄2"H
(Columns for use parallel to foundation are 14"D and for use perpendicular to foundation are 18"D.)
Full-length Shrouds
54 ̋, 60 ̋, 66 ̋, 72 ̋W x 18 ̋H
Half-length Shrouds
27 ̋, 30 ̋, 33 ̋, 36 ̋W x 18"H
Privacy/Modesty Panels
Fabric: 36 ̋, 48 ̋W x 18 ̋, 24 ̋H
Glass/Metal: 36 ̋, 48 ̋W x 18 ̋H
SURFACE MATERIALS
Worksurfaces + Collaborative Surfaces:
Laminate
Veneer
Back Painted Glass
Corian
Foundation Skins:
Laminate
Veneer
Back Painted Glass
Corian
Towers:
Paint
Accent Paint
Lux Coating
Tower Shelves:
Laminate
Veneer
Back Painted Glass
Corian
Tower Shrouds:
Fabric
Vertical Surface Textiles
Columns:
Paint
Accent Paint
Lux Coating
Privacy/Modesty Panels:
Fabric
Back Painted Glass