Ology height-adjustable benches support the wellbeing of workers in any health-conscious work environment regardless of size, layout or footprint.
Take Control of Wellbeing in the Workplace
Every aspect of Ology has been designed to promote user movement and wellbeing, including two control options—Simple Touch and Active Touch.
Ology's Simple Touch controller empowers users to effortlessly move the desk up or down without taking their eyes off their work, while Active Touch reminds workers to change posture with gentle desk motions.
Active Touch pairs seamlessly with the Rise app allowing users to create a profile with preset heights and activity goals, and to track their level of activity over time.
Physical Challenges
People are simply not moving enough throughout their workday. In fact, adults are sitting 50-70% of the time.
This sedentary workstyle poses long-term physical challenges, from back and neck pain to repetitive stress injuries.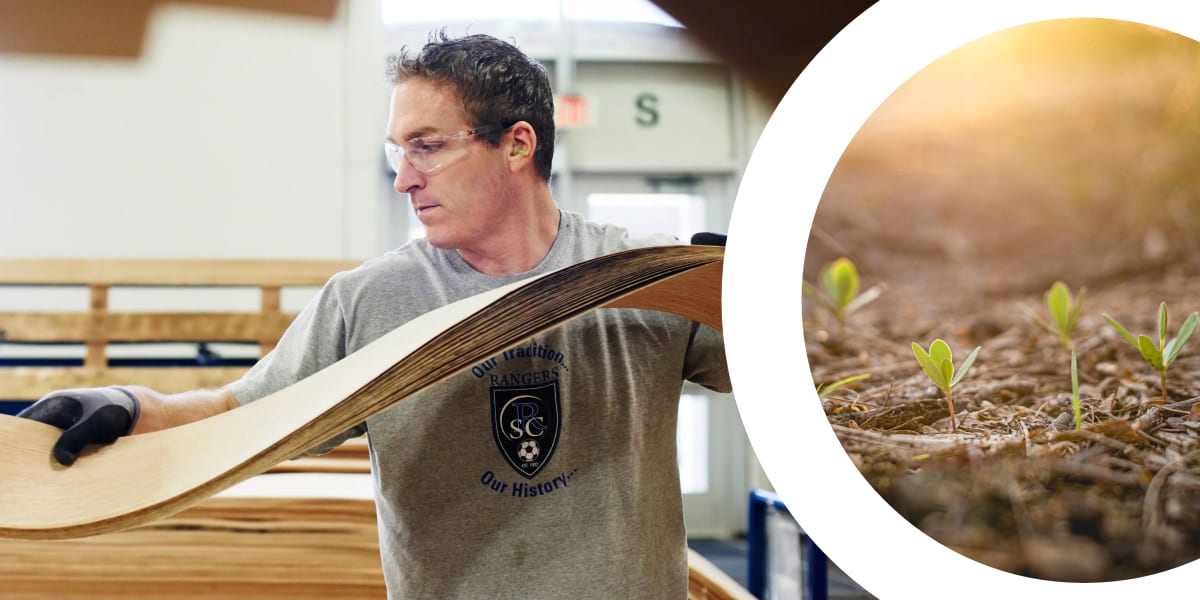 Sustainability
Designing for Sustainability
We create products that are good for people, and good for the world. Our products and operations are designed around a commitment to reduce climate change, reinforced by sustainable practices across our value chain.
Our Sustainable Design framework ensures our products are designed with consideration of life cycle thinking and cradle-to-cradle principles:
Source materials responsibly
Minimize global warming and other life cycle impacts
Ensure material health
Enable end-of-use strategies
Specifications
Standard + Optional Features
Standard + Optional Features
Standard + Optional Features
Top Shape
Rectangular:
-Widths: 40" – 76", parametric widths are available up to 1/16"
-Depths: 23″ (overall 50″), 28″ (overall 60″), 34″ (overall 72″)
120-degree corner:
-Widths: 34" – 64", parametric widths are available up to 1/16"
-Depths: 23″ (overall 50″), 28″ (overall 60″)
Height Range
Extended Height: 22.6″-48.7″
Basic Height: 27.3″-46.4″
Fixed Height: 28.5″
Obstruction Sensing Technology is standard
Configurations
Single- and dual-sided rectangle bench
Single-, dual-, and triple-sided 120-degree bench
Weight Capacity
314 lbs. per workstation (2-leg)
471 lbs. per workstation (3-leg)
Controller Options
Active Touch controller
Simple Touch controller
Corner style
Square
Radius (laminate only)
Cable Management:
Vertical Cable Manager included
Power tray comes standard, with tray covers to conceal power
Data tray and kit available as an option
Screens
Universal Centered Screens
Sarto Centered Screens
Worksurface privacy and side screens available in specific applications
Surface Materials
Worksurfaces
• Laminate
• Veneer
• OLL
• customizing stain.
Legs
• Arctic White (7241)
• Black (7207)
• Merle (7360)
• Platinum Metallic (4799)
Ology User and troubleshooting information
Visit the Ology Support Center to view all Ology Desk and Bench assembly directions, troubleshooting and user guides.
Global Availability
Global Availability
This product is available in the following regions:
Asia Pacific
Central America
South America
North America
Europe
Middle East
Africa
Not available in your region?
If you're interested in purchasing a product that's not available in your region, please contact your local dealer for purchasing options.