LinkedIn Designs Office for the 5 Senses
"It's all about turning on the senses at work, not turning them off," says Il Prisma architect Elisabetta Pero. Il Prisma, a Steelcase distributor, undertook a unique research project which led to the design of LinkedIn offices in Milan, Munich, Paris and Madrid that engage the five senses — in order to boost employee wellbeing. Afterall, it's through the five senses—sight, smell, hearing, taste, and touch—that humans perceive the world.
Il Prisma undertook a scientific study to measure how the five senses within the workplace neurologically affect people. The research helped determine what fosters different states in the brain, specifically attention, focus, learning, evocative, simplicity and calm, which help people work better.
The firm found that rooms designed to stimulate the senses can have a positive or negative affect on a person depending on what kind of work they need to get done. For example, sensorial rooms improved people's ability to learn and concentrate on individual tasks, but were not as ideal for group problem solving.
The conclusion from Il Prisma's research on sensorial design in the workplace offers an important takeaway: Senses should be taken into account so workers can choose the environment that best suits their needs. Il Prisma used its research to design LinkedIn workplaces in Madrid, Munich, Milan and Paris. Each space includes personalized settings created specifically for the people who work there and for the kinds of work they will be doing.
LinkedIn Madrid and Munich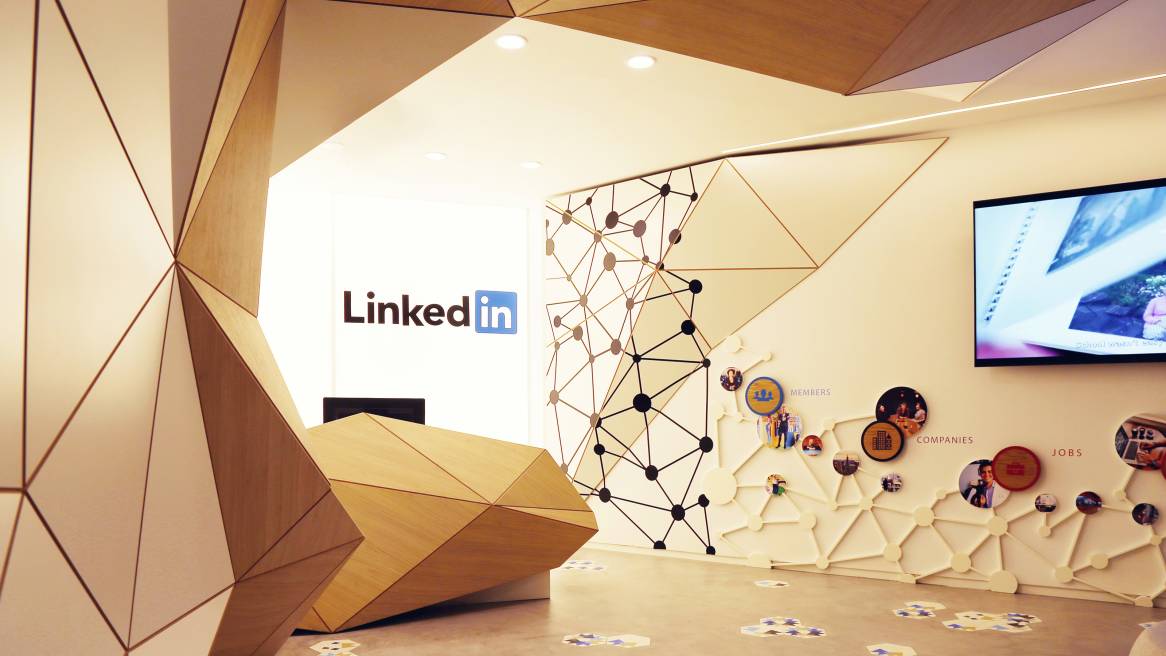 At the Milan LinkedIn office, with an umbrella theme of transformation, the company used different rooms to represent five typical locations in Italy: a theater, a restaurant, a tailor's shop, a cellar and a garden. In Paris, the LinkedIn office became the "Worksphere Ecosystem." This metaphor reflects the global values of transformation, collaboration, excellence and the importance of every member, mixed with the local soul, pride, relationship, passion and love.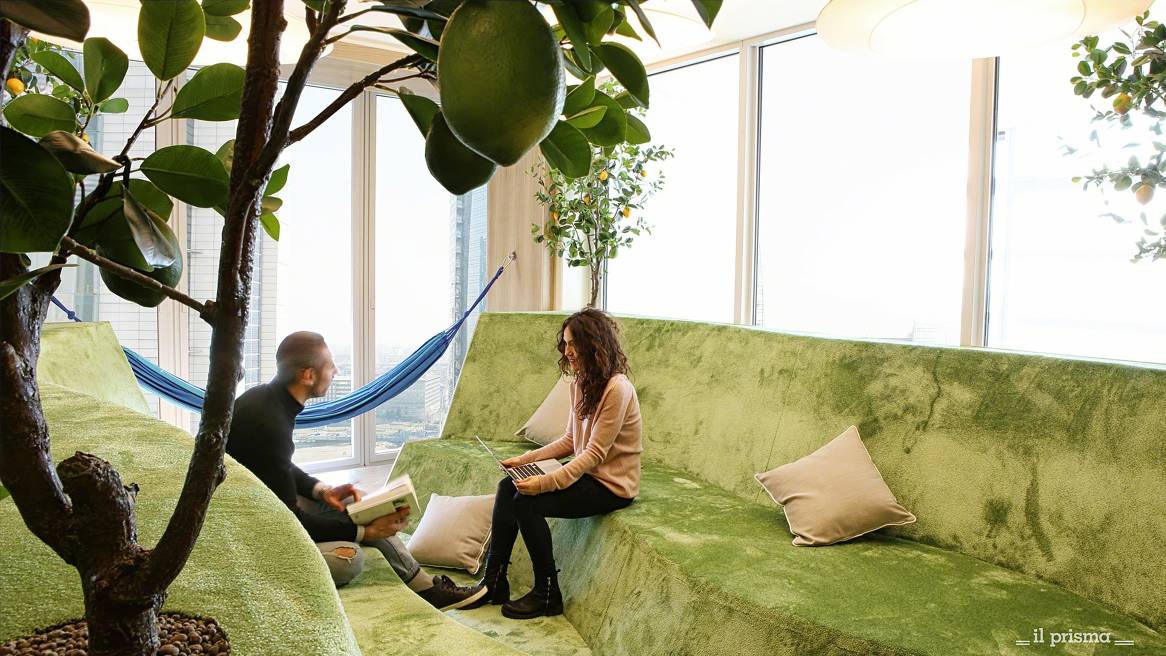 LinkedIn
Il Prisma used different rooms in the LinkedIn Milan workspace to represent five typical locations in Italy: a theater, a restaurant, a tailor's shop, a cellar and a garden. The "Sensory Garden" was designed for informal meetings, brainstorming and relaxation.
LinkedIn
The "Theater" space in LinkedIn's Milan workspace uses large wooden terraced steps in warm tones. It allows the company to share business results as well as games, passions and experiences.
LinkedIn
In the Milan Cellar, workers can drink a glass of wine while listening to music and cedar wood is present. The room is ideal for highly private meetings or intense moments of concentration.
LinkedIn
The "Restaurant" space in Milan is in line with the informal spirit of the Italian team. The work day often begins with breakfast and each break is an opportunity to re-energize and share ideas and projects.
LinkedIn
Several "Restaurant" settings such as a lounge, alcove and kitchen give the space flexibility and support different kinds of work.
LinkedIn
The arrival area for the LinkedIn office in Paris is designed to introduce and welcome visitors through an immersive brand experience that incorporates the soul of the region.
LinkedIn
This area in the Paris office celebrates the traditional French cafe as a place for conversation and free thought.
LinkedIn
In the LinkedIn Paris cafe, a sophisticated lounge area and library are combined with a welcoming breakout space dominated by a single central table dedicated to socializing.
LinkedIn
Every window in the "Détails de Style" area evokes a feeling of being immersed in the French world.
LinkedIn
The materials, colors and patterns in the "Détails de Style" area were chosen to recall the feeling of walking on a street filled with Parisian boutiques.
LinkedIn
This area is inspired by the essences and aromas of France. Glass walls and wooden pergolas recall the places where the French create their most exclusive fragrances and flavors.
LinkedIn
In this space, lights, colors and shapes introduce a way for people working there or visiting to know the city of Paris.
LinkedIn
This gathering area is inspired by French cinema, opera and theater. A modern projector and an angled seating area allows for meetings, screenings and informal events.
LinkedIn
This area is intended for relaxation and informal gatherings. It's designed to celebrate multiculturalism in the different communities around Paris.
To read more about how Il Prisma conducted its research and its findings, read "Engaging the Five Senses" in 360 Magazine.
You may also like
The Office Renaissance: A Rebirth. And Why It Matters.
Inspiring Spaces Reinvigorate the Office