Universal is a complete storage family consisting of medium- to high-capacity cupboards made from sustainable materials.
Creating Spaces
Universal cupboards in different heights help set boundaries and define space, providing people with varying levels of acoustic and visual privacy.
The design blends with an extensive range of furniture, making it a comprehensive and flexible element to structure and optimize spaces that support both focus work and collaboration.
Make It Yours
Express your personality and culture with a broad array of aesthetic choices. From a range of dimensions and materiality to a wide variety of colors and different handle options – Universal Storage makes customization easy for designers.
Applications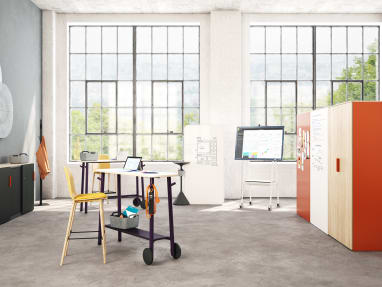 Open collaborative space
This inviting collaborative space encourages active collaboration and facilitates conversations, promoting creative work.
The Universal Storage provides boundary and separation between spaces, ample storage for team supplies as well as space for analogue notetaking aside the Microsoft Surface Hub.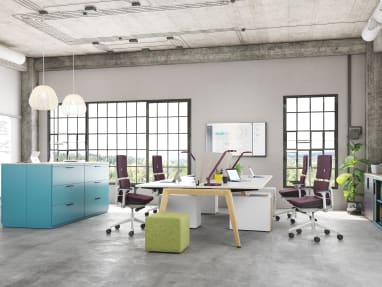 Team Workspace
This team workspace provides a focused work area for a resident team with convenient supply storage, technology support and worktools.
The adjacent Universal Storage island and Flex Whiteboards provide an informal space to connect and collaborate with peers while also providing additional storage for a team library or project supplies.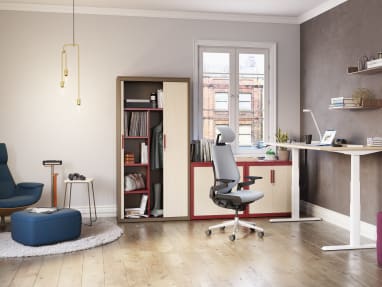 Private office
This enclosed and owned private office facilitates deep workflow by promoting fluid transitions between task, standing and lounge postures.
The Universal Storage Wardrobe Unit provides an organized, lockable space for personal items and documents used throughout the day.
Sustainability
Overview
Overview
Designing for Sustainability
We believe the only way to provide the best office furniture solutions is to ensure they're the best products for the environment. That's why every step of the way – through design, manufacturing, delivery and product lifecycle – we consider the impact of our work on people and on the environment and uncover opportunities to make things better.
Universal Storage is a fully sustainable metal product, designed free of PVC and produced with eco materials and manufacturing processes.
30 %
Up to
recycled content by weight
99 %
Up to
recyclable by weight
Life Cycle
Life Cycle
Materials
30% recycled materials, by weight (6% pre-consumer + 24% post-consumer).
Wood from European sustainably managed forests.
30% recycled cardboard and 30% recycled LDPE film in packaging.
Production
Made in Madrid (Spain) by Steelcase.
Uses powder-coat paints: VOC-free and free of heavy metals.
Transport
Made in Europe, close to customers.
Use
Designed for a long product life, with replaceable parts.
Materials meet stringent health and indoor air quality criteria.
Maintenance information available on steelcase.com
End of Life
99% theoretically recyclable by weight.
100% theoretically recyclable cardboard and LDPE film for packaging.
Quick and easy disassembly.
Plastic parts clearly labelled for easy sorting and effective recycling.
Designed to ensure responsible end of use strategies – refurbishing, charitable donation or recycling.
LEED Contribution
LEED Contribution
Steelcase helps customers seeking LEED certification to identify products and programs that can contribute to LEED criteria in the categories of Materials and Resources, Indoor Environmental Quality and Innovation (Ergonomics Training, Sustainability Training, Product Innovation).
Learn about Steelcase's direct and indirect contributions to a project's pursuit of LEED certification across LEED's three categories:
Building Design + Construction
Interior Design + Construction
Operations + Maintenance
Since the USGBC and its certification partner, GBCI, evaluate each project individually, the role our products play in achieving LEED certification is unique to each project.
Certifications
Certifications
Certifications can help you choose products that are environmentally sustainable and just right for your project. Universal Storage has achieved the following certifications:
EPD – Environmental Product Declaration
PEP – Product Environmental Profile
NF Environnement
NF Office Excellence Certifié
Indoor Advantage Gold
GS
PEFC
AENOR Ecodiseño
Specifications
Options + Dimensions
Options + Dimensions
Tambour Doors
H715, 850, 1000, 1300, 1500, 1700, 1980 mm
W800, 1000, 1200 mm
D450 mm
Internal fittings: metal shelves or file frames
Hinged Doors
H715, 850, 1000, 1300, 1700, 1980 mm
W800, 1000 mm
D450 mm
Internal fittings: metal shelves or files frames
Drawer Units
H1000 mm
W1000, 1200 mm
D450 mm
Drawers: 3U (150 mm), 6U (300 mm) with drawer of files frame
Sliding Doors
H1000, 1700 mm
W1200 mm
D450 mm
Internal fittings: metal shelves
Wardrobes
H1700, 1980 mm
W600, 800, 1000, 1200 mm
D450 mm
Fronts: Tambour or hinged doors

Internal fittings:
Single (1 Lock)
Single + metal shelves
Double (2 Locks)
½ wardrobe + ½ metal shelves
Telescopic hanging rail or magnetic hooks
Surface Materials
Surface Materials
Tambour Doors
Tops: metal or laminate
Fronts: polypropylene
Hinged Doors
Tops and fronts available in metal or laminate.
Sliding Doors
Tops and fronts available in metal or laminate.
Drawer Units
Tops: metal or laminate
Fronts: metal
Wardrobes
Tops and fronts available in metal or laminate.
Carcass, handles and shelves are made of metal.
Global Availability
Global Availability
This product is available in the following regions:
Africa
Europe
Middle East
Not available in your region?
If you're interested in purchasing a product that's not available in your region, please contact your local dealer for purchasing options.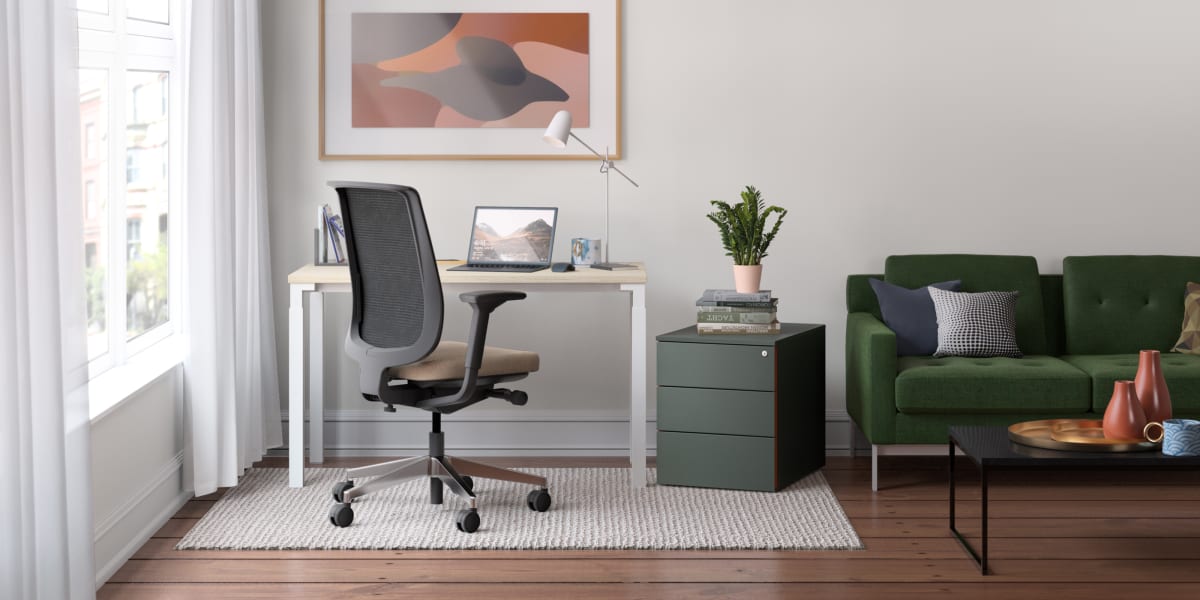 Work from Home
While teams are working from home, we're working to keep them comfortable. You can lean on Steelcase as your one trusted point of contact for products that blend performance with design.
Due to local regulations, select products are available in the UK.