Application Ideas
How Students Use Space
How Students Use Space
Private/Alone
Individually dedicated spaces support a range of focus and concentration and should consider appropriate human scale for individuals and their wellbeing. Plan for short- and long-term security of personal items and the accommodation of new worktools.
Public/Alone
Individuals want to study in the company of others to stay socially connected while working alone in a variety of open settings. Support the need for co-existing focused work and social interactions, allowing settings to switch from individual to dyads and triads. Offer highly flexible and self-customizable furnishings and tools while supporting postural changes for short- and long-term use.
Public/Together
Support the demand for large, scheduled functions with multipurpose, highly adaptable gathering places. Accommodate impromptu teaching and collaborative activities by removing barriers between students and staff. Recognize the increased need for just-in-time technical support for questions, support and maintenance.
Private/Together
Technology-rich library classrooms should accommodate multiple uses such as active learning, computing and distance learning with fluid transitions. Support multiple meeting modes — inform, evaluate and co-create—for small to large groups.
Individual Study
Individual Study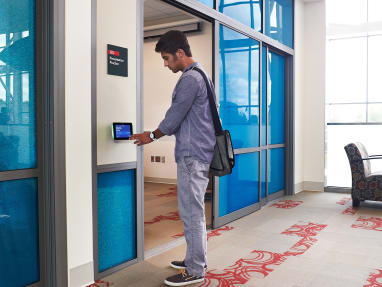 Study Cave
(Private/Alone)
Private study is still very prevalent in the library. Allow students to block distractions and settle in for long periods of study with panels and plenty of worksurface space.
High panels provide privacy and block distractions while still allowing light through the glass.
Strategic open panels allow light to penetrate and offer security.
Ergonomic seating supports focused work over an extended period of time.
A large worksurface allows students to spread out materials, both analog and digital.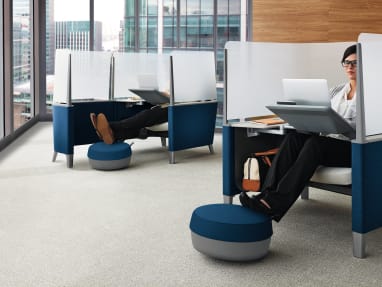 Study Carrel
(Private/Alone)
Despite the increase in collaborative projects, students still need time to focus. Brody WorkLounge blocks distractions and maximizes real estate by providing an oasis for focused work anywhere on campus.
The adjustable worksurface brings students' devices and content to eye level to minimize strain on the back and neck.
The Brody screen minimizes distractions in the peripheral vision to help increase attention.
The Brody footrest supports students in lounge posture
Group Study Spaces
Group Study Spaces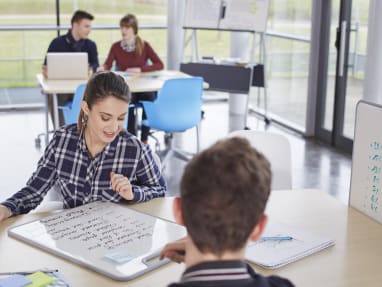 Immersive Work Studio
(Private/Together)
Groups often meet to complete assignments in libraries. Provide them with privacy from others and tools to collaborate.
Whiteboard surfaces allow teams to brainstorm and collaborate.
Easily movable, low-height furniture allows students to make the space their own.
Post and Beam divides open spaces, providing the privacy groups need.
Room scheduling systems allow groups to reserve a space in advance, avoiding a search for open project space.
Campsite
(Private/Together)
Students often need ample space to spread out and work together. Provide them with choice and control in an inviting setting to collaborate, co-create and discuss.
Mounted display of digital information makes it easy for everyone to see and contribute.
Multiple seating options allow students comfort and choice.
Ample space allows students to spread out in their own space while still able to easily collaborate.
Research + Insights
Observations
Observations
What We Observed
Libraries are becoming the academic heart of the campus, supporting social connections, collaborative needs and team projects, along with events for campus and community activities.
The central role of computer hardware and software has resulted in a demand for more library computer labs.
Anywhere/anytime information access has lessened the need to reference books, so book stacks are being reduced and moved to less prominent locations.
Librarians' roles are changing; they're instructors, technology advisors, research assistants and collaborators with students and faculty.
What We Heard
"We have to look at our information in the library and rethink the ways we provide it to people."
-Librarian
"It's really hard to focus when you're in an enormous room that has noise going on all over the place and you're trying to read things on a screen. Our library has a stateof-the-art computer area, but the entire floor is open. Everyone who's walking to the other end of the library has to come through."
-Student
A Broader + Deeper Resource
A Broader + Deeper Resource
The library is the academic heart of a school, but just as education is changing, so too is the library. With information available online virtually anytime, housing countless books has become of secondary importance.
Today's library should be a broader and deeper resource than ever, a place where traditional and new knowledge resources, instructors and students converge in an ongoing process of learning, teaching and discovery. It doesn't require more real estate, but simply rethinking how library space is used.
Challenges
Challenges
The library's dramatic shift to a multi-dimensional space hasn't been easy. For example, in recent decades, growing computer use led libraries to install computer stations, but their haphazard application often placed people in busy corridors with no privacy. Group work areas were often unintentionally placed next to individual study areas, leaving quiet-seeking students frustrated while student teams searched, often fruitlessly, for collaborative spaces and tools to support group projects.
Rhythm of Learning
Rhythm of Learning
There is a rhythm to an individual's learning process, and effective learning spaces support this rhythm of learning. Library space must be equally adaptable to the changing needs of students and instructors. A reduced emphasis on housing books frees up real estate for individual and group learning.
Steelcase research shows that college students tend to work in groups more in the evenings (outside class and work time) and individually or with one other person during mornings and afternoons. Spaces for solo tasks work best early in the day and must be flexible later on for other needs.
Palette of Place
Palette of Place
A palette of place supports the demands on a library today.
A variety of settings thoughtfully located throughout the library allows students and instructors to choose the space appropriate to different kinds of learning
Whether it's a quiet place for individual study, a space to work on a group project or another location they choose simply to match their need that day for a particular level of quiet or stimulation.
Having the choice, and being able to choose, empowers students and teachers and makes them more productive.
Case Study
Case Study
Grand Valley State University
Like every space on campus, the library now is being rethought and reorganized. See how Grand Valley State University and Steelcase applied the principles of Active Learning to completely re-imagine the library experience. To better understand the trends, Steelcase WorkSpace futures initiated a major study of libraries at private and public colleges and universities across the U.S., including GVSU. What the Steelcase researchers discovered were major shifts in how the library is being used and a number of opportunities to better leverage space, new technologies, and pedagogies for a new generation of students.
Design Tips for Libraries
Private/Alone
Individual spaces should support focused work, student wellbeing and the security of worktools.
Provide enclosed space for visual privacy.
Support the need for extreme focus and concentration by blocking all distractions.
Allow temporary ownership of space.
Support a range of short- and long-term ownership of space and privacy with assigned, secure spaces.
Private/Together
Library classrooms should accommodate active learning, computing and distance learning with fluid transitions. Team spaces should support multiple meeting modes and student project teams.
Support a fluid switch between activities.
Provide a range of blended learning and teaching environments, including online, webinars, etc.
Support multiple meeting modes—inform, evaluate and co-create—for small to large groups.
Provide tools for visual display, collaborative technology, information and acoustical privacy.
Provide highly flexible, customizable furniture to meet collaborative, privacy and ergonomic needs.
Public/Alone
Individuals want to work in the company of others to stay socially connected while working alone in various open settings.
Support the need for co-existence of focused work and social interactions; allow settings to switch from individual to dyads and triads.
Offer highly flexible and self-customizable furnishings and tools.
Support postural changes for short- and long-term use.
Enable quick, targeted access to computers, online services, printers, etc.
Support perched and standing short-term postures.
Provide access to dedicated computer workstations, specialized technologies and software.
Public/Together
Students often do group work in open areas to stay connected to others, requiring flexibility to meet their changing needs. Reference areas should capitalize on librarians' expertise in mentoring and teaching.
Accommodate impromptu teaching and collaborative activities.
Remove barriers between students and staff.
Provide accessible dedicated spaces for technical services.
Create multi-purpose, adaptable spaces to host large functions.
Related Products
Steelcase
The Brody WorkLounge is a private workspace that is designed to be good for your body and good for your brain – providing places to get away without going away.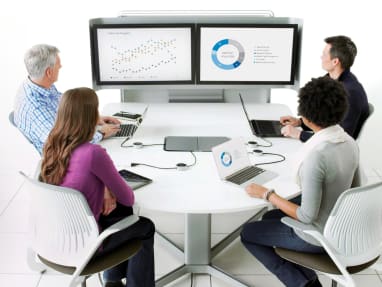 Steelcase
media:scape integrates technology and furniture to bring people, space and information together for greater collaboration and productivity than ever before.
Steelcase
cobi is a chair specifically designed to foster collaboration and keep participants focused and engaged. This collaborative chair encourages a variety of postures.
Additional Resources
Insights + Applications Guide
Students prepare for a future no one can predict and jobs that, in many cases, haven't been invented yet. Educators are responding to these diverse forces with a refreshing openness, adopting active learning and embracing new technology. Our Insights and Applications Guide provides the latest thinking on classroom design and learning spaces.
360 Magazine: Education Edition
This Education Edition is a compilation of 360 stories that explore design principles, product ideas and applications with the goal of improving student success. The stories demonstrate how new active learning environments improve student engagement and outcomes and help prepare them for success in the creative economy.
Steelcase Learning
Steelcase Learning is focused on helping schools, colleges and universities create the most effective, rewarding and inspiring active learning environments to meet the evolving needs of students and educators. We have a passion for understanding how learning best takes place and how smarter, active learning spaces can help.