Steelcase Learning is passionate about helping to create the conditions for lifelong learning. Our insight-led solutions and settings inspire people to become engaged, active learners within and beyond the classroom.
Explore Our Products for Learning
About Steelcase Learning
At Steelcase Learning, we're passionate about helping to create the conditions for lifelong learning. Our research-based foundations in education and active learning spaces enable us to serve all levels of learning. Working with leading schools and organizations, we measure outcomes and use our insights to design human-centered solutions and settings that foster greater wellbeing and engagement in learning.
In all we do, we focus on engaging minds and activating the spaces that can prepare people to thrive within and beyond the classroom and grow to love learning, always.
Igniting Innovation Through Learning
Francis Tuttle Technology Center's Danforth Campus offers an innovative space for creativity, hands-on learning and highly engaged students.
Latest News + Research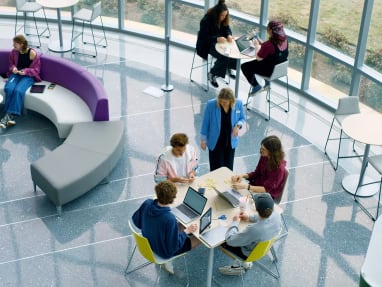 May 15, 2023
Francis Tuttle's Danforth Campus was designed to spark creativity and encourage students to ideate, explore and problem solve together.
K-12 Solutions by Smith System
Built for Learning. As part of our Steelcase community of brands, Smith System believes that every student and teacher deserve the best possible space to inspire learning.
How to Buy + Connect
CONNECT WITH US
Whether you need general information, planning a project or requesting a quote, our education specialists are here to help you at any stage.
Connect with a Dealer
Visit your Steelcase dealer to compare products, explore solutions and customize your workplace or healthcare spaces. Find your nearest dealer to schedule a visit.
Purchasing Contracts
Steelcase Learning group purchasing options can be attained through the following organizations:
SOURCEWELL
Sourcewell is committed to serving members with a continuous effort to meet present and future needs in a cost-effective manner delivering the very best products and services through nationally leveraged contracts, such as cooperative purchasing.
E&I COOPERATIVE SERVICES
E&I is the member‐owned, not‐for‐profit sourcing cooperative delivering expertise, solutions and services to higher education and related institutions.
OMNIA PARTNERS
OMNIA Partners is one of the largest and most experienced organizations in procurement and supply chain management. Covering both the private and public sectors, OMNIA Partners unites industry-leading buying power and world-class suppliers to offer an extensive portfolio of sourcing solutions and partnerships. Through economies of scale, OMNIA Partners is able to deliver more contracts, in more verticals, with transparent, value-driven pricing.