Steelcase Flex Active Frames are adaptable structures that define space by creating productive, flexible and inspiring homes for teams.
Discover the Options
The options are endless when designing with Active Frames. Choose from these eight preset configurations or use your imagination to create the perfect space.
Configure Now

Planning for the Workplace?
Uncover options to create an inspiring space.
Configure Now

Shopping for a Home Office?
See all the options for your work-from-home upgrade.
Buy Now
Customizable + Adaptable
Create your frame, fill your frame, personalize your frame – it's that easy with the simple system logic of Active Frames. Select your frame and shelves, determine your level of soft or hard enclosures and then make it yours.
Active Frames gridded and modular structure allows for short or long term reconfiguration and provides the adaptability needed in a resilient and evolving workplace. As team and workplace needs change, so can Active Frames. Add doors and locks to create personal lockers, or increase the height and width for more privacy in a space. Active Frames can support a wide ranges of needs in the open office.
Foundational Structures
Active Frames are foundational elements that maximize space by creating team neighborhoods when implemented across a floorplan. Not only are they designed to divide space, their multi-use functionality creates ideal spaces for teams to do their best work.
As a boundary solution, Active Frames provide clearly identifiable territory between teams. They give team spaces privacy and shelter from a busy corridor. And they can help make an ancillary space higher performing. Designed to be utilized across the floorplan, Active Frames make it easy to make the open plan the best it can be.
Product Features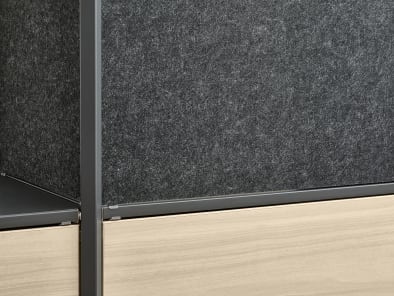 Infills
PET or laminate infills can be added to the frame to provide structure, different levels of enclosure and a functional yet decorative aesthetic.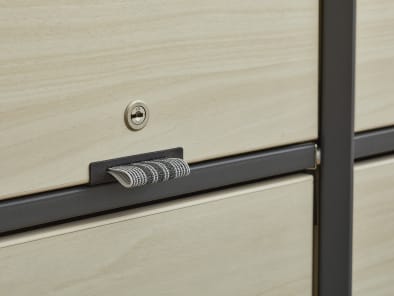 Doors
With a closed storage option, doors help organize the team's tools and keep work neatly tucked away. A soft fabric pull allows for easy access to essentials while a locking system helps secure personal or confidential items.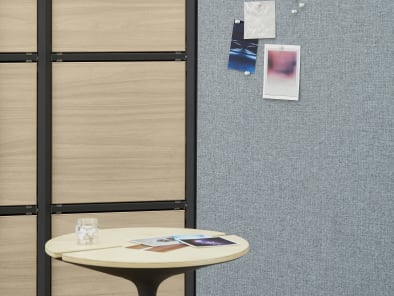 Fixed Boards
Pin-tackable, fixed PET boards or fixed markerboards allow the team to collaborate at the structure and display their work.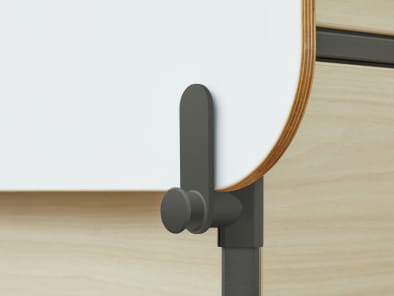 Board Clips
Detachable board clips can be added to the frame to host Steelcase Flex Markerboards either in vertical or horizontal orientation.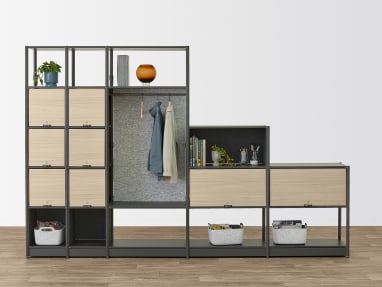 Coat Rod
Hang your coat, fabric samples or hanging plants from the optional coat rod.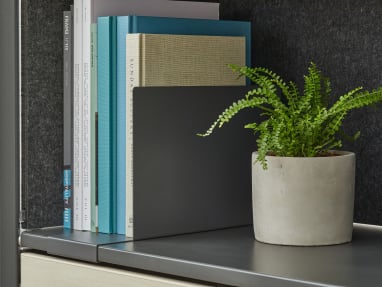 Bookends
The bookend connects on the front of a shelf and supports the end of a row of books to keep them upright.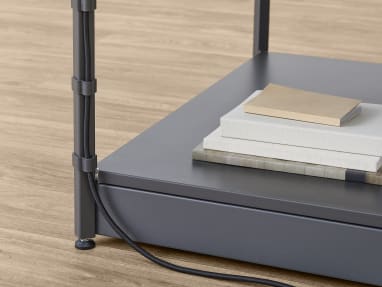 Cable Management Clip
Cable management clips can be added to the frame when power cords need to be routed through the structure.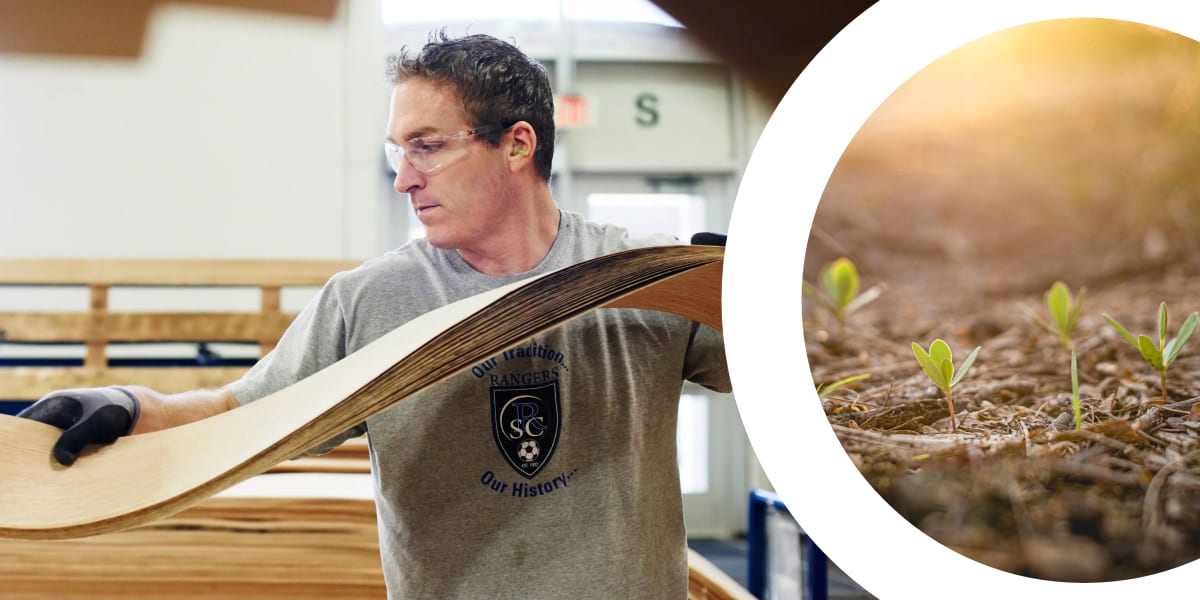 Sustainability
Designing for Sustainability
We create products that are good for people, and good for the world. Our products and operations are designed around a commitment to reduce climate change, reinforced by sustainable practices across our value chain.
Our Sustainable Design framework ensures our products are designed with consideration of life cycle thinking and cradle-to-cradle principles:
Source materials responsibly
Minimize global warming and other life cycle impacts
Ensure material health
Enable end-of-use strategies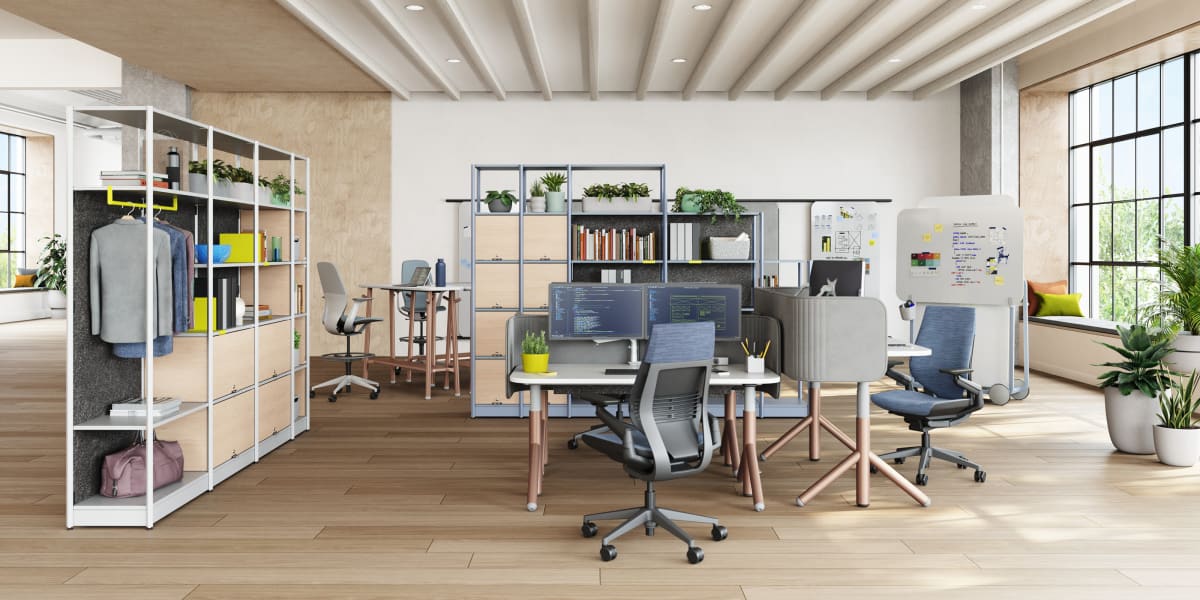 The Steelcase Flex Collection
The Steelcase Flex Collection is a range of flexible and reconfigurable workplace solutions that are designed for dynamic, collaborative teams. The collection allows organizations to provide environments teams and individuals need to do their best work, and empowers people to adapt their space on demand. Learn more about Steelcase Flex Collection and how it creates dynamic team neighborhoods for high-performing, collaborative teams.
Specifications
Surface materials
Frame and frame extension
Shelves
Infills
High-Pressure Laminate
P631 Dark Heather Grey PET
P636 Light Heather Grey PET
Doors
Lock
9201 Polished Chrome
9250 Ember Chrome
Bookends
Mobile board clip
Cable management clip
Fixed board
P631 Dark Heather Grey PET
P636 Light Heather Grey PET
2977 White Markerboard
Coat rod
Toolbox