Ideal for supporting the behavior of piling work and managing both active and anticipated work
Configure Now

Planning for the Workplace?
Uncover options to create an inspiring space.
Configure Now
Buy Now

Shopping for a Home Office?
See all the options for your work-from-home upgrade.
Buy Now
Technology Solutions + Desk Cable Management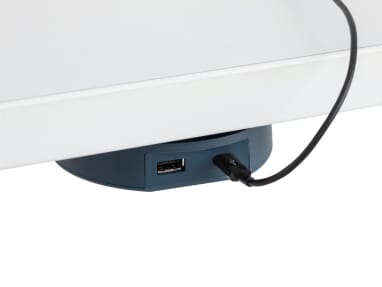 soto usb charging hub
SOTO USB Charging Hub mounts under existing worksurface. It features two ports, UBS-C (60W max.) and USB-A (2.4A max.), enabling it to discretely charge two devices at a time, including a USB-C-compatible laptop, tablet or mobile phone.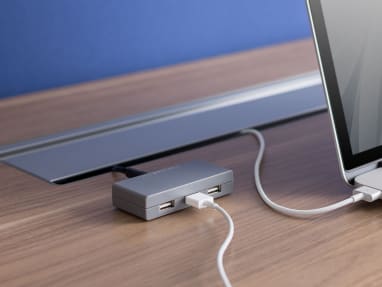 usb charging station
The USB Charging station can charge multiple devices with USB cables in one of three outlets. Can be secured with adhesive strips.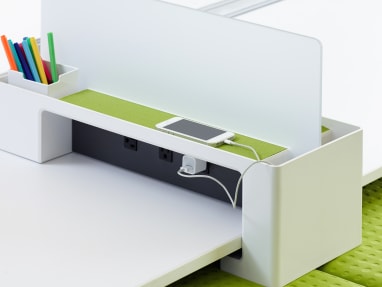 Launch pad
Available with or without power, Launch Pad provides separation between workspaces and protective storage. Powered option offers three easily accessible outlets on each side. Optional divider screen can be retrofitted without the use of tools.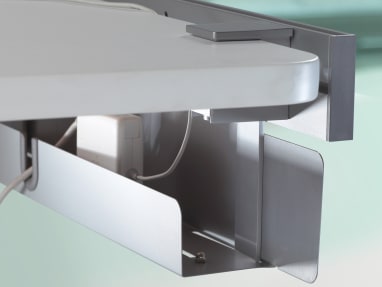 cableway
Easily integrated with both the SOTO rail and c:scape personal screen, Cableway keeps your workspace free of stray cords, managing power at worksurface height for a clean aesthetic. A center grommet provides a protected area for cables to enter and exit the workspace.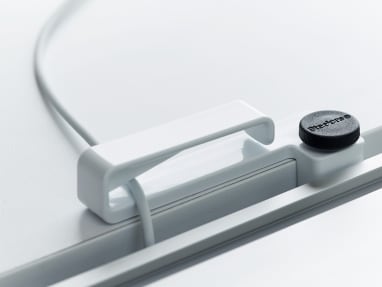 Cable clip
Keep technology, power and charging cables in place and off the floor. Cable Clip can be clamped to most worksurface edges.
SOTO Personal Console + Chargers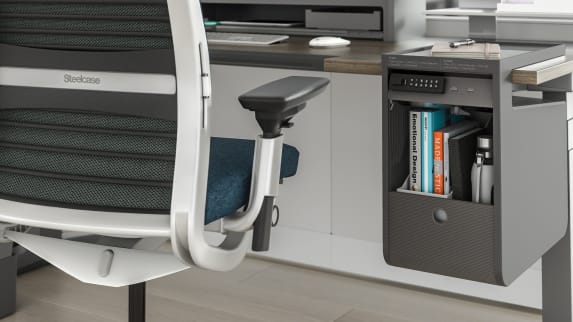 SOTO Personal Console
SOTO Personal Console offers secure storage for bags, laptops, and other personal and professional items in keyed or keyless locking units.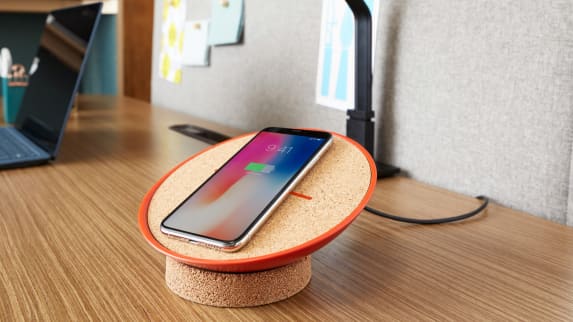 SOTO Chargers
SOTO® Wireless Charger and USB Charging Hub power personal devices quickly and conveniently no matter where people are working.
Monitor Risers & Laptop Stands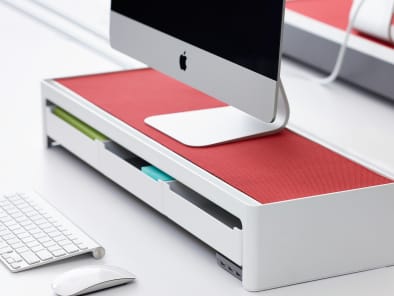 MONITOR BRIDGE
Reclaim worksurfaces by securing and elevating monitors, tablets and laptops as second screens. Optional shelf can support three SOTO personal boxes for additional organization.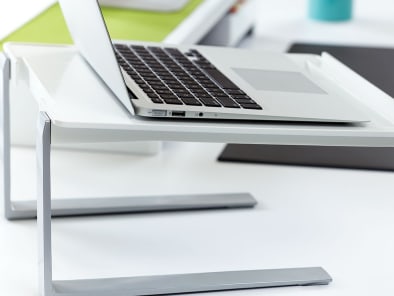 Laptop Shelf
Use a laptop as a second screen with an external keyboard and mouse or secure your tablet or mobile phone horizontally. Supports rear or side-mounted docking stations.
Ergo Edge
Support your wrists and forearms while also creating a personal boundary. Available with or without antimicrobial treatment.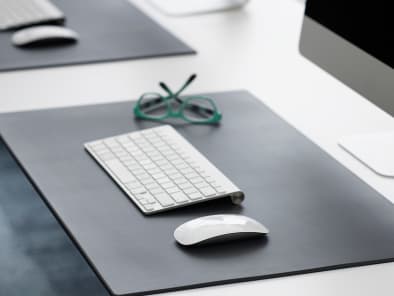 Desk Pad
Find a sense of personal boundary at shared or open benches while supporting wrists and forearms. Available with or without antimicrobial treatment.
Personal Organization + Office Privacy Solutions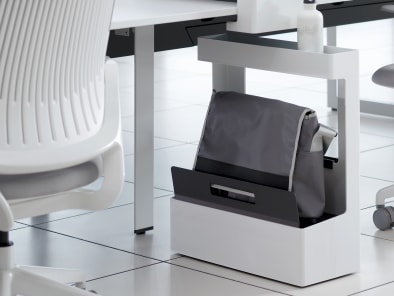 Mobile Caddy
Store personal and professional items ranging from work bags to laptop cases. Inline casters make items easily accessible, while allowing for quick storage under worksurfaces.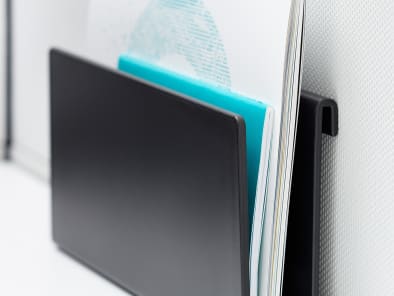 Personal Pocket
Personal pocket can accommodate storage for various sized documents and can easily be attached to a mobile caddy or functional screen.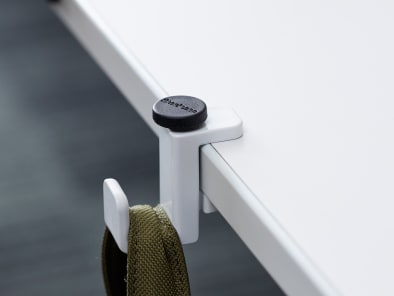 Personal hook
Personal hook is designed to hold lightweight bags, keys, headsets and other small items.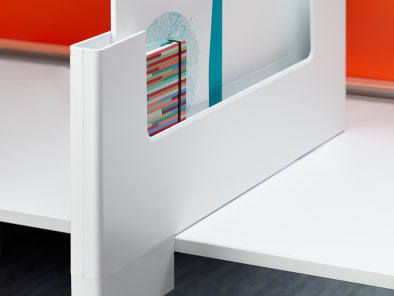 Functional Screen
Perfect for storing frequently-used documents and books. Attach to the front edge or cover the seam of any standard worksurface to provide workers with organization, boundary and privacy.
Desktop Organizer Boxes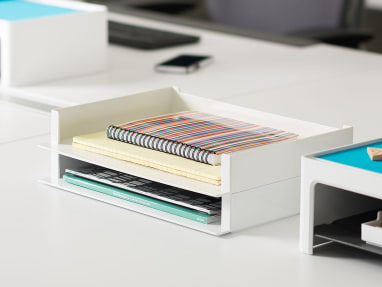 Letter Box
Letter boxes can be used individually or stacked horizontally. Ensures easy access to important letter-sized paper or files.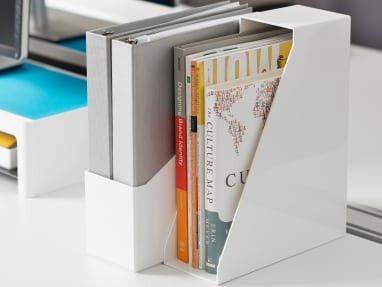 Diagonal File Box
Store letter-sized binders, magazines and other reference materials for easy access during the work day.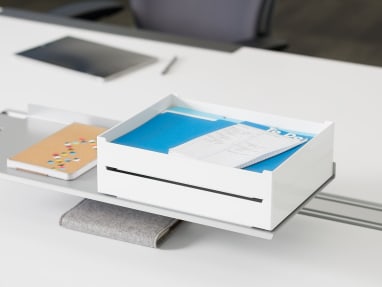 Pile Box
Store letter-sized paper or files. Use individually, stacked horizontally or crisscrossed to maximize use of available space.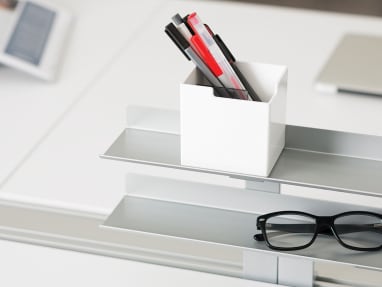 Tool Box
Manage a clutter-free workspace by keeping items separate with the translucent, removable tool box insert.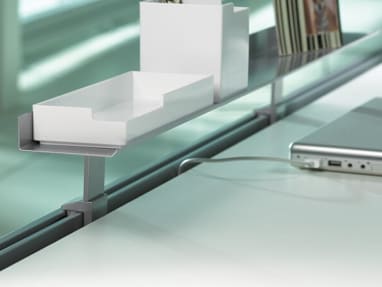 Utility Box
Keep pens, pencils and other small items within arm's reach. Can be used individually or stacked horizontally in the workspace.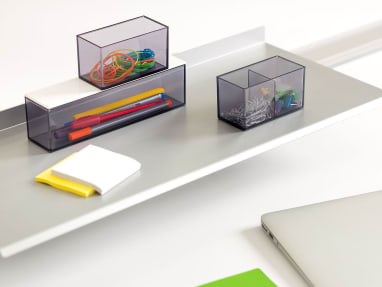 Storage Box
A set of three, which interlock when stacked horizontally. Keys, phones and other belongings are easily visible inside the stacked boxes.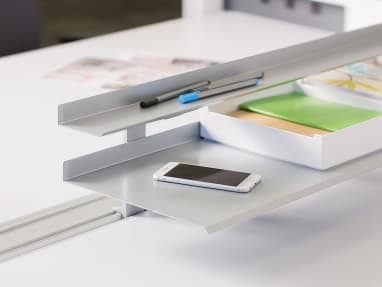 Personal box
Simplify workspace organization with the personal box. Fitting on 3″, 6″ or 10″ shelves, the boxes may also be used freestanding on any worksurface.
Shelves + Desk Rails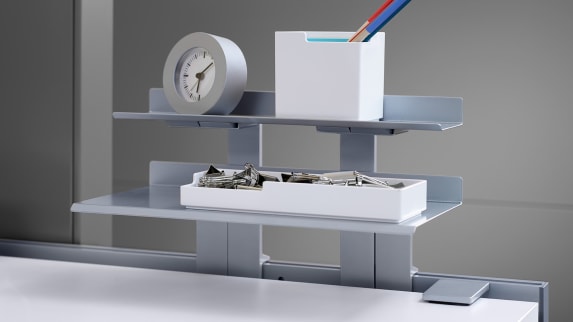 Shelf
SOTO shelves are stackable, hold a multitude of objects and easily attach to the SOTO rail. Available in various lengths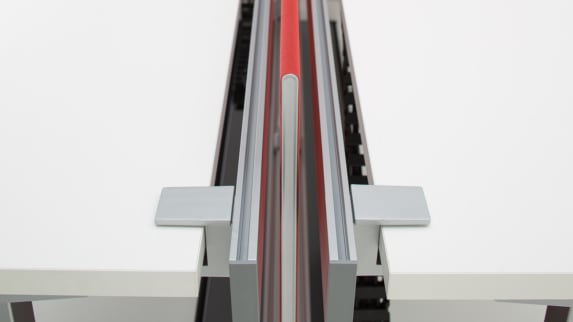 Rail
Shelves can be clamped to nearly any worksurface. Lying flush with a 1″clearance for cable management, the rail supports SOTO shelves and products for a customized workspace.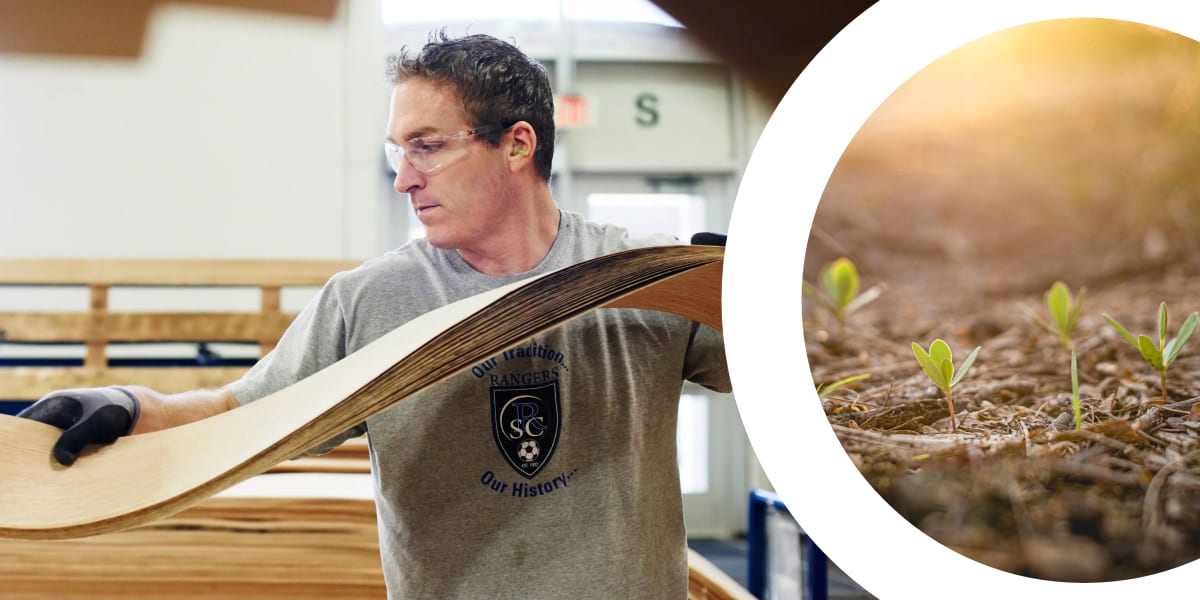 Sustainability
Designing for Sustainability
We create products that are good for people, and good for the world. Our products and operations are designed around a commitment to reduce climate change, reinforced by sustainable practices across our value chain.
Our Sustainable Design framework ensures our products are designed with consideration of life cycle thinking and cradle-to-cradle principles:
Source materials responsibly
Minimize global warming and other life cycle impacts
Ensure material health
Enable end-of-use strategies
Specifications
Global Availability
Global Availability
This product is available in the following regions:
Not available in your region?
If you're interested in purchasing a product that's not available in your region, please contact your local dealer for purchasing options.
Awards
Awards
Record Products Award
Editor's choice
Granter: Architectural Record Magazine
Best of Year
Finalist
Granter: Interior Design Magazine
Best of NeoCon 2014
Silver