Insights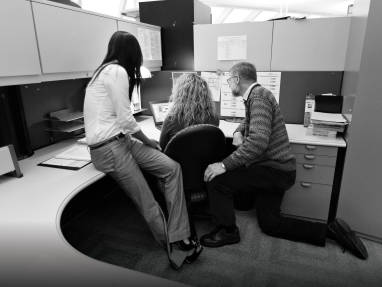 Support Multi-Person Work
Observation. Multi-person work often happens at spaces designed for one –– resulting in some discomfort for all involved.
Insight. Having available space for visitors can enhance spontaneous collaboration.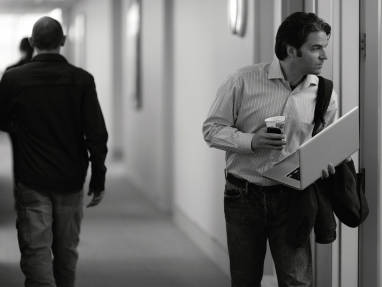 Support Mobile Workers
Observation. Mobile workers are often forced to work in less-than-ideal spaces as they seek out a place to sit down and plug in.
Insight. Mobile workers need easy access to others to power and data, and the ability to secure their belongings.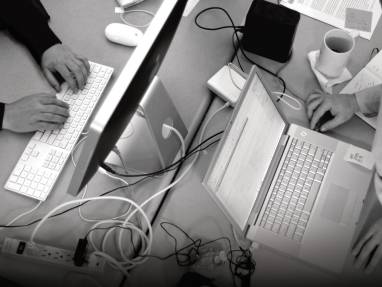 Support Technology
Observation. Work environments aren't equipped to easily support the amount of technology workers use today.
Insight. All aspects of today's workplace should support technology tools, offering easy access to power and security.
Planning Ideas
FX3BQ7SK
Open collaborative spaces allows small teams to meet, collaborate and co-create with equal access to analog and digital tools. Markerboard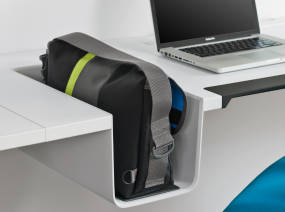 Personal Caddy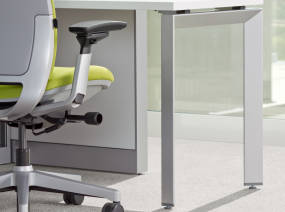 Answer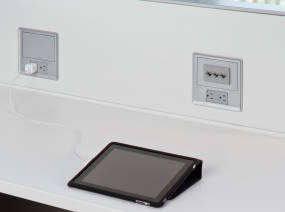 Technology Skins + Covers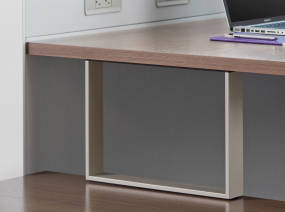 Intermediate Support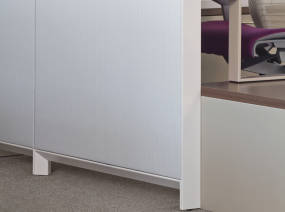 Open Base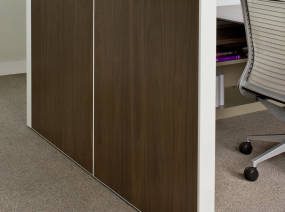 Skins to the Floor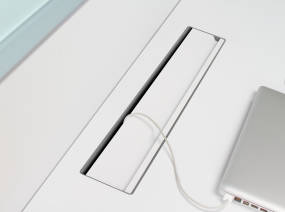 Power + Data Access Door
Answer Frameless Glass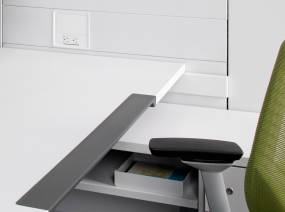 Soft Edge Worksurface
Specifications
Standard + Optional Features
Standard + Optional Features
Answer Components
Junctions + Connections
Horizontal Frame Packages
End of Run junction
Stacking End of Run Junction
Inline Junction
L Junction
Stacking L Junction
X Junction
Stacking X Junction
V Junction
Stacking V Junction
Y Junction
Stacking Y Junction
Wall Start Junction
Stacking Wall Start Junction
Off-module Connection
Skins
Tackable Acoustical/Performance Tackable Acoustical Fabric*
Steel (smooth, ribbed, perforated)*
Markerboard
Laminate
Wood (single, sets)
Glass Windows (single pane, double pane, custom glass kit)
Slatwall
Frameless Glass Screen
*To the Floor versions of these skin types available in some heights.
Tables
Straight
Transition
Capsule
Rectangle
Round
Straight + Tapered with Soft Edge, Personal Caddy (Straights Only) + Power and
Data Door and Tray
Adjustable Tables
Airtouch: 2 different options available
System Worksurfaces
Straight
Transition
Tapered
Taper-Flat
Corner (flat front, dual, curved front)
Extended Corner
Spanner
Bullet Peninsula
Jetty
Bubble Jetty
Visitor
Transaction
System Support
FrameOne Legs for Universal
Table Supports
Cabby Leg (glide, caster)
Adjustable Height Leg (glide, caster)
T-Base
X-Base
Overhead Storage
Bin (sliding door, flat, radius, curved)
Shelf
Personal Shelf
L-shelf
Slim Shelf
Pedestals/Laterals/Towers
Fixed Pedestal (FF, BBF)
Mobile Pedestal (BF, FF, BBF)
Lateral File
Open Side Tower
Full Front Tower
Vertical Drawer Tower
Combination Cabinet
Storage Cabinet
Bookcase
Global Availability
Global Availability
This product is available in the following regions:
Central America
South America
North America
Middle East
Not available in your region?
If you're interested in purchasing a product that's not available in your region, please contact your local dealer for purchasing options.
Resources + Support
Need help? Contact us at 888.783.3522
Download 2D and 3D CAD models for use in your design application.

View and save brochures, certificates, reports, white papers, case studies and articles.

Browse, save, and download beautiful images for use in presentations or inspiration boards.