Meeting Spaces for the Post-COVID Workplace
Ideas for how to progressively adapt existing work space design to meet the new health and safety requirements for a post-COVID workplace.
Open Active Collaboration​
An adaptable, collaborative space gives teams a place to brainstorm, make work visible and generate new ideas. ​
Performance​: Proximity of digital tools to ​share content and collaborate ​with remote participants​.
Division: Multi-functional elements provide boundary, biophilic benefits and a ​writable surface on the opposing side​.
Geometry: ​Mobile furniture can be arranged as needs change for collaboration ​or physical distancing​
Collaboration Pod​
An enclosed pod that is easily deployable anywhere in open spaces to create an enclave and has a roof ventilation system for additional air flow.​
Performance: Touchless technology allows the room to be booked from personal devices​.
Division​: The pod provides users separation and privacy from adjacent team members​.
Density: Individual seating allows capacity for 2 people with circulation space to enter and exit safely​.
Open Lounge-Bases Collaboration​
A relaxed space for people to meet in the open with a sense of privacy and security, as well as the tools needed for effective collaboration.​
Performance: Carts provide easy access ​to PPE and cleaning supplies​.
Geometry: The placement of personal amenities such as tables and power encourages proper physical distancing while collaborating​.
Division: Furniture with integrated ​screens creates natural ​boundaries for the setting​.
Division​: Moveable whiteboards provide a place to brainstorm as well as control entry to the space​.
Open Collaboration​
A hackable space with moveable furniture to suit a team's needs in the moment. Multiple settings allow users to choose where to work based on the task at hand.​
Density: ​Back rests on modular ​lounge seating indicate ​where the user should sit​.
Division​: Screens give users shielding where they need it​.
Density​: Ample spaces provide proper physical distancing and circulation as well as the ability to move people and furniture within the area​.
Division: Storage provides space division ​and easy access to team tools, ​PPE and cleaning supplies.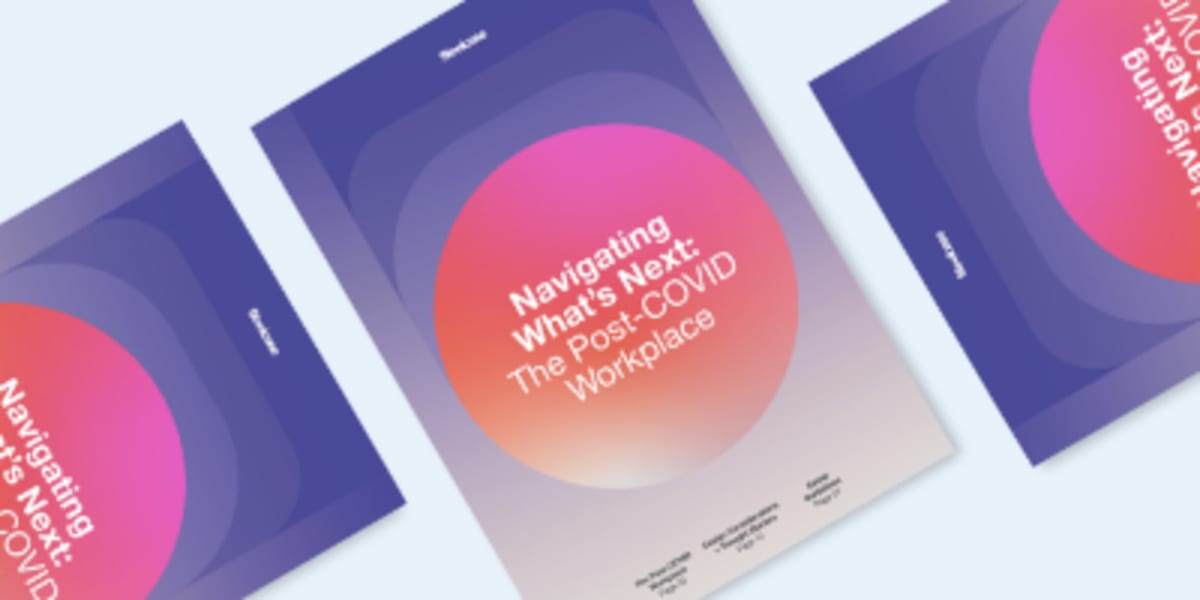 Navigating What's Next
To learn more about design considerations when planning for the now, near and far time horizons, read the Navigating What's Next: The Post-COVID Workplace guide.