Elective Elements supports a wide range of work modes in private office and open plans. A refined aesthetic speaks to the senses, while new parametric sizing options on select styles provide increased precision and design options.
Inspired + Beautiful
EXPRESS A BRAND AND CREATE AN EXPERIENCE.
With its sweeping array of applications, materials and finishes, Elective Elements has an expressive visual language. It harmonizes beautifully with other product lines and furnishings to support optimal performance. Choose from a palette of gorgeous wood veneers, versatile laminates and stunning glass and metal finishes to create enriching spaces.
x
Flexible Planning
PRIVATE OFFICE, OPEN PLAN AND ALWAYS A PERFECT FIT.
As a result of deep workplace insights and a dedication to distinct quality, the collection's storage and worksurface components combine and flex to bring out the best in every space. Parametric sizing lets you specify depths and widths down to 1/16-inch increments, and exacting heights. With this level of precision, you can unlock more planning choices and achieve a truly tailored fit.
Insights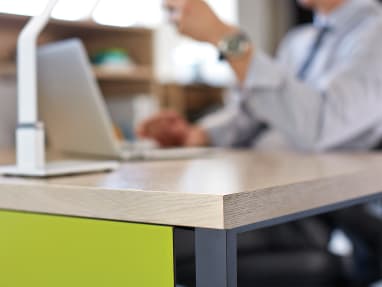 Steelcase and outside experts conducted countless hours of research and user-observation to learn more about the changing work landscape within the private office.
We studied how people work and identified new ways the work environment could better support the different ways they work.
Those insights provided both the inspiration and foundation for Elective Elements office workstations, making it an industry leader in addressing the changing workspace requirements in private and open plan offices.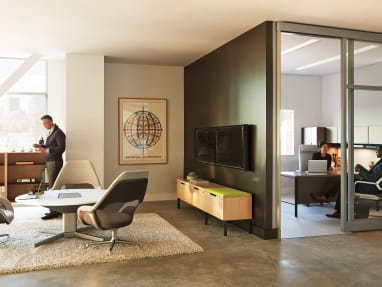 Modern office workstations should:
Enable a smooth workflow
Support guest workers
Maximize the efficiency of space
Create zones for different work modes
Provide privacy and control
Accommodate technology seamlessly
Encourage alternative postures
Make space personal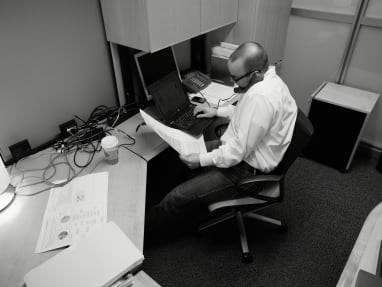 For many, the image that comes to mind when thinking of a private office is a huge double-pedestal desk with a high-back chair, a credenza behind it and maybe a bookcase off to the side. That image hasn't changed much in the last 50 years.
Private offices typically house the highest paid workers, and they usually allot more square footage per person than open plan. While many private offices have remained essentially unchanged for decades, the rest of the workplace has changed dramatically.
Steelcase Wood Solutions
Steelcase has been building wood furniture for nearly 100 years. Learn more about what role wood plays in our products, our sustainability practices and get inspired by our 150+ veneer and laminate finish options.
Specifications
Standard + Optional Features
Standard + Optional Features
Overview
A broad range of rich materials options including composite wood veneers, glass storage and modesty panels, metal paint finishes and fabrics create an array of aesthetic options
Elective Elements worksurfaces can be height adjusted (worksurfaces have a range of 3″ in ½" increments), and come in a range of top shapes and edge profiles designed to support today's work styles
Open storage, and layered worksurfaces provide piling surfaces for anticipated work
One-high lateral files specified with cushion tops maximize space and provide an alternative seating solution. Lateral files can also be specified with wood or laminate tops
Application flexibility includes a clean, simple technology interface that allows users to customize their workspace to their individual needs
Mobile workers are accommodated with convenient plug-and-play capabilities. Hinged grommets disguise desktop access to power and data
Built on a 6″ module
Universally compatible with systems panels for Montage, Answer and Privacy Wall GS
16 wood finishes
Components
Worksurfaces
Straight
Technology Straight
Desk
Technology Desk
Return
Desk Return
Bridge
Transition
Single Tapered
Tapered
Tapered Bullet
Bullet
Keyhole
P-top
Angled
Meeting
Extended Bullet
Spanner
Corner
Extended Corner,
Transaction
Personal Table Tops
Worksurface Supports
Modesty panel
Technology modesty panel
End panel
L-shape end panels
J-shape end panel
T-shape end panel
Perpendicular tether support
Cable shroud support
Parallel slip-fit support,
Columns
Rectangular column
Adjustable-height leg
Gate leg
Storage
Pedestals with drawers
Pedestals with hinged doors
Open pedestals
Adjustable-height pedestal
1.5 high storage
One-high pedestals
Mobile pedestal
High pedestals
Lateral files
Single-high overhead cabinet
Double-high overhead cabinet
Organizer shelf
Blade accessory shelf
Desktop organizer
Hutch kit
Open hutch kit
Tackboard and wood and fabric panel with slatwall
Organizer service module
Single-high service module
Double-high service module
Stacking bookcases
Freestanding bookcases
Towers
Vertical cabinets
Wardrobes
Power, Data + Lighting
Technology zone
Power shroud
Light housing
Technology zones enable easy worksurface access to power and data while an integrated rail seamlessly supports SOTO worktools.
Edge Profiles
3mm Square Edge

Laminate with plastic edge
Laminate with wood edge
Wood with wood edge

Bullnose edge

Laminate with wood edge
Wood with wood edge

Waterfall edge
Blade edge

Laminate with plastic edge
Wood with wood edge
Drawer/Door Pulls
Contemporary
Jazz
Bar
Nile
Integral
Transitional
Inset
Beam
Technical Specifications
Technical Specifications
Private Office
Power and data routing begins at the wall and enters storage in this private office solution.
The square grommet option for simple access to a power unit can be mounted in desk tops or storage.
The technology zone in the desk top and storage provides convenient access to power and data.
Open Plan Freestanding
The technology zone in storage provides convenient access to power and data.
The technology zone in the desk top provides convenient access to power and data.
Routing through connects power and data to this four-person open plan solution.
Open Plan with Panels
Routing through panels and storage connects power and data throughout this eight-person solution.
The technology zone in the storage provides convenient access to power and data.
Technology can route through both 1.5 and 2 high storage.
Global Availability
Global Availability
This product is available in the following regions:
Central America
South America
North America
Middle East
Not available in your region?
If you're interested in purchasing a product that's not available in your region, please contact your local dealer for purchasing options.
Awards
Awards
Best of Year
Granter: Interior Design Magazine
2014
Product Innovation Awards
Granter: Architectural Products Magazine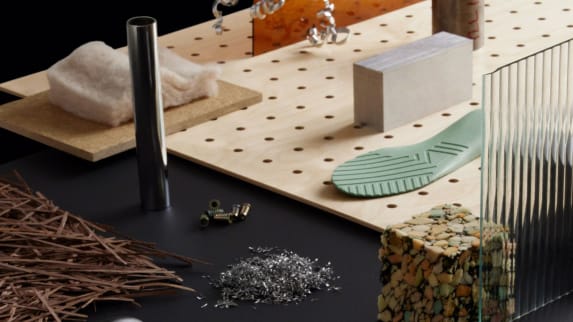 Designing for Sustainability
We're working toward better futures for the planet by recognizing our role in climate change and reducing our environmental impact, to help build a more sustainable and resilient world. We do this by making, sourcing and delivering products that help reduce our carbon footprint, designing for circularity, and choosing and using materials responsibly.​​
Elective Elements is made in the world's first LEED® Silver-certified manufacturing facility. Since its LEED certification in 2001, the Steelcase Wood Plant has made strides to reduce carbon emissions and production waste, and sources FSC®-certified wood whenever possible. FSC certification provides assurance that the wood comes from responsibly managed sources and the same responsible care is taken as it moves throughout the supply chain. The wood plant has reduced lighting energy consumption by more than 50% since 2018 and improved truck utilization by creating "just the right size" packaging.​​
Elective Elements has a third-party verified Environmental Product Declaration (EPD) for complete lifecycle environmental impact transparency, has achieved BIFMA LEVEL® 3 certification, and indoor air quality (IAQ) certification through Scientific Certification Systems Indoor Advantage™ Gold.​