Please task and desk chairs offer a one-of-a-kind backrest with independent upper and lower back controls, helping you achieve precise, targeted comfort—for wherever you sit and however long you're seated.
Precise Ergonomics
Please recognises that everybody has their own way of working – and their own way of sitting. Based on research, the Please chair mimics the movement of your spine as you change postures throughout the day. It is designed to facilitate task-intensive jobs that involve long periods of sitting, high levels of concentration and heavy computing.
Please also supports diverse work styles, ensuring lasting comfort and optimum postural support, whether you prefer to sit upright or in a relaxed, reclined position.
Performance Features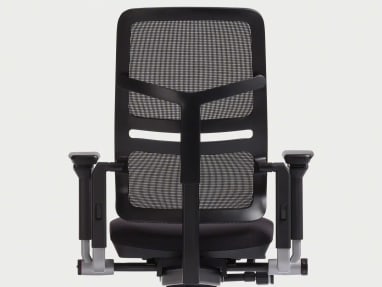 Back Support
The LTC² backrest supports each part of the spine with its two parts, allowing people to maintain a healthy posture.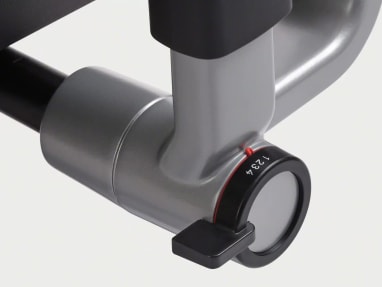 Adjustability
Independent and precise upper and lower back controls, any user, regardless of their build, will obtain full back support even as they recline:
– Tension adjustment to the weight of the user
– Tension degree adjustment of the lumbar region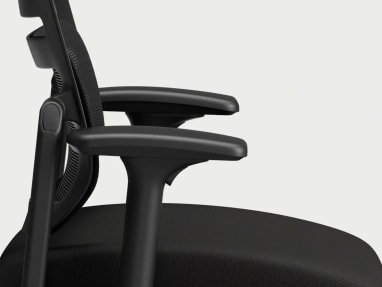 Fully Adjustable Arms
Standard 4-dimensional arm support adjusts to preferred height, width, depth, and pivot.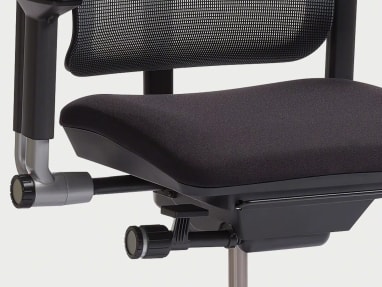 Seat Ergonomics
The seat depth adjustment helps distribute the weight of the body and provide optimum back support to help maintain natural spine posture for a reduced strain and stress on lower back.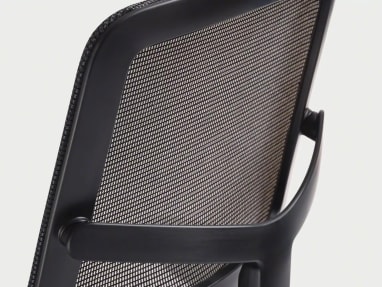 Different Design, Same High Performance
The self-supporting mesh is an innovative patented manufacturing process that ensures the mesh fabric fits seamlessly, providing even tension and exceptional comfort.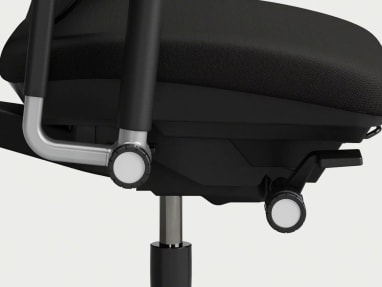 Manual Synchronized Mechanism
Allows for precise and individual adjustments.
Insights
Be in Motion
We spend 75.000 hours of our  life sitting in the office. Employees need to be supported by highly ergonomic chairs that support the body as it moves, promote movement and are comfortable for long periods of time. What's more, they need intuitive adjustments to accommodate a wide range of users.
These key insights drove the development of the Please chair.
Our unique motion study
At Steelcase, we base our seating solutions on a scientific understanding of spinal motion and posture.
The Spine Does Not Move as a Single Unit
As you change posture, the upper and lower regions of the spine move independently, not as a single unit. When the top of the spine leans backward, the bottom arches forward.
Each Individual Spinal Motion is Unique
Each of us has unique spinal motion, a 'spine print' that is as individual as a fingerprint, and changes as our posture varies throughout the day.
The Upper and Lower Back Require Different Amounts and Kinds of Support
Our need for upper back support increases when we recline, but our lower spine requirements remain more or less the same.
Please Air
Combining the iconic LTC2 back with a self-supporting mesh, Please Air offers a modern aesthetic fit for the office or home. An innovative patented manufacturing process ensures the mesh fabric fits seamlessly, providing even tension and exceptional comfort – staying true to the line's ergonomic ethos. New color combinations and material give the Please Air a fresh, light feel and allow users to personalize the chair to fit any space.
Please with CarbonNeutral® product certification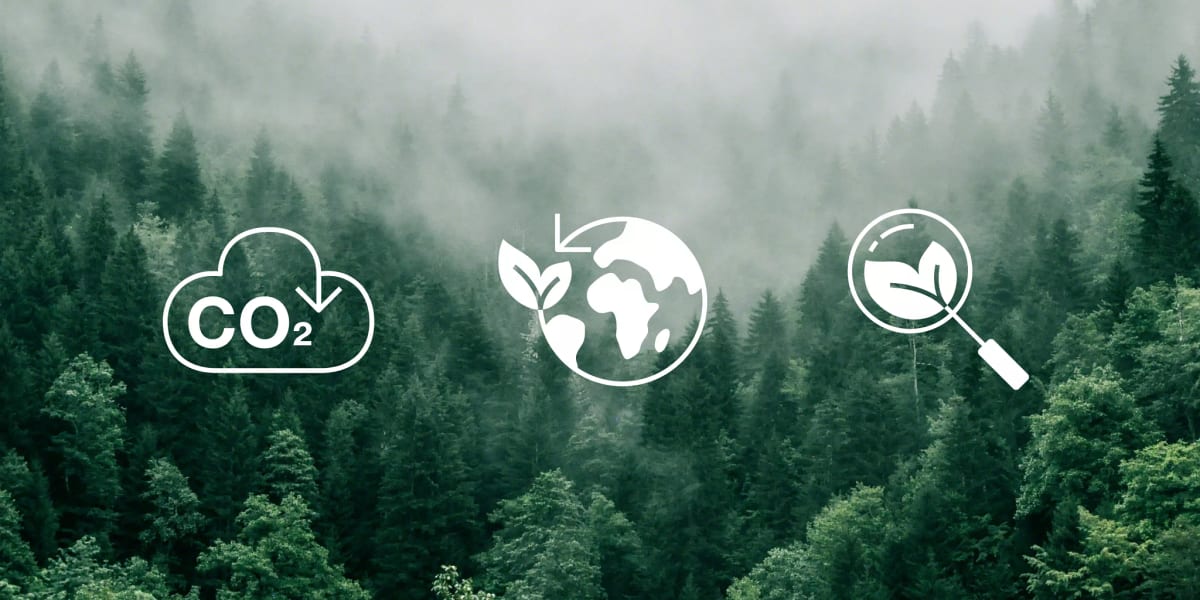 Sustainability Impact
We work towards better futures for the planet by designing and manufacturing products that respect our natural world, while helping to restore its resources. To do this we: reduce our carbon footprint, design for circularity and choose and use materials responsibly.
Please and Please Air have a third-party verified Environmental Product Declaration (EPD) for complete lifecycle environmental impact transparency, are NF Environment certified and have indoor air quality (IAQ) certification through the Scientific Certification Systems Indoor Advantage™ Gold.
Specifications
Standard + Optional Features
Standard + Optional Features
Arms
Armless, 1D, 3D and 4D arms available
Upholstered arms only for Executive Version
Base
Aluminum and Polished aluminum
Metallic LUX paints (only available with black frame)
Upholstery
Seat upholstery: standard or stitched
Europe Leather upholstery: standard or contrasting stitched
Castors
Hard or soft bracked castors 65mm
Hard or soft hubless bracked castors 65mm
Dimensions
Dimensions
Task Chair (with or without Armrests)
Length: 1070 mm
Width: 645 mm
Depth: 525 mm
Base Diameter: 687 mm
Task Chair with Headrest (with or without Armrests)
Length: 1150 mm
Width: 645 mm
Depth: 525 mm
Base Diameter: 687 mm
Global Availability
Global Availability
This product is available in the following regions:
Africa
Europe
Middle East
Not available in your region?
If you're interested in purchasing a product that's not available in your region, please contact your local dealer for purchasing options.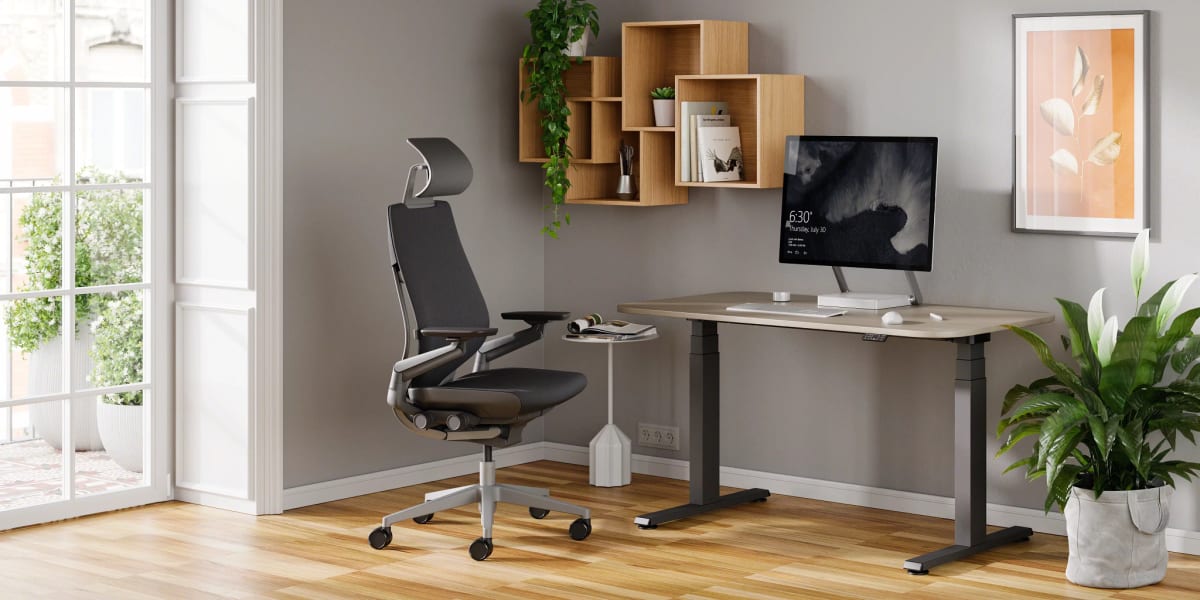 Work from Home
While teams are working from home, we're working to keep them comfortable. You can lean on Steelcase as your one trusted point of contact for products that blend performance with design.
Due to local regulations, select products are available in the UK.