Please task chair balances comfort, beauty and freedom of movement. Thanks to precise and intuitive adjustment controls, the chair adapts to the user.
Performance
Please recognises that everybody has their own way of working – and their own way of sitting. Based on research, the Please chair mimics the movement of your spine as you change postures throughout the day. It is designed to facilitate task-intensive jobs that involve long periods of sitting, high levels of concentration and heavy computing.
Please also supports diverse work styles, ensuring lasting comfort and optimum postural support, whether you prefer to sit upright or in a relaxed, reclined position.
Precision Adjustment
Intelligent support
LTC2 is a unique, patented synchronised tilting mechanism with two separate backrests. The lumbar and thoracic sections are connected yet they function independently of each other – just like the upper and lower areas of your spine.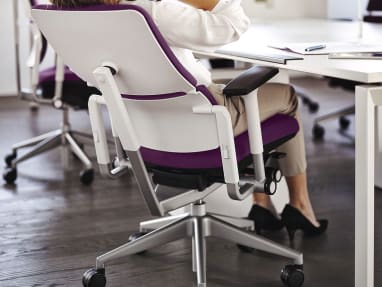 Made-to-measure comfort
The chair adapts itself to the morphology of every user providing a unique backrest support which allows for more freedom of movement.
Adjustability
Thanks to Please's independent and precise upper and lower back controls, any user, regardless their build, will obtain full back support even as they recline.
Insights
Be in Motion
We spend 75.000 hours of our  life sitting in the office. Employees need to be supported by highly ergonomic chairs that support the body as it moves, promote movement and are comfortable for long periods of time. What's more, they need intuitive adjustments to accommodate a wide range of users.
These key insights drove the development of the  Please chair.
Our unique motion study
At Steelcase, we base our seating solutions on a scientific understanding of spinal motion and posture.
The Spine Does Not Move as a Single Unit
As you change posture, the upper and lower regions of the spine move independently, not as a single unit. When the top of the spine leans backward, the bottom arches forward.
Each Individual Spinal Motion is Unique
Each of us has unique spinal motion, a 'spine print' that is as individual as a fingerprint, and changes as our posture varies throughout the day.
The Upper and Lower Back Require Different Amounts and Kinds of Support
Our need for upper back support increases when we recline, but our lower spine requirements remain more or less the same.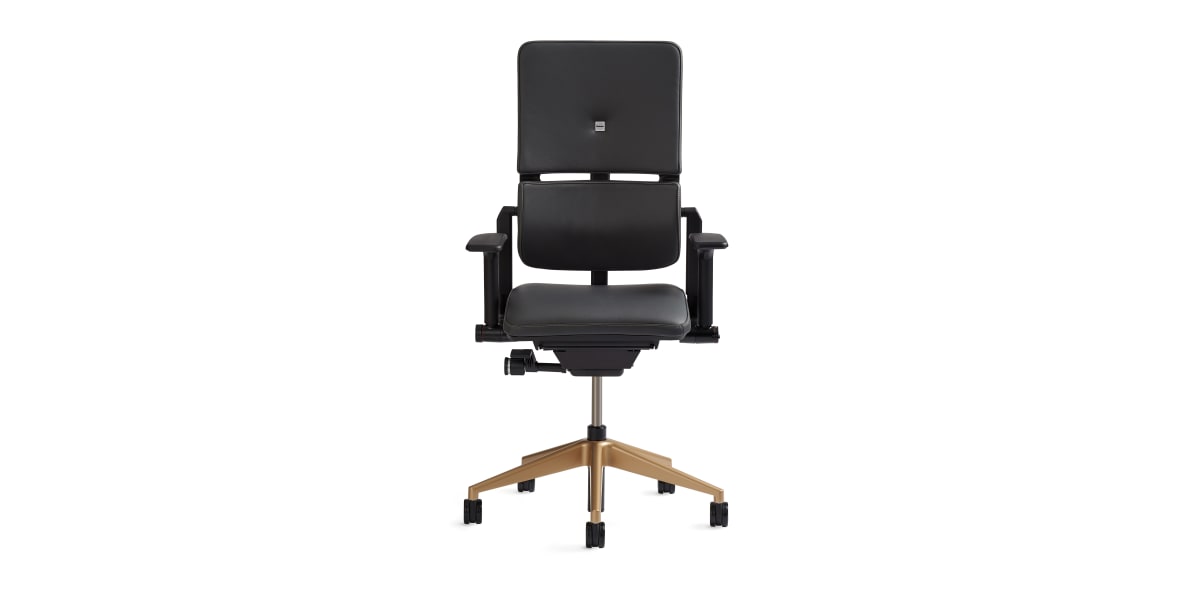 Same Icon, New Style
After 15 years as Steelcase's most popular chair in Europe, Please comes back with an updated style. The trimmed seat offers a slender, elegant profile, while design accents such as new signature stitching, stitching details, lux paint and hubless casters highlight the beauty that lies in the details.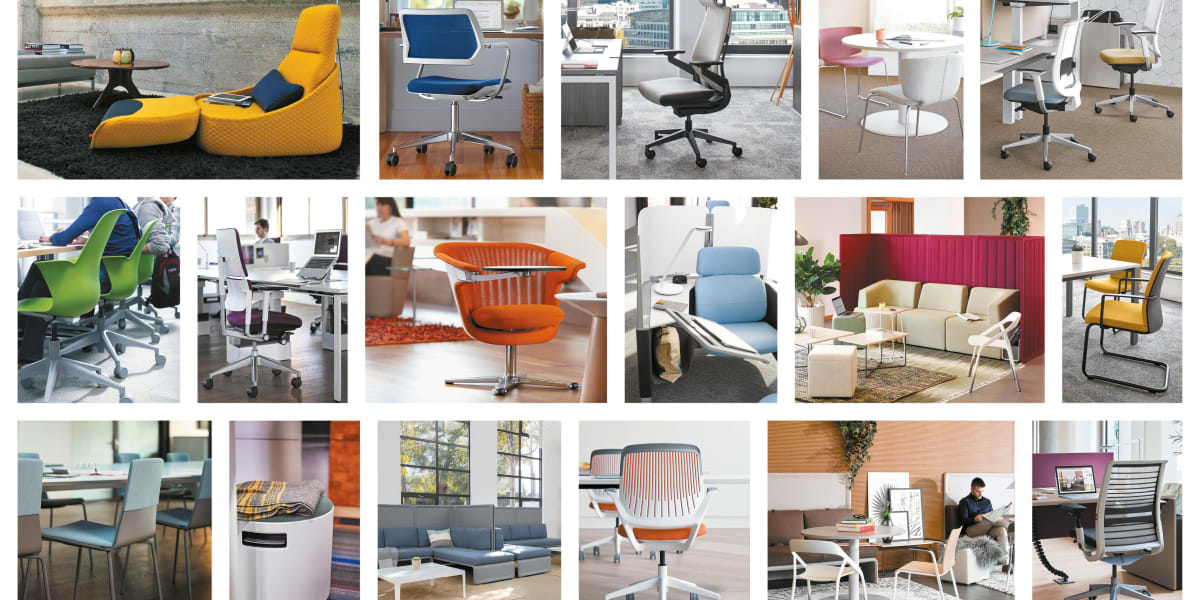 The Steelcase Seating Difference
At Steelcase, we study how you work and how you feel. You inspire new seating solutions, each expressed with uncompromising quality, craftsmanship and sustainability.
Sustainability
Overview
Overview
Designing for Sustainability
We believe the only way to provide the best office furniture solutions is to ensure they're the best products for the environment. That's why every step of the way – through design, manufacturing, delivery and product lifecycle – we consider the impact of our work on people and on the environment and uncover opportunities to make things better.
32 %
Up to
recycled content by weight
99 %
Up to
recyclable by weight
Life Cycle
Life Cycle
Materials
32% recycled content by weight. 30% recycled materials in packaging. Water-based inks without solvent on paper and packaging. Number of components reduced by – 30% compared to the previous version.
Production
ISO 14001 certification of the Sarrebourg site (France). No gluing processes. Powder-coat painting is VOCfree and free of heavy metals.
Transport
Manufactured close to customers, in Europe. Lightweight (-17% compared to previous version) and small-volume Ecosmart packaging help save fuel and reduce CO2 emissions.
Use
To maximise Please's working life, back cushions, arms, and headrest can be added or replaced. No toxic substances released by our eco-labeled textiles.
End of life
Up to 99% recyclable by weight. 100% recyclable cardboard and LDPE film for packaging. Quick and easy disassembly Plastic parts clearly labelled for easy sorting and effective recycling.
LEED Contribution
LEED Contribution
Steelcase helps customers seeking LEED certification to identify products and programs that can contribute to LEED criteria in the categories of Materials and Resources, Indoor Environmental Quality and Innovation (Ergonomics Training, Sustainability Training, Product Innovation).
Learn about Steelcase's direct and indirect contributions to a project's pursuit of LEED certification across LEED's three categories:
Building Design + Construction
Interior Design + Construction
Operations + Maintenance
Since the USGBC and its certification partner, GBCI, evaluate each project individually, the role our products play in achieving LEED certification is unique to each project.
Certifications
Certifications
Certifications can help you choose products that are environmentally sustainable and just right for your project. Please has achieved the following certifications:
Product Environmental Profile (PEP)
Based on ISO 14021, its purpose is to communicate precise and verifiable information on environmental aspects of the product during its life cycle.
Cradle-to-Cradle Certified™
This product, when made in North America, was designed according to the C2C principles and is currently going through the Cradle to Cradle Certification process.
Indoor Advantage
This product, when made in France and in North America, is Indoor Advantage™ certified, meaning that it meets tough indoor air quality standards
Oeko-Tex
A selection of polyester fabric labelled with the Oeko-Tex 100 Standard – guaranteeing that the textile doesn't contain undesirable substances – is available
European Flower
A selection of pure wool fabric labelled with the European Flower – awarded to products meeting stringent quality and environmental performance criteria – is available.
Specifications
Standard + Optional Features
Standard + Optional Features
Arms:
Armless, 1D, 3D and 4D arms available
Upholstered arms only for Executive Version
Base:
Aluminum and Polished aluminum
Metallic LUX paints (only available with black frame)
Upholstery:
Seat upholstery: standard or stitched
Europe Leather upholstery: standard or contrasting stitched
Castors:
Hard or soft bracked castors 65mm
Hard or soft hubless bracked castors 65mm
Dimensions
Dimensions
Task Chair (with or without Armrests)
Length: 1070 mm
Width: 645 mm
Depth: 525 mm
Base Diameter: 687 mm
Task Chair with Headrest (with or without Armrests)
Length: 1150 mm
Width: 645 mm
Depth: 525 mm
Base Diameter: 687 mm
Global Availability
Global Availability
This product is available in the following regions:
Africa
Europe
Middle East
Not available in your region?
If you're interested in purchasing a product that's not available in your region, please contact your local dealer for purchasing options.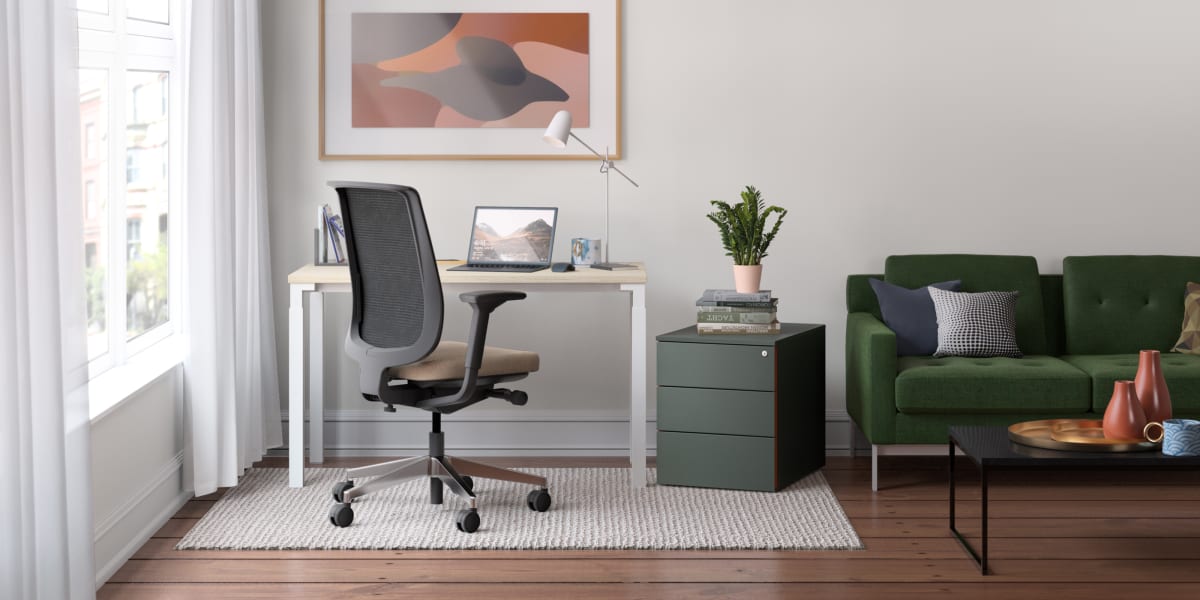 Work from Home
While teams are working from home, we're working to keep them comfortable. You can lean on Steelcase as your one trusted point of contact for products that blend performance with design.
Due to local regulations, select products are available in the UK.