As designers and makers, we understand that our work has a major impact on the planet through the resources we use. So, we are working to reduce our carbon footprint by meeting more ambitious climate goals at a greater global scale than anyone in our industry.
Our Commitments to Reduce Embodied Carbon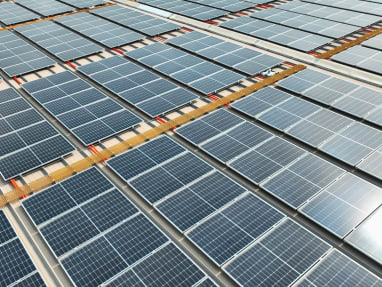 Rapidly reduce emissions from our operations
Our goals are validated through the Science Based Targets Initiative (SBTi), the leading authority that tells us how much and how quickly we need to reduce emissions to prevent the worst effects of climate change. By 2030, we commit to:
Reduce our owned direct and indirect emissions, such as those from our facilities and transportation or electricity use (scopes 1 + 2) by 50% by 2030.
Reduce our indirect emissions from business travel (scope 3) by 14% by 2030.
Reduce our indirect emissions from waste generated in our operations (scope 3) by 14% by 2030.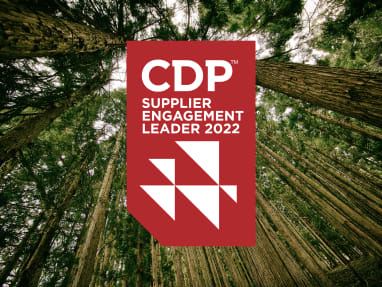 Help suppliers set industry-leading reduction targets
We deeply engage with our suppliers to publicly disclose emissions and set their own science-based targets by 2025.
We've been recognized with an "A" on CDP's Supplier Engagement Leaderboard for three consecutive years — the only company in the furniture industry to do so — for taking action to measure and reduce climate risk within our supply chains.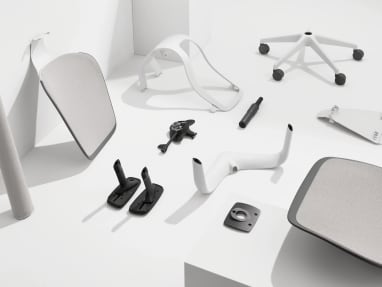 Design products for the long-term by using less
We are transparent about the choices we make to reduce embodied carbon while maintaining quality and keeping our products out of landfills.
Our aim is to make it easier for people to recycle our products and our packaging by designing for circularity.
Our Guiding Principles
Climate science is the foundation of our carbon commitments. And the science is clear: to avoid the worst impacts of climate change, we must limit global temperature rise to 1.5°C by halving global emissions by 2030 and reaching net-zero by 2050. That's why we chose to set science-based targets validated by the Science Based Targets initiative, which means that we are committed to reducing our emissions in line with this 1.5°C pathway, the most ambitious objective of the Paris Agreement.
Still, we know that addressing climate change requires collective action. This is why we partner with our suppliers on this work. We also know that voluntary corporate actions like ours and those of our suppliers must be supported by Paris-aligned policies around the world. Thus, we strive to use our commitments and corporate voice to send a clear signal to governments on the importance of their decisive action and to advocate for an array of issues that are critical not only to the success of our own goals but to the broader global net zero transition.
Our Carbon Neutral Commitment
As our first-order priority, we're working to reduce our owned direct and indirect emissions, such as those from our facilities and transportation or electricity use (scopes 1 and 2) by 50% by 2030 by investing in energy efficiency, onsite renewable energy and other strategic projects.
At the same time, we know that to secure a 1.5°C future, companies have an important role to play in mobilizing resources to support and scale clean energy development, biodiversity protection and the reduction and removal of emissions that fall outside of corporate value chains. So, in 2020, we strengthened our commitment to annually finance verified carbon offset projects and purchase 100% renewable energy equivalent to our scope 1 and 2 emissions, respectively, the first in our industry to make such a commitment and become operationally carbon neutral.
Reach Your Sustainability Goals with CarbonNeutral® Certified Products
While we work to reduce the embodied carbon of our products through our science-based targets and complementary sustainability commitments, today we offer our high-performance seating with CarbonNeutral® product certification.
We started by certifying one of our most popular work chairs, Steelcase Series™ 1. Now we've expanded our CarbonNeutral® product certification option to our best work chairs - the result is leading the way for our industry with cradle-to-grave CarbonNeutral® products. The same chairs, ergonomics, and quality you expect from Steelcase, now with less impact on the planet to help you achieve your sustainability goals.
Read more about high-performance seating, now with CarbonNeutral® product certification
Every Week is Earth Week
How Collective Actions Protect the Planet
Three programs demonstrate ways to keep waste out of landfills, choose and use materials responsibly and reduce our carbon footprint.
Scope 1 emissions: Direct emissions that result from owned and controlled activities and where the emissions are generated at the location where consumption takes place. Examples: natural gas used to heat Steelcase manufacturing buildings and large offices, diesel fuel for generators, etc.
Scope 2 emissions: Indirect emissions that come from the production of the electricity used for owned and controlled activities, but where the emissions occur at the site of generation. Examples: electric power generated by power plants to support manufacturing equipment, lighting and other needs of Steelcase owned and operated assets.
Scope 3 emissions: All other indirect emissions that come from supporting activities of the company, but occur from sources not owned or controlled by Steelcase. Examples: purchased goods and services, business travel and employee commuting, transportation of product to customers, manufacturing waste, etc.
Embodied carbon: Embodied carbon refers to the carbon emissions arising during the complete cradle-to-grave lifecycle of a given product, including raw material sourcing, manufacturing, transportation, maintenance, and end-of-life.