Verb is an integrated collection of classroom furniture including tables, whiteboards, and instructor stations designed to support a full range of teaching and learning styles.
Verb FlipTop Table
Move. Engage. Learn.
Move. Engage. Learn.
The Verb Flip Top table encourages active learning by engaging students through movement and allowing instructors to switch up the classroom layout. Instructors can coach students one-on one, in small groups or present to the class as a whole, ensuring that students learn critical skills like collaboration and creative thinking.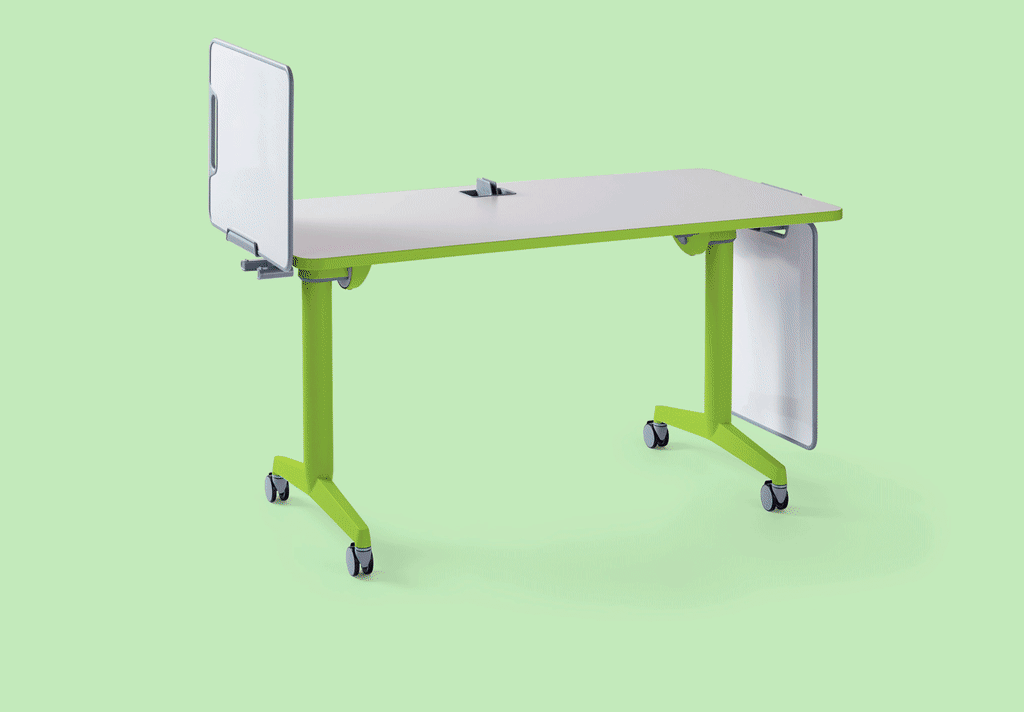 Seamless Shifting
Seamless Shifting
Verb flip-top table allows seamless shifting between learning modes.
Mobility and flexibility: wheels allow students to easily shift between individual and group work.
Integrated whiteboard display and storage: each student has a personal whiteboard to engage with the lesson during class.
Encourages active postures: untethered from power and cable routing, students and instructors can seamlessly shift postures.
Simple Flexibility
Simple Flexibility
Flip-top table complements the existing Verb product line and adds to an active, collaborative learning environment. Intuitive for all users, a flip-top solution provides a safe and simple way to transition between learning modes.
Sustainability
Overview
Overview
Designing for Sustainability
We believe the only way to provide the best office furniture solutions is to ensure they're the best products for the environment. That's why every step of the way – through design, manufacturing, delivery and product lifecycle – we consider the impact of our work on people and on the environment and uncover opportunities to make things better.
68 %
Up to
recycled content
Life Cycle
Life Cycle
materials
Steelcase's goal in its materials chemistry practice is to design products with materials that have been evaluated or assessed for several human and environmental health criteria – all in an effort to understand and optimize the products throughout their life cycle.
Steelcase is working] with our supply chain to inventory and assess materials in this product down to 0.01% (or 100 ppm) in each homogeneous material with the intent to eliminate chemicals of concern and optimize with healthier materials of equal or greater functionality
if REACH is achieved (Europe only): We have contacted our suppliers for all products sold in the European Union to ensure that our products are compliant with REACH (Registration, Evaluation, Authorization
and Restriction of Chemicals). When information from suppliers is not available, we rely on testing to ensure that our products meet required standards.
End of life
Designed to enable responsible end of use strategies [with no permanent assemblies]- selling, refurbishing, charitable donation, or recycling.
Designed for quick and easy disassembly of materials [-with no permanent assemblies].
100% recyclable packaging. Primary plastic parts clearly labeled for easy sorting and effective recycling, according to ISO 11469
LEED Contribution
LEED Contribution
Steelcase supports the U.S. Green Building Council's LEED certification system with products that can contribute to LEED Building Design + Construction (BD&C), LEED Interior Design + Construction (ID&C), or LEED Operations + Maintenance (O&M) certification criteria.
Since the USGBC and its certification partner, GBCI, evaluate each project individually, the role our products play in achieving LEED certification is unique to each project.
Verb LEED Contribution
Recycled content
Regional materials
Certified wood
Low-Emitting materials
Sustainable purchasing
Certificates
Certificates
To show continuous improvement, Steelcase communicates the environmental and social performance of its products through voluntary labels and declarations.
PRODUCT
PEP – Product Environmental Profile – Targeted
MATERIALS
PEFC – Programme for the Endorsement of Forest Certification
E1 – Low concentration of formaldehyde in wood
SCS Indoor AdvantageTM Gold – Targeted
Blauer Engel – Targeted
PLANTS
ISO 14001 – Environmental management system
EMAS – European Eco-Management and Audit Scheme
OHSAS – Occupational Health and Safety Assessment Series
Specifications
Standard + Optional Features
Standard + Optional Features
Verb Options
Tables
Three table shapes: chevron, team and rectangle
Side hooks, dock and center dock
Legs on casters and/or glides
Instructor Station
Available in two lengths
Legs on casters and/or legs
Optional Caddy for storage of personal materials
Modesty panel for increased privacy
Optional cupholder on lectern
Whiteboard Easel
Easel is available in one sizes holding up to 16 boards at one time
Wall Tracks
Wall track is available in medium and large size, including 4 respectively 5 hooks
Extra hooks for wall track are available
Verb fliptop Options
Rectangle H740mm
W1200 x D650mm
W1400 x D700mm
W1400 x D650mm
W1500 x D700mm
W1500 x D650mm
W1600 x D700mm
W1600 x D800mm
Chevron H740mm
W1400 x D700mm
W1400 x D650mm
W1500 x D700mm
W1500 x D650mm
W1600 x D700mm
W1600 x D800mm
Surface Materials
Tables available in five melamine colours
Side dock with storage hook and center dock available in the following plastic finishes: Sterling Dark Solid (6059), Platinum Solid (6249)
Legs available in all Paint colours
For the Teaching station: storage caddy and modesty panel come in the same colour as the legs
Easel is available in one colour combination: legs and frame in Platinum Metallic (SL), display shelves in Merle (MG) and the shelfs inserts and top caps in Platinum Solid (6249)
The wall track comes always in Platinum Solid (6249)
Verb FlipTop : Legs available in all Paint colours
Edgeband: melamine colours matching the table top and 4 accent colours
Global Availability
Global Availability
This product is available in the following regions:
Africa
Asia Pacific
Central America
Europe
Middle East
North America
South America
Not available in your region?
If you're interested in purchasing a product that's not available in your region, please contact your local dealer for purchasing options.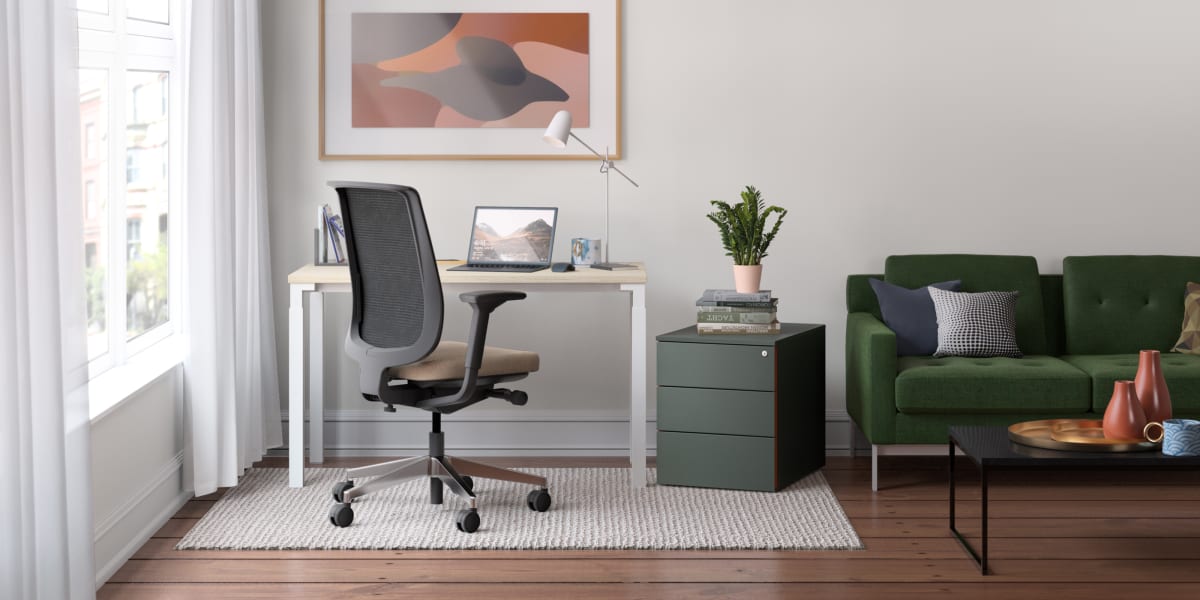 Work from Home
While teams are working from home, we're working to keep them comfortable. You can lean on Steelcase as your one trusted point of contact for products that blend performance with design.
Due to local regulations, select products are available in the UK.