B-Free is a full range of modular furniture aimed to design multiple and easily reconfigurable settings.
Mini neighbourhoods within the workplace
B-Free welcomes varied work postures – reading, reclining, or leaning in to a conversation. From focused individual work to a casual meeting, B-Free provides thoughtful, comfortable support.
Seating, desk, tables and screens create spaces where people easily connect and collaborate, and the collision of ideas becomes a natural part of the work day.
Features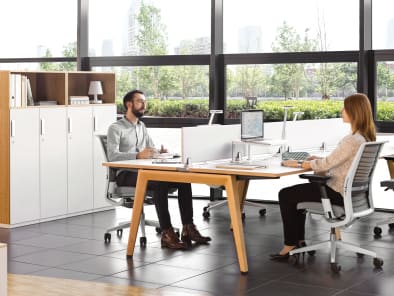 Customization
B-Free is a complete desk program, including user sliding top, ready to adapt at a moment's notice.
Position B-Free worksurfaces on their own, or back-to-back to create spaces for individual concentration and group collaboration.
Add privacy screens, storage, worktools, lighting and other accessories on the integrated rail.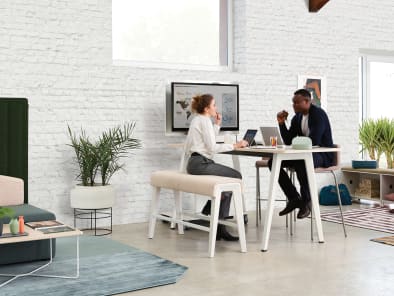 Collaborate
B-Free creates the kind of informal, convenient spaces where team work comes naturally and collaboration flourishes. Workers have equal access to tools, displays and digital and analogue information. Plus it is easy.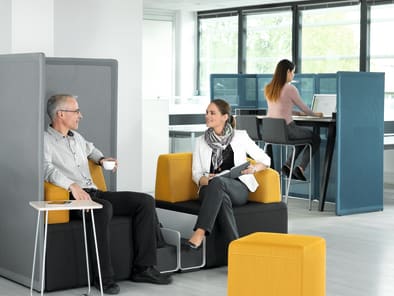 Connect
Nearby informal spaces provide a welcome change during the work  day; an opportunity to meet informally in a comfortable, relaxed posture, in a space at once removed yet still connected to the organisation.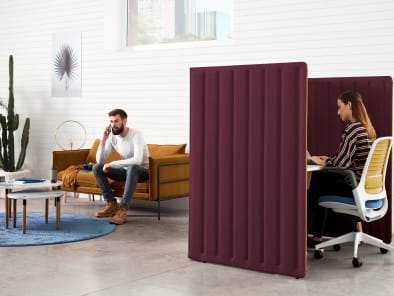 Concentrate
Changing posture boosts productivity and wellbeing. B-Free spaces work at stool or seated height to support  short- and long-term tasks. Screens provide a subtle barrier from distractions, and power outlets and bag drops support technology and personal belongings.
Insights
Encourage Innovation
Creativity blossoms in less formal, more casual places where it's easy to connect and collaborate with others. These spaces help foster new ideas and connections, the root of innovation.
In many offices, informal spaces offer limited seating and provide little privacy or support for technology.
To foster innovation, offer a palette of places: spaces where anyone in the organisation can quickly find an ideal place for connections with colleagues and impromptu collaborations.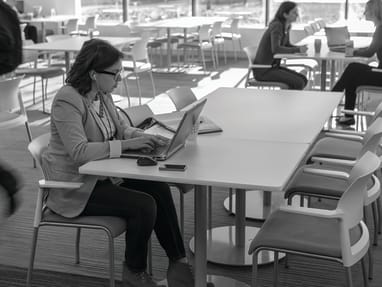 Privacy
Informal and open spaces are lacking of areas where privacy can help concentration, connection or/and collaboration modes yet users still need to be people connected and visible to others.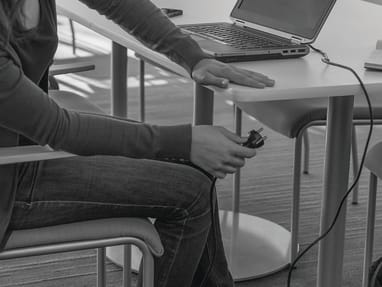 Access to Power
Users are in need for a place to power their devices. Informal spaces are often not equipped to meet this requirement.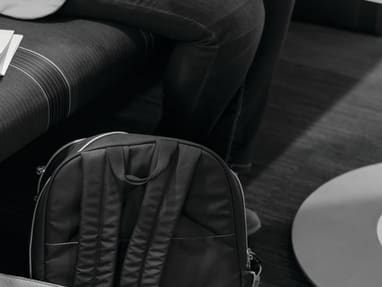 Personal Belongings
Personal belongings are not supported in informal spaces and yet, users need to access them if they wish to stay and work in these "in-between spaces".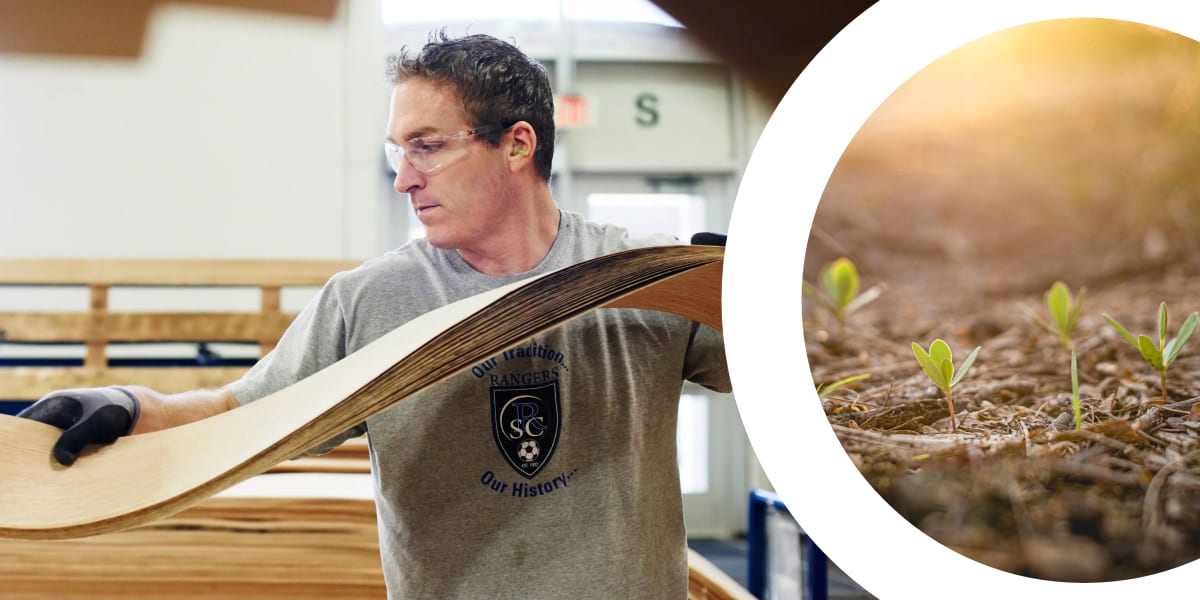 Sustainability
Designing for Sustainability
We create products that are good for people, and good for the world. Our products and operations are designed around a commitment to reduce climate change, reinforced by sustainable practices across our value chain.
Our Sustainable Design framework ensures our products are designed with consideration of life cycle thinking and cradle-to-cradle principles:
Source materials responsibly

Minimize global warming and other life cycle impacts

Ensure material health

Enable end-of-use strategies
Specifications
Options + Dimensions
Options + Dimensions
Main options
Transparent or privacy screens available in 2 sizes
B-Free tables available in standing height, either with wood or steel legs
Large cube available with or without top block (in I and L-shape)
Small cubes available with or without castors (swivel version)
Beam available in 2 lengths
High Stools
Bag drop
Bag stand
Occasional tables available to complete cubes applications (table stool, coffee table, corner table)
B-Free desk available with wood legs in different length and width dimensions, vertical and horizontal top access options as well as panel options
Global Availability
Global Availability
This product is available in the following regions:
Africa
Asia Pacific
Europe
Parts of Statement of Line also available in North America
Not available in your region?
If you're interested in purchasing a product that's not available in your region, please contact your local dealer for purchasing options.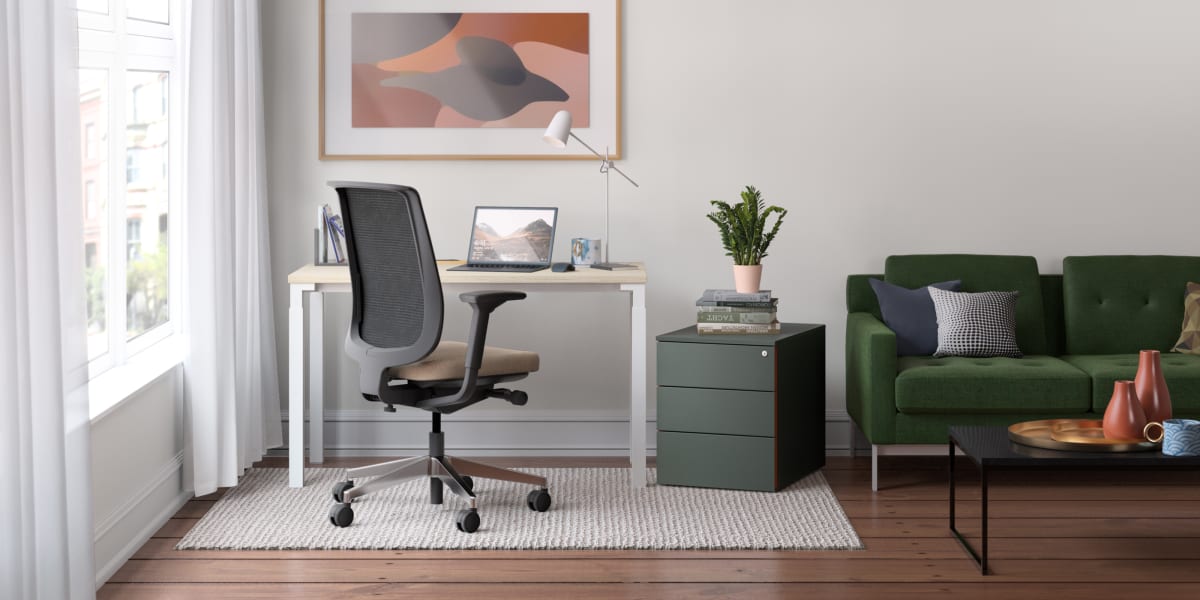 Work from Home
While teams are working from home, we're working to keep them comfortable. You can lean on Steelcase as your one trusted point of contact for products that blend performance with design.
Due to local regulations, select products are available in the UK.