P60 is an executive office furniture programme. The range offers a differentiating contemporary design that allows managers to "feel at home" and to also have a statutory and efficient workspace.
Features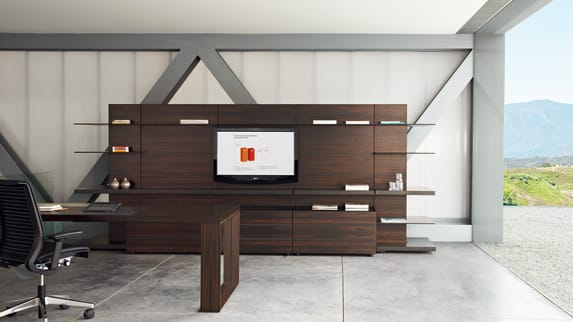 Architectural Modernity
Modern architecture embraces geometry in developing a greater understanding of built forms. P60 aspires to perfection and is created with great care and attention to fine detail and finished to the best possible standard. Outstanding craftsmanship ensures a most durable and solid system, featuring an attractive selection of materials of the highest quality.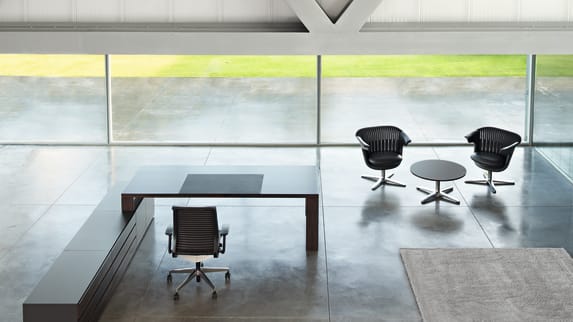 Feel At Home
Managers want to choose their own configurations to reflect their personal preferences. P60 offers a wide range of shapes and storage options with a variety of finishes: wood, glass, leather and lacquers.
The centerpiece offers a wide, elegant and slim rectangular frame featuring glass panels. P60 wall allows innovative ways to create and organise office environments. Its architectural and elegant structure conveys privacy and showcases professional and personal items.
Specifications
Options + Dimensions
Options + Dimensions
Main options
3 sizes of free-standing desks
Supporting pedestal option
3 shapes of meeting table available in different sizes
4 wall panels in different sizes
14 different sideboards in 3 different heights
4 cable management solutions
The geometric and architectural lines offer structure, simplicity and peacefulness.
The wall system allows open space applications and private office settings.
Meeting tables, desks and wall have the same design for a consistent and elegant work environment.
It provides comfortable personal space.
It also creates high-end collaborative workspaces.
P60 offers multiple ways to store, pile and access information thanks to various elegant storage solutions.
It offers multiple cable management and technology options.
The wide choice of finishes and material (glass, leather, wood) allows managers to personalize their space.
Global Availability
Global Availability
This product is available in the following regions:
Africa
Europe
Middle East
Not available in your region?
If you're interested in purchasing a product that's not available in your region, please contact your local dealer for purchasing options.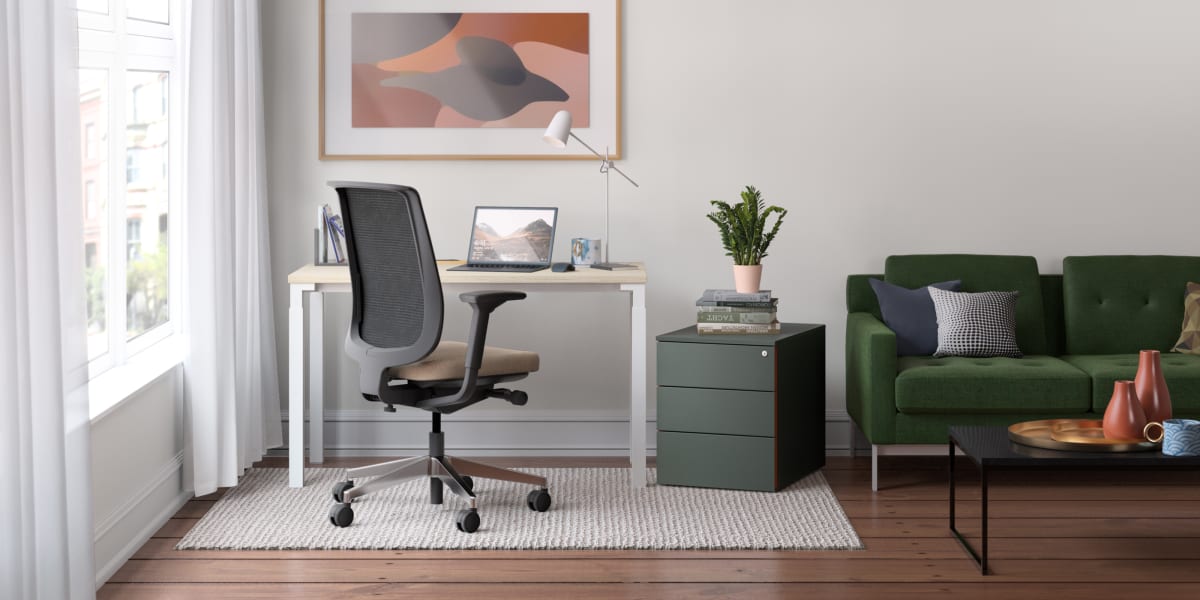 Work from Home
While teams are working from home, we're working to keep them comfortable. You can lean on Steelcase as your one trusted point of contact for products that blend performance with design.
Due to local regulations, select products are available in the UK.