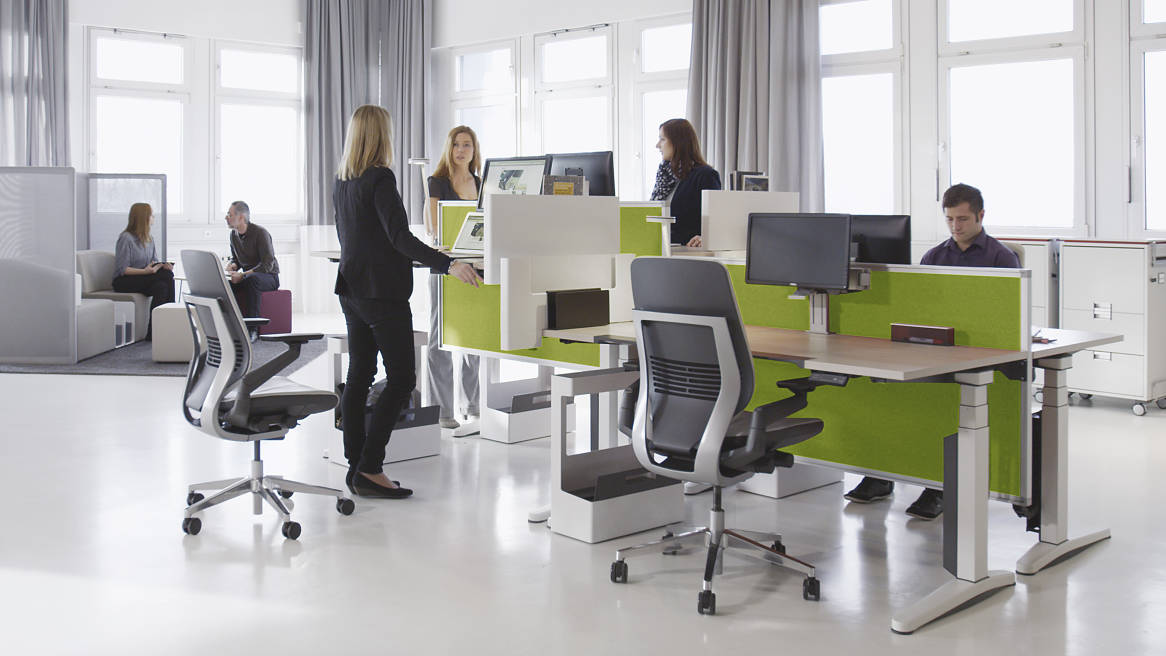 Ology is the first desking solution that supports the physiology and biology of users to make the workplace a more health-conscious environment.
Insights
Workplace Wellbeing
Workplace Wellbeing
A GLOBAL CHALLENGE
There is a clear correlation between employee engagement and business performance. Many organizations realize the importance of employee wellbeing and it's effect on productivity, efficiency, innovation and employee engagement, yet many struggle to articulate the factors that impact employee wellbeing and few know how to improve it.
Physiology
Sustainability
Overview
Overview
Designing for Sustainability
We believe the only way to provide the best office furniture solutions is to ensure they're the best products for the environment. That's why every step of the way – through design, manufacturing, delivery and product lifecycle – we consider the impact of our work on people and on the environment and uncover opportunities to make things better.
50 %
Up to
recycled content by weight
99 %
Up to
recyclable by weight
Life Cycle
Life Cycle
MATERIALS
Up to 50% recycled materials, by weight (30% pre-consumer  + 20% post-consumer). Wood from European sustainably managed forests. Materials chemistry assessment throughout their lifecycle. 100% recycled cardboard.
PRODUCTION
Made by Steelcase in Madrid (ES) and Rosenheim (DE).
TRANSPORT
Made in Europe, close to customers. Optimised packaging to keep transport volumes as low as possible and improve filling rates.
USE
Designed for a long product life, with replaceable parts. Materials meet stringent health and indoor air quality criteria. Maintenance information available upon request.
END OF LIFE
99% theoretically recyclable by weight. 100% theoretically recyclable cardboard and LDPE film for packaging.Quick and easy disassembly. Plastic parts clearly labelled for easy sorting and effective  recycling. Designed to encourage responsible end of use strategies – refurbishing, charitable donation or recycling.
LEED Contribution
LEED Contribution
Steelcase helps customers seeking LEED certification to identify products and programs that can contribute to LEED criteria in the categories of Materials and Resources, Indoor Environmental Quality and Innovation (Ergonomics Training, Sustainability Training, Product Innovation).
Learn about Steelcase's direct and indirect contributions to a project's pursuit of LEED certification across LEED's three categories:
Building Design + Construction
Interior Design + Construction
Operations + Maintenance
Since the USGBC and its certification partner, GBCI, evaluate each project individually, the role our products play in achieving LEED certification is unique to each project.
Certificates
Certificates
Certifications can help you choose products that are environmentally sustainable and just right for your project. Ology has achieved the following certifications:
EPD – Environmental Product Declaration
PEP – Product Environmental Profile
NF Environnement
NF Office Excellence Certifié
Blauer Engel
Indoor Advantage Gold
Cradle-to-Cradle Bronze
Planning Ideas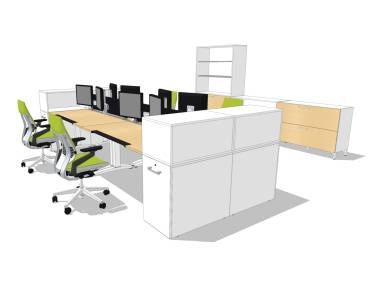 EPOPJCPN
Boundary storage helps define this resident work area and adds a level of privacy for users. Users have a dedicated
Specifications
Options + Dimensions
Options + Dimensions
Main options
9 different top shapes available in different sizes
5-height adjustability responds to the needs of all types of users
Ology offers more than 29 options and many accessories
Available in bench
Global Availability
Global Availability
This product is available in the following regions:
Africa
Asia Pacific
Central America
Europe
Middle East
North America
South America
Not available in your region?
If you're interested in purchasing a product that's not available in your region, please contact your local dealer for purchasing options.
Resources + Support
Download 2D and 3D CAD models for use in your design application.

View and save brochures, certificates, and other documents.

Browse, save, and download beautiful images for use in presentations or inspiration boards.