Desks
FrameOne Desk
by Steelcase
FrameOne is a desk designed to be beautiful, functional and beneficial to your workday. Its clean, simple lines and neat design touches make people proud to own it.
Sustainability
Overview
Overview
We believe the only way to provide the best office furniture solutions is to ensure they're the best products for the environment. That's why every step of the way – through design, manufacturing, delivery and product lifecycle – we consider the impact of our work on people and on the environment and uncover opportunities to make things better.
23 %
Up to
recycled content by weight
99 %
Up to
recyclable by weight
Life Cycle
Life Cycle
Materials
FrameOne is made from 23% recycled material, contains no hazardous materials (no Chrome, no Mercury and no Lead) and no problematic materials (no PVC). The packaging consists of cardboard, Expanded PE and LDPE film (Low Density Polyethylene), all containing 30% recycled material. Paper and packaging use water based inks without solvent.
Production
Powder-coat painting is VOCfree and free of heavy metals. Glue used to attach edge on table is water based and releases no VOCs. The Production site in Rosenheim (Germany) is ISO14001 and EMAS certified.
Transport
Flat packaging help us keep our transport volumes as low as possible and improve filling rates.
Use
To maximise its working life, FrameOne is modular and easy to upgrade.
End of Life
FrameOne is 99% recyclable by weight. Plastic parts weighing more than 50g are clearly labelled for recycling. EPP edge protections are returned and directly reused or repaired if broken.
LEED Contribution
LEED Contribution
Steelcase helps customers seeking LEED certification to identify products and programs that can contribute to LEED criteria in the categories of Materials and Resources, Indoor Environmental Quality and Innovation (Ergonomics Training, Sustainability Training, Product Innovation).
Learn about Steelcase's direct and indirect contributions to a project's pursuit of LEED certification across LEED's three categories:
Building Design + Construction
Interior Design + Construction
Operations + Maintenance
Since the USGBC and its certification partner, GBCI, evaluate each project individually, the role our products play in achieving LEED certification is unique to each project.
Certificates
Certificates
With FrameOne we can provide three Product Environmental Profiles (PEP), an environmental declaration according to the objectives of ISO 14021.
FrameOne complies with the German environmental certification "Blauer Engel".
The wooden components of FrameOne are labelled with PEFC™ (Programme for the Endorsement of Forest Certification).
Specifications
Options + Dimensions
Options + Dimensions
3 height adjustment versions: Basic (740mm), Adjustment foot (680-760mm) and Telescopic (640-920mm)
Loop version in Basic Height (740mm)
Desks with and without cantilevers
2 different top shapes available in different sizes
Freestanding Desk
FrameOne Desk with Storage Leg
Melamine, Wood Veneer, Plywood or FENIX NTM opaque and fingerprint resistant top
Integrated Rail, Various Top access, OrgaRail and Accessories
Modesty Panels and Side Panels
Facility Manager Sliding Top and User Sliding Tops as an option
Available as a Bench
Global Availability
Global Availability
This product is available in the following regions:
Africa
Europe
Middle East
Not available in your region?
If you're interested in purchasing a product that's not available in your region, please contact your local dealer for purchasing options.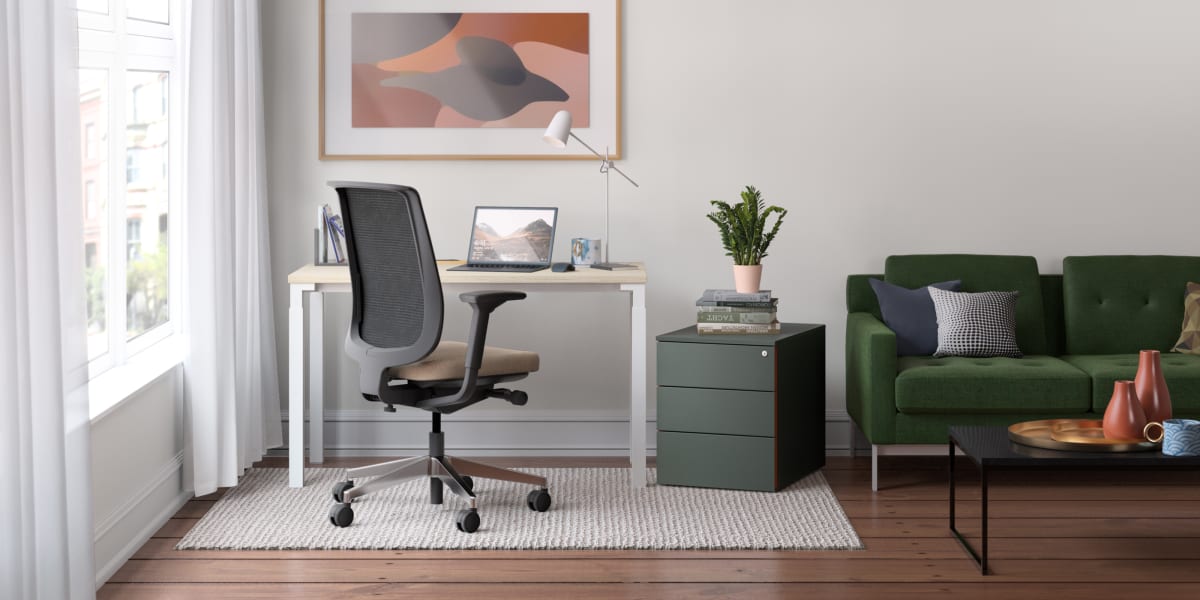 Work from Home
While teams are working from home, we're working to keep them comfortable. You can lean on Steelcase as your one trusted point of contact for products that blend performance with design.
Due to local regulations, select products are available in the UK.