Active learning. Active minds. Active spaces.
Steelcase Education is focused on helping schools, colleges and universities create the most effective, rewarding and inspiring active learning environments to meet the evolving needs of students and educators.
Using an insight-led approach, we design solutions for the many spaces learning happens, from classrooms and libraries to in-between spaces and cafes. We have a passion for understanding how learning best takes place and how smarter, active learning spaces can help.
Featured Products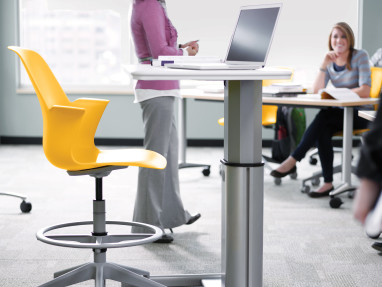 Node
The Node school chair is mobile and flexible. It's designed for quick, easy transitions from one teaching mode to the next. With Node, a classroom can transition from lecture mode to team mode and back again, without interruption.
Insights
Active Learning Spaces
Active Learning Spaces
Students prepare for a future no one can predict and jobs that, in many cases, haven't been invented yet. Educators are responding to these diverse forces with a refreshing openness, adopting active learning and embracing new technology. Yet, both students and educators must operate in learning environments built for age-old ways.
Our Insights and Applications Guide provides the latest thinking on classroom design and learning spaces, including research, design principles and applications.
View Insights + Applications Guide
Designing for Blended Learning Environments
Designing for Blended Learning Environments
Steelcase Education researchers conducted a design research study at 16 schools, colleges and universities throughout the United States to understand the dynamics and spatial implications of technology-empowered learning.
Six spatial insights emerged for blended learning environments. These include designing for flexibility, the loosening of spatial boundaries, an increased need to support video capture and streaming, and a continued use of analog and digital tools for effective learning.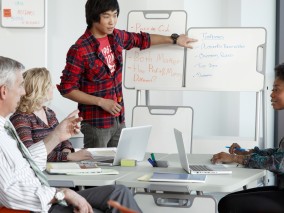 Classroom Design Affects Student Engagement
Study proves Classroom Design Affects Student Engagement
New data from ongoing Steelcase Education post-occupancy evaluation studies show that classrooms designed for active learning have a significant effect on student engagement.
Comparisons between old and new classrooms were statistically significant on all 12 factors measured for both instructors and learners. The Steelcase survey tool can now be used to reliably measure the impact of engagement in learning environments.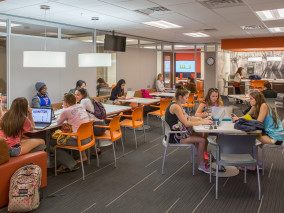 Services
Professional Development
Professional Development
Integrating technology, space and pedagogical innovations into meaningful lessons is critical for student success. Add new dimension to instruction through inquiry, coaching and guided exploration.
These services help educators ensure best practices are immediately integrated into instructional planning, delivery and student interactions.
Our Services Include
Online tools
Onsite engagements
Virtual coaching and team teaching
Space planning
Webinars
Regional events
For more information, contact us at ProfessionalLearning@steelcase.com.
E&I Cooperative Services
E&I Cooperative Services
E&I is the member‐owned, not‐for‐profit sourcing cooperative delivering expertise, solutions and services to higher education and related institutions. E&I provides members with access to a diverse portfolio of competitively awarded contracts, electronic procurement platforms and consulting services to help them source effectively.
By leveraging the knowledge and expertise of more than 3,000 member institutions, E&I helps members reduce costs and optimize supply chain efficiencies.
Financial Services
Financial Services
Smart Financing
Create an active learning environment with great products from Steelcase Education while taking advantage of the Smart Financing program benefits from Steelcase Financial Services.
Steelcase Financial Services offers exceptional financing rates as low as 0% for 2 years and other special lease rates. Minimum order is $5,000.
Financing can help you:
Eliminate budget constraints
Achieve low per-student pricing
Provide end-of-lease flexibility
For more information, contact us at financing@steelcase.com.
Recycling + Reuse
Recycling + Reuse
Finding a New Purpose
Taking care of our environment is key to Steelcase. Part of that is being smart with how furniture is handled once it is no longer wanted or needed. Steelcase can help.
Our Phase 2 Program consultants can evaluate furniture inventory and offer options for reuse — all with a zero landfill goal. The intent is for these used products to be placed back into service for reuse or recycled into new usable products. There are many options to choose from with social, environmental and economic benefits, and may help earn credit toward LEED certification.
Solutions
Node Classroom
Node Classroom
Supporting the Many Modes of Learning
Educators are often faced with a tough choice: promote active learning or fit as many students as possible into a classroom without much flexibility. Until now.
The Node chair is mobile and flexible. It's designed for quick transitions between room configurations. With Node, a classroom can flex from lecture mode to groups, and back again, without interruption. Node can take passive space and make it active, supporting active and team-based learning, even when student density is important.
Verb Classroom
Verb Classroom
Transform Any Classroom Into an Active Learning Space
Students and instructors need spaces that support the ways they learn. Classrooms should enhance sightlines and interaction and support seamless transitions, collaboration and information persistence.
Verb is an integrated collection of instructor stations, student tables, personal whiteboards, display and work tools.
Classroom Technology
Classroom Technology
Technology Must Support Active Learning in the Classroom
ēno allows instructors and students to capture and distribute lesson notes, create collaborative lessons for multiple users and project important content for discussions.
ēno adapts to any classroom, instructor and student, with multiple configurations to fit any learning space.
media:scape LearnLab
media:scape LearnLab
Share. Learn. Collaborate.
media:scape LearnLab removes the barriers to sharing information and democratizes how people access and share information. The LearnLab allows students to contribute ideas quickly and seamlessly, while the unique design removes the front of the room, allowing the instructor to teach from any location in the classroom. The triangulation of content supports multiple teaching and learning styles without disruption.
Resources + Support
Case Sudies
Case Sudies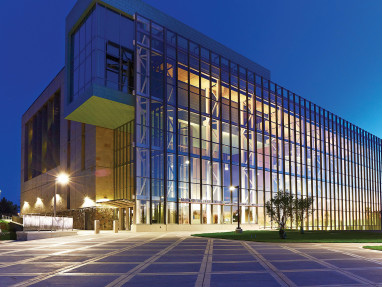 Grand Valley's Mary Idema Pew Library
Steelcase researchers studied libraries at colleges and universities across the U.S., including GVSU, and found major shifts in how the library is being used and opportunities to better leverage pedagogy, technology and space.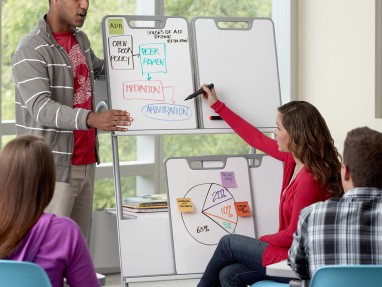 Verb at Coastline Community College
See what happens when two classes at Coastline Community College experience a Verb classroom. From multiple modes of learning to engaged students, Verb transforms the learning environment by offering flexibility and collaborative tools for the first time.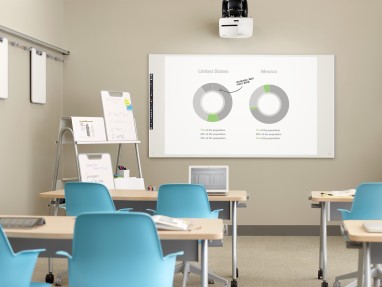 More Education Case Studies
We set out to do far more than simply update the classroom. Our goal is to rethink, reinvent, re-envision learning spaces. Learn how we partner with schools, while leveraging technology, space and pedagogy to deliver active learning spaces in the real world.
Photos + Videos
Planning Ideas
Planning Ideas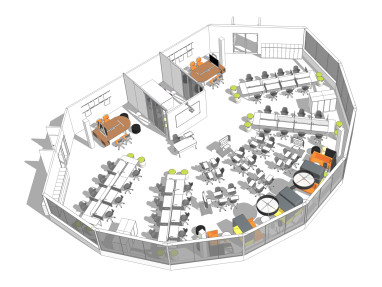 1140HYXX
Collaborative work spaces give student teams a place to work as a smaller community within a large class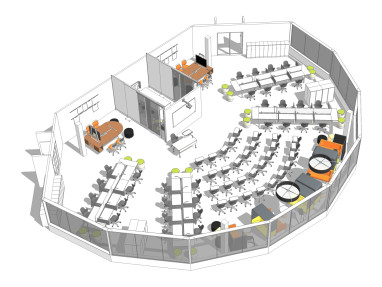 WHPRDYZE
Lounge seating with privacy screens give students in a multipurpose classroom places to getaway and work without distractions.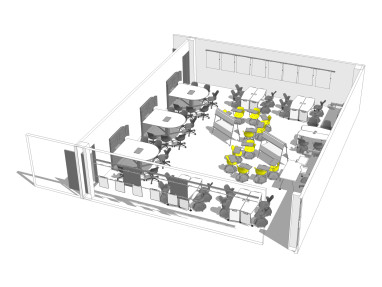 1301XG3V
Node chairs with worksurface support active students using the tools and personal devices they bring to class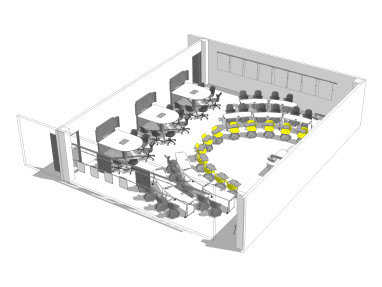 D11VHD4G
Multiple postures are supported through a variety of heights and types of furniture. Swivel chairs on casters provide fluid engagement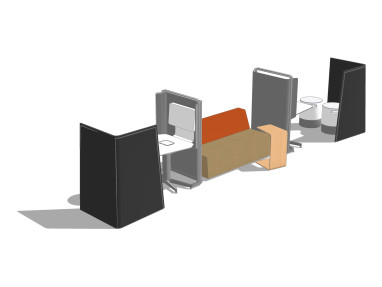 1HM10YSD
Niches within and outside the classroom are designed for collaborative student learning spaces.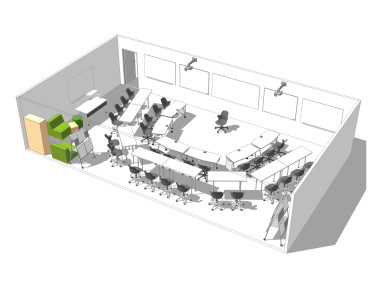 D0S3HA41
The horse shoe configuration of tables and chairs promotes direct eye contact between students, encouraging participation during discussions and debates.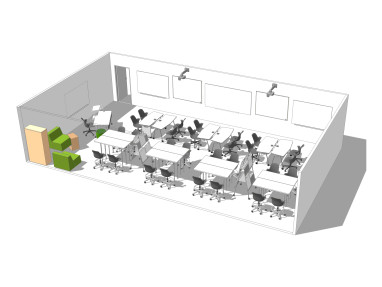 1WHPCXH6
Multiple eno interactive whiteboards widens the view planes across a rectangular-shaped classroom, giving students in all locations equal access to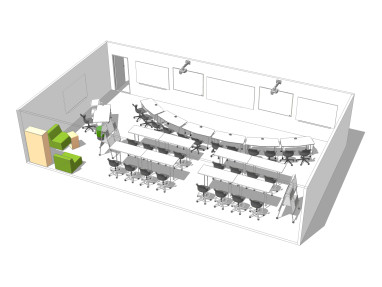 WYX27NWX
Multiple postures and places are provided to allow students a choice of learning spaces, promoting wellbeing.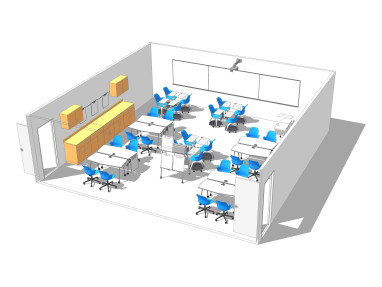 HS112EXX
Small team pods allow students to connect as small communities of learners within the large group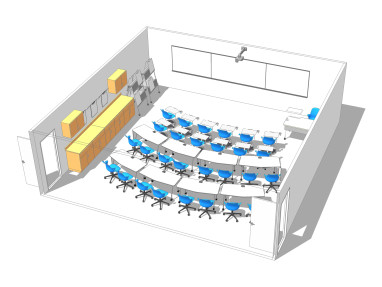 DWG1P1CV
Tables provide students with the space needed to array and use their choice of devices, tools, and materials during class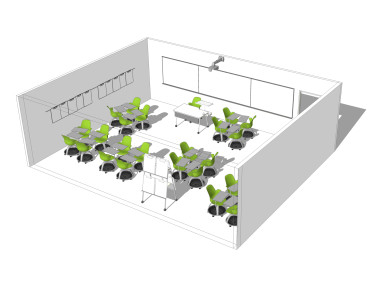 DW1BRXXW
A variety of tools support delivery in whole group presentations and enhance student note-taking skills with a visible thinking model.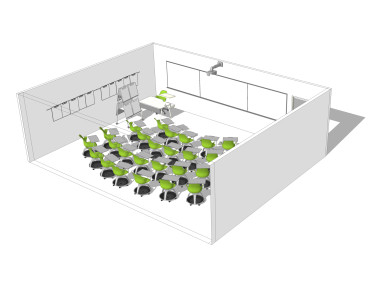 0EV1XQZX
Arched rows increase sight lines between students in large group discussion for better connection with content and each other