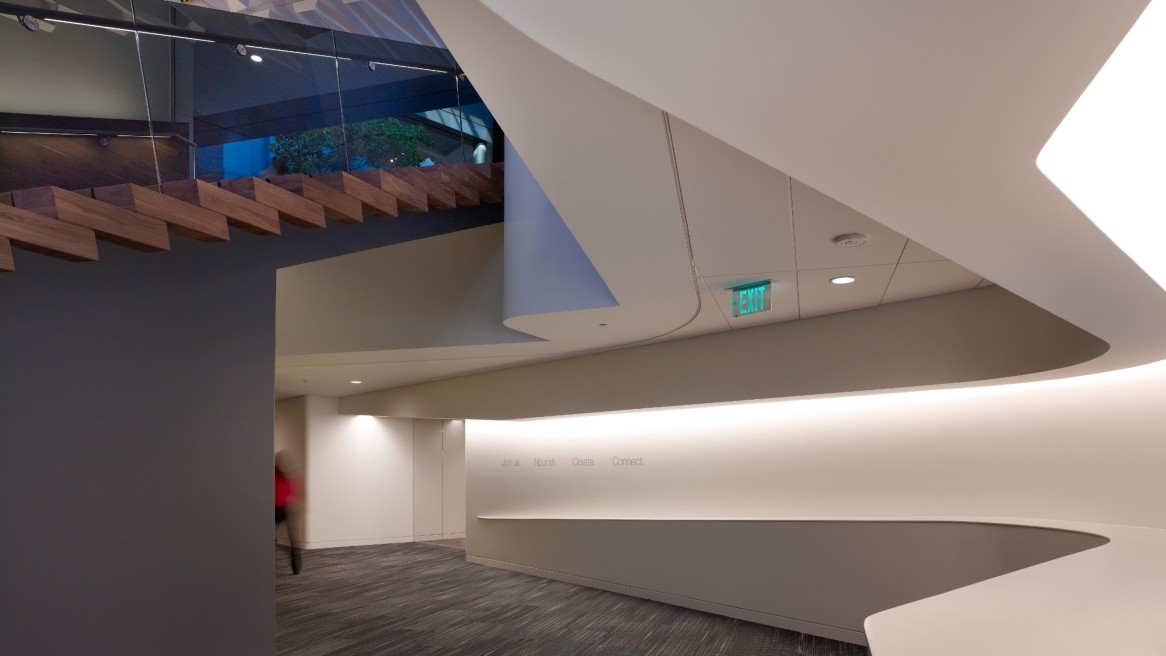 Careers
An Authentic + Reliable Team
If you're looking for a company that is authentic and reliable – one that allows you to do your best work as a part of a team passionate about finding solutions and doing things right – we invite you to check out our opportunities.
Steelcase Foundation
Overview
Overview
Guiding Principle 1:
Operate Independently of Steelcase
Established in 1951, the Foundation focuses on the areas of human service, health, education, community development, the arts and the environment – giving particular concern to people who are disadvantaged, disabled, young and elderly as they attempt to improve the quality of their lives.
Steelcase founders and original trustees Walter Idema and David Hunting Sr. established the Foundation as an independent trust to support "charitable, scientific, literary or educational" causes. Carrying the founders' vision forward, today's trustees and staff believe that:
People are the bottom line
Improving the human condition is all-important
Approaching problems holistically leads to imaginative and often dramatic solutions
Vision, Mission + Values
Vision, Mission + Values
Guiding Principle 2:
Approach Community Problems Holistically
Our Vision
We empower people to reach their full potential
Our Mission
The Steelcase Foundation believes quality, accessible public education is paramount to achieving its vision.  The Foundation assists  its philanthropic partners in generating education initiatives, in addition to work and cultural opportunities.  This focus occurs primarily in Steelcase Inc.'s  founding community of West Michigan.
Our Values
People:  We have a sense of responsibility to others and are committed to improving the human condition.
Partnerships:  Partnerships are at the heart of success.  Collaboration accelerates listening, learning and working together to achieve the best possible outcomes.
Diversity:   Organizations operate best when there is clear representation of the people they serve, at every level.
Integrity: Our relationships are conducted with high integrity, respect and fairness.
Humility:  Our work is our primary focus; our public presence is understated.
Innovation: We are a passionate agent of innovation, encouraging risk-taking and new approaches to achieve desired results.
Results:  We support diligent, highly-responsive accountability and continuous improvement to achieve meaningful results, with lasting impact.
Grant Process
Grant Process
Apply for a Grant
The Steelcase Foundation makes grants to IRS-determined non-profit organizations based where Steelcase manufacturing plants are located (Grand Rapid, Michigan and Athens, Alabama.) We prefer not to be the sole support for a program.  Also, we do not provide grants to individuals or to organization that:
Discriminate on the basis of race, religion, sex, disability, or national origin.
Have received a Steelcase foundation grant within the past 12 months.
Request support for a conference or seminar.
Request support for religious programs (nonsectarian programs for humanitarian purposes are eligible for consideration.)
Application Process
To obtain a Steelcase Foundation grant application, send us a letter on your letterhead, signed by your organization's chief executive officer. Include the following items in your letter:
Description of your organization or project
Expected results of the project
Amount of grant funds requested
Copy of your IRS 501(c )(3) non-profit certification
Send your letter to:
The Steelcase Foundation
P.O. Box 1967 GH-4E
Grand Rapids, MI 49501-1967
If your proposal meets our grant criteria, we will send you a more detailed application form.
Matching Gifts, Updates + Reports
Matching Gifts, Updates + Reports
Matching Gifts
The  Steelcase Foundation and partners with Steelcase employees, retirees and directors by matching their gifts to arts/culture, education and environment/conservation programs.  The maximum contribution amount is $10,000 per year.  The amount can be a combination of gifts to a number of different organizations.  In FY2014, (12/1/13 through 11/30/14, the Foundation provided $427,935.00 in matching funds.
Matching gift forms are available from the Foundation office (616-246-9860).
Updates + Reports
Past Foundation grant facts and figures.
Staff + Trustees
Staff + Trustees
Today's Steelcase Foundation Board includes several descendants of the original Steelcase families, including those of Walter Idema and David Hunting Sr., who established the Foundation to support the communities where Steelcase does business.
Steelcase Foundation Trustees
James P. Keane
Mary Anne Hunting
Craig Niemann
Mary Goodwillie Nelson
Kate Pew Wolters
Robert C. Pew
Elizabeth Welch Lykins
Staff
Julie Ridenour
President
Phyllis Gebben
Coordinator of Donations
Contact
Contact
Contact
The Steelcase Foundation
P.O. Box 1967 GH-4E
Grand Rapids, Michigan 49501-1967
Supplier Diversity
Introduction
Introduction
Our CEO, Jim Keane, has expressed to internal and external audiences – including nearly 200 people at the 2012 Steelcase Supplier Summit – that it's not companies that survive for 100 years, its ideas. And Steelcase has been centered on one core idea for over 100 years – we unlock human promise. We also believe there is opportunity to unlock human promise in the development of a diverse supply base.
Program
Program
Since 1991, the Steelcase Supplier Diversity Program has focused on promoting the growth and development of minority-owned, women-owned, service-disable veteran-owned and HUBzone businesses in the United States by integrating them into our procurement process.
Here at Steelcase, we review our corporate supplier diversity goals monthly. In addition, we continue our involvement in conferences and networking opportunities to make connections with more potential suppliers.
Vision
Initiatives
Initiatives
Our diversity initiatives include:
Participating in trade shows, conferences, networking events, customer showcases and meetings of associations representing diverse businesses to share information about Steelcase and to identify potential suppliers
Maintaining relationships with diverse business associations, as well as small business associations
Advertising in publications that serve our diverse business communities.
Maintaining active membership in:
National Minority Supplier Development Council
Michigan Minority Supplier Development Council (MMSDC) – The MMSDC awarded us their Corporate One Award for 10 years of excellence through our involvement and support.
Michigan Chamber of Commerce
Michigan Manufacturers Association
The Right Place
Inforum
Business Leaders for Michigan and
The Grand Rapids Area Chamber of Commerce