Insights
Ongoing Research
Ongoing Research
Our human-centered design research at schools, colleges and universities across the U.S. and Canada shows that while active learning is increasing, classrooms often prevent students and instructors from making the most of collaborative learning.
The same research can be applied to corporate learning spaces or project team rooms.
Research shows that instructors' use of lecture is decreasing while discussion and group learning is rising. (Source: Educause Guide to U.S. Higher Education 2005)
Engagement + Active Participation
Engagement + Active Participation
Multiple Postures
Multiple Postures
Observation
When teaching styles and postures are restricted, instructors can't work the way that's best for their curriculum and students.
Insight
Instructors need furniture that supports teaching while standing, perching on the desk and seated in conversation with students.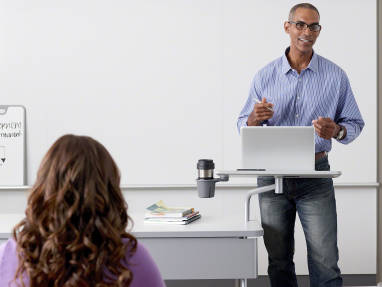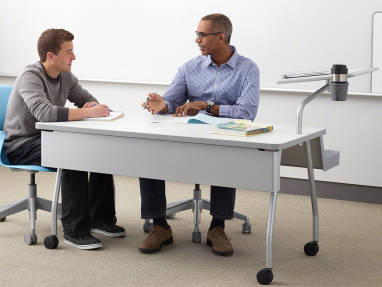 Planning Ideas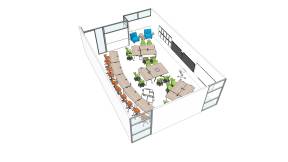 XF9JB4SC
Designed to support videoconference or webcast intruction. The teacher may be remote, communicating through telepresence or a prerecorded video. Or
Verb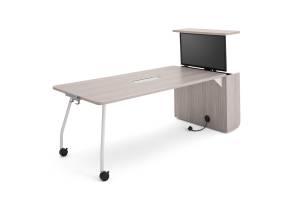 Active Media Table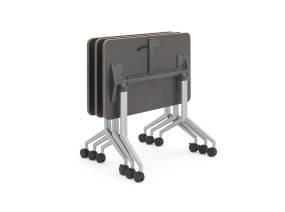 Flip-Top Table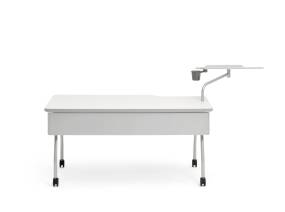 Instructor Station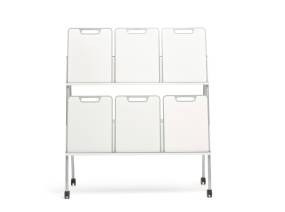 Whiteboard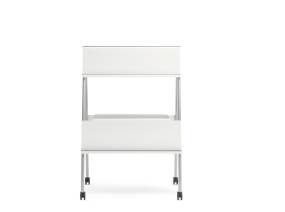 Whiteboard easel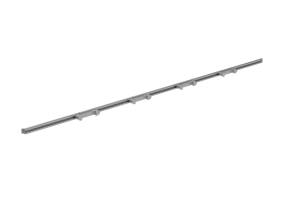 Wall Track
Specifications
Standard + Optional Features
Standard + Optional Features
Verb Options
Tables
Three personal table shapes: keystone, rectangle and triangle
Four student table shapes: chevron, team, rectangle and trapezoid
Three media table shapes: rounded, trapezoid and square
Side hooks, dock and center dock
Access legs, seated height adjustable post legs and standing height-adjustable post legs
Modesty panel for increased privacy
Instructor Station
Caddy for storage of personal materials
Modesty panel for increased privacy
Available in three lengths
Optional cupholder on lectern
Whiteboard Easel
Easel is available in two sizes holding up to 16 or 24 boards at one time
Wall Tracks
Wall track is available in six or eight foot lengths
Extra hooks for wall track are available
Surface Materials
Legs and modesty panels are available in 10 finishes plus PerfectMatch.
Instructor station storage caddy, lectern arm and easel legs are available in Platinum Metallic (4799), Champagne Metallic (4750) and Merle (7360).
Easel display shelves are available in Merle (7360) and Arctic White (7075) markerboard paint.
Tables available in all Steelcase laminates and open line laminates.
Side dock with storage hook and center dock available in the following plastic finishes: Midnight (6259), Sterling Dark Solid (6059), Platinum Solid (6249) and Element (6337).
Awards
Awards
2012
Product Innovation Awards
Granter: Architectural Products Magazine
Best of NeoCon
Silver
Category: Education Solutions
Global Availability
Global Availability
This product is available in the following regions:
Asia Pacific
Central America
South America
North America
Europe
Middle East
Africa
Not available in your region?
If you're interested in purchasing a product that's not available in your region, please contact your local dealer for purchasing options.
Resources + Support
Need help? Contact us at 888.783.3522
Download 2D and 3D CAD models for use in your design application.

View and save brochures, certificates, reports, white papers, case studies and articles.

Browse, save, and download beautiful images for use in presentations or inspiration boards.