Gesture redefines the relationship between you and your desk chair. Voted best office chair, its 360-degree arms, contoured back and adjustments are designed for all the ways technology shapes your posture.
Configure Now

Planning for the Workplace?
Uncover options to create an inspiring space.
Configure Now
Buy Now

Shopping for a Home Office?
See all the options for your work-from-home upgrade.
Buy Now
Best-in-Class Performance
Designed for Movement
Gesture encourages movement and supports the greatest range of postures in three ways: through the back, the seat and the arms. With 3D LiveBack®, Gesture mimics the natural motion of the spine contouring to the user, creating the deepest recline.
Designed for Connection
As you work across multiple devices, Gesture keeps your posture healthy and keeps you connected to your work. The 360 arms allow you to bring the arms up and in towards your body to avoid Text Neck.
Designed for You
Everybody's different, and everybody sits differently, Gesture comfortably supports a range of people. The 360-degree arms have the largest width range of any chair on the market. Ideal for users who sit for long periods of time and prefer a dialed in, precise fit.
.
Acclaimed Movement
Designed for all the ways technology shapes your posture, Gesture supports the largest range of postures and users – so you can sit all day without feeling like you sat all day. Gesture offers best-in-class features and performance.
Voted best office chair by Wirecutter, 2022
Performance Features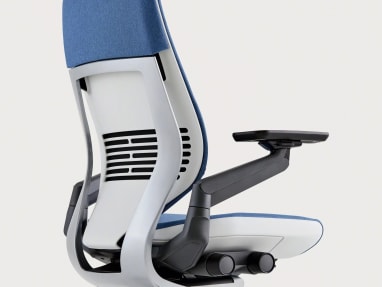 Back Support
Designed with 3D LiveBack® and built-in lower back firmness, the contoured backrest encourages movement while keeping the spine supported in its natural s-shape – however you move.​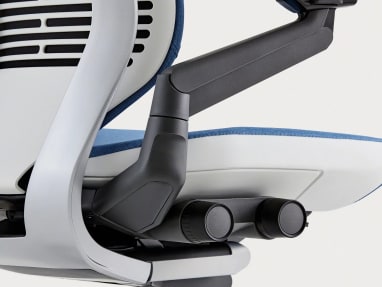 Manual Adjustments​
Two intuitive adjustments are located on the right-hand side within arm's reach providing immediate feedback as you adjust your precise fit. The front knob controls the seat height and depth, while the back knob controls tension and variable back stop.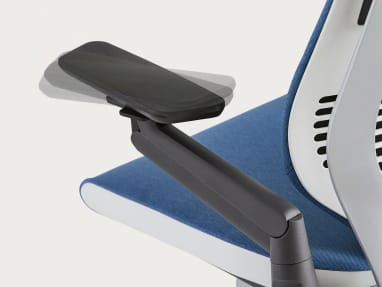 Most Adjustable Arms
Adjust through a full range of motion – 360 degrees – mimicking the human arm for comfortable support as you work with multiple tech devices and interfaces.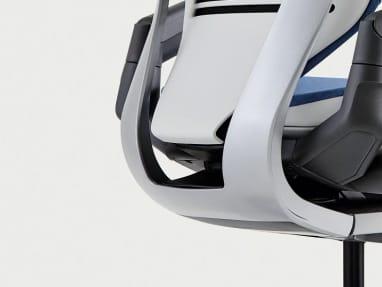 Lumbar Support​
Core Equalizer provides just the right amount of lumbar support in any angle of recline, with optional additional support available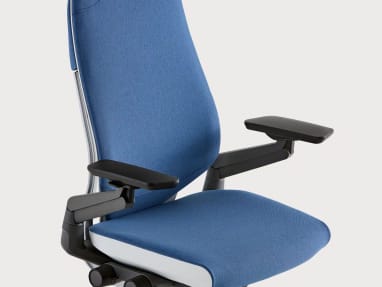 Seat Ergonomics​
Seat includes flexible edges and adaptive bolstering in the foam providing a pressure-free sit.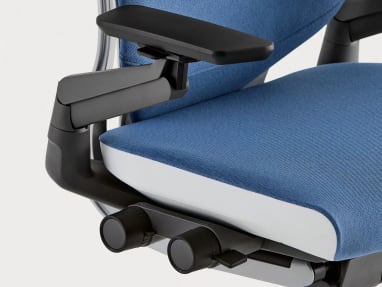 Recline Adjustments​
Recline range includes full recline with three recline angle stop settings and an upright back lock.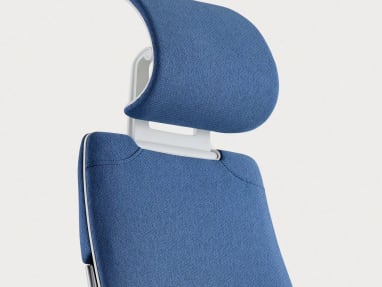 Adjustable Headrest​
Integrated headrest adjusts vertically, tilts, and rotates 90 degrees to provide comfort and support in upright and recline postures.
.
Insights​
Inspired by the human body, designed for the way we work today
Through our Global Posture Study, we observed over 2,000 people on six continents in a wide range of postures. Through this study we found nine new postures that are not adequately address by current seating solutions – until Gesture.
​
Read More​
Gesture with CarbonNeutral® product certification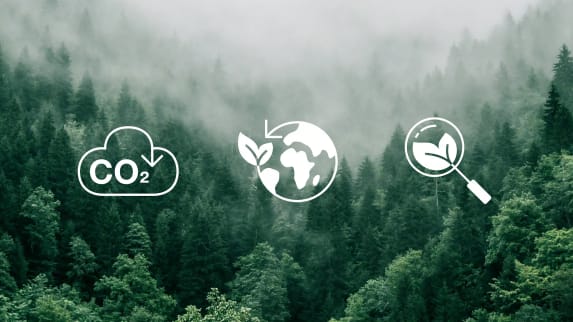 Sustainability Impact
We work towards better futures for the planet by designing and manufacturing products that respect our natural world, while helping to restore its resources. To do this we: reduce our carbon footprint, design for circularity and choose and use materials responsibly.
Gesture has a third-party verified Environmental Product Declaration (EPD) for complete lifecycle environmental impact transparency, has achieved BIFMA LEVEL® 3 certification, and indoor air quality (IAQ) certification through Scientific Certification Systems Indoor Advantage(TM) Gold.
Specifications
Standard + Optional Features
Standard + Optional Features
Optional Features
Integrated headrest
Polished aluminum base
Glides
Adjustable lumbar
Coat hanger
Fixed arm
Armless
Upholstery ​
Fabric​
Fabric with soil-retardant treatment (option) ​
3D Knit (back and headrest only)​
Leather ​
Elmosoft leather​
Select Surfaces leather​
Vinyl​
COM​
COL
.
Hard components (back frame, outer back, arm retainer, and base)
4799 Platinum​
6053 Seagull ​
6205 Black​
6527 Merle​
7250 Sterling Dark​
8046 Polished Aluminum ​
Headrest shell is determined by the color scheme. ​
6053 Seagull ​
6205 Black​
6527 Merle ​
Stool footring finish is determined by the color scheme. ​
0835 Black (Black/Black, Dark/Dark)​
4799 Platinum Metallic (Dark/Light, Light/Light)
Global Availability
Global Availability
This product is available in the following regions:
Asia Pacific
Central America
South America
North America
Europe
Middle East
Africa
Not available in your region?
If you're interested in purchasing a product that's not available in your region, please contact your local dealer for purchasing options.
Warranty
Warranty
Gesture chair and stool are durable enough to handle weight up to 400 lbs, and are backed by the Steelcase Limited Lifetime warranty – 12 years, multi-shift, 24/7 parts and labor.
Adjustability
Adjustability
Gesture is the first chair designed to support our interactions with today's technologies. It was inspired by the movement of the human body and created for the way we work today.
Awards
Awards
2013
North America – Spark Awards (Spark! Winner)
North America – Good Design Award
North America – Best of NeoCon (Gold Award)
North America – Product Innovation Awards
North America – Product Innovations Awards (Grand Prize)
North America – Best of Year Awards (Best of Year Honoree)
2014
North America – Core 77
North America – HiP Award
Australia – Good Design Award
Germany – Red Dot Award
France – Préventica Innovation Award
United Kingdom – FX Award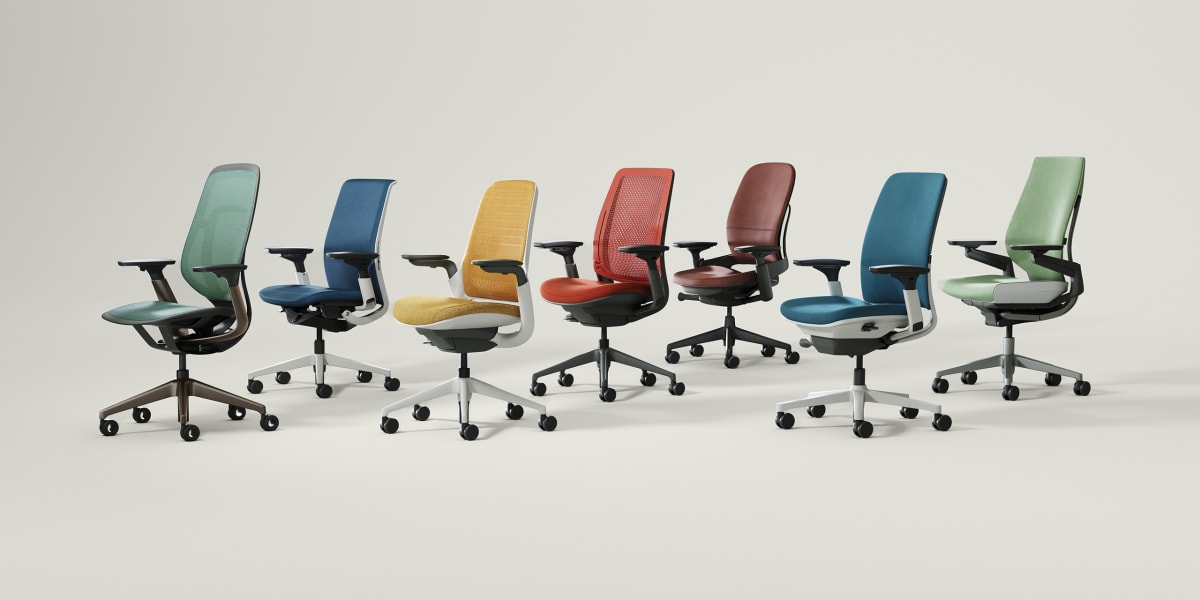 Seating that Works Better for You​
Explore our portfolio of high-performance seating to find the chair that works best for you.