Lounge Chairs
Turnstone Campfire Lounge System
by Steelcase
Starting at:
List $2,196 USD
Unlock more possibilities with the Campfire Corner Lounge.  Maximize space with a large corner sectional or pull the lounge away from the wall to create serpentines, islands, or one-of-a-kind shapes.  Now with waterfall upholstery, Campfire makes a beautiful visual statement from all sides.
Features
OVERVIEW
Sized for every space, Campfire Lounge System can be configured to build an unlimited number of seating arrangements to suit any work environment.
CAMPFIRE BIG AND HALF LOUNGE
Comfort well defined. Big and Half Lounges anchor the Campfire line with their geometric style, well-defined angles, and uncommon softness.
Campfire Lounge System Big and Half Lounge pieces with seam option and waterfall upholstery complement Corner Lounges to create visually aligned configurations.
Product Details
What's Included
Big and Half Lounge
90 Outside
90 Inside Corner
60 Outside Corner
60 Inside Corner
Dimensions
| | | | |
| --- | --- | --- | --- |
| Product | Width | Depth | Height |
| Big and Half Lounge | 66″ or 33″ | 32″ | 29″ |
| 90 Outside Corner | 54 1⁄2″ | 32″ | 29″ |
| 90 Inside Corner | 55 1⁄4″ | 32″ | 29″ |
| 60 Outside Corner | 38 1⁄2″ | 32″ | 29″ |
| 60 Inside Corner | 39 1⁄4″ | 32″ | 29″ |
SURFACE MATERIALS
Upholstery
Single fabric
Multi-fabric
Waterfall (single and multi-fabric)
Seam version (single and multi-fabric. Available on Big and Half Lounges to coordinate with Corner Lounge seams)
Applications
Serpentine
Half Lounge
60º Corner Lounges
Two 90º Corner Lounges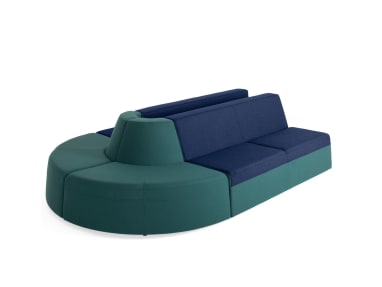 Corner
Two Big Lounges
Two 90º Corner Lounges
Island
Three Half Lounges
Six 60º Corner Lounges