Migration SE is a value driven height-adjustable solution that supports a broad range of applications. Integrating with the existing environment it gives workers the freedom to choose between seated and standing postures. Migration SE is all you'd expect from a height-adjustable desk, now providing solid value and attainable performance.
Configure Now

Planning for the Workplace?
Uncover options to create an inspiring space.
Configure Now
Buy Now

Shopping for a Home Office?
See all the options for your work-from-home upgrade.
Buy Now
A product line that evolves.
From rectangle desks to 90- and 120-degree corner desks, sharp to softened shapes, static to fluid, Migration SE evolves to the unique design and application needs for the space.
Comprehensive Wellbeing.
From small movements for correcting seated posture to adding full range of movement, Migration SE offers a wellbeing outlet during the workday.
Migration SE meets BIFMA Ergonomic guidelines with the Extended Height Range, accommodating the widest range of user comfort needs. Basic Height Range gives the option to optimize for applications with storage.
Obstruction Sensing Technology comes standard on Migration SE. When the desk comes into contact with an object the desk will backtrack to relieve the collision
Thoughtful Applications.
A workstation should be personal. Empower users by promoting privacy and eliminating distractions with screens or add mobility to the workstation for the changing needs of the day.
Features & Benefits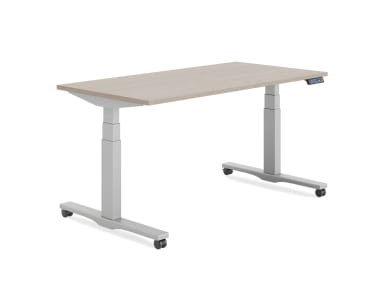 Mobility
Add mobility without taking away from the height story. A thoughtfully designed foot where the addition of casters does not change the height range of the desk.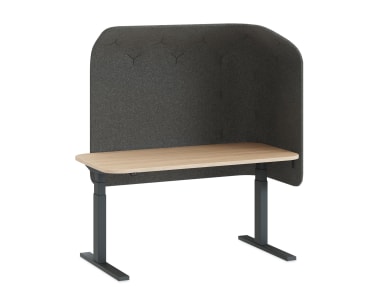 Privacy
Migration SE is available with a range of Steelcase screens for privacy, modesty or both. Newly added to the offering is the ability to use the Flex 90 Degree privacy wrap with Migration SE Desks with 5" radius corners.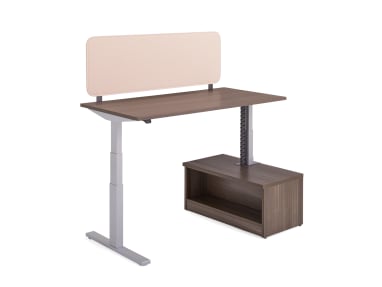 Integrated Storage
Maximize the application with integrated storage in 1-High or 1.5-High.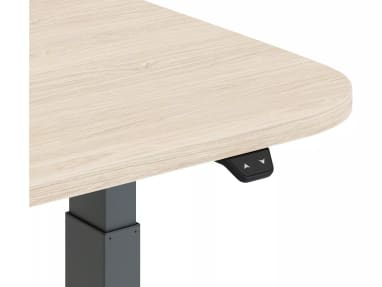 Softened Shapes
Radius corners, available in 2" and 5" add a softer aesthetic to the product line.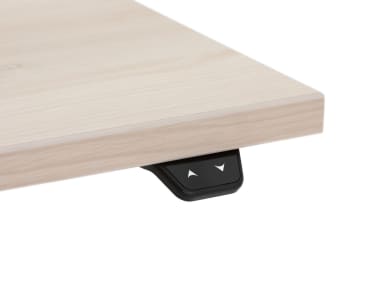 User Controls
Choose from a simple up/down or a digital 4 preset controller with the ability to save desired heights.
Migration SE with CarbonNeutral® product certification​
Migration SE is available now with a CarbonNeutral® product certification option.​
Emissions are 100% offset by well-recognized projects that support climate change and social benefits, helping organizations achieve their carbon emissions goals and neutralizing the impact of production.​
With every purchase of Migration SE, the carbon emissions that we offset are equivalent to 306 miles driven by an average gasoline-powered vehicle.​
(According to the EPA Greenhouse Gas Equivalence Calculator)​
CarbonNeutral® Migration SE Product Environmental Profile​
Specifications
Standard + Optional Features
Standard + Optional Features
MIGRATION SE COMPONENTS
Top Shape
Rectangle:
Modular Widths: 46", 52", 58", 64", 70", 76"
Parametric Widths: 46"-76"
Depth: 23", 24", 28", 29", 30", 35", 36"
90-Degree Corner
Modular Widths: 46", 52", 58", 64", 70", 76"
Parametric Widths: 46"-76"
Depth: 23", 24", 29", 30"
120-Degree Corner
Modular Widths: 46", 52", 58", 64"
Parametric Widths: 46"-66"
Depth: 23", 24"
Height Range
Extended Height 22.6"-48.7" (Meets BIFMA G1-2013)
Basic Height 28.3"-46.9"
Leg Style
T-leg
C-leg
Foot Options
Square Foot
Miter Foot
Height Saver Foot with Casters
Corner Style
Square
Radius 2" and 5"
Controller Options
Up/Down
Digital 4-Preset
Cable Management
Cable ties and clips to manage desk cords
Cable riser with leg or fence connection
PAIRS WELL WITH
Screens
Privacy/Modesty Screens
Flex Personal Space 90-Degree Privacy Wrap
Integrated Storage
Universal 1H or 1.5H
Currency Enhanced 1H or 1.5H
Cable Management
Ology Cable Basket
Universal Cable Management Kit
SURFACE MATERIALS
Worksurfaces
Laminate and OLL
Veneer and Customizing Stain
Base
Arctic White
Black
Merle
Platinum Metallic
Global Availability
Global Availability
This product is available in the following regions:
Asia Pacific
South AmericaCentral America
North America
Europe
Middle East
Africa
Not available in your region?
If you're interested in purchasing a product that's not available in your region, please contact your local dealer for purchasing options.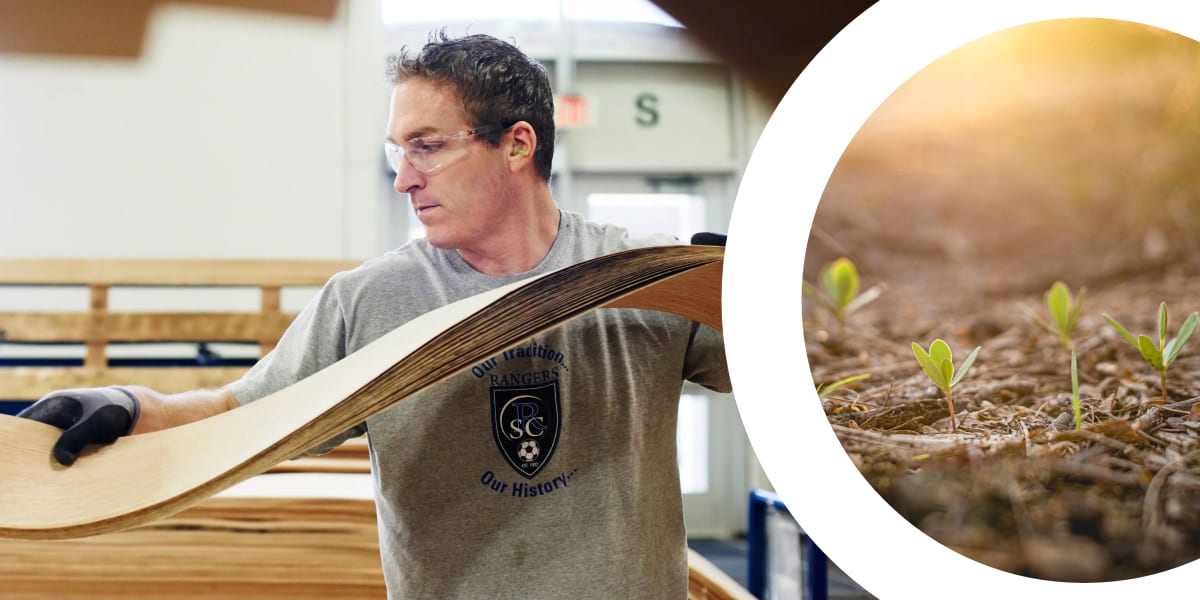 Sustainability
Designing for Sustainability
We create products that are good for people, and good for the world. Our products and operations are designed around a commitment to reduce climate change, reinforced by sustainable practices across our value chain.
Our Sustainable Design framework ensures our products are designed with consideration of life cycle thinking and cradle-to-cradle principles:
Source materials responsibly
Minimize global warming and other life cycle impacts
Ensure material health
Enable end-of-use strategies