Groupwork is a collection of tables and multipurpose whiteboards designed to support collaboration, flexibility and aesthetics. Groupwork Training Tables are easy to set up and rapidly rearrange to accommodate changing needs.
Configure Now

Planning for the Workplace?
Uncover options to create an inspiring space.
Configure Now
Buy Now

Shopping for a Home Office?
See all the options for your work-from-home upgrade.
Buy Now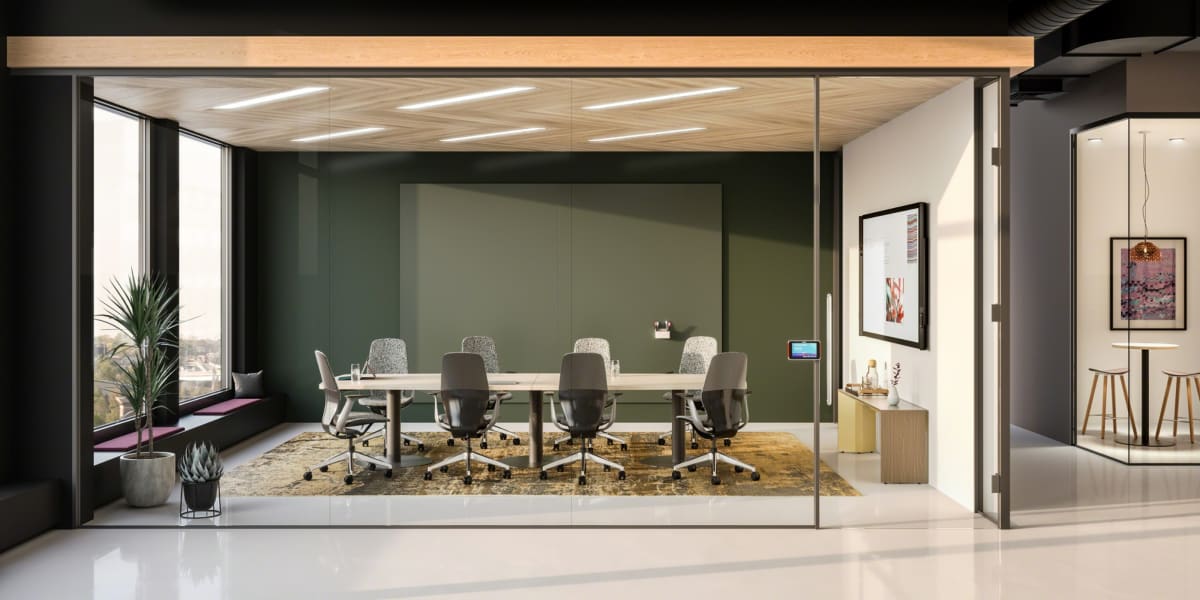 Meet
Working Together
Meetings like project kick-off's, group reviews, working sessions and status updates are common in every organization. Designed for collaboration, Groupwork goes in any
conference setting to support the ways people work together.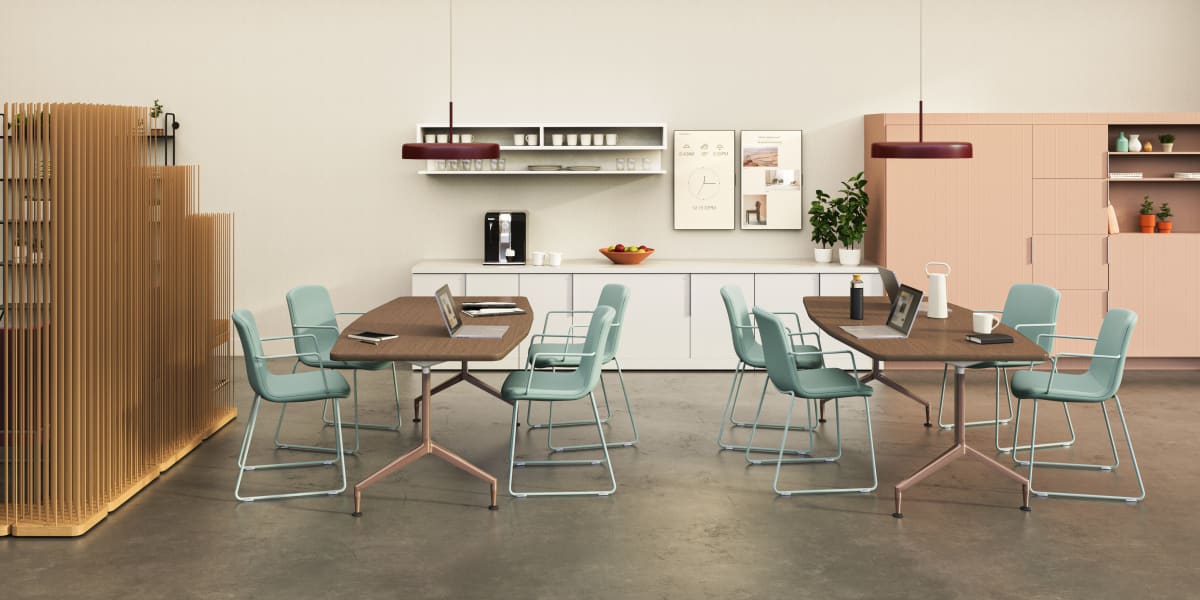 Touchdown
Impromptu Collaboration
Collaboration doesn't always happen in meeting rooms. Sometimes it's an Impromptu chat in the café or a quick touchbase in a lounge setting. Versatile and configurable, Groupwork supports collaboration wherever it's happening.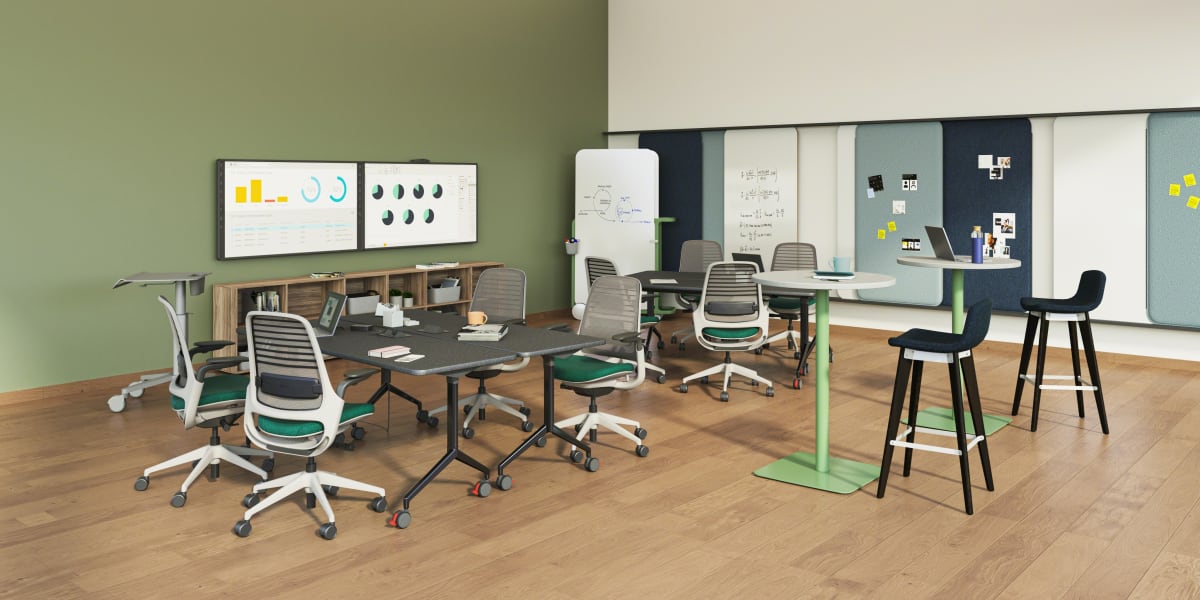 Train
Continued Learning and Training
In thriving organizations, employee growth is essential, which means learning and training are never over. The flexibility and simplicity of Groupwork are ideal for company-wide training experiences in multipurpose settings.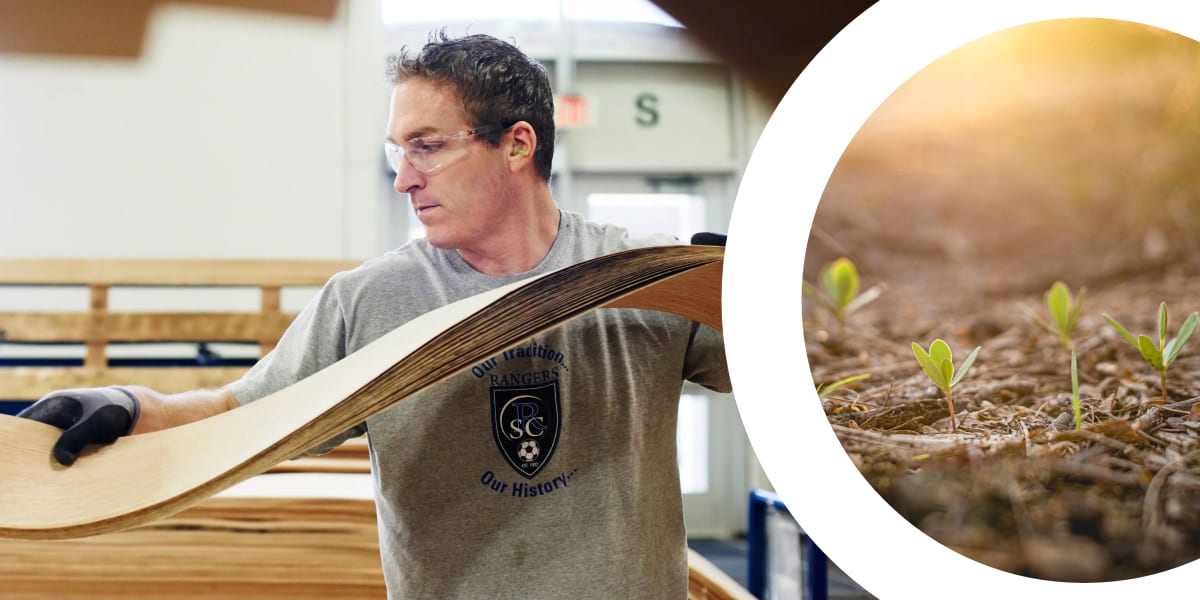 Sustainability
Designing for Sustainability
We create products that are good for people, and good for the world. Our products and operations are designed around a commitment to reduce climate change, reinforced by sustainable practices across our value chain.
Our Sustainable Design framework ensures our products are designed with consideration of life cycle thinking and cradle-to-cradle principles:
Source materials responsibly
Minimize global warming and other life cycle impacts
Ensure material health
Enable end-of-use strategies
Specifications
Standard + Optional Features
Standard + Optional Features
Table SOL
Table Tops
Rectangular
Half-Round
Trapezoid
Square
Round
Oval
Corner Bridges
Conference Table Tops
Rectangular
Racetrack
Boat-Shaped
Oval
Legs + Bases
Post Legs (Coffee, Seated, Standing)
Round Table Bases (Coffee, Seated, Standing)
T-legs (Seated)
Screens + Panels
Fabric Modesty Panel
Laminate Modesty Panel
Translucent Table-Mounted Screens
Slatwall Table-Mounted Screens
SURFACE MATERIALS
Worksurface​
LPL, HPL
Legs
All paints (no Lux or Accent)​
Modesty Panel​ - Laminate
HPL
Wire Management Trough
Paint - Black, Platinum Metallic
Training Tables SOL
Rectangle Flip-Top
Team Flip-Top
Rectangle Non-Flip
Team Non-Flip
Training Tables Options
Dimensions:
Width (parametric to 1/16th inch)
- Rectangle: 36" – 84"W
- Team: 60" – 84"W
Depths:
- Rectangle: 19," 24", 30"​
- Team: 36"D
Power
Worksurface – Flush & Pop-Up
- 3 Power, 2 Power/ 1 USB-A, 1 Power/ 1 USB-C, 2 Power/ 1 Data
Modular
Cable Management
Grommet
Vertical Cable Manager
Horizontal Cable Manager
​​SURFACE MATERIALS​
Worksurface​
LPL, HPL, Veneer
Legs
All paints including Lux and Accent​
Soft Casters
Light, Dark​
Modesty Panel​ - Fabric
Buzz2, Alloy, Billiard Multi-Use, Latch, Era
Worksurface Power
Flush (plastic) – Seagull, Merle
Pop-Up (metal) – Platinum Metallic, Seagull, Merle
Horizontal Cable Manager
Dark Heathered Grey PET​
Global Availability
Global Availability
This product is available in the following regions:
Not available in your region?
If you're interested in purchasing a product that's not available in your region, please contact your local dealer for purchasing options.