Features
Ultra Thin
Ultra Simple
Ultra Fast
More Power
More Power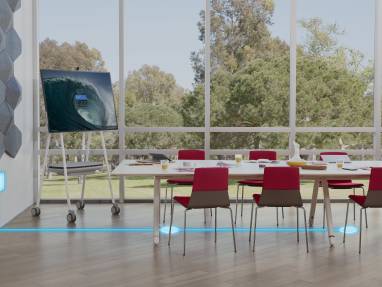 More Power
Thread's single and dual circuit technologies bring the most cost-effective power solution to different settings, depending on the floorpan's power needs. With single circuit technology, power can be distributed throughout simple ancillary and conference spaces. Dual circuit technology distributes more power with fewer infeeds, ideal for high-power users and larger applications. Both single and dual technologies offer the flexibility needed to accommodate changing configurations in any space.
Animation
Animation
Thread simplifies power distribution, providing power to the devices we use and the places where we work and learn.
Watch how quickly Thread can transform a space.
Sustainability
Overview
Overview
Designing for Sustainability
We believe the only way to provide the best office furniture solutions is to ensure they're the best products for the environment. That's why every step of the way – through design, manufacturing, delivery and product lifecycle – we consider the impact of our work on people and on the environment and uncover opportunities to make things better.
10 %
Up to
recycled content
LEED Contribution
LEED Contribution
Steelcase supports the U.S. Green Building Council's LEED certification system with products that can contribute to LEED Building Design + Construction (BD&C), LEED Interior Design + Construction (ID&C), or LEED Operations + Maintenance (O&M) certification criteria.
Since the USGBC and its certification partner, GBCI, evaluate each project individually, the role our products play in achieving LEED certification is unique to each project.
Thread LEED Contribution
Recycled content
Regional materials
Specifications
Standard + Optional Features
Standard + Optional Features
Thread is UL Listed and made in the USA. Thread comes available with the following standard and optional features:
Single- or Dual-Circuit
Plug Adapter
Power Hub

Low profile plug
NEMA plug

Power Track Infeed
Power Track
Connectors

Blank Low Profile
One-Door Low Profile
Two-Door Low Profile
NEMA Monument
Dimensions
Dimensions
Plug Adapter
8." D x 2" W x 1." H
Power Hub
30, 37 1/8" H x 8" D
Power Track Infeed
8" W x ." H x 24, 36, 48, 60, 72,
84, 96, 108, 120, 132, 144" L
Power Track
8" W x ." H x 24, 36, 48, 60, 72,
84, 96, 108, 120, 132, 144" L
Connectors
Blank Low Profile: 9." D x ." H
One-Door Low Profile: 9." D x ." H
Two-Door Low Profile: 9." D x ." H
NEMA Monument: 9." D x 2." H
Global Availability
Global Availability
This product is available in the following regions:
Americas: Bahamas, Bermuda, Barbados, Canada, Cayman Islands, Colombia, Costa Rica, Mexico, Trinidad and Tobago, Puerto Rico, United States of America, U.S. Virgin Islands
Not available in your region?
If you're interested in purchasing a product that's not available in your region, please contact your local dealer for purchasing options.
Awards
Awards
2015
HiP Award
Honorable mention
by Interior Design Magazine
Best of NeoCon
Silver
Category: Technology Support
Product Innovations Award
Grand Prize (1st)
Category: Buildings Magazine
Product Innovations Award
Grand Prize (1st)
by Buildings Magazine
Interior Design Best of Year Awards
Honoree
Category: Technology
IIDEXCanada Innovation Awards
Gold Winner
Category: Technology
Resources + Support
Need help? Contact us at 800.334.4922
Download 2D and 3D CAD models for use in your design application.

View and save brochures, certificates, reports, white papers, case studies and articles.

Browse, save, and download beautiful images for use in presentations or inspiration boards.