FrameOne Bench delivers on diverse design options that add versatility and value for companies to optimize real estate, fuel innovation and support the ways their people work best.
Features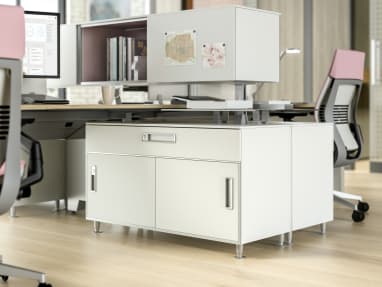 Flexible + Adaptive
FrameOne with Rail seamlessly adapts to diverse individuals, teams and groups – supporting varying levels of mobility and collaboration found in organizations today. The integrated center rail can be customized with screens, monitor arms, lighting and more.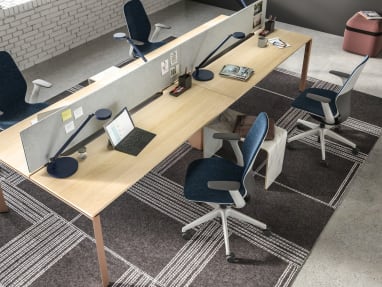 Streamlined + Refined
Simply and beautifully, FrameOne without Rail supports a wide selection of work styles through a refined look that broadens aesthetic possibilities and complements any environment.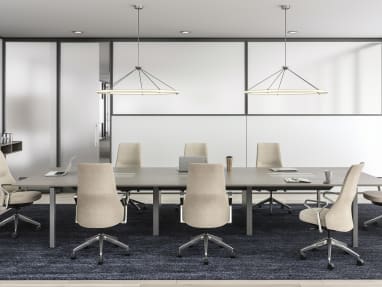 Collaborate + Connect
FrameOne Continuous Top allows teams to easily expand and contract with a recessed intermediate leg. Users can sit comfortably along the bench in any position, even at the seam. It answers the call when there's need for group interaction, with room to spread out and roll up to the sleeves – in conference rooms, classrooms and beyond.
Applications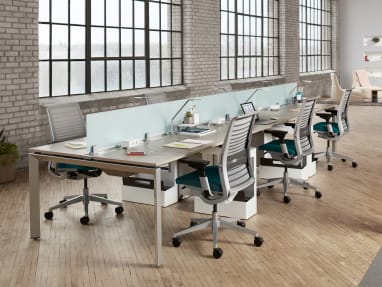 Mobile Nomad
Convenient places to work
Space for multiple mobile tools
Innovative open storage
Easy power and data access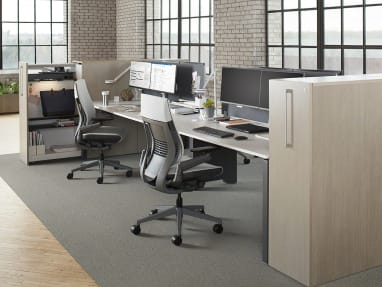 Resident
Higher level of privacy
Storage
Integrated Rail for Worktools
Monitor arms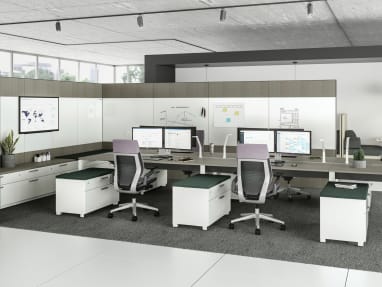 Project Team
Flexible solutions
Frequent reconfiguration
Workstations easily expand and contract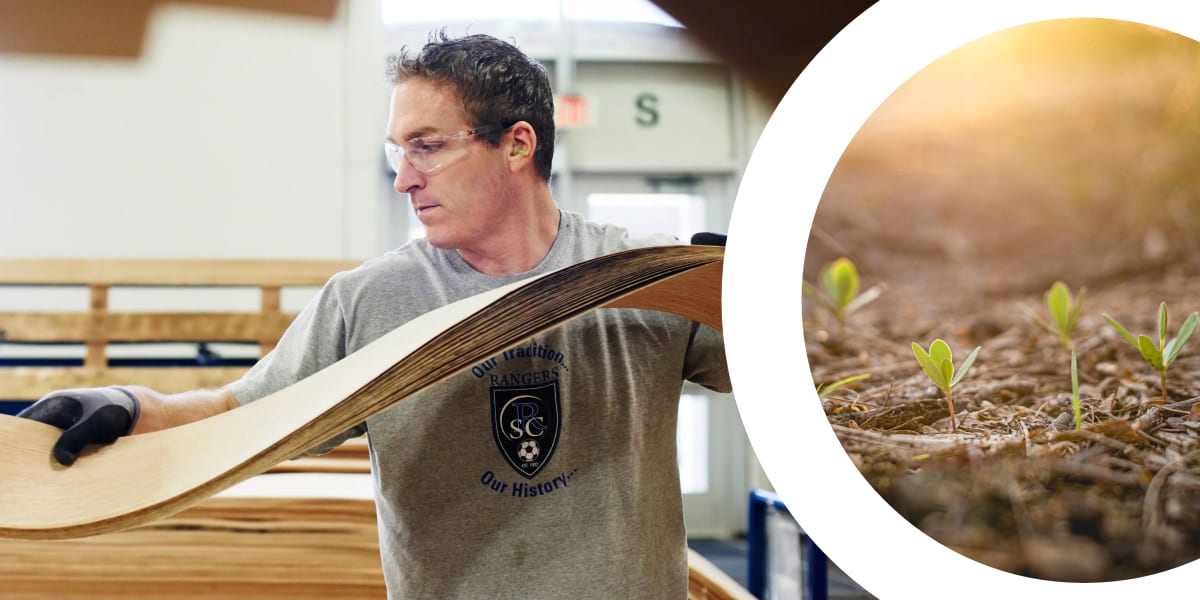 Sustainability
Designing for Sustainability
We create products that are good for people, and good for the world. Our products and operations are designed around a commitment to reduce climate change, reinforced by sustainable practices across our value chain.
Our Sustainable Design framework ensures our products are designed with consideration of life cycle thinking and cradle-to-cradle principles:
Source materials responsibly
Minimize global warming and other life cycle impacts
Ensure material health
Enable end-of-use strategies
Specifications
Standard + Optional Features
Standard + Optional Features
FrameOne Components
Base Units
Double-sided
Single-sided
Extension Units
Double-sided
Single-sided
End Counters
Available in 2 depths and 2 widths
Returns
Available in 4 depths and 3 widths
Legs
Post leg
Loop leg
Intermediate leg
Intermediate leg with cover
Centered Screens
Infills
c:scape Mid Storage
Tall and slim, personal and shared
Slim, shared
Storage supports: Column, high ped or parallel application kit
Elective Elements Storage
End counter cabinets, below
Single-high cabinets, above
Organizer shelves, above
Benches with media:scape
1 or 2 shrouds and wall mounted option
Global Availability
Global Availability
This product is available in the following regions:
Asia Pacific
Central America
South America
North America
Europe
Middle East
Africa
Not available in your region?
If you're interested in purchasing a product that's not available in your region, please contact your local dealer for purchasing options.