Features
Flexibility + Customization
Flexibility + Customization
Tailor to Every Worker's Needs
The traditional, one-size-fits-all bench desks are ineffective for both workers and organizations. FrameOne offers more customizable options than other bench desk applications, and its modular design adapts easily to maximize real estate and adjust to changing business needs.
Features
A light, refined aesthetic
Floating tops
Recessed legs
Discreet cable distribution
Worktools, lighting, power access and privacy screens are all hosted on a convenient integrated rail
media:scape Integration
Planning Ideas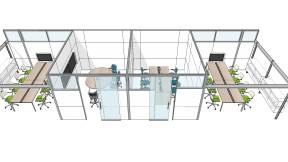 XX4XJ8TJ
Rooms adjacent to Student Commons where small groups of students can share content, collaborate, and work on dedicate project work
Specifications
Standard + Optional Features
Standard + Optional Features
FrameOne Components
Base Units
Double-sided
Single-sided
Extension Units
Double-sided
Single-sided
End Counters
Available in 2 depths and 2 widths
Returns
Available in 4 depths and 3 widths
Legs
Post leg
Loop leg
Intermediate leg
Intermediate leg with cover
Centered Screens
Infills
c:scape Mid Storage
Tall and slim, personal and shared
Slim, shared
Storage supports: Column, high ped or parallel application kit
Elective Elements Storage
End counter cabinets, below
Single-high cabinets, above
Organizer shelves, above
Benches with media:scape
1 or 2 shrouds and wall mounted option
Global Availability
Global Availability
This product is available in the following regions:
Asia Pacific
Central America
South America
North America
Europe
Middle East
Africa
Not available in your region?
If you're interested in purchasing a product that's not available in your region, please contact your local dealer for purchasing options.
Resources + Support
Need help? Contact us at 888.783.3522
Download 2D and 3D CAD models for use in your design application.

View and save brochures, certificates, reports, white papers, case studies and articles.

Browse, save, and download beautiful images for use in presentations or inspiration boards.