cobi is a chair specifically designed to foster collaboration and keep participants focused and engaged. This collaborative chair encourages a variety of postures.
Automatic Comfort
cobi provides comfort automatically and supports four main postures – straight sitting, backward or forward leaning and leaning left or right. cobi offers only one manual adjustment: the seat height. The weight-activated mechanism naturally puts you in the best position of comfort from the start.
cobi senses your body weight and brings you the adequate amount of support adjusting the position that will put the least amount of stress on your body.
Features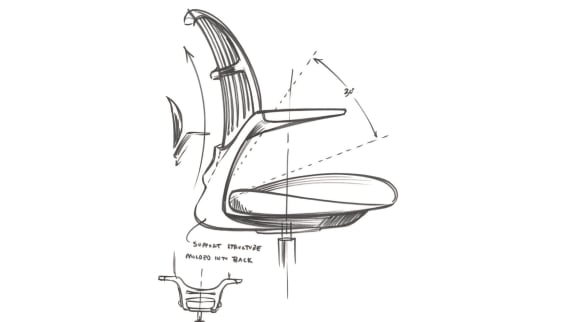 Collaborative Seating
There's no such thing as a quick meeting. We spend more time collaborating today than ever before. Squirming, fatigue, and loss of focus are unavoidable. Let's face it. Working with others requires a completely different set of postures, and thus, a completely different kind of chair. One that helps keep you comfortable and focused in collaborative settings like conference and training rooms.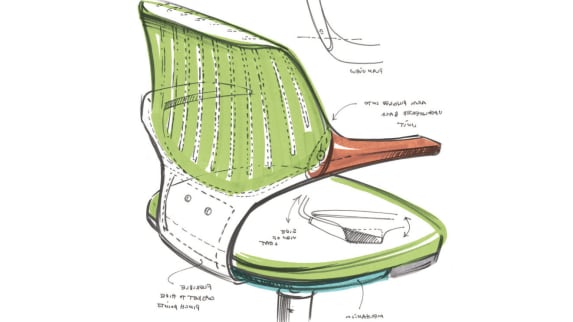 Flexibility
Every part of the cobi office chair was designed to flex and adjust to your body. With it's insightful and ergonomic design, the chair's top flexing edge lets you comfortably rest your arm on top of the chair—you know, like you've tried to do on every chair you've ever sat in. The flexing seat encourages you to move and shift, allowing you to sit centered or off to the sides. And the flexing back contours to support any posture your body needs at any given moment.
Insights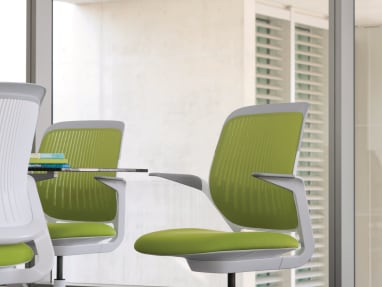 Encourage Movement
Observation 1
In general collaborative working takes time.
Insight
Collaborative chairs should encourage movement and be comfortable for lengthy periods so people remain focused and engaged.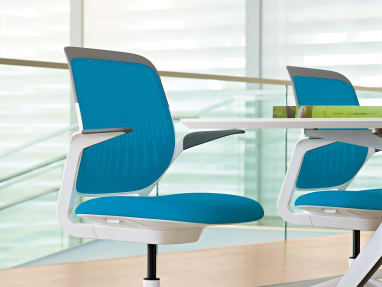 Automatic + Intuitive Adjustments
Observation 2
People don't adjust their chairs while collaborating.
Insight
Adjustments should be automatic and intuitive.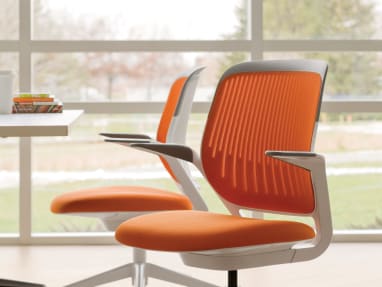 Support Multiple Postures
Observation 3
People change postures when collaborating.
Insight
Collaborative chairs should support multiple postures.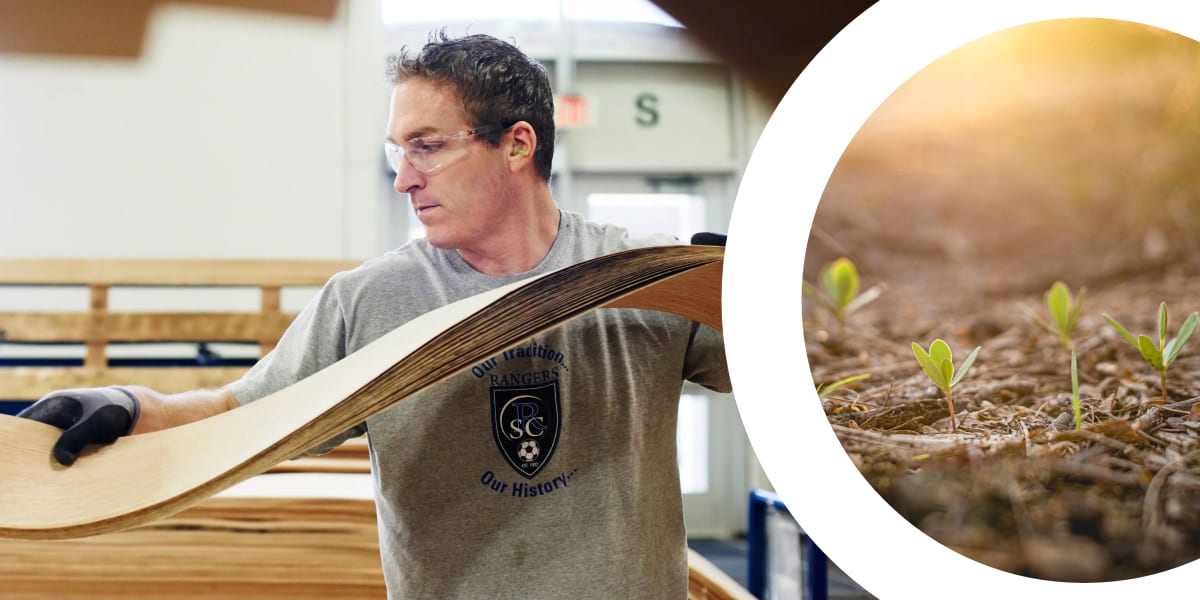 Sustainability
Designing for Sustainability
We create products that are good for people, and good for the world. Our products and operations are designed around a commitment to reduce climate change, reinforced by sustainable practices across our value chain.
Our Sustainable Design framework ensures our products are designed with consideration of life cycle thinking and cradle-to-cradle principles:
Source materials responsibly

Minimize global warming and other life cycle impacts

Ensure material health

Enable end-of-use strategies
Cobi chair without armrests
Cobi draughtsman chair with or without armrests
Specifications
Options + Dimensions
Options + Dimensions
Main options
Standard chair
Draughtsman chair version
Available without armrests in standard
Global Availability
Global Availability
This product is available in the following regions:
Africa
Asia Pacific
Central America
Europe
Middle East
North America
South America
Not available in your region?
If you're interested in purchasing a product that's not available in your region, please contact your local dealer for purchasing options.
Design Awards
Design Awards
2012 Australian International Design Award
cobi chair was awarded Design Award™ Best in Category by the 2012 Australian International Design Award, in the Architectural and Interior category. The Good Design Awards are Australia's most prestigious and diverse design assessment program, rewarding product design and innovation excellence since 1958.
2011 UK – Design Guild Mark Award
cobi chair has been given the prestigious Design Guild Mark Award. These awards are given by the Furniture Makers Company. They recognise and reward excellence in the British design of furniture in volume production. Of the 40 designs submitted, cobi was one of only 11 to be recognised by the judges.
2010 Germany – iF Design Award
The Design Forum International in Hannover honoured the meeting chair cobi with the coveted iF Design Award. The iF Design Award has been one of the most important design awards since 1954. Every year more than 1800 products from 30 different countries are registered. The jury was composed of international designers.
2009 North America – Industrial Design Excellence Award
cobi was awarded a Silver Industrial Design Excellence Award (IDEA). This design award is sponsored by BusinessWeek and judged independently by IDEA (Industrial Designers Society Of America).
North America – Good Design Award
cobi chair was awarded with a Good Design award. This award is granted by the Chicago Athenaeum of Architecture and Design. Founded in 1950, Good Design awards publicly acknowledge the world's most prestigious industrial design firms and manufacturers.
Germany – Red Dot
cobi chair received a 'Red Dot' award 2009 in the Product Design category. The international "Red Dot design award" is one of the largest and most famous design competitions in the world. Based in Germany, Red Dot attracts submissions from more than 50 countries.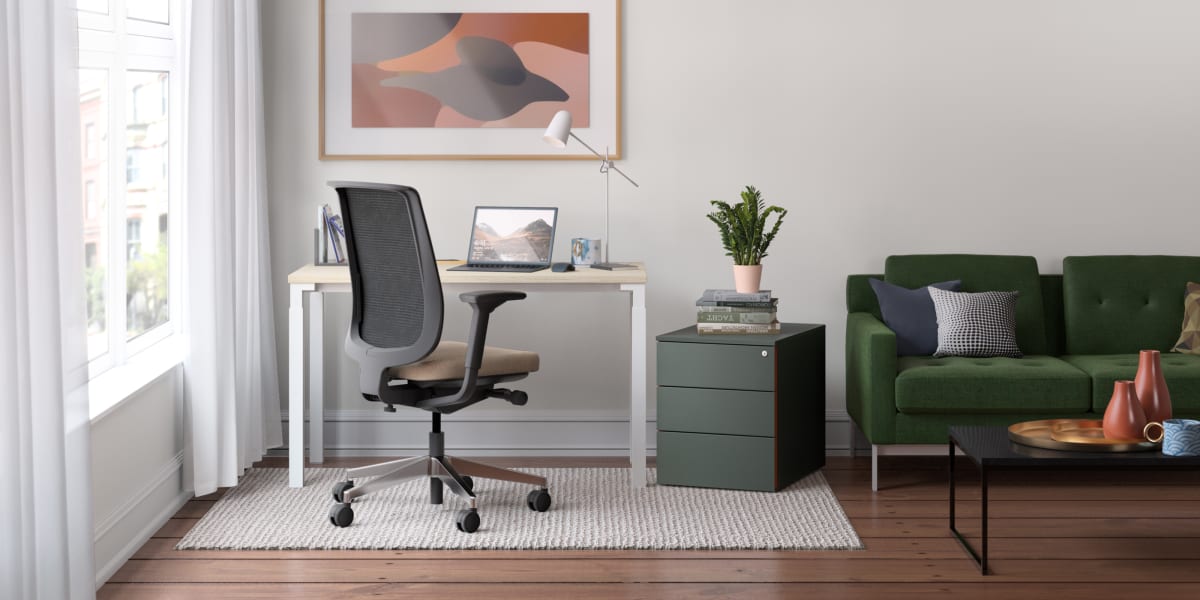 Work from Home
While teams are working from home, we're working to keep them comfortable. You can lean on Steelcase as your one trusted point of contact for products that blend performance with design.
Due to local regulations, select products are available in the UK.