Each task requires a different posture and no two people are built alike. With its natural flexibility and stylish design, Let's B provides a comprehensive solution.
Features
Natural Flexibility + Support
Natural Flexibility + Support
Let's B adapts to body posture and patterns of movement in a seated position. Its flexible backrest follows the moves, allowing the upper body complete freedom of movement.
Let's B backrest is composed of one unique foam, padded with two different densities. The upper part contains dense foam to support the upper back, while the lower part is covered in a soft foam to cushion the lumbar region.
A Comprehensive Solution
A Comprehensive Solution
Let's B office chair is an excellent seating solution for reception at the desk as well as meetings, presentations and everyday group collaboration.
Personalisation + Adjustability
Personalisation + Adjustability
Personalisation
The label holder allows companies and users to add their own touch with name tags. Companies can also choose from many fabrics and colours.
Easy adjustability
Let's B adjustments are simple and intuitive to use. All of the controls are located for easy access. The user guide is stored in the backrest ensuring quick access to information, whenever it is needed.
Learn how to correctly adjust your Let's B chair to fit you.
Seat Adjustments
Seat Adjustments
Let's B CHAIR – ADJUSTABILITY
Let's B adapts cleverly to your natural movements and has simple controls that are easy to find, understand and use.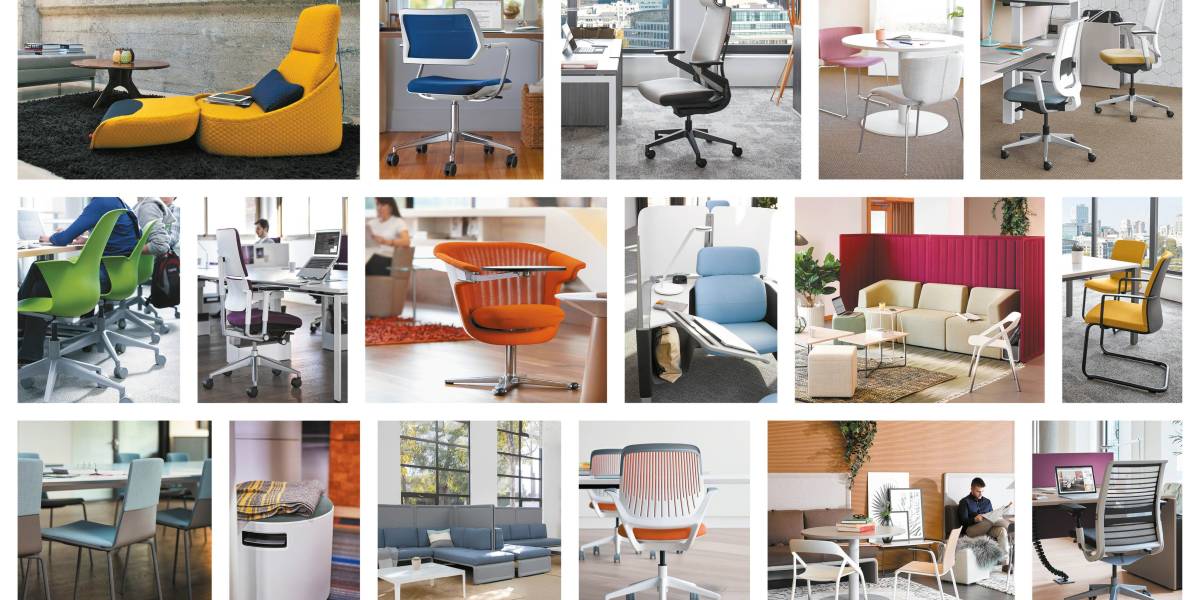 The Steelcase Seating Difference
At Steelcase, we study how you work and how you feel. You inspire new seating solutions, each expressed with uncompromising quality, craftsmanship and sustainability.
Sustainability
Overview
Overview
Designing for Sustainability
We believe the only way to provide the best office furniture solutions is to ensure they're the best products for the environment. That's why every step of the way – through design, manufacturing, delivery and product lifecycle – we consider the impact of our work on people and on the environment and uncover opportunities to make things better.
6 %
Up to
recycled content by weight
93 %
Up to
recyclable by weight
Life Cycle
Life Cycle
Materials
100% recycled cardboard in packaging.
6% recycled materials, by weight (2% pre-consumer + 4% post-consumer).
Production
Made in Sarrebourg (France) by Steelcase.
Uses powder-coat paints: VOC-free and free of heavy metals.
Transport
Made in Europe, close to customers.
EcoSmart packaging to keep transport volumes as low as possible and improve filling rates.
Use
Designed for a long product life, with replaceable parts.
Limited substances harmful to health and indoor air quality.
Maintenance information available on Steelcase.com
End of life
93% theoretically recyclable by weight.
100% theoretically recyclable cardboard and LDPE film for packaging.
Quick and easy disassembly.
Plastic parts clearly labelled for easy sorting and effective recycling.
Designed to ensure responsible end of use strategies – refurbishing, charitable donation or recycling.
LEED Contribution
LEED Contribution
Steelcase helps customers seeking LEED certification to identify products and programs that can contribute to LEED criteria in the categories of Materials and Resources, Indoor Environmental Quality and Innovation (Ergonomics Training, Sustainability Training, Product Innovation).
Learn about Steelcase's direct and indirect contributions to a project's pursuit of LEED certification across LEED's three categories:
Building Design + Construction
Interior Design + Construction
Operations + Maintenance
Since the USGBC and its certification partner, GBCI, evaluate each project individually, the role our products play in achieving LEED certification is unique to each project.
Certificates
Certificates
Certifications can help you choose products that are environmentally sustainable and just right for your project. [Let's B has achieved the following certifications:
EPD – Environmental Product Declaration
NF Environnement
NF Office Excellence Certifié
Indoor Advantage
C2C Certified™
Specifications
Options + Dimensions
Options + Dimensions
Main options
2 heights of backrests: High back or Mid back task chair
Global Availability
Global Availability
This product is available in the following regions:
Africa
Asia Pacific
Europe
Middle East
Not available in your region?
If you're interested in purchasing a product that's not available in your region, please contact your local dealer for purchasing options.