Amia is an ergonomic task chair that brings a refined style to any space, enhanced by precise manual adjustments, two back options and responsive support. Amia is a versatile best-seller.
Understated Versatility
Whether it's the conference room, a personal workstation, or the home office, the versatile design of the Amia fits into any work environment.
Amia office chair is designed with a hidden advanced LiveLumbar® system that flexes with your every move providing consistent, dynamic support for your lower back and a quiet, streamlined look.
Performance Features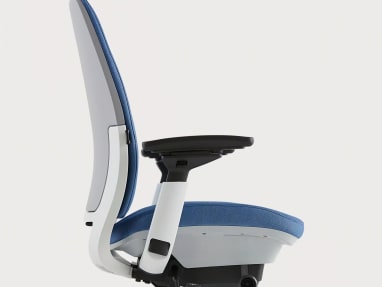 Manual Adjustments
A manual adjustable chair gives you total control over the adjustments to dial-in the level of resistance you feel in the backrest.
Adjustments are labeled for ease of use.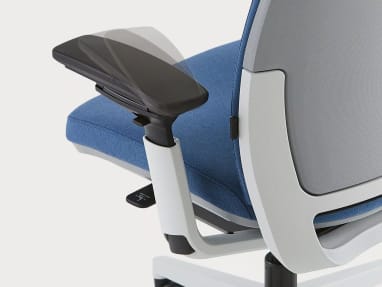 Fully Adjustable Arms
Standard 4-dimensional arm support adjusts to preferred height, width, depth, and pivot.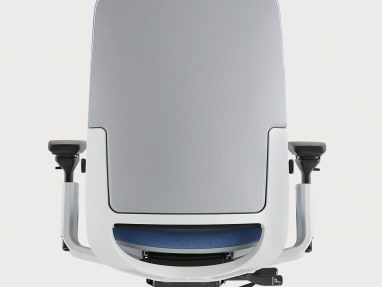 Lumbar Support
Standard height-adjustable lumbar included with Amia with 3D Microknit back.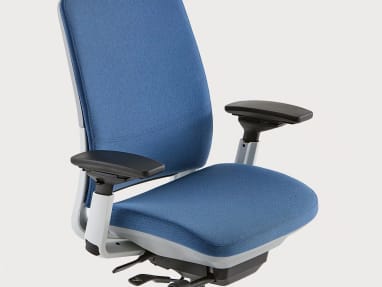 Seat Ergonomics
Seat includes flexible edges and adaptive bolstering in the foam providing a pressure-free sit.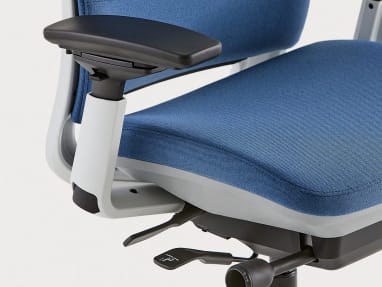 Recline Adjustments
Recline range includes full recline with upright back lock.
–
Design Story​
The Amia chair was designed by the Steelcase Design Studio, in collaboration with industrial designer, Thomas Overthun of IDEO. ​
​
"Innovations such as the LiveLumbar mechanism​ have been incorporated into the overall shape​ rather than made explicit on the chair's​ outside. Technology quietly serving, rather than​ drawing attention to itself, seemed appealing​ in the context of today's information overload.​ This combined with an attention to detail and​ materials allowed us to realize Amia's calm and​ refined design."​
— THOMAS OVERTHUN​
Insights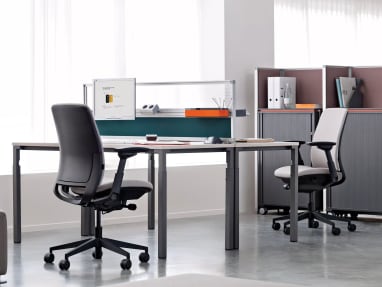 Motion Study
At Steelcase, we constantly invest in user research as part of our product design process. Amia was inspired by three key discoveries revealed in a unique global medical study we conducted over four years with 732 users.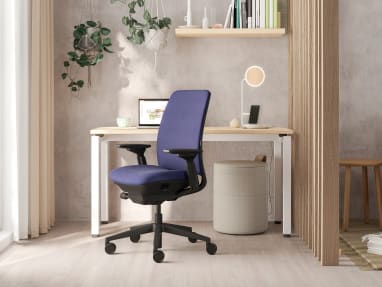 Upper + Lower Back
The upper and lower back regions require different amounts and different kinds of support.
Amia's Solution
The lumbar and thoracic areas are differently supported:
Amia's LiveLumbar™ support is designed to sense movement in your back and self-adjust to provide optimal support.
The tilt tension gives support to the higher part of the backrest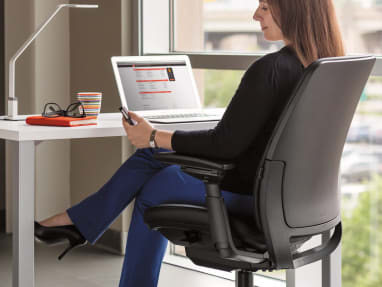 The Spine
Since the spine does not move as a single unit, a chair's backrest should change shape to support the independent movements of a person's upper and lower back when he/she changes posture.
Spinal Motion
Since each individual's spinal motion is unique, a chair's backrest should mimic each individual's unique spinal motion as he/she changes posture.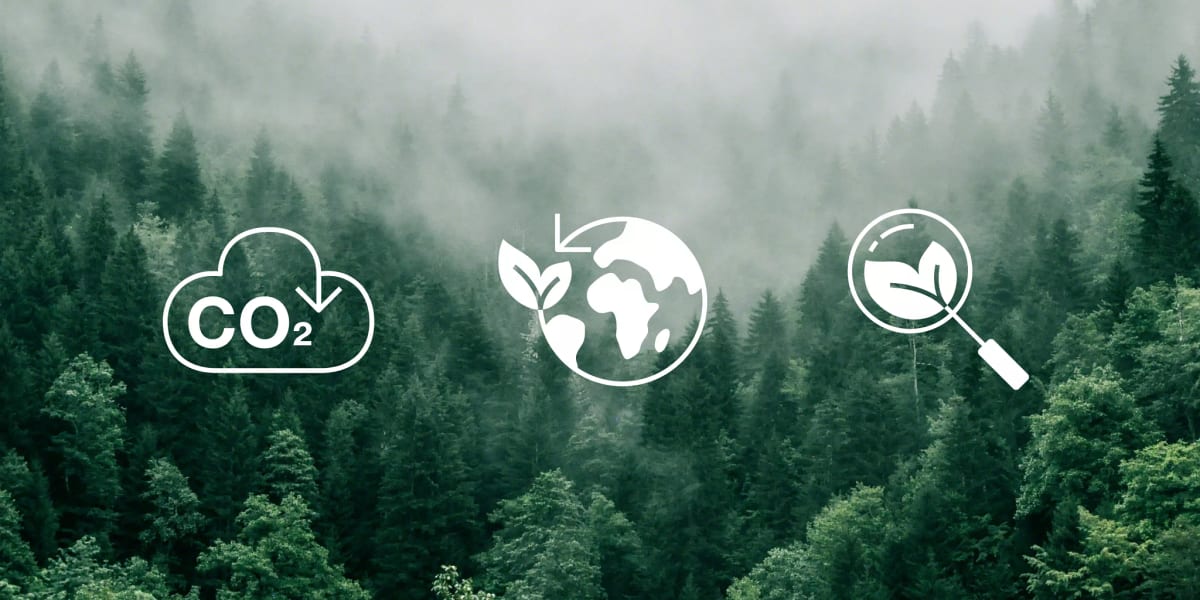 Sustainability Impact
We work towards better futures for the planet by designing and manufacturing products that respect our natural world, while helping to restore its resources. To do this we: reduce our carbon footprint, design for circularity and choose and use materials responsibly.
Amia does not contain PVC and uses string, instead of glue, to bound textile with foam. This eliminates the need for additional materials and enables easier recyclability.
Amia has a third-party verified Environmental Product Declaration (EPD) for complete lifecycle environmental impact transparency, is NF Environment certified and has indoor air quality (IAQ) certification through Scientific Certification Systems Indoor Advantage™ Gold.
Specifications
Standard + Optional Features
Standard + Optional Features
Optional Features
4D – Height/width/pivot/depth adjustable
1D – Height adjustable alignment
Armless
Dimensions
Dimensions
Overall dimensions (task chair without armrests)
Length: 990 mm
Width: 510 mm
Depth: 565 mm
Base Diameter: 680 mm
Overall dimensions (task chair with armrests)
Length: 990 mm
Width: 680 mm
Depth: 565 mm
Base Diameter: 680 mm
Global Availability
Global Availability
This product is available in the following regions:
Africa
Central America
Europe
Middle East
North America
South America
Not available in your region?
If you're interested in purchasing a product that's not available in your region, please contact your local dealer for purchasing options.
Design Awards
Design Awards
2008 – Belgium – Belgium's Interior Foundation's Design at Work.
The Amia chair received a special mention from the jury at Belgium's Interior Foundation's Design at Work Awards. These awards focus on clever design and the jury commended Amia's combination of aesthetics, ergonomics, affordability and sustainability, focusing particularly on the fact that the Amia is a cradle-to-cradle certified product.
2007 – United States – Best of Neocon.
Amia chair won a Gold award in the seating category.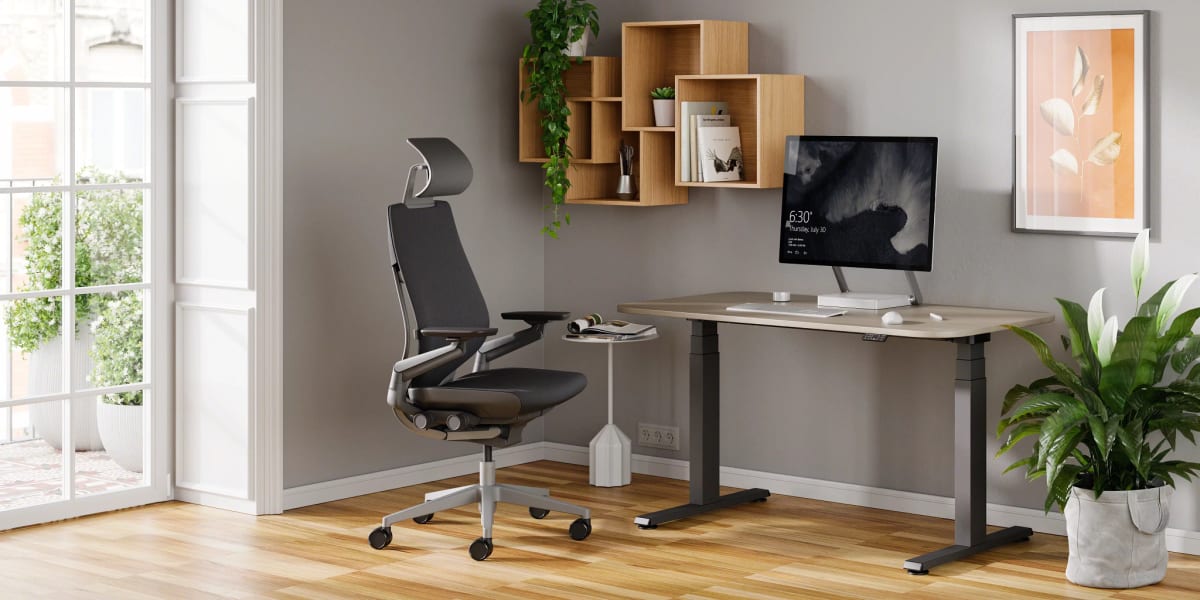 Work from Home
While teams are working from home, we're working to keep them comfortable. You can lean on Steelcase as your one trusted point of contact for products that blend performance with design.
Due to local regulations, select products are available in the UK.