Features
LiveLumbar Technology
LiveLumbar Technology
LiveLumbar™ Technology
An adjustable LiveLumbar™ zone flexes with every move for consistent ergonomic support for lower back.
The enveloping backrest and textured, refined look of Amia are immediately inviting. And as soon as you sit down in the robust, yet comfortable Amia office chair, you know you've found something special. Both the LiveLumbar™ support and the flexible seat edge angle adjust automatically to your body shape.
LiveLumbar Height
LiveLumbar Height
The Amia chair is an ergonomic office chair.
It slides up or down for custom support that flexes with your back.
The back lock locks the backrest in an upright position and unlocks allowing for full-range motion
Height, depth, width and pivot arms telescope in and out, move forward and back, pivot, and adjust up and down, so you can find a natural position that comfortably supports the wrists, forearms, shoulders and neck.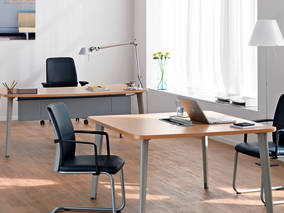 Flexible Seat Edge
Seat Adjustments
Seat Adjustments
Amia CHAIR – ADJUSTABILITY
Amia adapts cleverly to your natural movements and has simple controls that are easy to find, understand and use.
Insights
Overview
The Spine
The Spine
Since the spine does not move as a single unit, a chair's backrest should change shape to support the independent movements of a person's upper and lower back when he/she changes posture.
Spinal Motion
Since each individual's spinal motion is unique, a chair's backrest should mimic each individual's unique spinal motion as he/she changes posture.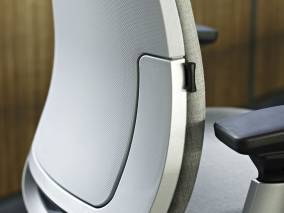 Upper + Lower Back
Upper + Lower Back
The upper and lower back regions require different amounts and different kinds of support.
Amia's Solution
The lumbar and thoracic areas are differently supported:
Amia's LiveLumbar™ support is designed to sense movement in your back and self-adjust to provide optimal support.
The tilt tension gives support to the higher part of the backrest
Sustainability
Overview
Overview
Designing for Sustainability
We believe the only way to provide the best office furniture solutions is to ensure they're the best products for the environment. That's why every step of the way – through design, manufacturing, delivery and product lifecycle – we consider the impact of our work on people and on the environment and uncover opportunities to make things better.
30 %
Up to
recycled content
Life Cycle
Life Cycle
Materials
According to McDonough Braungart Design Chemistry (MBDC) strict protocol, Amia contains no hazardous materials. Amia is made from 20% recycled materials. Its packaging consists of cardboard and LDPE film (low density polyethylene) that both contain 30% recycled material.
Production
The production site in Sarrebourg (France) is ISO 14001 certified. Powder-coat painting is VOC-free and free of heavy metals. No gluing processes are used in assembly, and 100% of urethane foam is water-based.
Transport
To reduce shipping distances, the Amia chair is manufactured close to customers, in Europe and North America.
Use
The textiles release no toxic substances during use of the product, thanks to the Oeko-Tex 100 Standard on the polyester fabric and the European Flower ecolabel on wool fabric.
End of life
The Amia chair is up to 97% recyclable and the use of inseparable mixed materials was avoided to make recycling easier. Parts weighing more than 50g are clearly labelled for recycling.
LEED Contribution
LEED Contribution
Steelcase helps customers seeking LEED certification to identify products and programs that can contribute to LEED criteria in the categories of Materials and Resources, Indoor Environmental Quality and Innovation (Ergonomics Training, Sustainability Training, Product Innovation).
Learn about Steelcase's direct and indirect contributions to a project's pursuit of LEED certification across LEED's three categories:
Building Design + Construction
Interior Design + Construction
Operations + Maintenance
Since the USGBC and its certification partner, GBCI, evaluate each project individually, the role our products play in achieving LEED certification is unique to each project.
Certificates
Certificates
Certifications can help you choose products that are environmentally sustainable and just right for your project. AMIA  has achieved the following certifications:
Environmental Product Declaration (EPD)
With Amia we can provide an Environmental Product Declaration (EPD), an environmental declaration according to the objectives of ISO 14025, based on Life Cycle Assessment (ISO 14044). The purpose of an EPD is to communicate clear and transparent information about a product's impacts on the environment at all stages of its life cycle.
"NF Environnement"
Amia complies with the French environmental certification "NF Environnement" (ISO 14024).
"Oeko-Tex 100 Standard"
The polyester fabric is labelled with the "Oeko-Tex 100 Standard".
"European Flower"
The pure wool fabric is labelled with the "European Flower".
Cradle to Cradle Certified™
Amia earned a Cradle to Cradle Product Certification from MBDC in the United States.
Indoor Advantage™ Gold certification
Amia is certified with the Indoor Advantage™ Gold certification, a high level certificate for indoor air quality.
Specifications
Options + Dimensions
Options + Dimensions
Main options
Task chair
Task chair available with armrests in option
Global Availability
Global Availability
This product is available in the following regions:
Africa
Central America
Europe
Middle East
North America
South America
Not available in your region?
If you're interested in purchasing a product that's not available in your region, please contact your local dealer for purchasing options.
Design Awards
Design Awards
2008 – Belgium – Belgium's Interior Foundation's Design at Work.
The Amia chair received a special mention from the jury at Belgium's Interior Foundation's Design at Work Awards. These awards focus on clever design and the jury commended Amia's combination of aesthetics, ergonomics, affordability and sustainability, focusing particularly on the fact that the Amia is a cradle-to-cradle certified product.
2007 – United States – Best of Neocon.
Amia chair won a Gold award in the seating category.
Resources + Support
Download 2D and 3D CAD models for use in your design application.

View and save brochures, certificates, and other documents.

Browse, save, and download beautiful images for use in presentations or inspiration boards.