Implicit personal storage is a range that offers the following pedestal configurations: supporting, juxtaposed and mobile in a choice of two designs.
Implicit Lease
Personal storage for office nomads
Bag drop
The PET-lined bag drop offers a place for workers to quickly set down their bag without making a sound. An optional accompanying Toolbox (coming soon) keeps small work tools organized and easy to move from meeting to meeting.
Lock Options
Implicit Lease is available with both a keyless lock, on the PET-lined bag drop version, or with a key lock on the laminate bag drop version.
Accent Colours
A range of five accent colours adds a pop of personality to the individual workspace.
*Implicit Lease is available in all EMEA, except for Iberia.
Insights
Observations + Insights
Observations + Insights
OBSERVATION 1: Companies change their workspaces frequently, yet their storage solutions are often not very adaptable or flexible.
OBSERVATION 2: Pedestals are used to store personal items as well as office documents, files and work tools.
OBSERVATION 3: Variations in design can lead to furniture being visually inconsistent and this can have a negative impact on a workplace's image.
INSIGHT 1: Businesses and their employees need flexible office solutions and pedestals to help them optimise workspace.
INSIGHT 2: Users need high-performance storage that can store a wide range of items.
INSIGHT 3: When furniture design is more harmonious, it contributes to a more attractive working environment.
New Generation of Personal Storage
New Generation of Personal Storage
Our new generation of personal storage is designed to support the increasing need for flexibility and office space optimization. As working practices evolve, collaboration often happens at the workstation. Thus, workstations are on display more, heightening the need for personal storage offering privacy and security.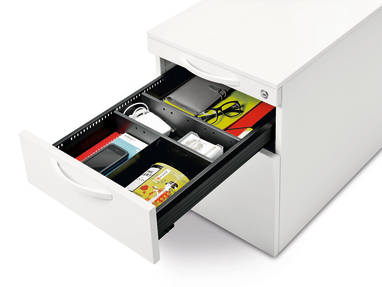 People need storage for personal and work-related materials. Implicit accommodates a variety of items.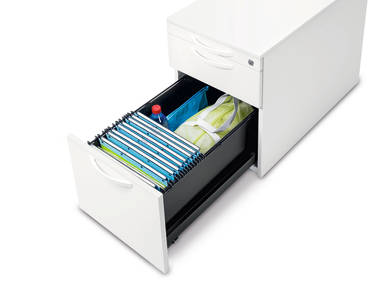 Whether you are storing mobile devices, bottles, handbags or notebooks, Implicit can support your personal storage needs.
Sustainability
Overview
Overview
Designing for Sustainability
We believe the only way to provide the best office furniture solutions is to ensure they're the best products for the environment. That's why every step of the way – through design, manufacturing, delivery and product lifecycle – we consider the impact of our work on people and on the environment and uncover opportunities to make things better.
51 %
Up to
recycled content by weight
97 %
Up to
recyclable by weight
Life Cycle
Life Cycle
Materials
29% (steel version) and 51% (melamine version) recycled content by weight.
PVC-free, no hazardous materials.
75% to 100% recycled cardboard and 30% recycled LDPE film (Low Density Polyethylene) in packaging.
Water-based inks without solvent on packaging.
Production
ISO 14001/ EMAS certification of the production sites.
Glue with no hazardous materials.
Powder coat painting: VOC-free and free of heavy metals. The powder coat painting that does not attach to the product is reused in the painting process.
Wasted wood directly reused in the plant's heating system.
Transport
Assembled close to customers, in France and in Germany.
Optimised packaging to improve filling rates and save energy for shipping.
Use
Designed for a long product life.
Replaceable parts.
Maintenance information is available on Steelcase.com.
End of life
Up to 98% (steel version) and 96% (melamine version) recyclable by weight.
100% recyclable cardboard and LDPE film for packaging.
Plastic parts clearly labelled for easy sorting and effective recycling.
Quick and easy disassembly.
LEED Contribution
LEED Contribution
Steelcase helps customers seeking LEED certification to identify products and programs that can contribute to LEED criteria in the categories of Materials and Resources, Indoor Environmental Quality and Innovation (Ergonomics Training, Sustainability Training, Product Innovation).
Learn about Steelcase's direct and indirect contributions to a project's pursuit of LEED certification across LEED's three categories:
Building Design + Construction
Interior Design + Construction
Operations + Maintenance
Since the USGBC and its certification partner, GBCI, evaluate each project individually, the role our products play in achieving LEED certification is unique to each project.
Certificates
Certificates
Certifications can help you choose products that are environmentally sustainable and just right for your project. Implicit has achieved the following certifications:
Indoor Advantage
This certification is awarded to products complying with the indoor air quality emission requirements defined by the ANSI/BIFMA M7. 1-2007 standard.
PEFC
The wooden components are PEFC certified (Programme for the Endorsement of Forest Certification), ensuring that wood originates from sustainably managed forests.
E1
The particle boards comply with the low emission "E1 Standard" guaranteeing a low level of formaldehyde emissions.
Oeko-Tex 100
This certification is awarded to a selection of pure wood and polyester fabrics, guaranteeing that limit values are respected.
European Ecolabel (Flower)
This certification is awarded to a selection of pure wood fabrics, guaranteeing that products meet stringent quality and environmental performance criteria.
Environmental Product Declaration (EPD)
Based on ISO/TR 14025, its purpose is to communicate precise and verifiable information about a product's impact on the environment at all stages of its life cycle.
NF Environnement
Based on ISO 14024, this French voluntary certification mark is awarded to products that have a reduced effect on the environment during their life cycle.
Specifications
Standard + Optional Features
Standard + Optional Features
Implicit
3 models: supporting, juxtaposed and mobile pedestals
Available in Standard and Premium design options
2 height options and 2 depth options for mobile pedestals
The supporting/juxtaposed versions fits several Steelcase desks
Available with or without cushion
Various different color options and finishes in melamine, steel and veneer
7 different handles available
Implicit Lease
The drawer is equipped with a limit return mechanism and a soft-closing system
Shields on the drawer bodies conceal the runners to avoid injuries or damage to clothing
A fifth castor on the drawer prevents tipping, while the extended drawer front offers a handle-less opening
Global Availability
Global Availability
This product is available in the following regions:
Africa
Europe
Middle East
Not available in your region?
If you're interested in purchasing a product that's not available in your region, please contact your local dealer for purchasing options.