Implicit pedestals offer personal storage for the full range of office settings.
Smart, flexible storage
Implicit pedestals make smart use of space, offering a range of solutions for resident and nomadic workers. Organisational accessories keep the interior tidy and make it easy to find what you need.
Upgrade the standard version of Implicit with optional premium fronts. Premium fronts showcase a vertical accent-color line that adds a touch of style to any setting. Implicit pedestals come in melamine, steel and veneer.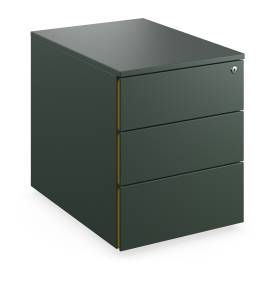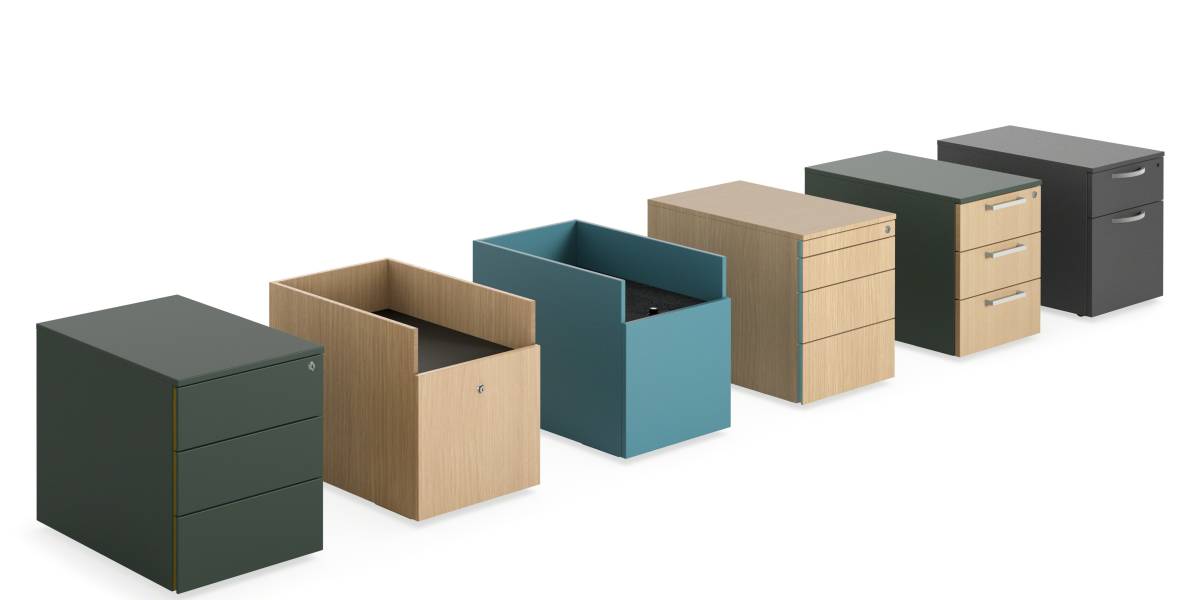 Wide range of applications
Implicit supports both individual and collaborative work, either in an open-plan or private office space. A mobile pedestal with a top cushion provides a seat for a quick chat between colleagues. A juxtaposed pedestal next to the desk expands the worksurface. All Implicit models are compatible with a broad range of Steelcase desks.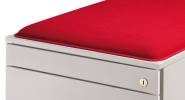 Implicit Lease
Personal storage for office nomads
Bag drop
The PET-lined bag drop offers a place for workers to quickly set down their bag without making a sound. An optional accompanying Toolbox (coming soon) keeps small work tools organized and easy to move from meeting to meeting.
Lock Options
Implicit Lease is available with both a keyless lock, on the PET-lined bag drop version, or with a key lock on the laminate bag drop version.
Accent Colours
A range of five accent colours adds a pop of personality to the individual workspace.
*Implicit Lease is available in all EMEA, except for Iberia.
Sustainability
Overview
Overview
Designing for Sustainability
We believe the only way to provide the best office furniture solutions is to ensure they're the best products for the environment. That's why every step of the way – through design, manufacturing, delivery and product lifecycle – we consider the impact of our work on people and on the environment and uncover opportunities to make things better.
51 %
Up to
recycled content by weight
97 %
Up to
recyclable by weight
Life Cycle
Life Cycle
Materials
29% (steel version) and 51% (melamine version) recycled content by weight.
PVC-free, no hazardous materials.
75% to 100% recycled cardboard and 30% recycled LDPE film (Low Density Polyethylene) in packaging.
Water-based inks without solvent on packaging.
Production
ISO 14001/ EMAS certification of the production sites.
Glue with no hazardous materials.
Powder coat painting: VOC-free and free of heavy metals. The powder coat painting that does not attach to the product is reused in the painting process.
Wasted wood directly reused in the plant's heating system.
Transport
Assembled close to customers, in France and in Germany.
Optimised packaging to improve filling rates and save energy for shipping.
Use
Designed for a long product life.
Replaceable parts.
Maintenance information is available on Steelcase.com.
End of life
Up to 98% (steel version) and 96% (melamine version) recyclable by weight.
100% recyclable cardboard and LDPE film for packaging.
Plastic parts clearly labelled for easy sorting and effective recycling.
Quick and easy disassembly.
LEED Contribution
LEED Contribution
Steelcase helps customers seeking LEED certification to identify products and programs that can contribute to LEED criteria in the categories of Materials and Resources, Indoor Environmental Quality and Innovation (Ergonomics Training, Sustainability Training, Product Innovation).
Learn about Steelcase's direct and indirect contributions to a project's pursuit of LEED certification across LEED's three categories:
Building Design + Construction
Interior Design + Construction
Operations + Maintenance
Since the USGBC and its certification partner, GBCI, evaluate each project individually, the role our products play in achieving LEED certification is unique to each project.
Certificates
Certificates
Certifications can help you choose products that are environmentally sustainable and just right for your project. Implicit has achieved the following certifications:
Indoor Advantage
This certification is awarded to products complying with the indoor air quality emission requirements defined by the ANSI/BIFMA M7. 1-2007 standard.
PEFC
The wooden components are PEFC certified (Programme for the Endorsement of Forest Certification), ensuring that wood originates from sustainably managed forests.
E1
The particle boards comply with the low emission "E1 Standard" guaranteeing a low level of formaldehyde emissions.
Oeko-Tex 100
This certification is awarded to a selection of pure wood and polyester fabrics, guaranteeing that limit values are respected.
European Ecolabel (Flower)
This certification is awarded to a selection of pure wood fabrics, guaranteeing that products meet stringent quality and environmental performance criteria.
Environmental Product Declaration (EPD)
Based on ISO/TR 14025, its purpose is to communicate precise and verifiable information about a product's impact on the environment at all stages of its life cycle.
NF Environnement
Based on ISO 14024, this French voluntary certification mark is awarded to products that have a reduced effect on the environment during their life cycle.
Specifications
Standard + Optional Features
Standard + Optional Features
Implicit
3 models: supporting, juxtaposed and mobile pedestals
2 height options and 2 depth options for mobile pedestals
The supporting/juxtaposed versions fit several Steelcase desks
Available with or without cushion
A range of color options and finishes in melamine, steel and veneer
Premium fronts available in steel and melamine
7 different handles available
Implicit Lease
The drawer is equipped with a limit return mechanism and a soft-closing system
Shields on the drawer bodies conceal the runners to avoid injuries or damage to clothing
A fifth castor on the drawer prevents tipping, while the extended drawer front offers a handle-less opening
Dimensions
Dimensions
Implicit
General
Width: 419mm
Depths: 2 depths for mobile pedestals: 588 and 788mm; 2 depths for juxtaposed and supporting pedestals: 660 and 800mm (juxtaposed: possibility to have tops in depth 900 and 1000mm with 800mm carcass)
Heights: mobile 9HE/516mm (castor ø37mm); mobile 9HE/584mm (castor ø75mm); mobile 10HE/566mm (castor ø37mm); supporting: 13HE/705mm steel pedestal (no top); juxtaposed 13 HE (H714-755 for steel pedestal; H714-750 for melamine pedestal
Carcass
Standard 9HE, 10HE or 13HE carcass in steel or melamine carcass
Base
Mobile pedestals: non-visible castors ø37mm, made of plastic PA6, black, soft (option) or hard (standard) castors.
Mobile melamine pedestals in 9HE: available with castors ø75mm, made of plastic PA6, grey. The front castors are lockable.
Juxtaposed pedestals: height adjustable glides (range: 25mm for melamine pedestal, 15mm for steel pedestal), plastic PA6, black.
Drawer
Black steel sheet, 0.5mm thick, mounted on standard runners; optional telescopic runners for 2HE and 3HE drawers.
6HE and 9HE drawers come automatically with telescopic runners.
6HE drawers are used for suspended files.
Equipped with limit return mechanism and soft closing system.
Implicit Lease
General
Width: 412mm
Depth: 588mm
Height: 9HE/500mm
(castor ø37mm)
Carcass
Melamine carcass 16mm
Base
Non-visible hard castors made of black plastic PA6.
Drawer
Black steel sheet, 0.5mm thick, mounted on standard runners.
Pedestal net load: D600, 6HE/9HE: 23.
Locks: Keyless (Lehmann Mech Dial 58 free code)
Key version: Standard cylinder lock
Global Availability
Global Availability
THIS PRODUCT IS AVAILABLE IN THE FOLLOWING REGIONS:
Africa
Europe
Middle East
*Implicit Lease is available in all EMEA, except for Iberia.
Not available in your region?
If you're interested in purchasing a product that's not available in your region, please contact your local dealer for purchasing options.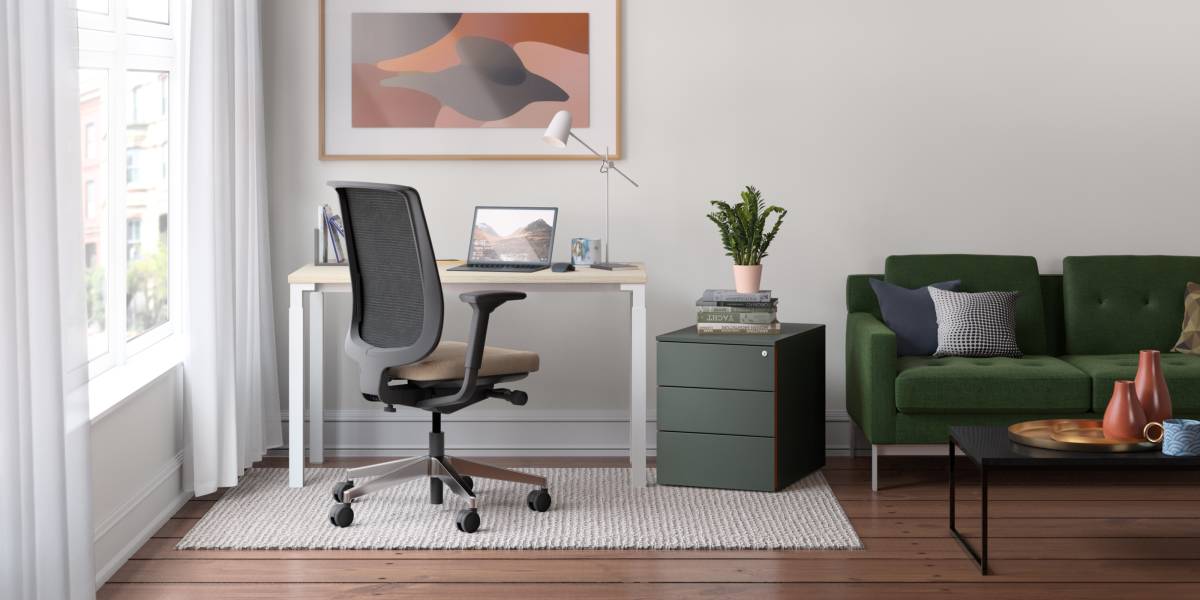 Work from Home
While teams are working from home, we're working to keep them comfortable. You can lean on Steelcase as your one trusted point of contact for products that blend performance with design.
Due to local regulations, select products are available in the UK.