Desks
Kalidro
by Steelcase
Kalidro is an all-in-one workstation. It is easy to set up thanks to intuitive features like height adjustment and smart cable management.
Sustainability
Overview
Overview
Designing for Sustainability
We believe the only way to provide the best office furniture solutions is to ensure they're the best products for the environment. That's why every step of the way – through design, manufacturing, delivery and product lifecycle – we consider the impact of our work on people and on the environment and uncover opportunities to make things better.
34 %
Up to
recycled content by weight
99 %
Up to
recyclable by weight
Life Cycle
Life Cycle
MATERIALS
Corner elements: 30% less impact. The legs' corners are made of 100% recycled aluminium. This leads to a 30% reduction of impacts on Global Warming on the whole life cycle, compared to the use of primary aluminium. Desktop: 25% less wood. The thickness of the desktop has been reduced by 25% (from 25 to 19mm) without compromising its performance.
Legs: 75% less impact. The legs tubes are made of powder painted steel. This leads to a 25% reduction of impacts on Global Warming on the whole life cycle, compared to the use of anodised primary aluminium.
PRODUCTION
Waste management. Wood waste from desktop cutting is used to heat part of the plant, saving 40 tons of natural gas and reducing related emissions of CO2 by 150 tons per year. Processing of the steel frame tubes produces no waste.
Energy and materials savings. Powder painting is free of volatile organic compounds (VOC-free) and heavy metals; paint that does not attach itself to the product is reused.
Certified production site. The production site in Rosenheim (Germany) is fully ISO 14001- and EMAS II-certified.
TRANSPORT
Kalidro's minimised weight and volume improves packing filling rates and reduces the energy required for shipping.
USE

No significant environmental impact occurs during the usage lifetime of Kalidro, the longest stage of its life cycle. The particle board is E1-certified for low emission formaldehyde.
END OF LIFE
Kalidro is 99% recyclable by weight and its packaging materials are 100% recyclable. 40% of its packaging corners are reused. Kalidro can be integrated into the Steelcase Environmental Partnership Program, which is designed to ensure environmentally responsible after-use strategies for furniture.
LEED Contribution
LEED Contribution
Steelcase helps customers seeking LEED certification to identify products and programs that can contribute to LEED criteria in the categories of Materials and Resources, Indoor Environmental Quality and Innovation (Ergonomics Training, Sustainability Training, Product Innovation).
Learn about Steelcase's direct and indirect contributions to a project's pursuit of LEED certification across LEED's three categories:
Building Design + Construction
Interior Design + Construction
Operations + Maintenance
Since the USGBC and its certification partner, GBCI, evaluate each project individually, the role our products play in achieving LEED certification is unique to each project.
Certificates
Certificates
Certifications can help you choose products that are environmentally sustainable and just right for your project. Kalidro has achieved the following certifications:
Environmental Product Declaration (EPD)
With Kalidro we can provide an  Environmental Product Declaration (EPD), according to the objectives of ISO 14025, based on Life Cycle Assessment (ISO 14044).
"Blauer Engel"
Kalidro complies with the German environmental certification "Blauer Engel".
PEFC (Programme for the Endorsement of Forest Certification)
The wooden components of Kalidro are labelled with PEFC (Programme for the Endorsement of Forest Certification
Specifications
Options + Dimensions
Options + Dimensions
Main options
Fix version
2 Height adjustable version
14 different top shapes available in several sizes
Melamine or veneer finish for management desk
Global Availability
Global Availability
This product is available in the following regions:
Africa
Europe
Middle East
Not available in your region?
If you're interested in purchasing a product that's not available in your region, please contact your local dealer for purchasing options.
Design Awards
Design Awards
2008 – Germany – Baden-Wurttemburg International Design Award.
Kalidro was awarded the Silver Award at Baden-Wurttemburg International Design Awards. The awards are backed by the German government. They reward orward-looking, high-quality design solutions that also address current trends. This year, the awards had a 'Focus Green' theme, focusing on the sustainability aspects of products.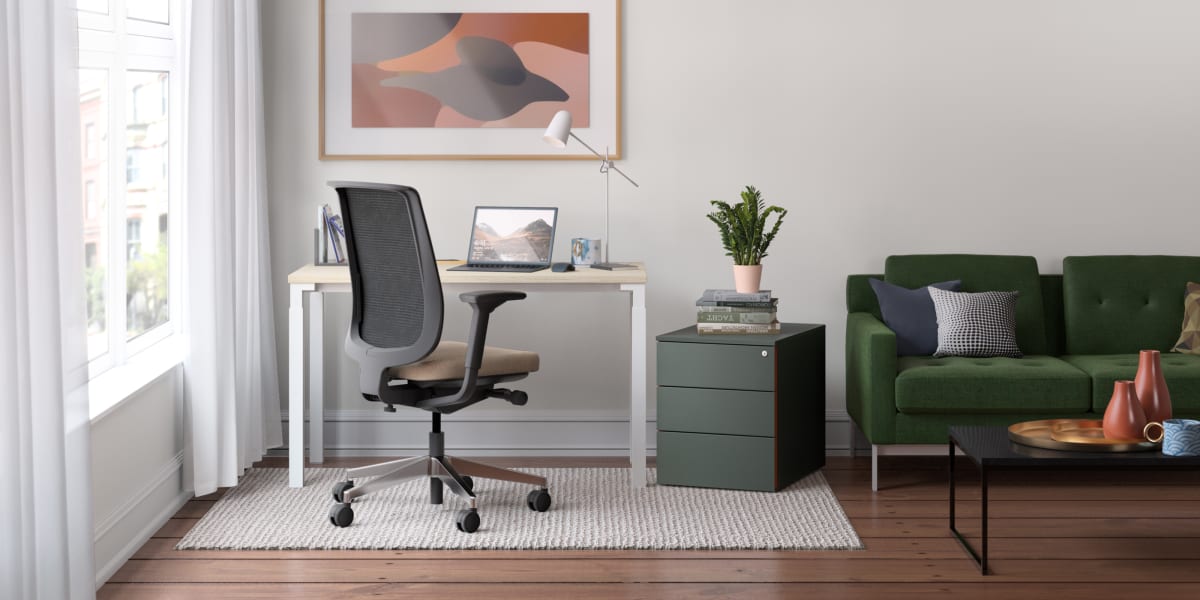 Work from Home
While teams are working from home, we're working to keep them comfortable. You can lean on Steelcase as your one trusted point of contact for products that blend performance with design.
Due to local regulations, select products are available in the UK.