Benching
FrameFour WorkBench
by Steelcase
The FrameFour WorkBench offers workers choice and control over their level of privacy and their posture.
Kitchen Island
Relationships anchor people´s commitment to the larger organisation.
The FrameFour WorkBench is the "kitchen island" of the office – a place all workers are naturally drawn to.
Collaboration Hub
The standing-height design prompts creative thinking. It encourages movement and the use of collaborative tools like whiteboards and digital displays.
Team members can shift between a seated or standing posture without losing eye contact, and meeting flow.
Maker Space
The FrameFour WorkBench supports Agile teams by offering an inspiring space to rapidly prototype ideas.
Organic surfaces like cork and plywood tops provide a raw, authentic aesthetic. A mobile power unit gives workers the flexibility to make the space work for them.
Specifications
Options + Dimensions
Options + Dimensions
Single Bench:
Length: 1600, 1800, 2000, 2200, 2400 mm
Width: 1000, 1200 mm
Double Bench:
Length: 2822, 3222, 3622, 4022, 4422 mm
Width: 1000, 1200 mm
Global Availability
Global Availability
This product is available in the following regions:
Africa
Europe
Middle East
Not available in your region?
If you're interested in purchasing a product that's not available in your region, please contact your local dealer for purchasing options.
Sustainability
Overview
Overview
Designing for Sustainability
We believe the only way to provide the best office furniture solutions is to ensure they're the best products for the environment. That's why every step of the way – through design, manufacturing, delivery and product life cycle – we consider the impact of our work on people and on the environment and uncover opportunities to make things better.
Life Cycle
Life Cycle
MATERIALS
Wood from European sustainably managed forests.
100% recycled cardboard.
PRODUCTION
Made by Steelcase in Rosenheim, Germany.
Optimised packaging to keep transport volumes as low as possible and improve filling rates.
TRANSPORT
Made in Europe, close to customers.
USE
Designed for a long product life, with replaceable parts.
Maintenance information available upon request.
END OF LIFE
100% theoretically recyclable cardboard and LDPE film for packaging.
Quick and easy disassembly.
Plastic parts clearly labelled for easy sorting and effective recycling.
Designed to encourage responsible end of use strategies – refurbishing, charitable donation or recycling.
LEED Contribution
LEED Contribution
Steelcase helps customers seeking LEED certification to identify products and programs that can contribute to LEED criteria in the categories of Materials and Resources, Indoor Environmental Quality and Innovation (Ergonomics Training, Sustainability Training, Product Innovation).
Learn about Steelcase's direct and indirect contributions to a project's pursuit of LEED certification across LEED's three categories:
Building Design + Construction
Interior Design + Construction
Operations + Maintenance
Since the USGBC and its certification partner, GBCI, evaluate each project individually, the role our products play in achieving LEED certification is unique to each project.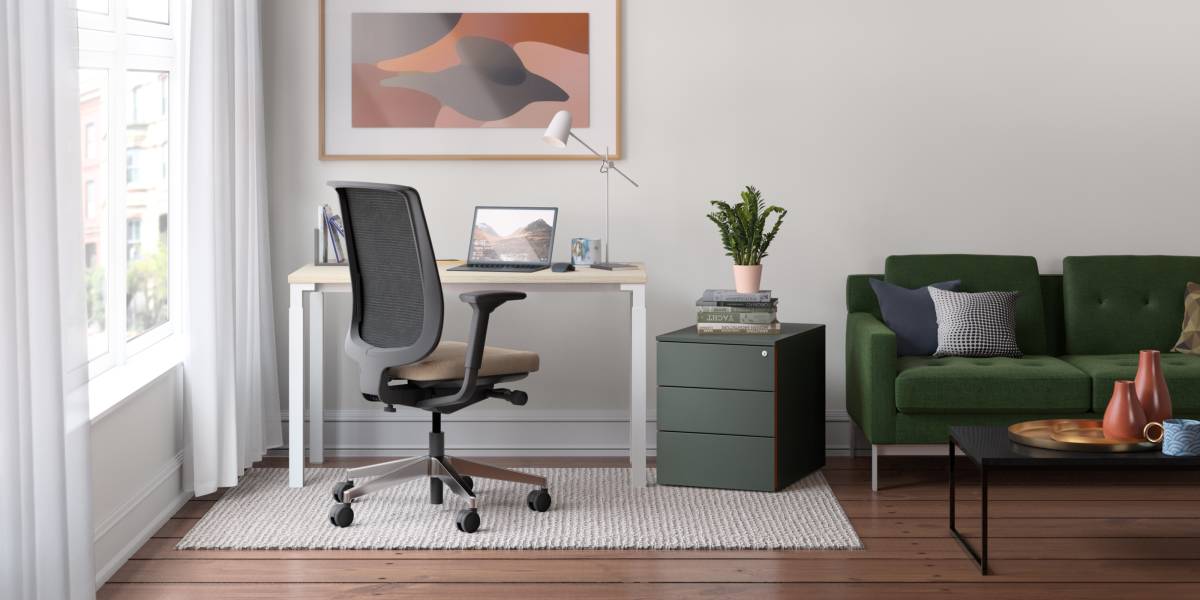 Work from Home
While teams are working from home, we're working to keep them comfortable. You can lean on Steelcase as your one trusted point of contact for products that blend performance with design.
Due to local regulations, select products are available in the UK.