Research + Insights
Observations
Observations
What We Observed
Wi-Fi and portable technology bring information and communication to the remotest corner of the campus, making any space a potential learning space.
Students working in teams often vacate classrooms for spaces that better support group work. Lounge areas are comfortable but typically designed for a single purpose.
Hallways often lack seating and worksurfaces where students and teachers can work before or after class.
Tech-wielding students need access to power, yet buildings typically don't provide enough outlets.
What We Heard
"Our hallway lounge/collaboration space is the one place on campus where you'll always find people, even during semester breaks."
-University Director of Planning and Construction
Learning Can Happen Anywhere
Learning Can Happen Anywhere
Learning can and should happen everywhere on campus—from the classroom to the library to faculty offices. In between these destination sites are lounges, hallways and other informal areas that can be so much more than transition spaces. They can be flexible, friendly learning spaces for individuals and groups—all smart ways to better leverage valuable campus real estate.
Lounge spaces also should be used as great attractors—spaces where students can meet and work with others and build that most precious of campus commodities: a community. These spaces are remarkable for their energy and activity; even a small lounge area can buzz with the enthusiasm of a small team at work or a few students engaged in animated conversation.
To make any in-between space a learning space, consider each space in terms of control, comfort and collaboration.
Control
Control
Allow students a measure of control over how they use the space, where furniture can be positioned and how it's used. To support students as they work in groups, pairs and individually, offer spaces that work for both collaborative and solo study. Wi-Fi is a given; power access should be, too. Today's students tote laptop and tablet computers, mobile phones and other portable devices and are constantly looking for places to plug in.
Comfort
Comfort
Traditional soft seating and hardwood hallway chairs are limiting and typically poorly suited for the work done in today's in-between spaces, but people are most comfortable (and most productive) when they can move in their chairs and still have good support and when furniture easily adjusts to suit various workstyles and postures.
Collaboration
Collaboration
A frequently missed opportunity with in-between spaces is to make them useful for the project work that has become integral to so many classes today.
Students need tools that support collaborative learning both before and after class:
methods for sharing digital and analog content
tools for informal brainstorming such as whiteboards and tackable surfaces, and
worksurfaces that accommodate computers, books and other materials.
Design Tips for In-Between Places
Private/Alone
Furniture should support the various postures of students while studying and working: standing, leaning, working at a table, seated in group discussions, hunched over a keyboard, relaxed reading, etc.
Offer booth spaces, which students often fill first because they offer larger worksurfaces and privacy for users.
Create spaces for focus and concentration for students throughout the day.
---
Public/Alone
Connecting corridors with daylight-streaming windows attract students and can be easily equipped for study with tables, booths and comfortable seating.
Bring power to the people: it's almost impossible to provide too many power outlets for today's tech-loving students.
Private/Together
Whiteboards and lounge seating with tablet arms or small worksurfaces help define smaller, intimate spaces within a larger environment.
Portable whiteboards are inexpensive yet helpful tools for groups creating and evaluating content.
Small project rooms located near open areas provide workspace for student teams.
Mobile tables, chairs on casters, seating that nests or stacks and portable whiteboards let users set up quickly for the work at hand and allow them to makethe space their own.
---
Public/Together
Students and educators typically have to quickly vacate a room at the end of class to make way for the next group. Small collaboration spaces located outside the classroom invite students to continue class discussions.
Informal seating areas near classrooms give students convenient places to connect before and after class.
Create niches in hallways for groups of instructors and students moving in and out of classrooms.
Postural changes support how students choose to work and provide choices to allow individuals, pairs or teams to work together.
Related Products
Steelcase
The Brody WorkLounge and Desk are private workspaces that are designed to be good for your body and good for your brain – providing places to get away without going away.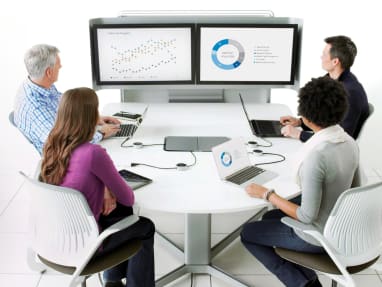 Steelcase
media:scape integrates technology and furniture to bring people, space and information together for greater collaboration and productivity than ever before.
Steelcase
cobi is a chair specifically designed to foster collaboration and keep participants focused and engaged. This collaborative chair encourages a variety of postures.
Additional Resources
Insights + Applications Guide
Students prepare for a future no one can predict and jobs that, in many cases, haven't been invented yet. Educators are responding to these diverse forces with a refreshing openness, adopting active learning and embracing new technology. Our Insights and Applications Guide provides the latest thinking on classroom design and learning spaces.
360 Magazine: Education Edition
This Education Edition is a compilation of 360 stories that explore design principles, product ideas and applications with the goal of improving student success. The stories demonstrate how new active learning environments improve student engagement and outcomes and help prepare them for success in the creative economy.
More about Steelcase Learning
Steelcase Learning is focused on helping schools, colleges and universities create the most effective, rewarding and inspiring active learning environments to meet the evolving needs of students and educators.
Using an insight-led approach, we design solutions for the many spaces learning happens, from classrooms and libraries to in-between spaces and cafes. We have a passion for understanding how learning best takes place and how smarter, active learning spaces can help.