What it Means to be
Carbon Negative
Climate change is one of the defining challenges of our time. Human activity has already warmed the world by about 1°C since pre-industrial times.
If additional warming can be limited by only half a degree to 1.5°C rather than 2°C, several hundred million fewer people may be exposed to climate-related risk and susceptible to poverty by 2050, including ten million fewer exposed to the risk of rising seas (IPCC 2018 Summary Report for Policymakers).
Greenhouse gases are heat-trapping gases in Earth's atmosphere. Sunlight passes through the atmosphere, but these gases prevent the heat that the sunlight brings from leaving. The main greenhouse gases are carbon dioxide, water vapor, methane, ozone, nitrous oxide and chlorofluorocarbons. Carbon dioxide or carbon, as it is frequently referred to, has the highest concentration among all and is often used in reference to all greenhouse gas emissions.
Despite efforts made by governments and other actors, total human-caused greenhouse gas emissions continue to rise. Under current trajectories, global mean temperatures are projected to increase by 2.2°C to 4.4°C by the end of this century. Companies have a pivotal role and interest in ensuring global temperature does not exceed 1.5°C, but most existing company targets are not enough.
Our Targets
Science-based Targets
We've set targets which support the limitation of global warming to 1.5ºC
A Decade of Greenhouse Gas Reduction
We've reduced more than 30% greenhouse gas emissions from our direct operations within the last decade
Renewable Energy Investment
Since 2014 we've continued investing in renewable energy equivalent to 100% of our global electricity consumption
A More Detailed Look at Our Commitment
First, over the next decade, we plan to take steps to significantly reduce emissions that we have direct control over, across the following activities:
| | |
| --- | --- |
| ↓50% | Reducing our scope 1 and 2 emissions by 50% by 2030 |
| ↓14% | Reducing scope 3 emissions associated with waste generated in our operations by 14% |
| ↓14% | Reducing scope 3 emissions from our business travel by 14% |
Second, we recognize the significance of addressing and reducing our value chain emissions, that's why Steelcase plans to partner with our purchased goods and transportation suppliers to set their own science-based targets within the next five years.
Finally, Steelcase is targeting to become carbon negative across our operations by 2030. This year, we took a big step by becoming carbon neutral across our operations. This means that we removed the same amount of carbon from the environment equivalent to our combined scopes 1 and 2 emissions. Typically, companies become carbon neutral by offsetting their emissions, by either avoiding new emissions or removing carbon from the atmosphere. We have dedicated our investments to carbon removal initiatives such as reforestation. By 2030, we plan to remove more carbon than our combined scopes 1 and 2 emissions and become carbon negative across our operations.
Our Pledge
Throughout our history, we have consistently prioritized sustainability. This new initiative, however, is more robust than anything we have previously done, and this comes with its own challenges. Achieving our targets will require detailed planning, coordination and dedication across the company and beyond. As we begin to take strides toward our carbon negative goals, we anticipate opportunities to reinvent and improve the way we do things at Steelcase. More specifically, we aim to significantly reduce our own emissions through investing in the most critical and impactful opportunities for renewable energy, energy efficiency and waste reductions.
As we work toward addressing and reducing our value chain emissions, we will partner with key suppliers, support them in setting and achieving goals, and seek low-carbon suppliers when building new relationships. In addition, we will use our voice to advocate for and advance climate policy solutions. We will plan to continue to publicly disclose our greenhouse gas emissions through our annual impact report and the CDP platform. This commitment will ensure full accountability and transparency on our progress over time.
Overview of Greenhouse Gas Emissions and the Breakdown of Scopes
Scope 1 Emissions
Direct emissions that result from owned and controlled activities and where the emissions are generated at the location where consumption takes place.
Examples: Natural gas used to heat our manufacturing buildings and large offices; Diesel fuel for generators; Jet fuel for corporate jets, etc.
Scope 2 Emissions
Indirect emissions that come from the production of the electricity used for owned and controlled activities, but where the emissions occur at the site of generation.
Examples: Electric Power generated by power plants to support the manufacturing equipment, lighting and other needs of our owned and operated assets.
Scope 3 Emissions
All other indirect emissions that come from supporting activities of the company, but occur from sources not owned or controlled by the company.
Examples: Purchased goods and services; Business travel and employee commuting; Transportation of product to customers ; Manufacturing waste, etc.
Steelcase Carbon Strategy Projected Pathway
Scope 1
Emissions
Scope 2
Emissions
Carbon
Offsets
Renewable
Energy Credits
– – –
Net Greenhouse
Gas Emissions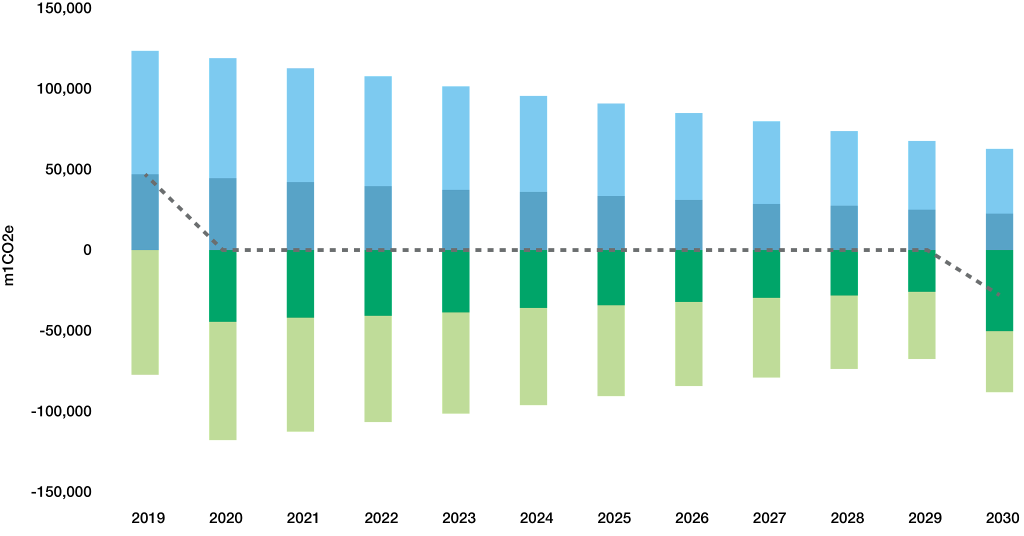 Forward-looking Statements 
From time to time, in written and oral statements, the company discusses its expectations regarding future events and its plans and objectives for future operations. These forward-looking statements discuss goals, intentions and expectations as to future trends, plans, events, results of operations or financial condition, or state other information relating to us, based on current beliefs of management as well as assumptions made by, and information currently available to, the company. Forward-looking statements generally are accompanied by words such as "anticipate," "believe," "could," "estimate," "expect," "forecast," "intend," "may," "possible," "potential," "predict," "project," "targets," or other similar words, phrases or expressions. Although we believe these forward-looking statements are reasonable, they are based upon a number of assumptions concerning future conditions, any or all of which may ultimately prove to be inaccurate. Forward-looking statements involve a number of risks and uncertainties that could cause actual results to vary from the company's expectations because of factors such as, but not limited to, competitive and general economic conditions domestically and internationally; acts of terrorism, war, governmental action, natural disasters, pandemics and other Force Majeure events; the COVID-19 pandemic and the actions taken by various governments and third parties to combat the pandemic; changes in the legal and regulatory environment; changes in raw material, commodity and other input costs; currency fluctuations; changes in customer demand; and the other risks and contingencies detailed in the company's most recent Annual Report on Form 10-K and its other filings with the Securities and Exchange Commission. Steelcase undertakes no obligation to update, amend or clarify forward-looking statements, whether as a result of new information, future events or otherwise.
The Science Based Targets initiative (SBTi) defines and promotes best practice in science-based target setting and independently assesses companies' targets. SBTi does not assess carbon neutral and carbon negative targets.