We Believe that Change Can Come from Truly Enriching the Moments that Matter Most.
Healthcare is experiencing rapid change that can often feel overwhelming. At Steelcase Health, we look for the changes that are possible.
Changes that are meaningful.
Changes that are personal.
Changes that can be pivotal for the people involved.
We study the places that support health and then deliver insights, applications and solutions designed to create moments that can lead to change. Moments that enhance the wellbeing, empathy and connection of clinicians, patients and families.
We believe in the power of place.
News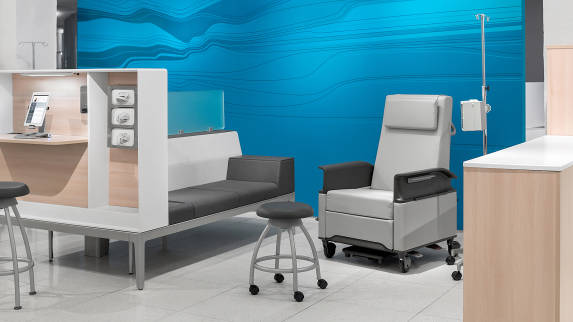 NeoCon 2015
NeoCon 2015 highlights our insights, applications and solutions designed for interaction and collaboration, focus and rejuvenation – for both individuals and teams.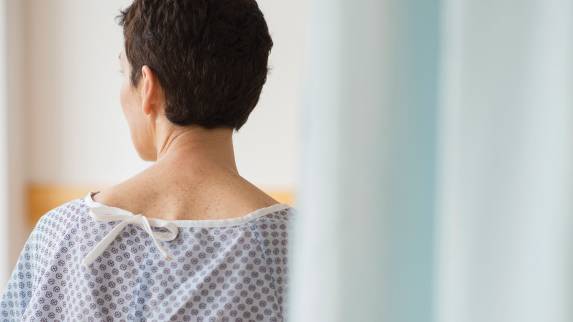 360 Magazine: An Ecosystem of Spaces for Infusion Therapy
Traditional infusion therapy spaces seldom meet the unique safety, physical and emotional wellbeing needs of patients and care partners. Providing an ecosystem of spaces is the first step to solve for this problem.
TEDMED on the Web
In addition to inspiring talks from the 2014 event, the TEDMED site also features a series of Google Hangout sessions on the Great Challenges in health and medicine, like making prevention popular.
Steelcase Health in the Media
A recent installation of Steelcase Health solutions at Methodist Richardson Medical Center has captured a lot of attention – including a profile from HealthLeaders Media.
Healthcare: Time for Change
Our Insights + Applications guide explores today's rapidly evolving healthcare industry, and how space can help provided improved experiences, outcomes and value for all.
A Time for Change in the Patient Room
Join us as we examine the expectations of patients, families and clinicians in the patient room, and how a patient-centered design approach can lead to critical successes for healthcare facilities.
Steelcase Health: Healthcare Design Conference 2015 Presenting Sponsor
We are proud to be the presenting sponsor for the Healthcare Design Conference again this year! Start here to learn more as well as get a behind-the-scenes view of our space in 2014.
Experience Steelcase Health
We have recently updated our WorkLife Centers. Visit us in Grand Rapids, Chicago or Atlanta for a firsthand look at our solutions for a connected health experience.
Featured Products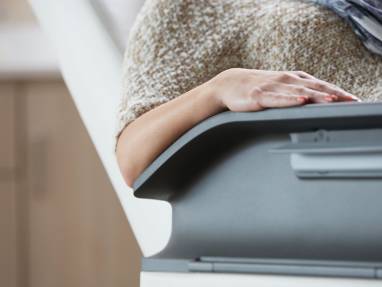 Empath
The Empath recliner is designed to reduce stress and the potential for injury for both patients and clinicians while increasing physical and emotional connectedness.
Insights
Radical Transformation in Healthcare
A Radical Transformation Is Taking Place in Healthcare
Healthcare is evolving at a rapid pace and changing on almost every front. As changing dynamics add complexity to an already complex industry, the challenges that healthcare organizations face are greater than ever. Addressing high-priority issues is key to developing a strategy for sustainable success.
Our seminal Healthcare: Time for Change Insights + Applications Guide combines insights and practical solutions yielded from 18 studies and 15,000 hours of research.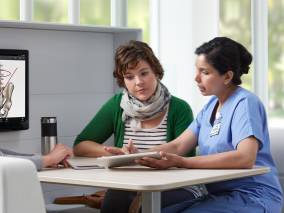 Clinician Privacy
Prescribing Clinician Privacy: Taking care of the caretaker
In fast-paced healthcare work environments, the need for privacy is evident – and it's hard to come by.  Steelcase Health offers an innovative new approach for improved clinician efficiency, accuracy, satisfaction and overall wellbeing. It's designed to empower clinicians, connect them to technology and to each other and, ultimately, to create more connected patient care. And privacy is a very important part of the story.
Clinician Safety
Supporting the Safety + Wellbeing of Nurses and Clinicians
As the wave of change shifts our healthcare system from diagnosis and treatment to prevention and wellness, clinicians and nurses play a key role in shaping the healthcare environment and the patient experience.
Clinicians and nurses are highly susceptible to workplace injuries. While we look to advance our healthcare model, experience and environment, it's important to also consider the professional caregiver.
Steelcase Health conducted a survey of U.S. and Canadian clinicians to understand the challenges clinicians and nurses face while at work and to quantify and evaluate perceptions of potential risks to both their and their patients' wellbeing.