Introducing Intersection, a fabric made from marine litter that sits at the intersection of beauty and sustainability.
From Ocean to Office
About Intersection Fabric
About Intersection Fabric
Each yard of Intersection fabric removes up to 1/2 pound of marine waste from the oceans.
Steelcase co-created Intersection with Duvaltex, our long-time partner in creating sustainable materials.
Here's how the process works:
First, SEAQUAL INITIATIVE works with ocean clean-up programs to collect marine litter and turn it into Upcycled Marine Plastic, then into yarn.
Duvaltex weaves that SEAQUAL® YARN into Intersection fabric, using their proprietary Clean Impact Textiles™ technology.
For more information, see the article in 360.
About SEAQUAL INITIATIVE
About SEAQUAL INITIATIVE
SEAQUAL INITIATIVE is a unique, collaborative community of individuals, organizations and companies working together to help clean our oceans, raise awareness of the issue of marine litter and highlight those helping to fight it. SEAQUAL INITIATIVE helps to clean our oceans by transforming marine litter into Upcycled Marine Plastic, a new, fully traceable sustainable raw material.
Marine litter from our beaches, the ocean floor and surface, and from rivers and estuaries, is collected by clean-up programs. The plastic portion is sorted, cleaned and transformed into Upcycled Marine Plastic at SEAQUAL INITIATIVE approved facilities. SEAQUAL@ YARN containing Upcycled Marine Plastic is woven into Intersection fabric.
To learn more about the SEAQUAL Initiative story, visit seaqual.org.
About Duvaltex
About Duvaltex
Duvaltex is North America's largest office furniture textile manufacturer and a pioneer in sustainable textile engineering. Under the umbrella of their CLEAN IMPACT TEXTILES™ sustainability brand, their goal is to reduce the environmental impact of textile manufacturing as much as possible by innovating the way products are sourced, manufactured and disposed of at the end of their useful life.
Duvaltex and Steelcase have a rich history of collaborating on groundbreaking sustainable materials. Together, we introduced a Cradle to Cradle™ certified product in 2005, and Loop to Loop in 2011, a material made using the first closed loop system for capturing and recycling textile waste back into first-quality goods. We also introduced the New Black textile collection in 2017, a bleach-cleanable material created entirely from Steelcase scrap fabric.
Intersection is Duvaltex's first ocean waste product under its CLEAN IMPACT TEXTILES™ brand. For more information regarding CLEAN IMPACT TEXTILES™, visit duvaltex.com/cleanimpact.
New Materials
INSPIRING PALETTES
Cleanable materials don't have to be sterile. Our new palettes showcase materials that are bleach-cleanable and also inspiring.
Contact your sales rep for details.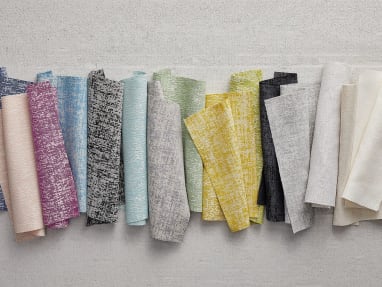 CLEANABLE + BEAUTIFUL
Stencil is a bleach-cleanable fabric for panels and screens. Its visual ranges from a subtle linen-like structure to highly contrasting yarns that provide a bold graphic. Price Grade 2.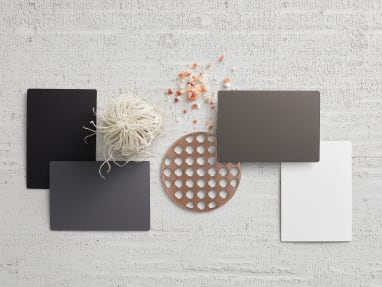 fingerprintless technology
Satin Laminate is embedded with fingerprintless technology and has an ultra-matte finish that's soft to the touch. Available in 4 neutrals on all products with high-pressure laminate as an option. Price Grade 3.
Our Material Offerings: Standard, Select and Custom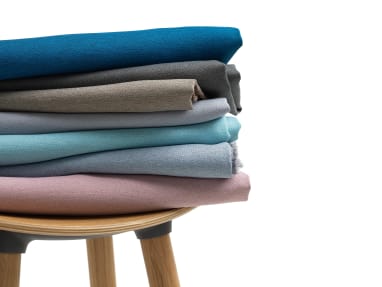 Standard Surfaces
Our standard portfolio features innovative, sustainable materials designed by Steelcase to suit any setting.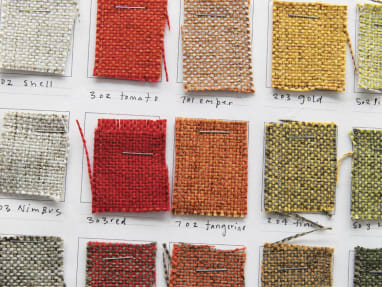 Select Surfaces
Steelcase's graded-in program offers a curated collection of custom materials from top industry suppliers.These materials have been pre-priced and pre-tested for use on Steelcase products. Graded-in Fabrics have varying lead times and are warranted differently by each supplier.
View Select Surfaces in the Finish Library.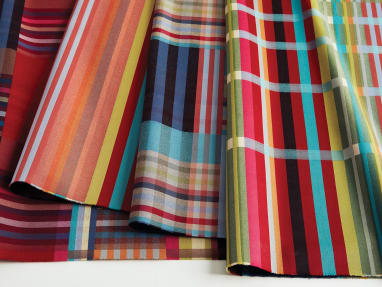 Custom Surfaces
Our Custom Surfaces program can support nearly any material, including fabric, vinyl, leather, laminate, paint and stain. These materials have varying lead times and are warranted differently by each supplier.
Steelcase + Designtex
Steelcase purchased Designtex in 1988, and in the three decades since, our companies have collaborated on some of the most innovative textiles and wallcoverings on the market. Just a few examples:
Casper Cloaking Technology, an ingenious architectural film for glass walls that obscures digital screens to outside view
Designtex Celliant upholstery, a blend of naturally occurring, thermo-reactive minerals that capture and convert body heat into infrared energy, which has been clinically shown to increase local circulation and improve cellular oxygenation, as well as help regulate body temperature.
Numerous groundbreaking sustainable materials, including Loop-to-Loop (which utilizes cutting waste from Steelcase furniture)
To learn more about Designtex, see its page on our site or visit designtex.com.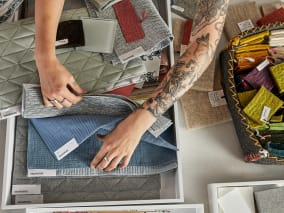 Healthcare Surfaces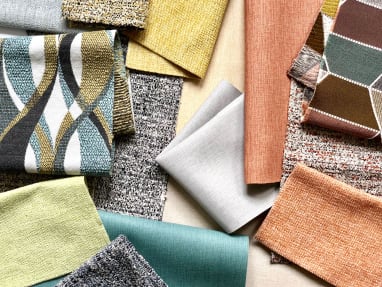 Healthcare Fabrics
We work closely with a number of textile companies to provide a complete selection of performance textiles – both standard and graded-in.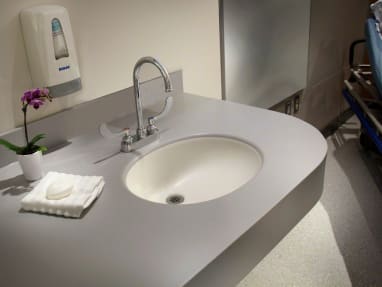 Healthcare Solid Surfaces
Steelcase Health's partner for solid surfaces is Corian.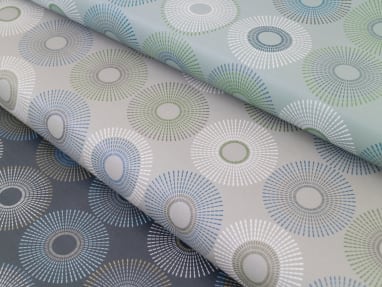 HEALTHCARE VINYLS AND POLYURETHANES
Choice Performance textiles are an elite sub-set of performance vinyls and polyurethanes available through our vendor partners that have undergone rigorous testing above and beyond our standard test protocols with proven performance.
Sustainability
Sustainability is a pillar of our surface materials strategy. With all of our material offerings, we strive for earth-friendly manufacturing processes and use of natural materials, post-consumer and post-industrial recycled content. Hundreds of our materials have environmental certifications.
We expect the same commitment from all of our partners and suppliers, so that together, we can help our customers achieve their own sustainability goals.
A few of our most recent surface materials sustainabiilty stories:
Steelcase's New Black material is made of 100% recycled scrap fabric, 99% of which comes from our plant in Athens, Alabama.
Our Intersection fabric line was created as part of the SEAQUAL Initiative, which works with the waste management and recycling industries to transform marine litter into plastic. Every yard uses ½ pound of ocean plastic.
Our Clarity™ UV clear coat is a water-borne alternative to solvent-based coatings, while still providing exceptional durability, clarity and quality.
Bo Peep uses 100% wool – a natural fiber and renewable resource.
Gaja is a solid, sustainable, woolen fabric that's the first European pure-wool upholstery to gain Cradle to Cradle (C2C) certification