Pods
On the QT
by Orangebox
Connect in privacy, carry out focused work or simply think for a while, On the QT phone booths strive to strike the balance between the need for efficient space and workable comfort.
Configure Now

Planning for the Workplace?
Uncover options to create an inspiring space.
Configure Now

Shopping for a Home Office?
See all the options for your work-from-home upgrade.
Buy Now
Designing On the QT
Phone booths are incredibly popular spaces for quick call privacy instead of using the stairwell or corridors or worse still, walking around the office and annoyingly hovering around other people's desks.
Mark Partridge, Designer of On the QT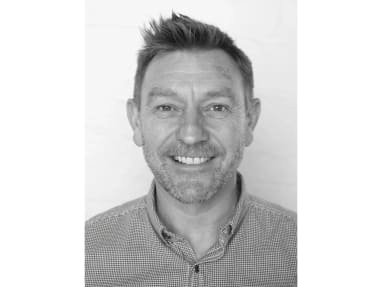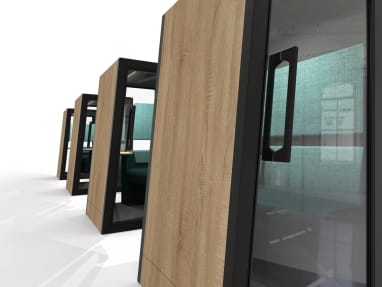 Unique Design
At Orangebox, we think happiness and productivity should go hand in hand. With advanced ventilation, a unique "kink" shape and seated or standing options, On the Qt's small office footprint makes a big impact.
Keep It Flexible
Arrange On the QT in your space:
Grouped-together short booths specified with a whiteboard create a space that's usable inside and out
Rows of booths can create space division and architectural structure
Booths can be used anywhere to create instant privacy
Product Features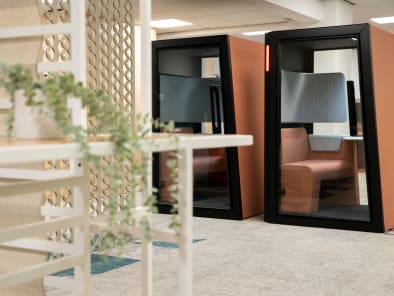 New Exterior
Multiple cladding options, including newly available fabric option, offer custom styling.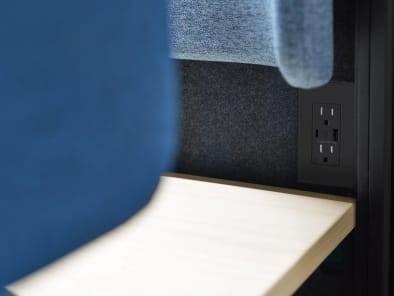 New BUILT-IN POWER
Easily accessible dual-power plugs offer additional USB-A and USB-C ports for more productive power.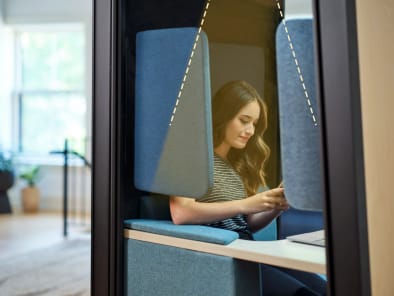 New LIGHTING
Automatic and intuitive in-booth lights are positioned to softly illuminate worksurfaces,
while an optional occupancy light is available on the booth's exterior to signal at a glance that it's in use.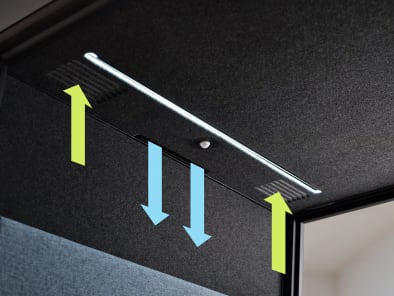 New VENTILATION
The dual-fan ventilation system pulls fresh air in and removes stale air for improved air circulation, offering more comfort and focus.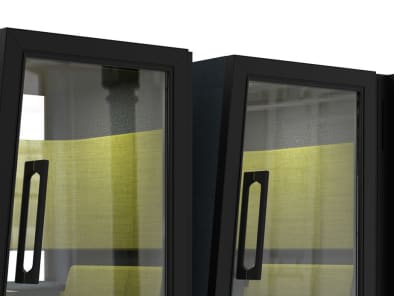 "Kink" Air Gap
The angled or "kinked" air gap between booths allows sound to bounce down and away—minimizing reverb and the distance sound travels.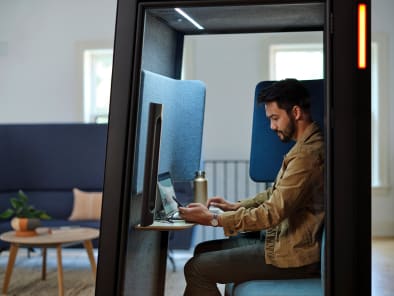 ACOUSTICS
Innovative sound-blocking baffles, absorbent cassette walls, acoustic laminated
glass and a super-rigid doorframe help keep conversations discreet.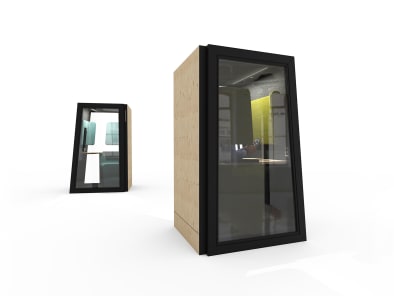 FIRE SAFETY
On the QT is designed with the highest levels of fire protection, including options with an E84 Class A fire rating. And with a footprint of just under 4′, booths may not need sprinkler integration in most regions.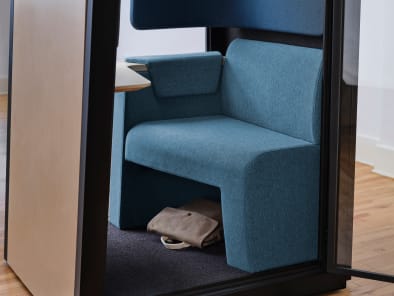 LOUNGE SEATING
Left- or right-handed lounge seating with storage for personal belongings gives you the option to get comfortable and stay longer.
Style Options
On the Qt Options
For phone booths, left hinged (LH) and right hinged (RH) are determined by the location of the door hinge when entering the booth.
OB1QT01
Short Angled Phone Booth (Left-Hinged Opening)
H75'', W48'', D40''
OB1QT02
Short Angled Phone Booth (Right-Hinged Opening)
H75'', W48'', D40''
OB1QT03
Tall Angled Phone Booth (Left-Hinged Opening)
H87'', W48'', D40''
OB1QT04
Tall Angled Phone Booth (Right-Hinged Opening)
H87'', W48'', D40''
On the Qt Seat Options
For Seating units, left hand (LH) and right hand (RH) refers to the position of the armrest when sitting.
OB1QTF01
Seat Unit for QT01 (LH Seat Unit)
H32'', SH19'', W35'', D25''
OB1QTF02
Seat Unit for QT02 (RH Seat Unit)
H32'', SH19'', W35'', D25''
Specifications
Phone Booth Structure – Standard Specification
Glass
Main Structure
Door Handle
Natural Oak
Oak Stained Black
Front & Rear Exterior Cladding
Laminate – HPL Price Group 1
Interior Cladding
Charcoal or Silver Grey (polyester felt)
Cover Caps
Paint Finish – Price Group 1
Optional Internal Furniture – Standard Specification
Upholstery
Writing Shelf
Laminate – Price Group 1 – 3, OLL
Phone Booth Structure – Optional Upcharges
Front & Rear Exterior Cladding
Fabric – Price Group 1-10, COM
Laminate – HPL Price Group 2 – 3 ,OLL
Whiteboard (Laminate)
Plywood Price Group 1
Cover Caps
Paint Finish – Price Group 2 – 3, PerfectMatch
Front Privacy Screen
Upholstered – Fabric Price Group 1– 10, COM
Rear Lean Pad
Upholstered – Fabric Price Group 1– 10, COM
Occupancy Light
Shelf
Laminate – HPL Price Group 1 – 3, OLL
Plywood (Clear Matte Lacquer)
Power
Dual Port NEMA 5-15 Outlets with USB A&C
Seismic Kit
Optional Internal Furniture – Optional Upcharges
Upholstery
Fabric – Price Group 2-10, COM
Writing Tablet
Laminate – HPL Price Group 2 – 3, OLL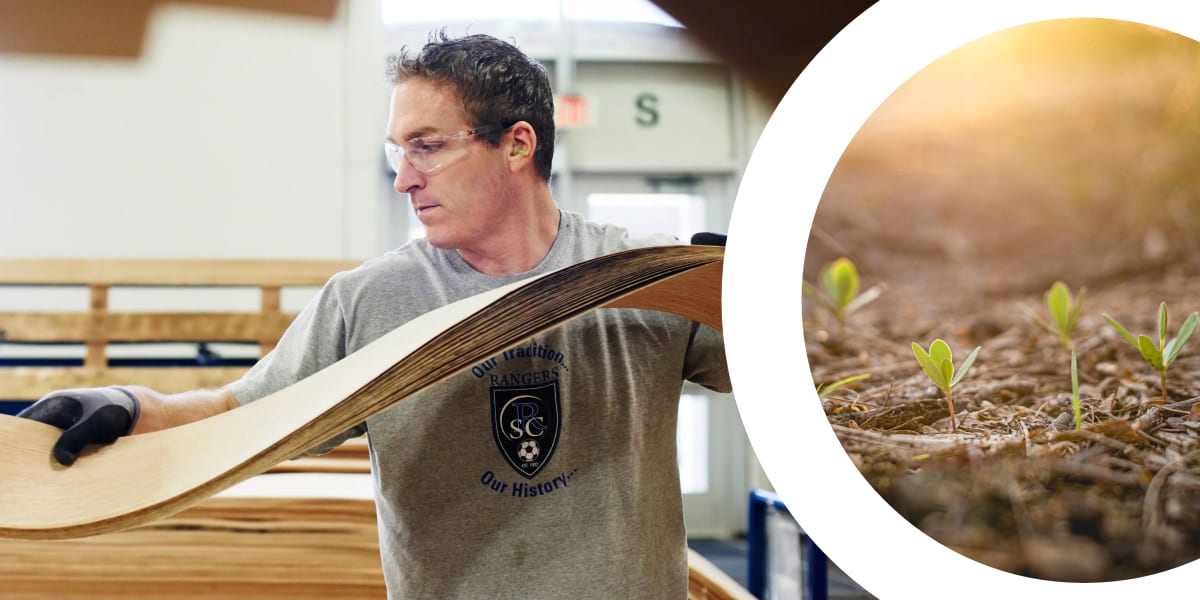 Sustainability
Designing for Sustainability
We create products that are good for people, and good for the world. Our products and operations are designed around a commitment to reduce climate change, reinforced by sustainable practices across our value chain.
Our Sustainable Design framework ensures our products are designed with consideration of life cycle thinking and cradle-to-cradle principles:
Source materials responsibly
Minimize global warming and other life cycle impacts
Ensure material health
Enable end-of-use strategies