The Empath recliner is designed to reduce stress and the potential for injury for both patients and clinicians while increasing physical and emotional connectedness.
Insight-Driven
DESIGNED TO SUPPORT PATIENTS + CLINICIANS
The Empath recliner is a crucial step forward in the health process – one developed entirely from real-world insights based on thousands of hours of observation and analysis. Its design considers the needs of both patients and clinicians as primary users.
Across healthcare applications, Empath is designed to reduce stress and the potential for injury for both patients and clinicians while increasing physical and emotional connectedness.
Features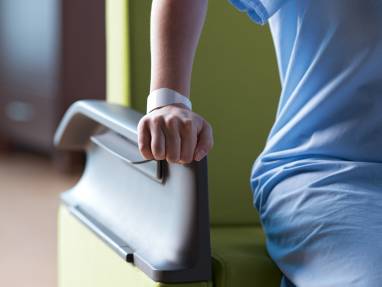 PATIENT + CLINICIAN AS PRIMARY USERS
Our research revealed that clinicians' top concerns are keeping patients comfortable and safe while promoting overall quality of care. Empath is designed to meet these needs and help empower patients and clinicians alike.
In the patient room.
Empath eases patient transfer, giving clinicians more opportunity to focus on quality interactions and human connection.
In an exam room.
Empath brings clinicians eye-to-eye with patients to encourage communication, teaching and learning.
MINIMIZE STRAIN + STRESS
For clinicians, moving patients from bed to chair is inherently difficult due to patient limitations and the number of times these transfers are performed. Empath eases this process.
Easy-Access Arms
Empath dual flip-down arms allow for easy access no matter where the chair is positioned.
Convenient Central Lock
The central locking system has easy-to-activate pedals, located where clinicians need them – tucked in toward the front, on both sides of the chair.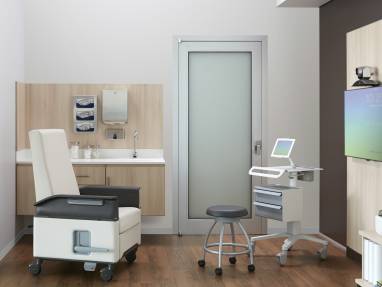 VERSATILITY + QUALITY
The Empath recliner offers the safety, versatility and quality needed to serve a number of healthcare environments. With both essential and advanced features, it adapts to a wide range of uses in patient rooms, treatment areas, medical exam spaces, emergency departments and outpatient centers.
Empath adheres to stringent Steelcase standards for durability and performance, with a thorough static and dynamic testing process that exceeds industry standards – for a long product lifespan.
Insights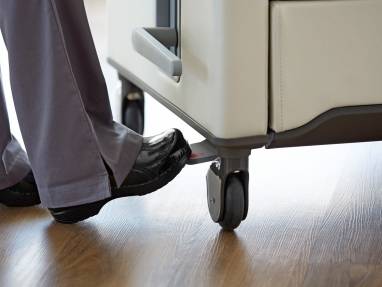 SAFETY IS A TOP CONCERN
Clinicians and patients both face risks to their safety and comfort – and traditional recliners fail to address the problem.
One in three clinicians surveyed has experienced an injury related to performing patient transfers. – Steelcase Health survey
Nurses rank second for back injuries suffered on the job, when compared to other professions. – American Nurses Association
Eighty percent of patient falls occur in the patient room. – University of Pennsylvania Medicine study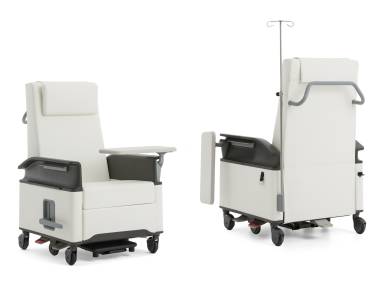 THE PATIENT CHAIR IS A CLINICIAN TOOL
Our team spent 2,000+ hours observing interactions around patient seating. Then, we surveyed 300+ nurses and other clinicians on their needs and concerns at work.
We saw how conventional recliners caused undue strain and stress for clinicians and their patients. And we found opportunities to improve the experience.
A Better Health Experience
Guided by these discoveries, we developed Empath as an important tool for clinicians and a step toward wellness for patients. Its user-friendly features help create a safer, higher-quality healthcare experience.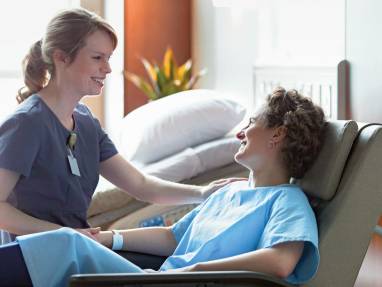 Clinical Worker Wellbeing
Reimagining healthcare spaces begins with insights about what people want and need. This study serves as a starting point to understand the needs of clinicians. It also confirms that the environment has a big effect on people's experiences, emotions and behaviors.
Specifications
Standard + Optional Features
Standard + Optional Features
Standard Features
Central lock (dual-sided)
Back recline paddles (dual-sided)
Footrest control lever
Molded urethane upper arms
Casters
Footrest scallop
Bumpers
Optional Features
Dual flip-down arms
Trendelenburg (dual-sided)
Adjustable headrest
Tablet arm
Directional Steering
Push bar
Pull-out footrest
Heat and massage
IV pole and holder
Drainage bag holder
Surface Materials
Plastic
Midnight
Sterling Dark
Platinum Solid
Thermoform (Tablet Arm)
Dimensions
Dimensions
Empath Dimensions
| | |
| --- | --- |
| | Dimensions in inches |
| Overall depth | 31 1/4″ |
| Overall width | 31 5/8″ |
| Overall height | 46 5/16″ |
| Seat depth | 21″ |
| Seat width | 23″ |
| Seat height | 20″ |
| Arm height | 26 3/8″ |
| Full recline | 73 3/16″ |
Global Availability
Global Availability
This product is available in the following regions:
Central America
South America
North America
Middle East
Not available in your region?
If you're interested in purchasing a product that's not available in your region, please contact your local dealer for purchasing options.