Lighting
Steelcase Eclipse Light
by Steelcase
The Steelcase Eclipse Light illuminates both workstation and the user. With a built-in dimmer and versatile position, Eclipse is designed so users can feel good and be their most productive at work. Either virtually or in person.
Configure Now

Planning for the Workplace?
Uncover options to create an inspiring space.
Configure Now
Buy Now

Shopping for a Home Office?
See all the options for your work-from-home upgrade.
Buy Now
Illuminate Your New Way to Work and Collaborate
The Steelcase Eclipse Light transforms both residential and commercial environments, allowing users to both look and feel better during remote collaboration – no matter where they're working. By offering superior color performance and the ability to reposition the light where it's most needed, the Steelcase Eclipse Light illuminates new ways to work and collaborate.
Light Where You Need It
The Steelcase Eclipse Light brightens your work experience with warm light wherever you need it. Designed with two functions, the illumination of the Steelcase Eclipse Light enhances the clarity of your worksurface and improves video quality for virtual meetings.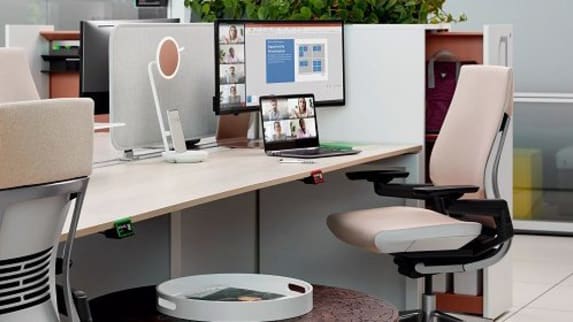 Innovative and Adjustable
Innovative and easy-to-adjust, the Steelcase Eclipse Light enhances the user experience with a smooth dimming feature to transition from bright to dim without flickering. It offers superior color performance, making shadows disappear all while reducing eye-strain.
Specifications
STEELCASE ECLIPSE LIGHT Specifications
Dimensions (W x D x H):
7.73″x6.64″x18.05″ (76x48x42mm)
Product Weight