Designed to support clinicians in action, Sync workstations facilitate collaboration between colleagues, connection to patients and access to the technologies and information vital to quality care.
Efficiency
Meeting Clinician Needs
Clinicians are often forced to overcome inefficiencies built into their daily routines. Sync offers opportunities to make these experiences work for clinicians, rather than against them.
At a Sync workstation, clinicians find a place for charting and technology access, with sightlines to the patient. This solution minimizes wasted footsteps to save time and helps lead to more efficient care experiences.
Adaptability
ANTICIPATING CHANGE
Technology continues to advance, while fixed millwork represents built-in obsolescence. Sync is designed to future-proof clinician workspaces as much as possible.
As space needs shift, the modular design of Sync allows for multiple configurations in new or existing environments.
Range of settings
Sync works in centralized and decentralized applications throughout the clinical environment.
Collaboration
CONNECTION IS CRITICAL
Collaboration takes place on the move, during shift changes, in patient rooms and everywhere in between. Sync clinician workstations provide an ecosystem of spaces for different activities: collaboration, focused tasks, teaching and learning, and quick social exchanges.
The open plan concept offers easy access on all sides. Adjustable monitors and contoured work surfaces promote clear sightlines for information sharing, while providing dedicated space for individual work.
Ergonomics
GREATER CARE FOR CLINICIANS
Clinician comfort is rarely considered in a one-size-fits-all workstation. Sync keeps comfort at the forefront.
Touch-control adjustment brings individual work surfaces to a comfortable height for sitting, standing or perching.
Adjustable monitor arms adapt to the user.
The foot railing lets clinicians shift their weight while standing – an instant relief for weight-bearing limbs.
Insights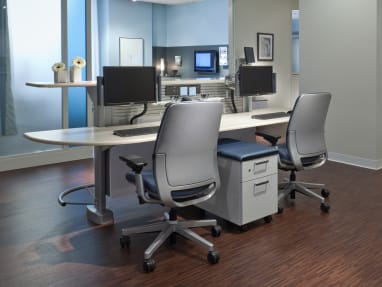 NONSTOP WORKAROUNDS
Over nine months of inpatient study, we observed clinicians at work in 12 facilities and six cities. We saw on-the-fly collaboration and focused work. Make-do ergonomics. Inefficient workarounds. Changing technology with important implications for work process.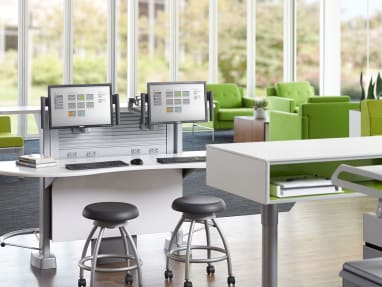 PROCESS BEFORE PLACE
For clinicians, work is more of a process than a place. They often improvise with any available space and surface, whether or not it is suited to the type of work at hand.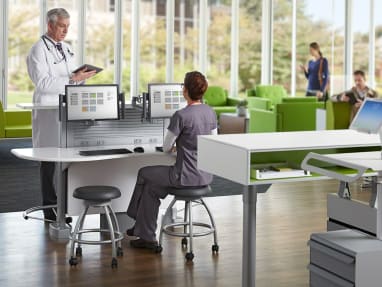 Encourage Interaction
We saw a significant opportunity to improve the experience through more thoughtful design. Sync responds to real clinician needs and work processes by encouraging interaction to improve workflow and the care experience.
Sustainability
Overview
Overview
Designing for Sustainability
We believe the only way to provide the best office furniture solutions is to ensure they're the best products for the environment. That's why every step of the way – through design, manufacturing, delivery and product lifecycle – we consider the impact of our work on people and on the environment and uncover opportunities to make things better.
63 %
Up to
recycled content
Life Cycle
Life Cycle
Materials
Up to 64% recyclable
Made with up to 63% recycled content
LEED Contribution
LEED Contribution
Steelcase supports the U.S. Green Building Council's LEED certification system with products that can contribute to LEED Building Design + Construction (BD&C), LEED Interior Design + Construction (ID&C), or LEED Operations + Maintenance (O&M) certification criteria.
Since the USGBC and its certification partner, GBCI, evaluate each project individually, the role our products play in achieving LEED certification is unique to each project.
Specifications
Standard + Optional Features
Standard + Optional Features
Sync Components
Double-sided units offer two surface heights, providing choice for the user based on task, time and stature
Single-leg units can be adjusted on site, plus or minus six inches, to suit the space
Single-leg units bolt to the floor and are not dependent on the wall for stability
Interaction, process and transaction tops support multiple tasks
Foot ring is standard on all adjustable, 36-inch- and 42-inch-high units
Units are designed for hardwiring to meet the power requirements of each application
Slatwall for accessories and tools supports work process and frees up valuable space on the worksurface
Dimensions
Dimensions
| | |
| --- | --- |
| Sync double-sided bases and worksurface | |
| Base | |
| Depth | 49 1/2″, 84″, 96″ or 108″ |
| Upper height | 36″ or 42″ |
| Lower height | 28 1/2″ or 36″ |
| Worksurface | |
| Upper depth | 29″, 15″ or 24″ |
| Lower depth | 72″, 84″, 96″ or 108″ |
| | |
| --- | --- |
| Sync Single-sided bases and worksurface | |
| Base | |
| Depth | 29″, 84″, 96″ or 108″ |
| Height | 28 1/2″, 36″ or 42" |
| Worksurface | |
| Depth | 29″, 84″, 96″ or 108″ |
| | |
| --- | --- |
| SINGLE-LEG BASES AND WORKSURFACES | |
| Adjustable-height base | |
| Depth | 25 3/4″ |
| Width | 24″ |
| Height | 26″ to 45″ |
| Fixed-height base | |
| Depth | 25 3/4″ |
| Width | 24″ |
| Height | 28 1/2″, 36″ or 42″ |
| Worksurface | |
| Depth | 25 1/2″ |
| Width | 25 1/2″ or 43 1/2″ |
| Height | N/A |
Global Availability
Global Availability
This product is available in the following regions:
Central America
South America
North America
Middle East
Not available in your region?
If you're interested in purchasing a product that's not available in your region, please contact your local dealer for purchasing options.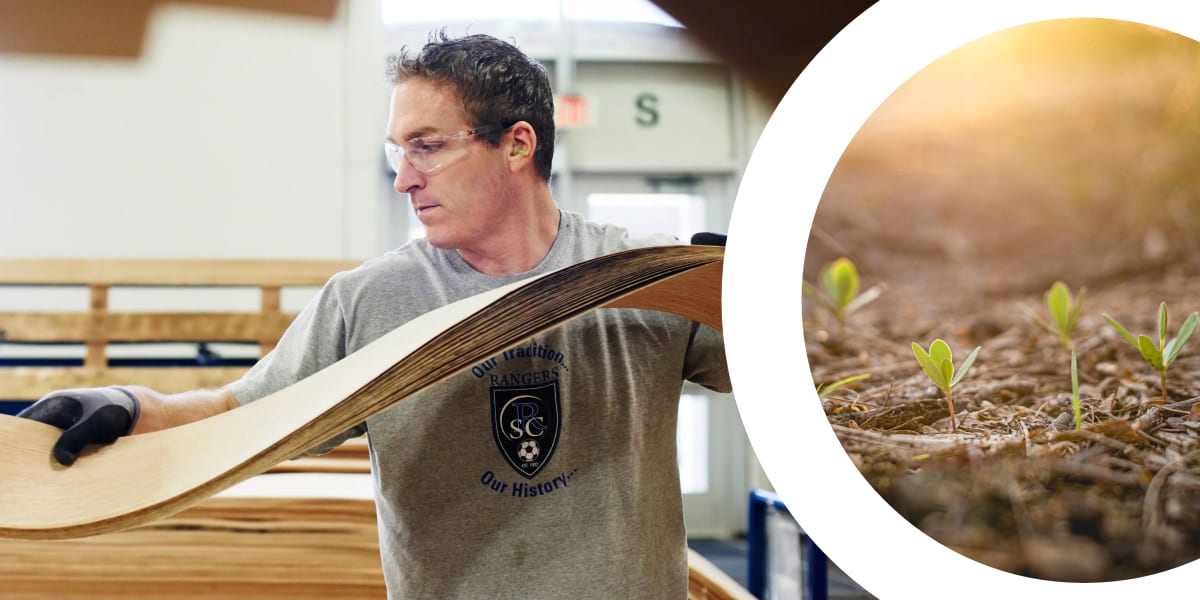 Sustainability
DESIGNING FOR SUSTAINABILITY
We create products that are good for people, and good for the world. Our products and operations are designed around a commitment to reduce climate change, reinforced by sustainable practices across our value chain.
Our Sustainable Design framework ensures our products are designed with consideration of life cycle thinking and cradle-to-cradle principles:
Source materials responsibly
Minimize global warming and other life cycle impacts
Ensure material health
Enable end-of-use strategies