Carts
Steelcase Roam Collection
by Steelcase
Steelcase Roam Collection, for the Microsoft Surface Hub 2S family of devices, allows teams to come together – even when working apart. Co-developed with Microsoft, the Roam system of mobile stands and easy-to-install wall mounts support large-scale collaboration.
Steelcase Roam Collection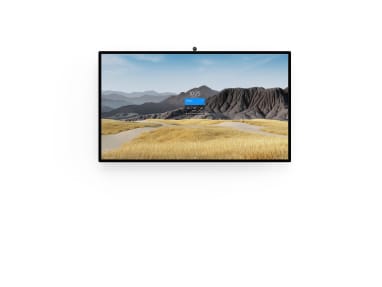 Wall Mounts
The Roam Collection of easy-to-install wall mounts makes any space more flexible, from small huddle spaces and conference rooms to private offices. It's building code and ADA-compliant, keeping the large-scale screens close to the wall – unobtrusive and inviting for a team to work together naturally.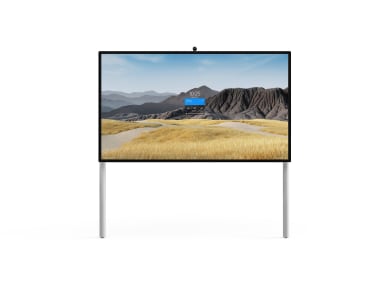 Floor Supported Wall Mount
The free-standing wall mount provides the option to safely and easily integrate the Microsoft Surface Hub 2S 85" into any room – without worries of wall reinforcement and access to power and data. Mounting brackets allow legs to rest away from the wall allowing any space to become a collaborative space without remodeling or new construction.
*Available for the Microsoft Surface Hub 2S 85"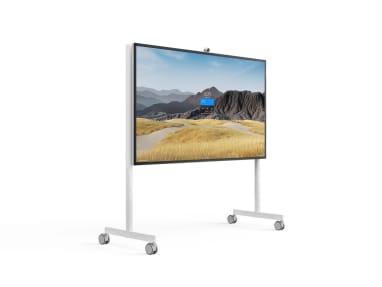 Mobile Stands
The Roam Collection of mobile stands move easily on smooth-rolling casters for on-the-go transitions throughout any space. Locking casters provide added stability and safety. The mobile stand was thoughtfully designed to help teams work effectively. The legs are designed to be the ideal circumference for hands to easily grip. The storage tray keeps cables hidden and the back panel is useful to house various assets or presentation needs.
Make Any Space a Collaborative Space
Small Meeting Spaces
Small Meeting Spaces
Roam in smaller spaces with easy-to-install wall mounts. Make any place a collaborative space by incorporating Roam wall mounts and the Microsoft Surface Hub 2S family of devices, from smaller huddle spaces and conference rooms to private offices.
Large Meeting Spaces
Bring teams together and enable large-scale teamwork. Make any meeting a large-scale collaboration session, whether you're in an open space, a large conference room or co-located – enable everyone to actively participate.
Generative Collaboration Spaces
Activate collaboration with more room for ideas and content sharing. Turn any space into an active brainstorming space.
Features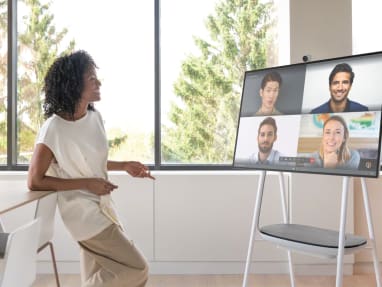 Bring Remote Teams Together
The Roam Collection, built to support the Microsoft Surface Hub 2S family of devices, enhances collaboration across distance and across devices. Bring remote teams together and enable large-scale teamwork where everyone can be seen, heard and actively participate in meetings – whether they're together or apart.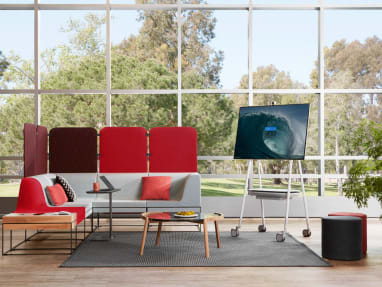 Support Flexibility
The flow of ideas doesn't have to end when your scheduled meeting does. The intentional design of the Roam Collection system of wall mounts and mobile stands provides the flexibility to support a variety of devices, to move and adapt in space and empower teamwork to happen wherever ideas do: anytime, anywhere, any way.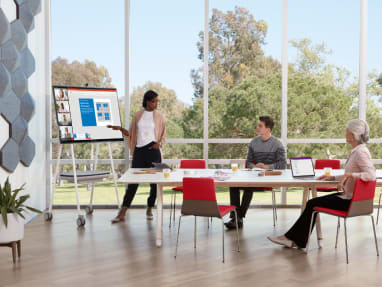 Enable Active Collaboration
Collaboration fuels innovation. The Roam Collection allows teams more room for ideas, content sharing and more opportunities to physically and emotionally engage in the creative process.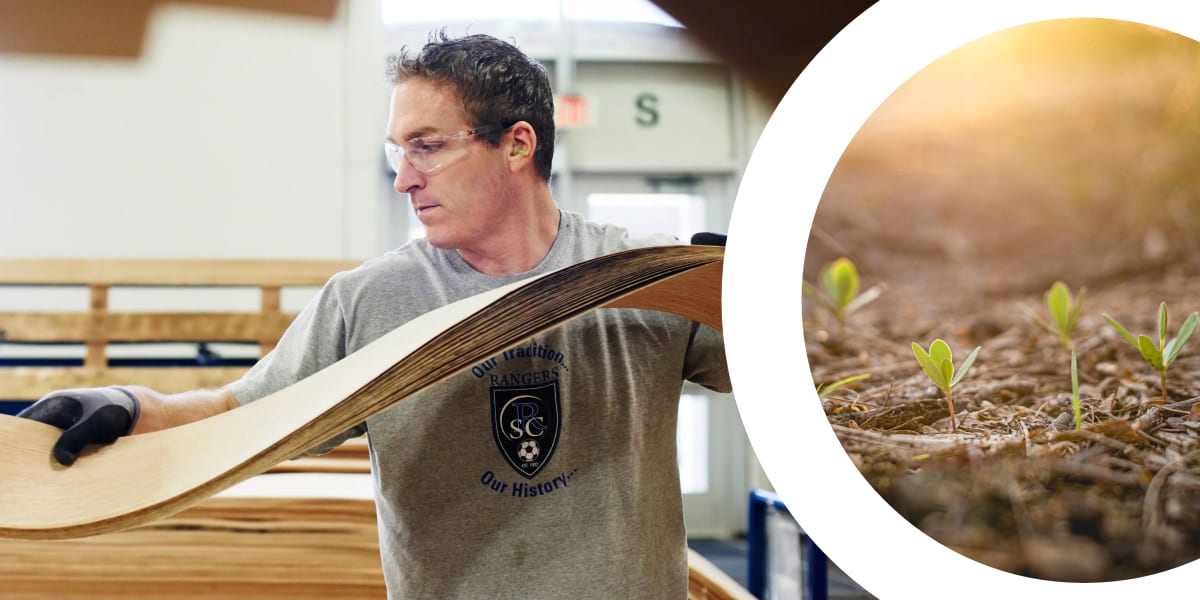 Sustainability
Designing for Sustainability
We create products that are good for people, and good for the world. Our products and operations are designed around a commitment to reduce climate change, reinforced by sustainable practices across our value chain.
Our Sustainable Design framework ensures our products are designed with consideration of life cycle thinking and cradle-to-cradle principles:
Source materials responsibly
Minimize global warming and other life cycle impacts
Ensure material health
Enable end-of-use strategies
Related Products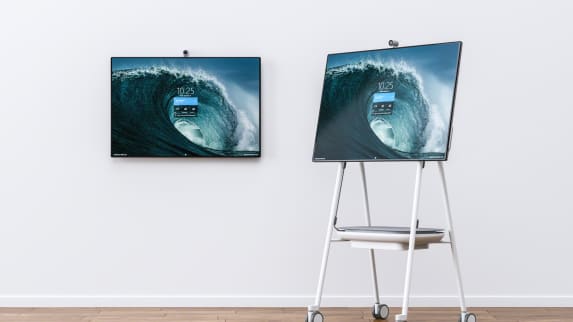 Enable teamwork anywhere with a modern, all-in-one collaborative canvas and meetings platform that brings the power of Windows 10 to teams. Wherever your teams go, Surface Hub 2S can go too.
Microsoft Surface Hub 2S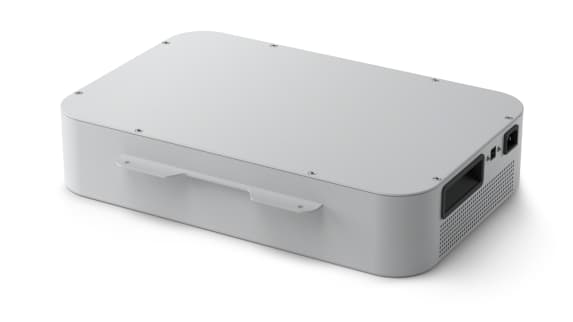 APC™ Charge Mobile Battery powers Microsoft Surface Hub 2S on-the-go and seamlessly integrates with Steelcase Roam for a truly mobile experience.
APC Charge Mobile Battery
Learn More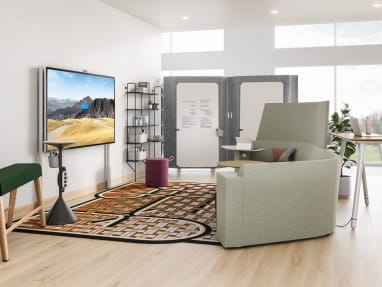 Steelcase introduces Roam for the Surface Hub 2S family: large-scale, mobile collaboration tools to bring teams together.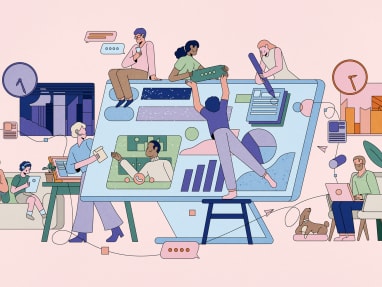 Working remotely presents a new world full of unique challenges and opportunities. Learn how to create the best conditions for your remote teams.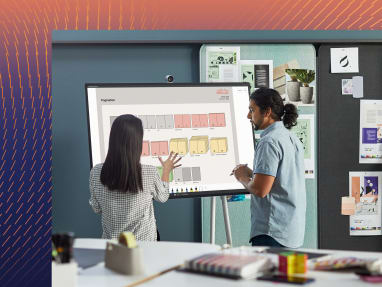 Learn more about the science behind collaboration.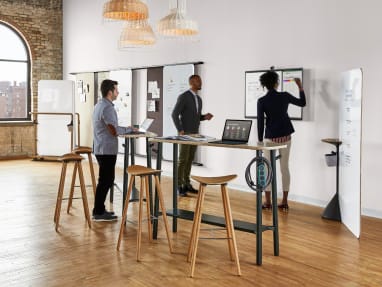 Learn more about Steelcase and Microsoft's partnership working to help people at work.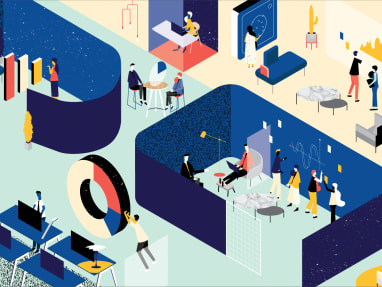 Learn how hyper-collaboration is redefining teamwork and me work.
Purchasing Options
| | |
| --- | --- |
| | Contact us to learn more about how Steelcase Roam enables teamwork. |
| | |
| --- | --- |
| | The Steelcase Roam Collection and Microsoft Surface Hub 2S family of devices are sold through Microsoft Authorized Device Resellers. |