Steelcase Showcases New Solutions that go Beyond Hybrid and Deliver on Sustainability Commitments at NeoCon 2023
Grand Rapids, MI, June 12, 2023 – At NeoCon 2023 this week, Steelcase and its community of brands are showcasing new solutions to help organizations create diverse, vibrant and sustainable workplaces.
As hybrid work evolves and reshapes the ways people work around the world, workers are looking for spaces that provide better support than before. Yet, leaders aren't sure how and where to start delivering on these new needs. As a global design and thought leader in the world of work, Steelcase is shifting the conversation to go beyond where people work and into the how, so that work becomes a better experience for all — both in and out of the office.
Recent Steelcase research, which surveyed nearly 6,000 office workers in 11 countries, reveals emerging patterns that provide a glimpse into where things are going now. It found 70% of people globally are working in the office three or more days per week. While that average varies depending on where in the world you live, who you work for and what type of work you do, there is a universal truth – how people work has changed dramatically, and in turn, people are struggling. Work-life balance, productivity and connection to company culture, all of which are of mutual interest to employees and organizations, have dropped.
"Hybrid work is more complicated than merely making decisions about whether people work from home or the office," said Terry Lenhardt, vice president of global product marketing for Steelcase. "Work has fundamentally changed and worker expectations, behaviors and beliefs about work have evolved – so the places people work need to evolve and change accordingly. Steelcase deeply understands these changes and is working with organizations as they address this transformation of work."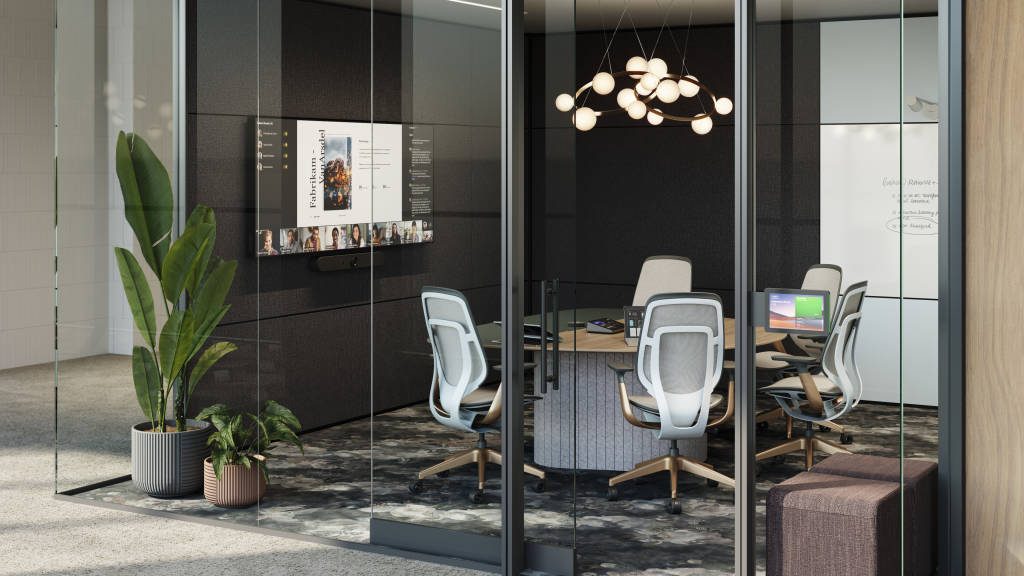 New Products
Steelcase and its Community of Brands are showcasing a diverse range of innovative new solutions designed for collaboration and focus spaces with integrated technology for enhanced virtual interactions.
"We're excited to share the latest additions to our extensive portfolio, all of which are informed by our research and designed with intention for the needs of people and the planet," said Lenhardt. "These new solutions deliver a variety of experiences that can help people work better — whether they are working for a small business or large global organization."
Commitment to Sustainability
Steelcase designs products with purpose for the needs of both people and the planet. In the organization's WorkLife showroom, three of its high-performance chairs – Steelcase KarmanTM, Steelcase Series® 1 and Think® – will be on special display to demonstrate how the organization is reducing its carbon footprint, choosing and using materials responsibly and designing for circularity through its product manufacturing. The display is only one example of Steelcase's bold ESG goals to positively impact our shared world.
Steelcase Karman, the organization's new, all-mesh task chair designed with groundbreaking innovation which allows it to naturally respond to and move with all types of bodies, uses sustainable materials and the least number of components necessary. Weighing only 29 pounds, Steelcase Karman is one of the lightest work chairs in the industry.
Designed with fewer parts for quick and easy disassembly, the Think chair can be taken apart in just five minutes for recycling. The same award-winning design that serves a breadth of style choice that is warm, tailored and sophisticated. Now choose from a curated collection of monochromatic neutral color schemes and warm-toned metallics.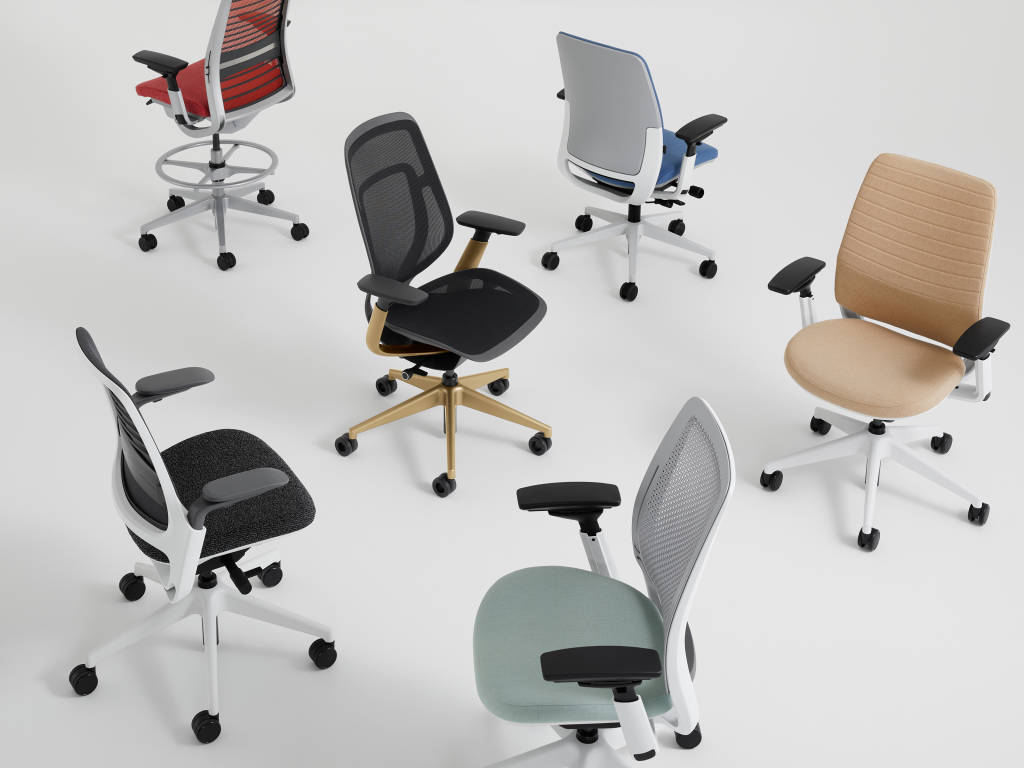 As Steelcase's first product with CarbonNeutral® product certification, Steelcase Series 1 reduces impact on the climate and helps achieve sustainability goals. The iconic chair is now available with an all-new air back that features a specially engineered geometric wave pattern, that flexes in two dimensions to encourage movement and posture changes while providing the spine with responsive support. The chair is also available in new colorways.
In addition, Steelcase is announcing that seven high-performance chairs will now be offered with a CarbonNeutral® product certification option. The same chairs, ergonomics and quality you'd expect from Steelcase now with less impact on the planet to help organizations achieve their sustainability goals.
Steelcase recently published the spring edition of its Work Better Magazine, which shares 99 insights people need to know about work — exploring how it's changing and how to make it better. These insights and more are available at Steelcase.com.
For more information on Steelcase at NeoCon, visit Steelcase.com/Neocon.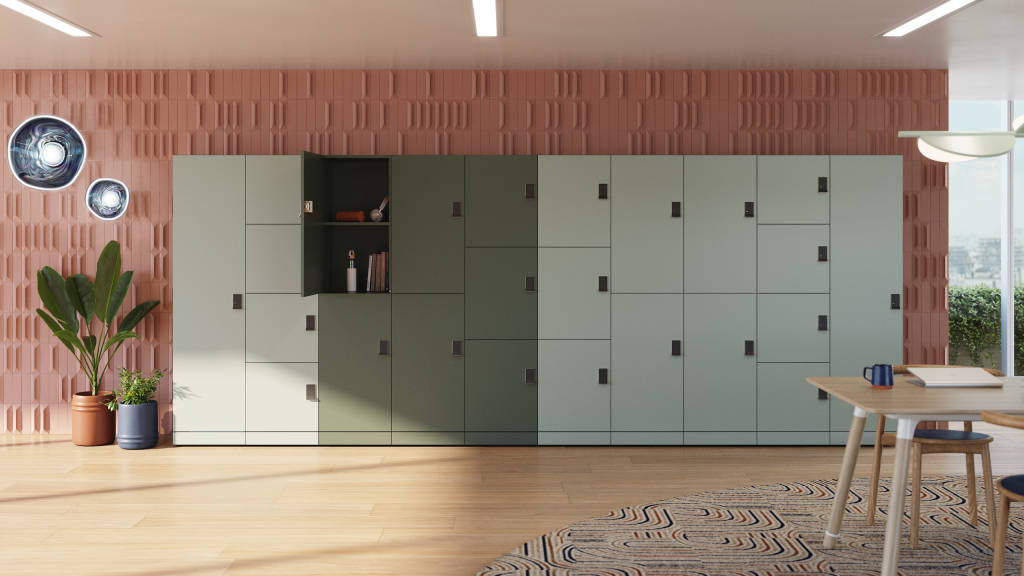 Aditional Resources
Contact
Chiara Licari, Senior Communications Specialist
616.406.6494
clicari@steelcase.com
About Steelcase
Established in 1912, Steelcase is a global design and thought leader in the world of work. We help people do their best work by creating places that work better. Along with more than 35 creative and technology partner brands, we design and manufacture innovative furnishings and solutions for the many places where work happens — including learning, health and work from home. Our solutions come to life through our community of expert Steelcase dealers in approximately 770 locations, as well as our online Steelcase store and other retail partners. Founded in Grand Rapids, Michigan, Steelcase is a publicly traded company with fiscal year 2023 revenue of $3.2 billion. With our 12,000 global employees and dealer community, we come together for people and the planet — using our business to help the world work better.