Screens
Back to the Office Solutions (B2O)
by Steelcase
Back to the Office Solutions enable companies to adapt their workspaces, with short-term solutions that require minimum investment, to allow people to come back to the office safely.
Category Overview
Retrofitting Shields
Light and easy to install, the retrofitting extensions provide an immediate and low-investment solution for additional protection at the workstation by leveraging existing space-division elements on desks and benches.
Desk Shields
Easy and quick to integrate into different workspaces, the Desk Shields provide the desired level of protection with a variety of applications and materials.
Freestanding Shields
Movable and easy to clean, the Freestanding Shields provide structure to any environment while supporting the protection of personal space.
Accessories
Small details can make a great difference. Dispensers allow employees and visitors to access personal protection equipment such as face masks, gloves or sanitizers. Name tags help to signal whether a workstation is occupied or clean and ready to use.
Desk Shields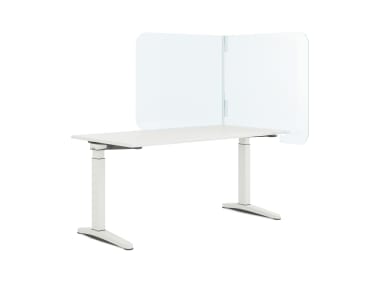 Modular Shields
Modular Shields can be easily placed on different types of workstations, making them a practical solution for both privacy and protection.
Height: 807 mm
Width: 1000 mm
Depth: 4 mm (Polycarbonate)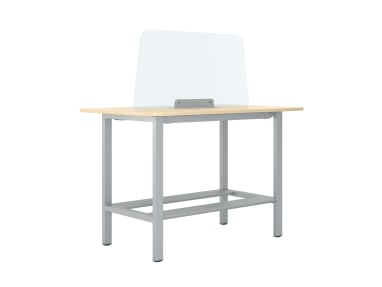 Pop-Up Shields
Pop-Up Shields are separations that can be placed on the side or front of desks, benches and meeting tables.
Height: 600 mm
Width: 1000, 1200, 1400 mm
Depth: 4 mm (Polycarbonate), 13 mm (Melamine)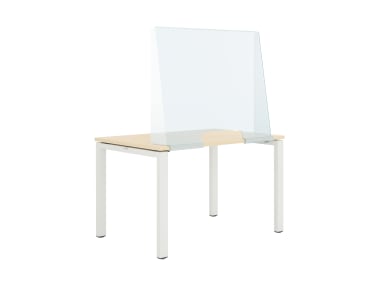 Counter Shields
Counter Shields support retail businesses and client-facing areas during day-to-day routines. These transparent shields support safe interactions, while ensuring full visibility.
Height: 800 mm
Width: 800, 1000, 1200, 1400 mm
Depth: 2 mm
Retrofitting and Freestanding Shields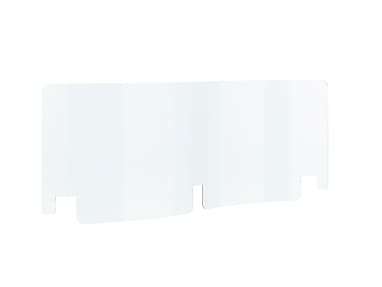 Retrofitting Shields
Retrofitting Shields are extensions that can be easily integrated on existing screens or rail solutions. Ready in under a minute, they provide the ideal solution for an immediate adaptation of office workstations.
Height: 407 mm
Width: 1400, 1600, 1800 mm
Depth: 2 mm (Polycarbonate)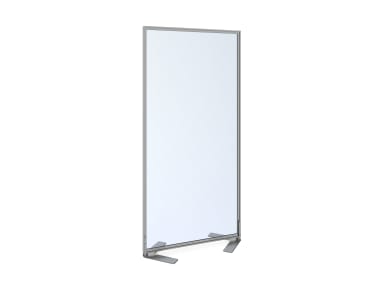 Partito Protective
Partito Protective are freestanding screens that bring structure to any environment while encouraging people to keep a safe social distance.
Height: 1887 mm
Width: 900, 1200 mm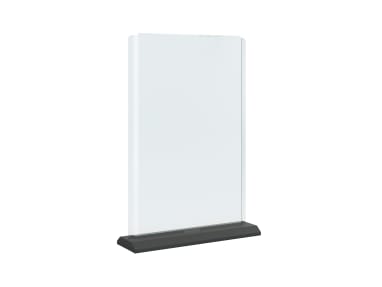 Unframed Shields
Unframed Shields are freestanding screens that blend seamlessly in the work environment and help to create space division without disruption.
Height: 1500 mm
Width: 1000 mm
Depth: 2 mm
Accessories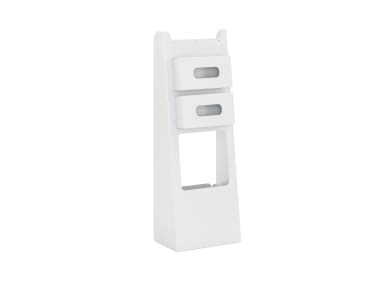 PPE Dispensers
These metal freestanding structures make protective and hygiene tools available in the office and other environments.
Recycling Dispenser
Height: 1000 mm
Width: 350 mm
Depth: 250 mm
Display Dispenser
Height: 850 mm
Width: 350 mm
Depth: 200 mm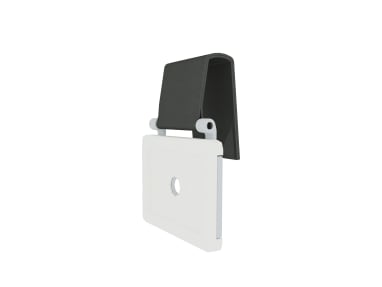 Divisio Name Tag
Divisio Name Tag provide an intuitive and immediate way to signal if a workstation or storage element is used.