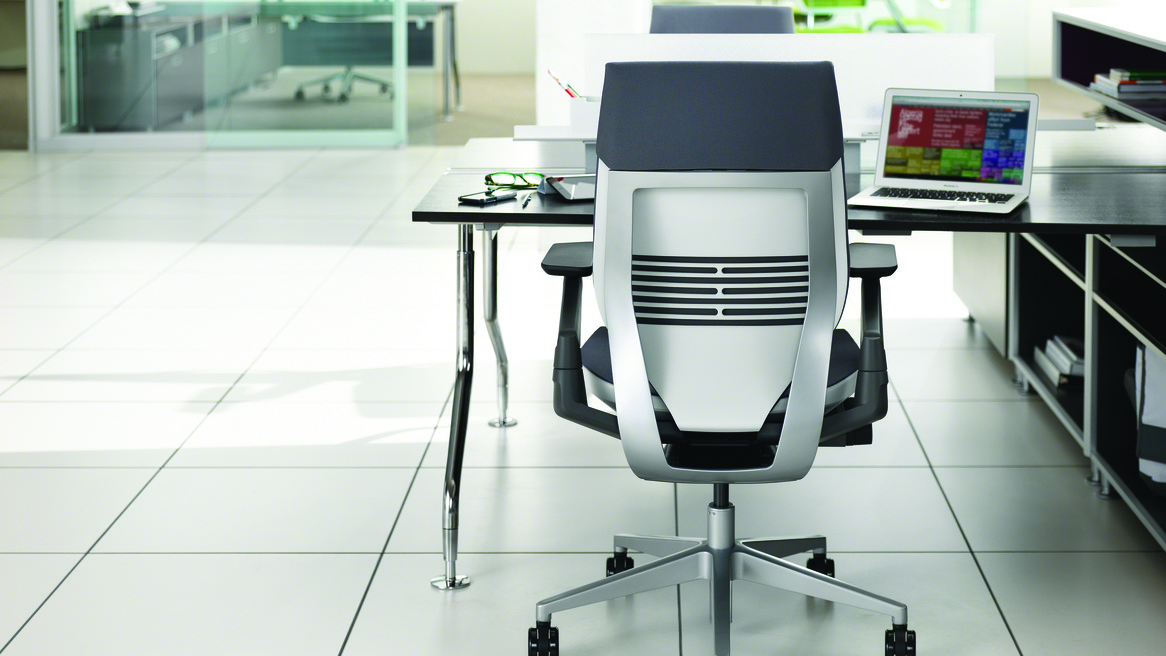 Gesture is the first chair designed to support our interactions with today's technologies.
All Office Chairs
Features
The New Sitting Experience
The New Sitting Experience
Gesture Recognition for the Body
Technology is the single greatest force driving the changes in the way we work, live and behave.
The new, multiple devices we deploy throughout our work day allow us to flow between tasks, fluidly, and frequently.
Gesture is the first office chair designed to support our interactions with today's technologies.
Inspired by the human body. Created for the way we work today.
Inspired By the Human Body
Inspired By the Human Body
A New Sitting Experience
To design a new sitting experience, we stopped looking at chairs and started looking at people.
Understanding posture at work and how the body naturally moves caused us to ask, "could a chair act as a system, just like human body?"
This question caused us to fundamentally rethink how to design a chair. When we studied the full range of postures at work, we studied three key interfaces between the human body and their chair.
– THE CORE INTERFACE
– THE LIMB INTERFACE
– THE SEAT INTERFACE
Core Interface
Limb Interface
Seat Interface
Seat Adjustments
Seat Adjustments
Gesture chair – Adjustability
Gesture adapts cleverly to your natural movements and has simple controls that are easy to find, understand and use.
Insights
Global Posture Study
Global Posture Study
To best understand the body at work, we undertook a global posture study on six continents, observing over 2,000 people in a wide range of postures.
We discovered that new technologies combined with new behaviors led to nine new postures that are not adequately addressed by current seating solutions.
Range of Devices
Range of Spaces
Range of Spaces
Range of spaces
We see work being done in a greater range of spaces within the office. We're spending equal amounts of time at our desk as we are in collaborative spaces. We're sharing desks, where one day a larger person might be using a chair and the next day a much smaller person.
How might we solve for multiple users sitting in multiple spaces throughout a day?
Specifications
Options + Dimensions
Options + Dimensions
Main options
1) The Core Interface.
The Gesture back and seat move as a synchronized system moving with each user to provide continuous and persistent support.
The back cradles the user no matter the posture or device.
2) The Limb Interface:
The Gesture arm moves like the human arm, which allows users to be supported in any position.
Arms and shoulders remain supported when texting on a smartphone, typing on a keyboard or swiping a tablet.
3) The Seat Interface:
The Gesture seat brings comfort all the way to the edges.
It is flexible at the perimeter to allow users to sit in a range of postures without obstruction.
4) THE USER INTERFACE
Gesture takes into account various body types and sitting preferences, quickly adjustable to meet the needs of each individual user.
Users can adjust the Gesture chair as easily as adjusting their posture.
Global Availability
Global Availability
This product is available in the following regions:
Africa
Asia Pacific
Europe
Middle East
North America
Not available in your region?
If you're interested in purchasing a product that's not available in your region, please contact your local dealer for purchasing options.
Resources + Support
Download 2D and 3D CAD models for use in your design application.

View and save brochures, certificates, and other documents.

Browse, save, and download beautiful images for use in presentations or inspiration boards.