Insights + Applications Guide
The Steelcase Global Report is the first to explore the relationship between employee engagement and the work environment. This guide offers specific actions and solutions to create a workplace that helps boost employee engagement.
A comfortable area to socialize, rejuvenate, informally collaborate, focus and seek nourishment. Design considerations can be tailored to a specific team or department's culture.
Social Zone Planning Ideas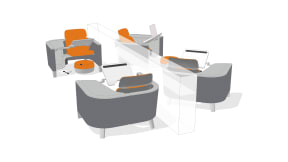 This shielded lounge space allows workers to get away without going away, creating the perfect destination for those looking to