Physician-Patient Relationships
The exam room can support or prevent relationships of trust and understanding between doctors and patients from developing. Yet today's exam rooms are designed for an old model of healthcare.
Steelcase Health research recently revealed five ways the exam room is failing doctors, patients, and family members; as a result introduces Node with ShareSurface, a clinician chair designed for partnership.
Application Ideas
Multipurpose Exam
Multipurpose Exam
The Multi-Purpose Exam room creates a relaxing environment that supports learning.
The Steelcase diamond design principle is applied for democratic access to information and others in the room
A monitor provides easy, equal visibility of information
Seating for family members supports active participation in the conversation
Whiteboards help capture questions, next steps or quick drawings
Exam area is zoned so clinicians can easily arrange and use their equipment and tools
Retail Exam
Retail Exam
Retail Healthcare Exam Spaces are a one-stop shop for patients. These spaces are typically located in or near a pharmacy.
Recliners are used instead of exam tables so patients and care team members can be eye-to-eye, enhancing communication and mutual participation
Node with ShareSurface can be used for information exchange with patients and moved aside to perform a physical exam, improving the experience for clinicians, patients and their family.
Guest chair and table supports family members and personal belongings
Corporate Wellness
Corporate Wellness
Corporate wellness spaces reduce time away from the office and support an organization's commitment to employee wellness.
Provide separate spaces for the medical exam and consultations
Recliners replace exam table to support both clinician and employee participation and eye-to-eye communication
Designed to remove barriers between patients and clinicians, Node with ShareSurface nurtures human connection, essential for consultative care.
Intentional placement of the table and monitors in the consultation area support mutual participation and democratic access to information
Regard hooks provide a place to hang belongings
Design Principles
Design Exam Rooms For Multiple Activities
Wherever appropriate, replace exam tables with recliners so that patients and care team members can be eye-to-eye, enhancing communication.
Provide adequate space and comfortable seating so that family members can feel welcomed and be included in the exam.
Create a collaboration zone with same-level seating and equal access to digital and analog information.
Provide compact surfaces for patient and family members' notepads and pens, mobile technologies, and/or personal items.
Support videoconferencing with specialists or family members who can't be physically present.
Include a work setting for scribes and other participants in the healthcare team.
Optimize Spatial Efficiency + Hygiene
Zone the exam area so clinicians can easily arrange and use their equipment and tools.
Choose storage that minimizes visual clutter while keeping frequently used items in easy reach.
Leverage vertical planes for information displays and technology hosting.
Place handwashing opportunities in direct visual relationship with the exam room entrance(s).
Select surfaces and furnishings that can be quickly and easily cleaned between patients.
Build in flexibility with demountable walls and modular furniture to support evolving technology.
Provide For Participants' Emotional Needs + Comfort.
Include storage for patients' clothing and personal items.
Ease transition times with positive distractions by providing monitors for viewing.
Provide visible access to basic hospitality items for patients and family members: power, tissues, etc.
Select mobile seating for the care team so they can fluidly move close to patients and family for meaningful conversations.
Preserve information privacy with acoustic integrity.
Related Products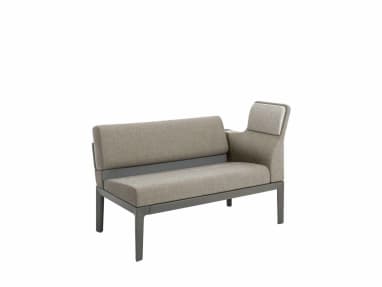 Steelcase Health
Surround is a collection of healthcare furnishings designed to support family members in the patient room.
Additional Resources
Insights + Applications Guide
Healthcare is evolving at a rapid pace and changing on almost every front. As changing dynamics add complexity to an already complex industry, the challenges that healthcare organizations face are greater than ever. Addressing high-priority issues is key to developing a strategy for sustainable success. Our seminal Healthcare: Time for Change Insights + Applications Guide combines insights and practical solutions yielded from 18 studies and 15,000 hours of research.
360 Magazine: Healthcare Special Edition
This Healthcare Edition of 360 is a compilation of 360 stories that explore the healthcare industry and the spaces where healthcare experiences occur. The stories demonstrate how space can be used to humanize the health experience in waiting rooms, exam rooms, patient rooms, clinician spaces and infusion therapy environments to create places that deliver greater connection, empathy and wellbeing for everyone involved.
Steelcase Health
Healthcare is experiencing rapid change that can often feel overwhelming. At Steelcase Health, we look for the changes that are possible. We study the places that support health and then deliver insights, applications and solutions designed to create moments that can lead to change. Moments that enhance the wellbeing, empathy and connection of clinicians, patients and families.