Furniture that is as flexible as your lifestyle, adjustable in height and adaptable to every occasion: meet Amai, a true marvel of multifunctionality. Standing up or sitting down? Indoors or outdoors? Amai is a landing-place for togetherness, adapting instantly to every new experience. COMING SOON.
Flexibility at its Finest​
Life demands flexibility. In the morning you're immersed in heads down work at your laptop, by afternoon you're presenting to the team. At the office, one moment you're holding an outdoor brainstorm session, the next you're on a conference call to pitch a big new idea. ​
​Amai, the Flemish expression for "wow", is that destination. It's an adjustable table that you can tailor to the needs of any gathering, whether indoors or outdoors, for work or play, making each experience valuable and easy-going.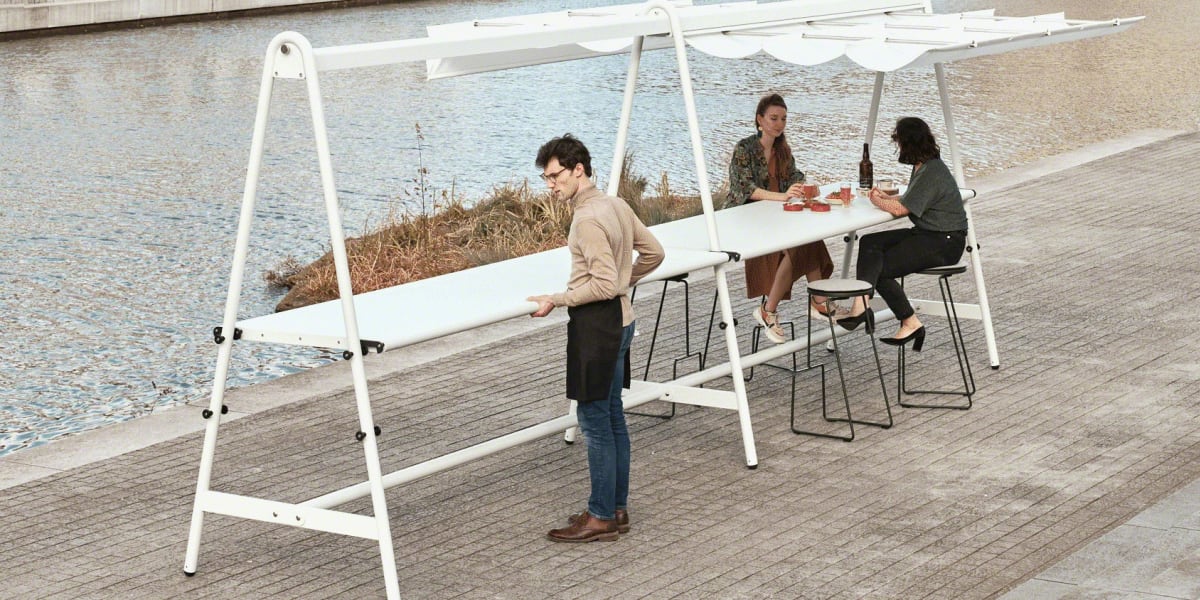 Raising the Bar and the Table​
Two A-shaped side frames provide a solid construction where multifunctional magic finds its purpose. In between these frames, you can position the tabletop into two heights: standard or high. Thanks to the innovative design, even a single person can smoothly slide the tabletop from 'sitting height' into 'standing height' and vice versa. And there's more, revolutionary height adjustable chairs and benches match the chosen height of the table and allow people to sit at the same eye level.​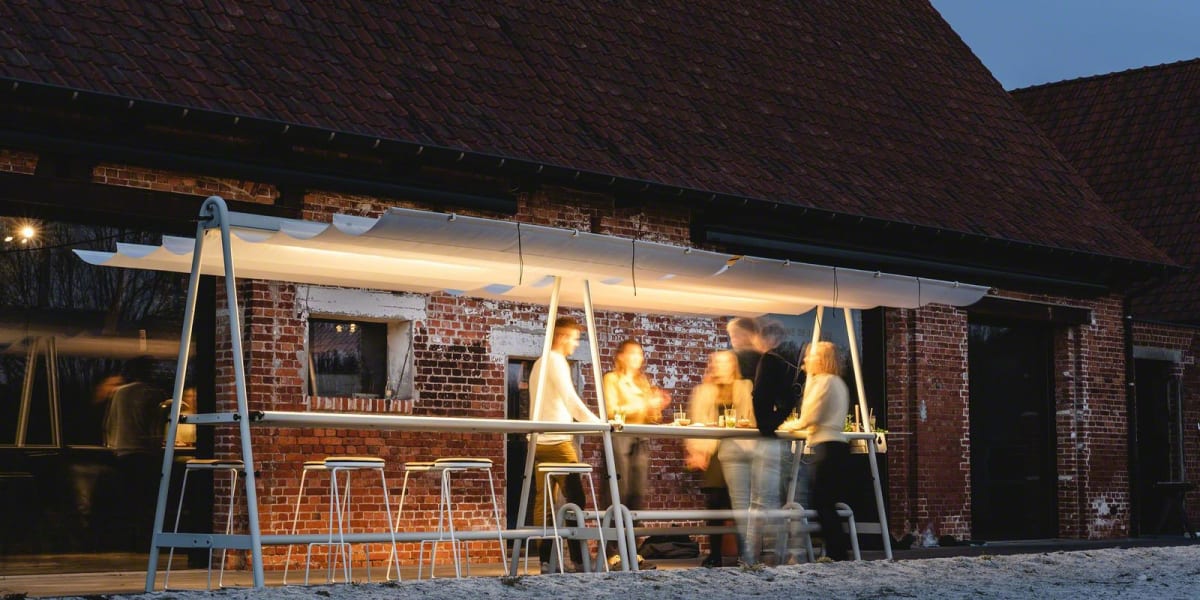 Accessorize to Your Own Needs​
The frame overhead also has some conjuring assets to offer. LED-lights* support your gathering well into the evening and power outlets* offer connectivity even outdoors. A clever shade structure offers protection from the sun or shelters you from light drizzle.​
​*Coming in 2023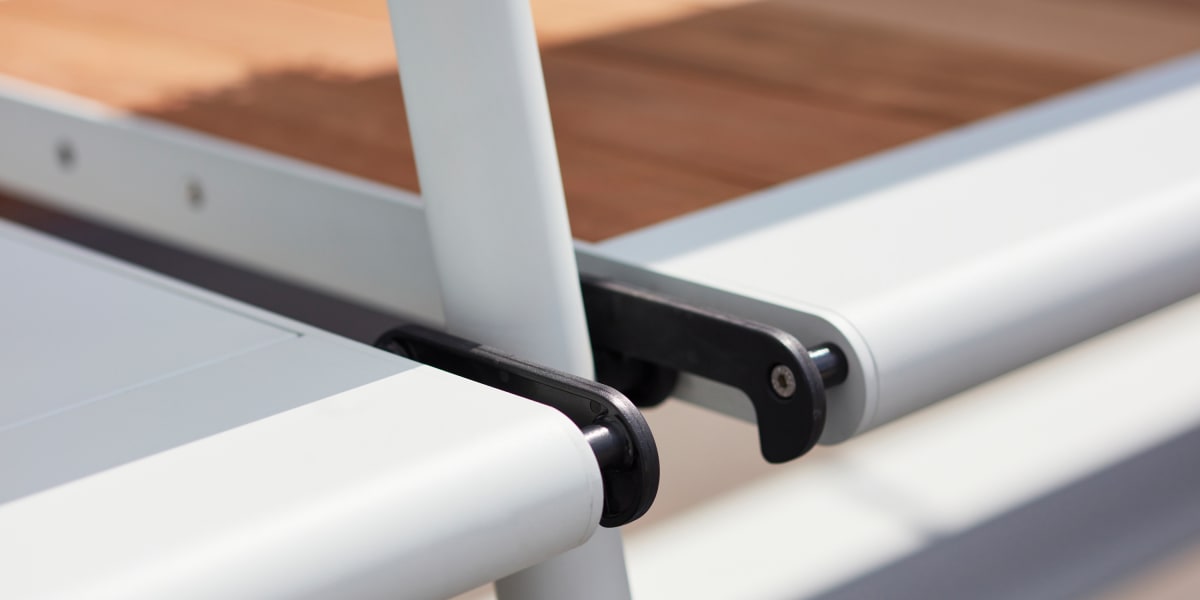 Connecting Together​
This all-purpose set breaks down the boundaries of your imagination and joins together the good aspects in life. By adding more A-frames, you extend togetherness into infinity. Get creative by combining your favorite finishes and accessories to accommodate any communal experience. A boundless block party, manageable workday or garden feast, Amai supports each experience with ease, leaving you with the true joys in life.​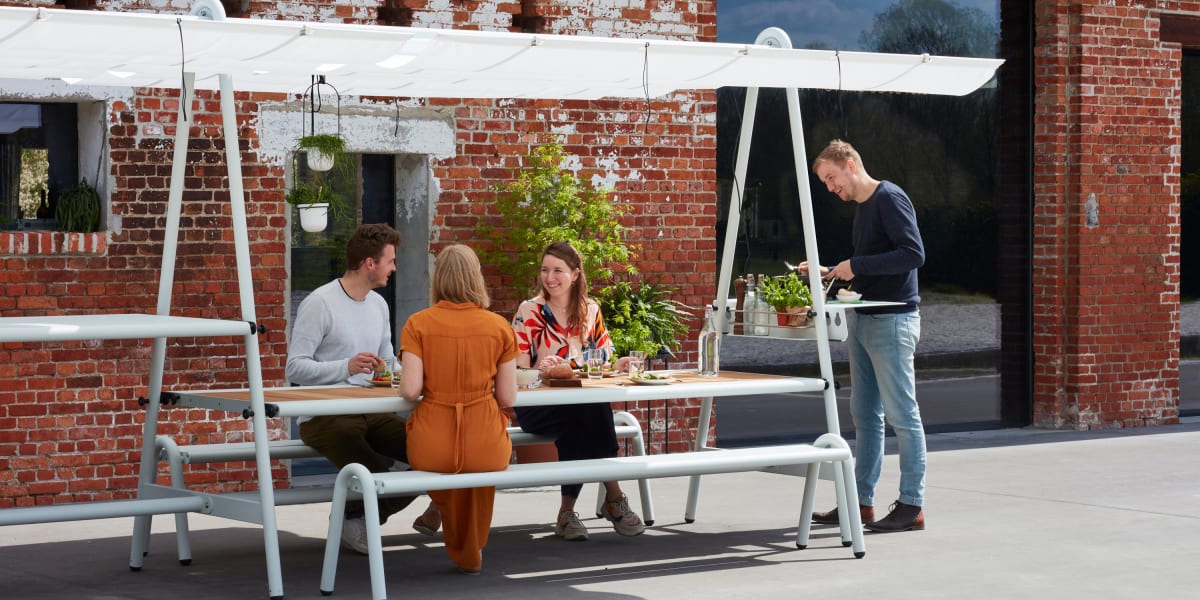 Sit to Stand to Sit​
The optional low bench option slides under the table and out of the way when working at a standing height and can be pulled out when you want to take a break. An add on table can even be used to hold your things while you switch from standing to sitting. ​
​
Amai Collection
Amai Indoor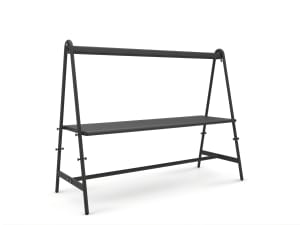 Amai Outdoor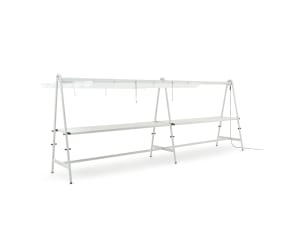 Amai Extensions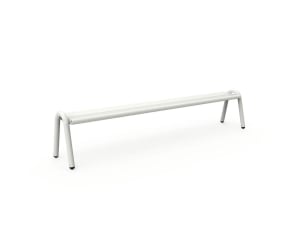 Amai Fixed Low Bench